Stephanie and Brian's Portland, Oregon wedding at Leftbank Annex is a quintessential dream! Infused with cultural details, every moment of the day was a flawless reflection of the bride and groom. From dancing lions to a tea ceremony, there are little one-of-a-kind elements splashed all over their wedding day, adding cultural traditions and personality in a settled and meaningful way to this stunning and glamorous event!
Stephanie, a figure skater by profession, was looking for a wedding dress that paid homage to her sparkly personality. She found "the one" in Martina Liana Style 1267 during her bridal appointment at True Society by The White Dress – Portland. As soon as she tried the sexy, yet timeless gown, she instantly knew this was her dream dress!
For their wedding day, The Slow Cult designed the most utterly romantic floral moments that are sure to sweep you off your feet. Get lost in all the lovely pictures beautifully captured by Simply Splendid. The love and joy of the day radiate through their photography!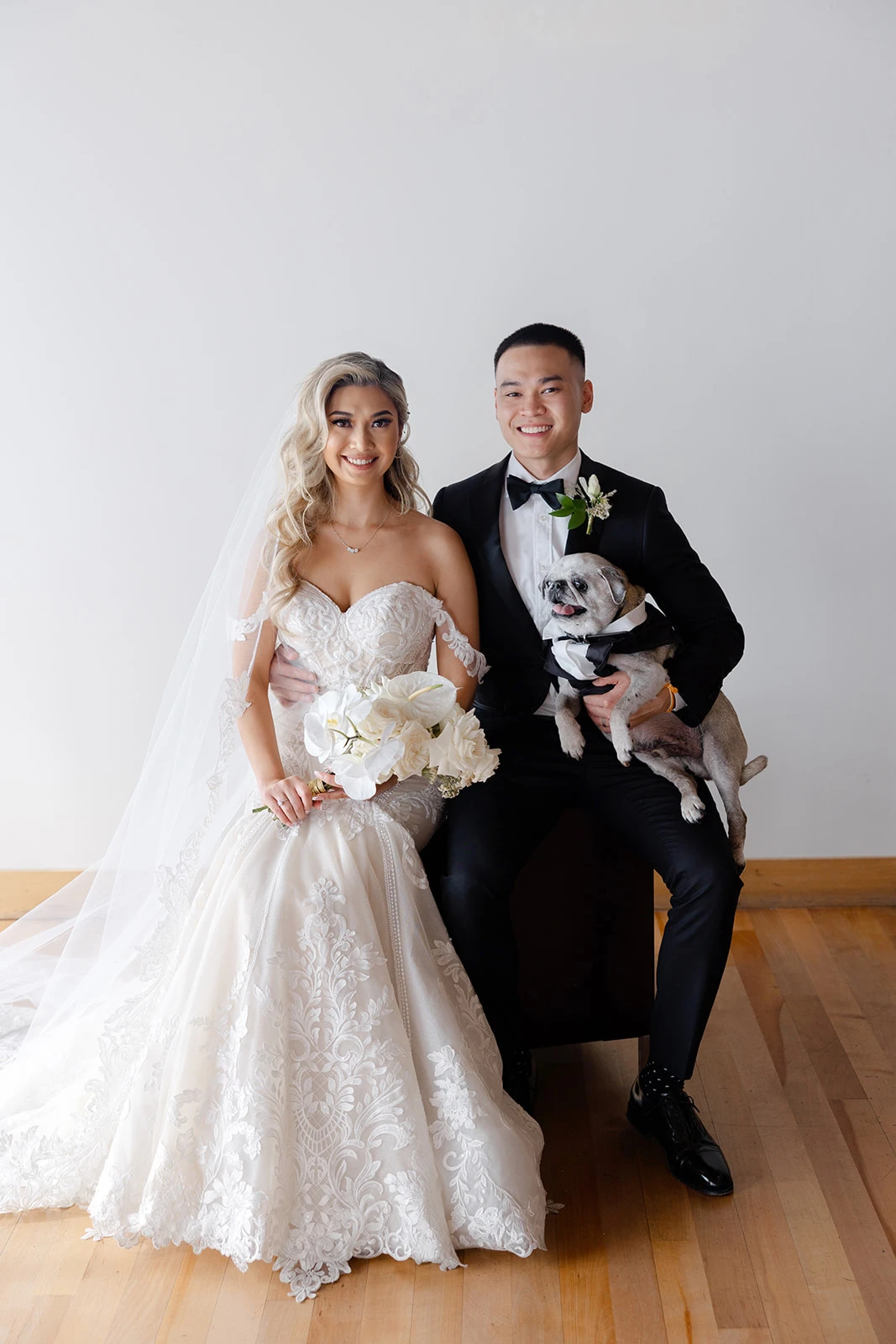 TELL US ABOUT YOUR LOVE STORY AND YOUR PROPOSAL!
My husband and I have known each other since middle school. We didn't start dating until we were 24 or 25, though— mainly because I could not stand him when we were younger! I like to say he's been in love with me since middle school but eventually things changed on my end. We started dating while he was attending pharmacy school in Maine, so we dated long-distance for the first couple of years of our relationship!
For the proposal, Brian planned a weekend in Seattle with my girlfriends for my birthday, and honestly, I was expecting him to propose on that trip. At midnight on my birthday, yes, I was asleep and HATE being woken up. He asked Alexa to turn on the light, I asked her to turn it off. He turned it back on, and then I saw him on one knee next to me with the ring! I think I was too caught up with how beautiful my ring was because I made him put it on my finger while he asked me if I was going to say yes. It was the perfect start to my birthday weekend!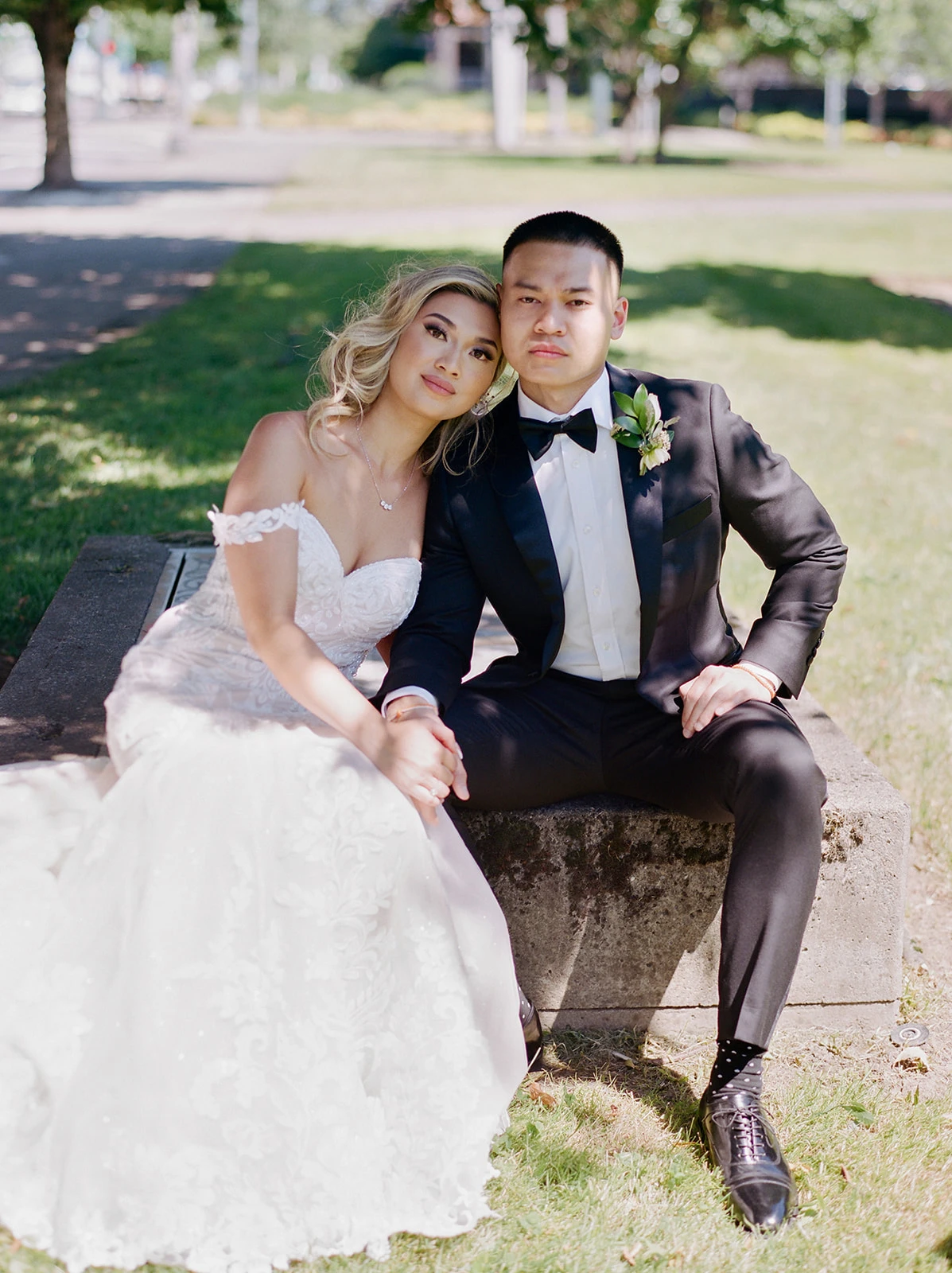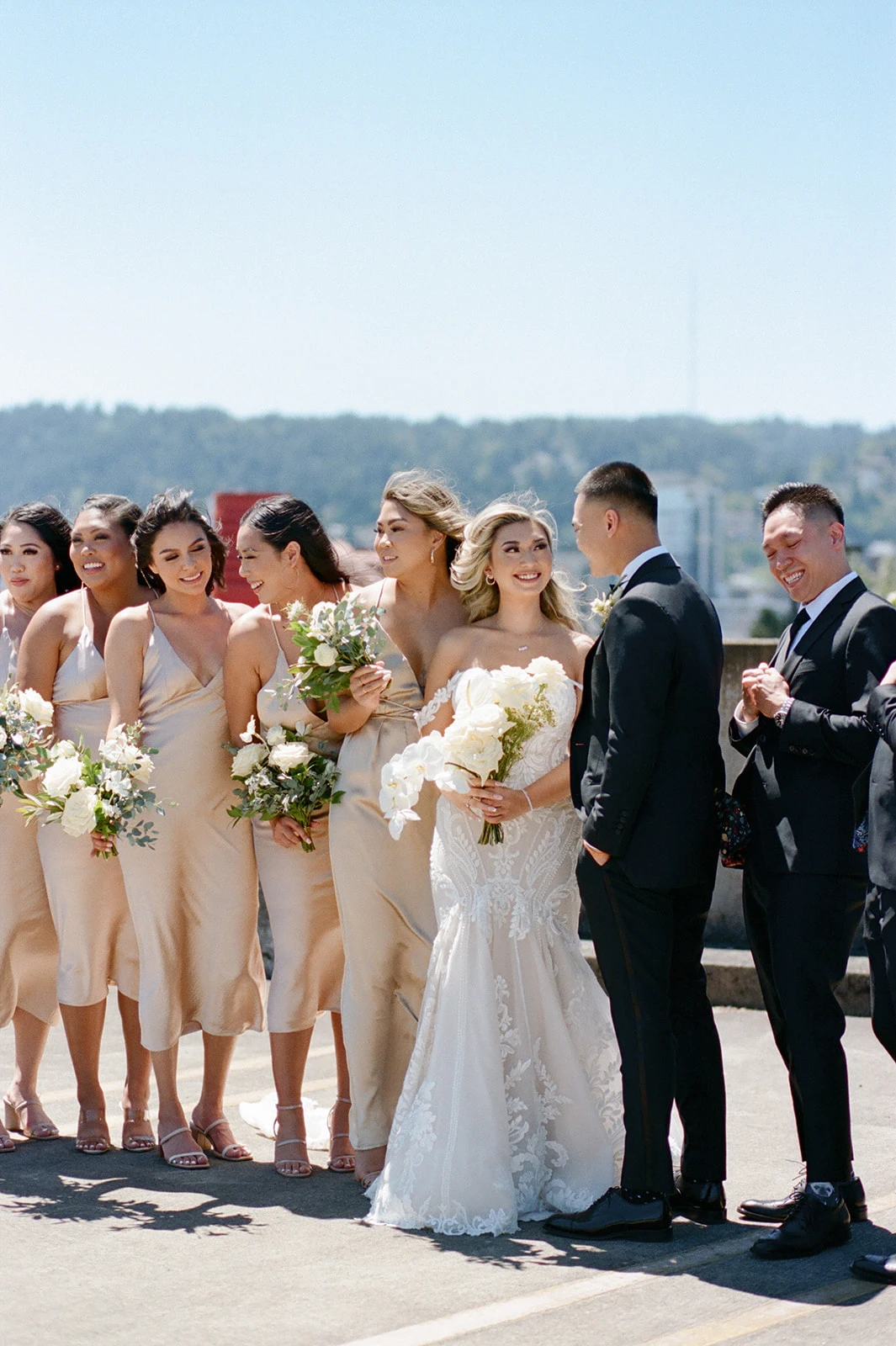 DESCRIBE YOUR BRIDAL STYLE. HOW DID YOU WANT TO LOOK ON YOUR WEDDING DAY? TELL US ABOUT YOUR DRESS SHOPPING EXPERIENCE.
I was a figure skater, so I love the bling! Give me all the rhinestones! But also I wanted to look timeless and tasteful — I just wanted to glow!
My experience at True Society by The White Dress in Portland was honestly what every bride dreams of! With COVID-19 restrictions, it was hard to find bridal shops that would accommodate a larger party. It was always my dream to have both my parents and my bridesmaids with me during wedding dress shopping — and True Society was so accommodating, while also being safe. Genna, my True Crew stylist, welcomed us in and honestly took the greatest care of us.
When I began looking for my bridal gown, I had no idea what I wanted, other than that I wanted it fitted, maybe with sleeves, and that, as a figure skater, I definitely wanted some sparkle and bling. Genna and I talked about where we were getting married, so she could help me pull some gown contenders. I told her dancing was important and she let me know we can try sleeves, and it was essentially up to me, but I may be limited in mobility while dancing.
The crazy thing, when Genna took me to pull dresses, the first one that caught my eye was Martina Liana Style 1267. It didn't have sleeves but definitely nailed everything else I wanted. So we pulled it to try on, along with a few other styles. Obviously, Martina Liana Style 1267 was the first one I tried on. They say, "you just know", and I definitely knew this was my dress right away! I ended up trying on five other gowns, all beautiful, but I had to go back to the very first dress.
Genna sealed the deal by putting on the matching veil — I am not a big crier, but I totally cried. Being able to see my parents' and girlfriends' reactions, was everything I could ever imagine! The entire process was under half an hour, too!
What Genna doesn't know is that not only did she help me find my dream dress, but I never mentioned how I have dreamed of walking down the aisle in a Martina Liana wedding gown. I knew it would be difficult to just stick to just one designer, so I didn't mention it. But much to my surprise, I would be walking down in a Martina Liana afterall!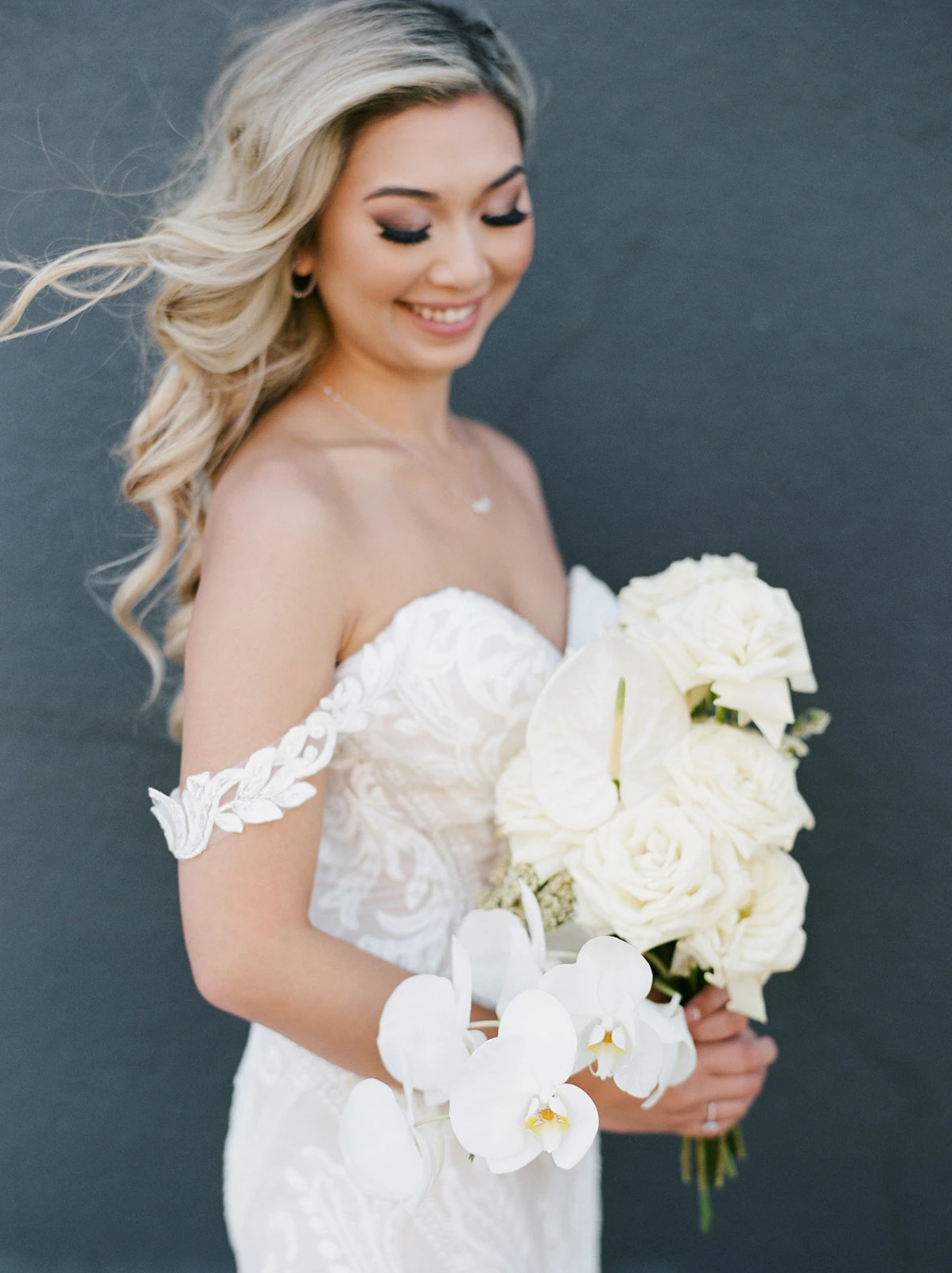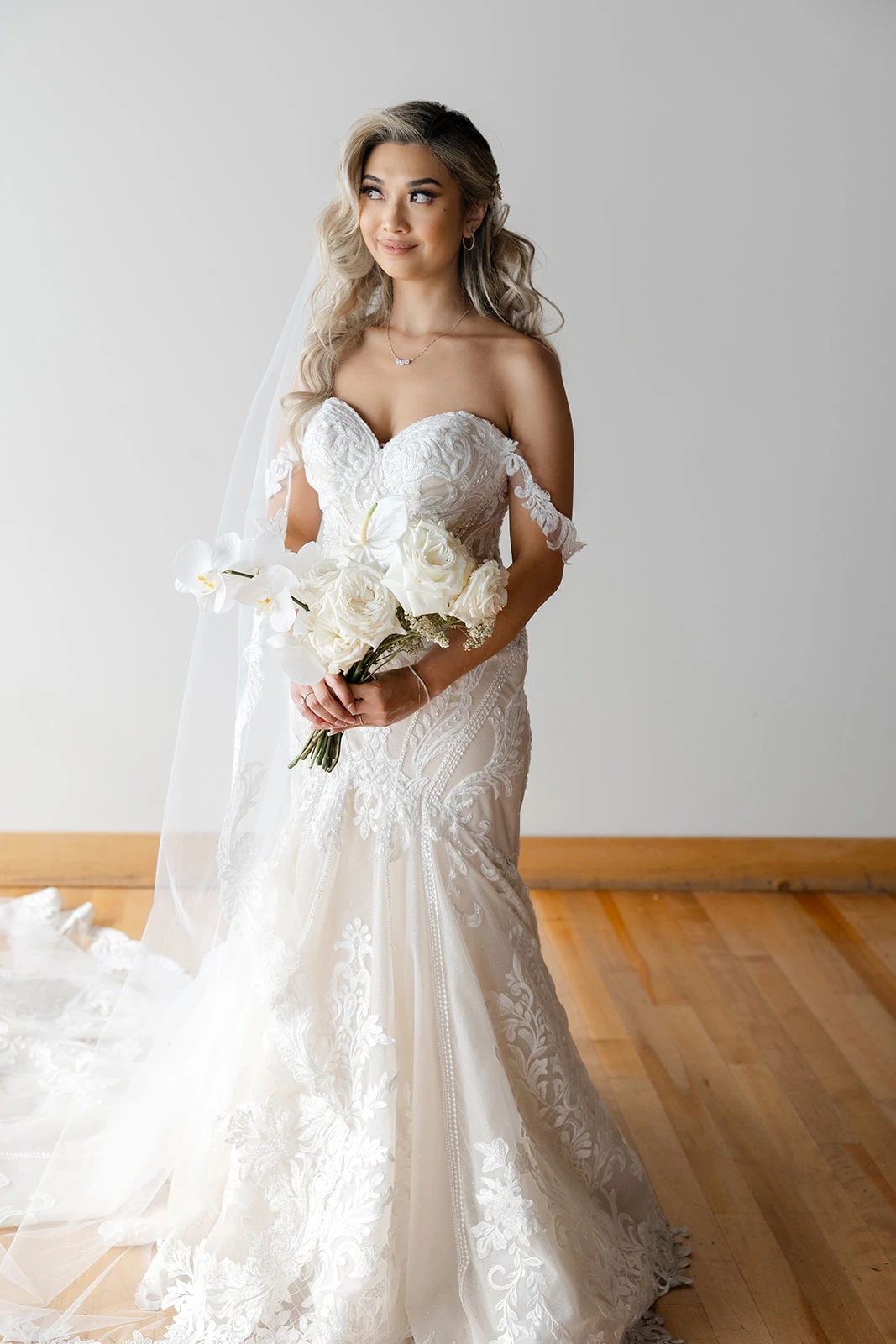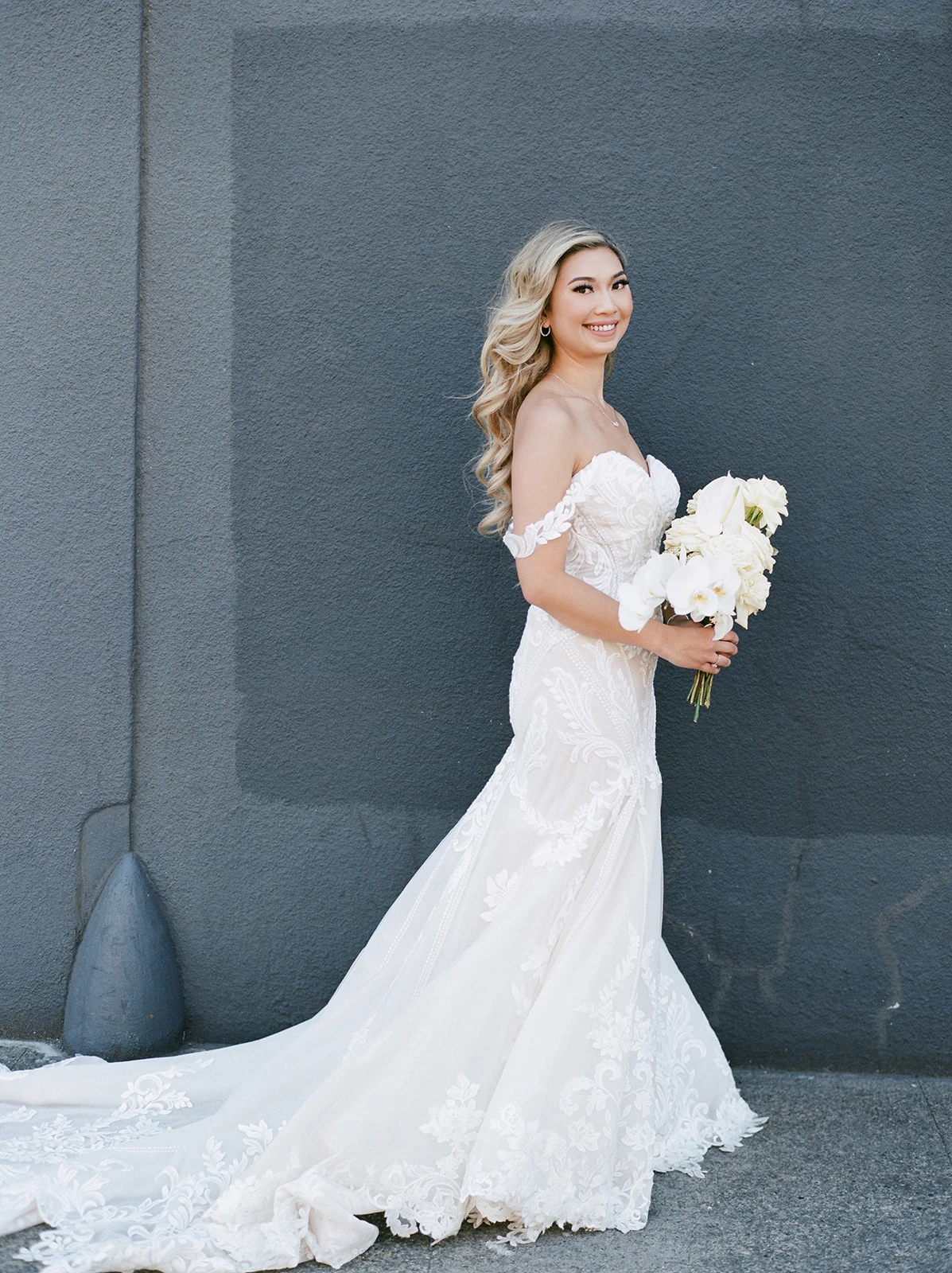 IN YOUR OWN WORDS, TELL US MORE ABOUT YOUR WEDDING. WHAT WAS YOUR THEME? HOW DID YOU MAKE YOUR WEDDING PERSONAL TO YOUR LOVE STORY?
Since we both come from different cultures, I am from Laos, and Brian is Vietnamese. We were able to incorporate aspects of both our cultures into our big day. We had a traditional Lao ceremony and tea ceremony the day before and the morning of our big day. During our reception, we welcomed our guests with lion dancers to honor Brian's Vietnamese heritage.
Our first dance was to honor my side of the family. Brian and I opened up the dance floor with a traditional Lao first dance, followed by the father-daughter dance, in which we did a traditional Lao dance as well.
We also have a 13-year-old pug who is very special to us. He was there with us when we exchanged our vows, and there were hints of him throughout the reception. The groomsmen wore socks of his face. The entire bar was O'ryan themed. We called it "O'ryan's Open Bar," and our signature drinks served after we walked down the aisle were named after his favorite toy!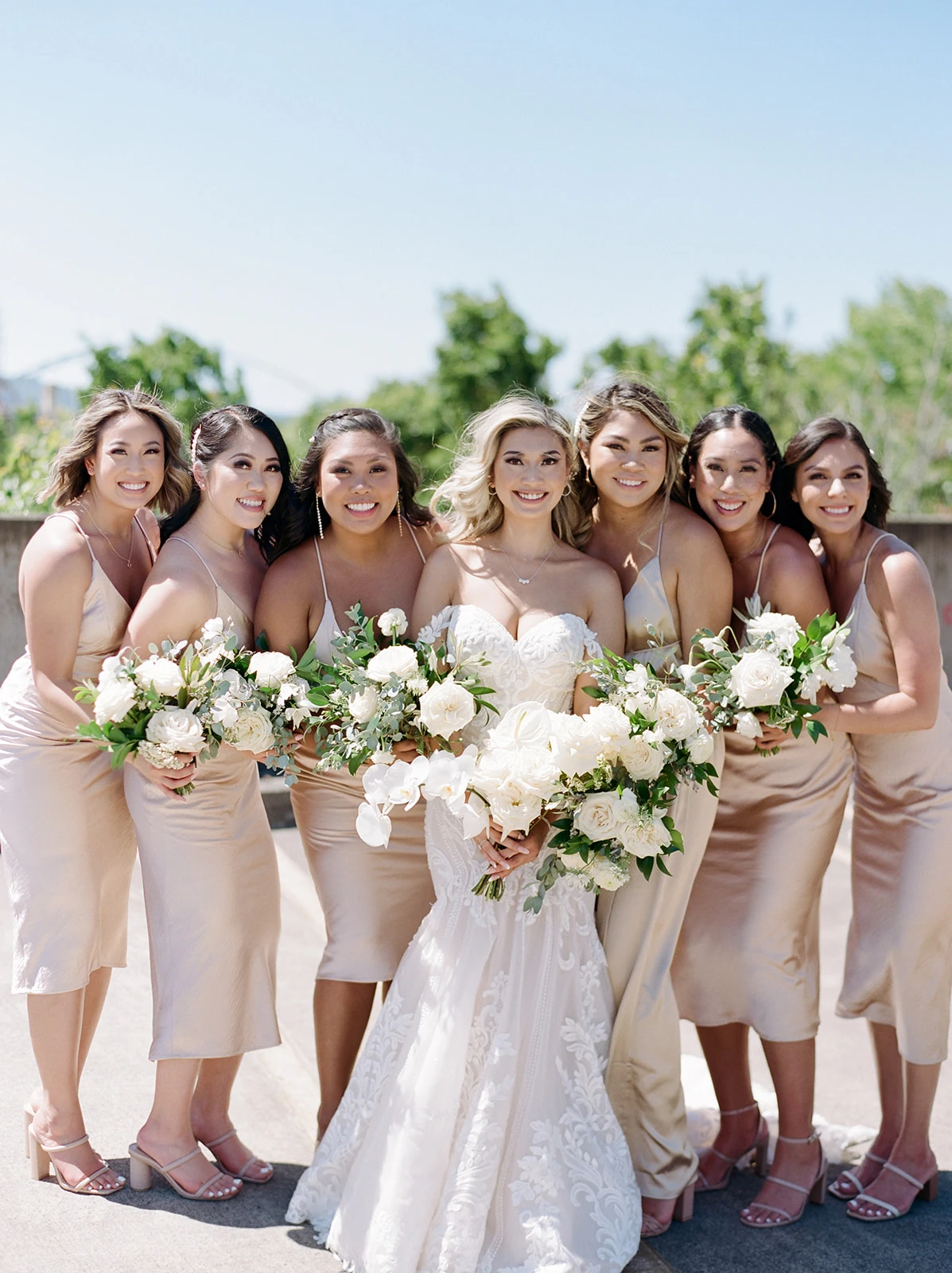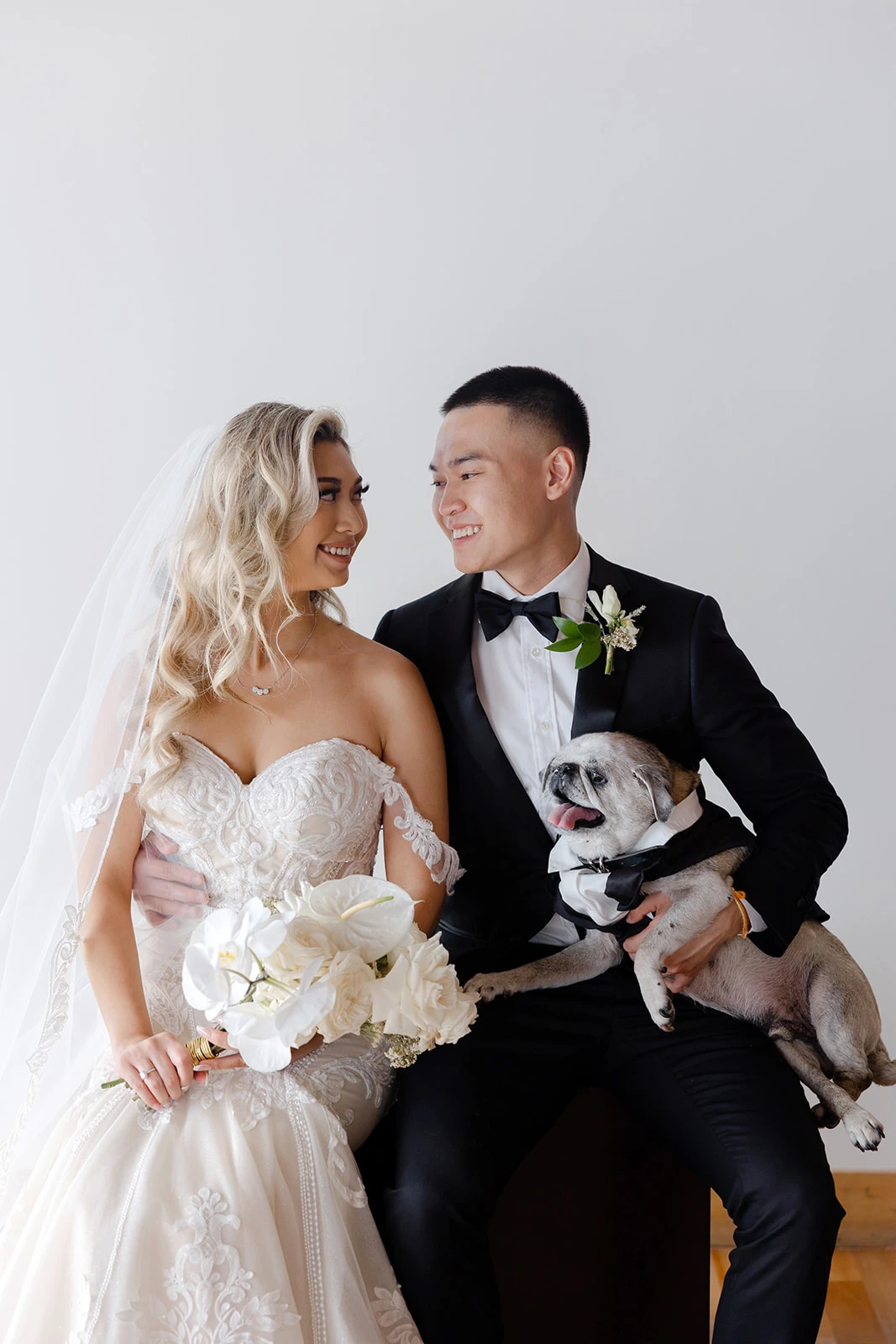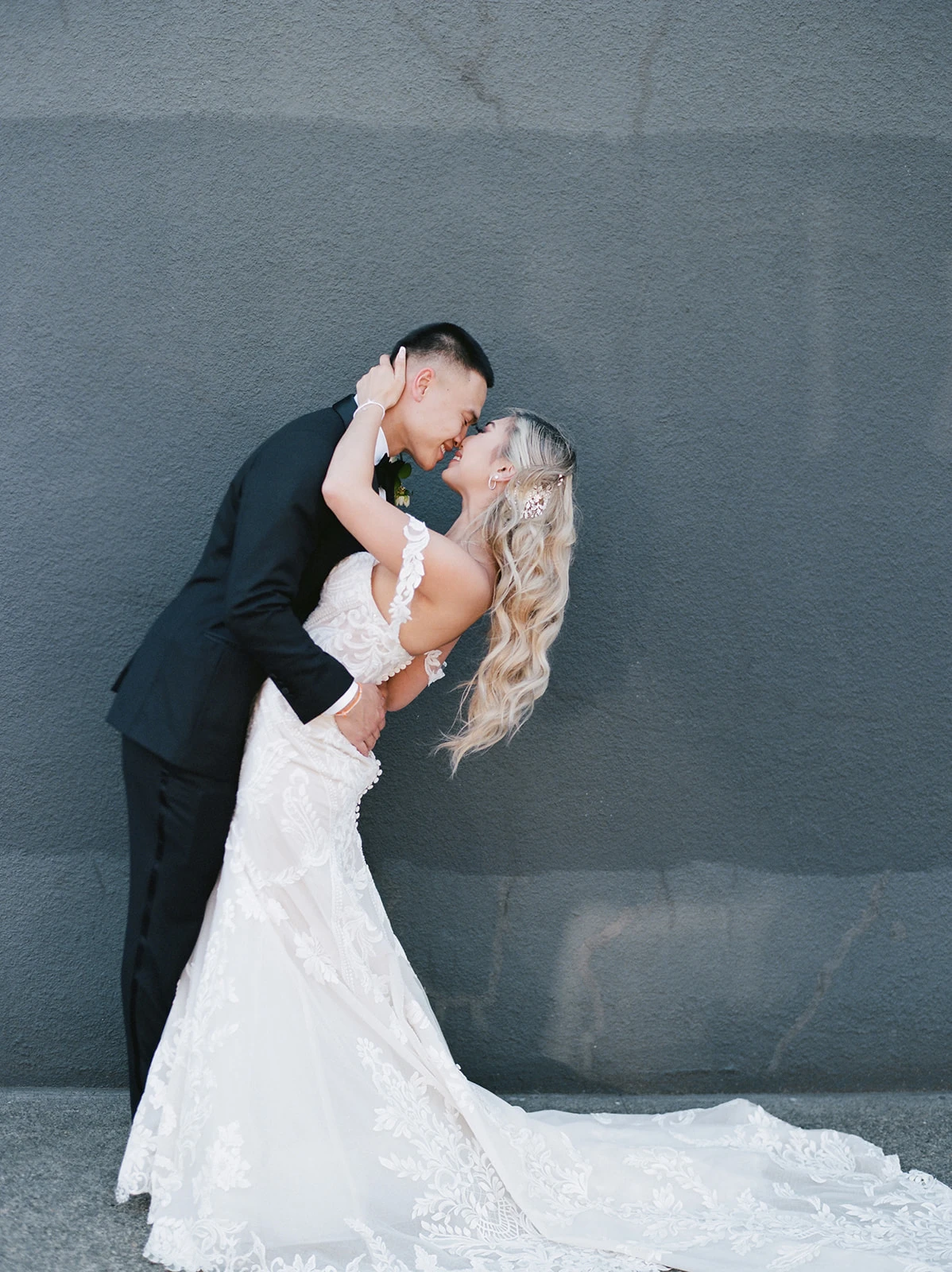 Cheers to Stephanie & Brian!
Photography: Simply Splendid
Venue: Leftbank Annex
Planning: Luxe Event Productions
Florals: The Slow Cult
Videographer: Goodco Studios
Hair: Hair by Seraj
MUA: Brenda Tellezz
Signage: HeyHalle
Rentals: The Party Place
Catering: Devil's Food Catering
Cake: Too Sweet Cakes
True Society brides, did you find your dress with us and want to be featured as a #TrueBride? Share your story with us.
Ready to find a dress that makes you sparkle on your wedding day? Find a True Society store near you and book your appointment today!