Our gorgeous True Society by Belle Vogue bride Madi's wedding day was filled with all the love and happy tears! She and husband Ben's elegant rustic wedding included fresh florals and incredibly intimate moments with their friends and family. Madi looked breathtaking in glam fit-and-flare Style D2988 by Essense of Australia that showed off her curves. Her goal was to make sure everyone in the family was included in their special day. Surrounded with organic eucalyptus greenery and fresh pink flowers, Madi and Ben's intimate nuptials had all their loved ones totally captivated. Read on to hear more from Madi about her perfect day.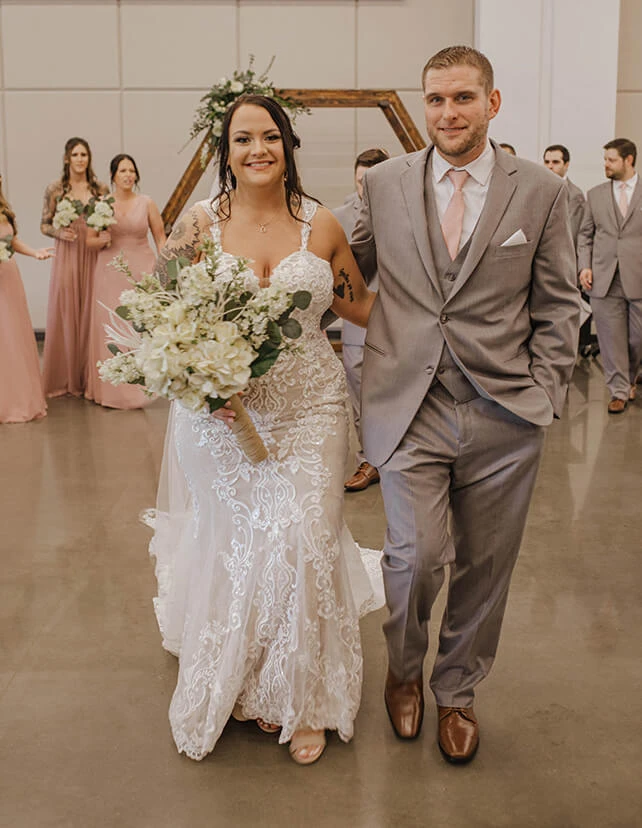 Tell us about your intimate lake proposal!
We are HUGE lake people! My husband's family has always gone down to Table Rock Lake for as long as he could remember for family trips. His grandma owns a cabin right on the water, and it's our favorite place to go on family vacation! His grandpa passed away a few years ago, but my husband always told me about his grandpa's favorite fishing spot. Last May, we went down to the lake, and my husband took me to that exact fishing spot at sunset and proposed! It was so beautiful!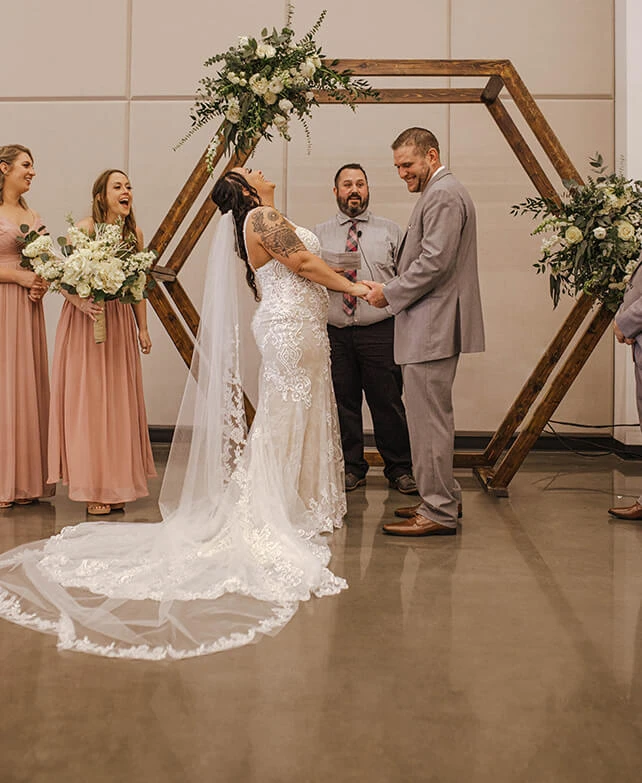 Tell us about your unique bridal style.
I wanted a very lacy, blingy dress that showed off my curves and complemented super glam makeup!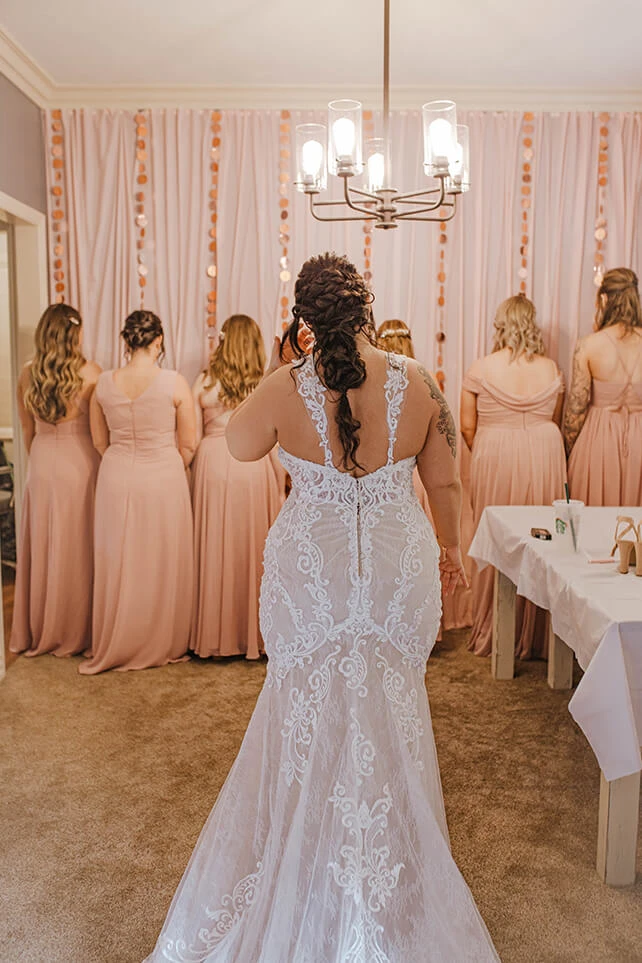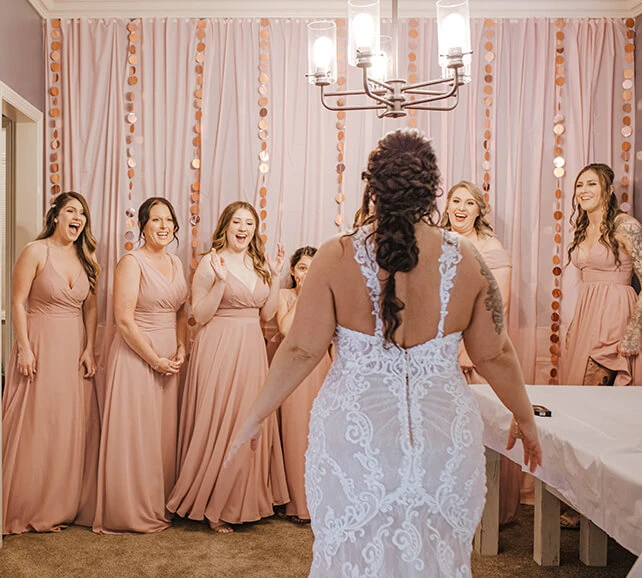 How did you know Essense of Australia Style D2988 was the one?
I knew I wanted to look GLAM! My shopping experience at True Society by Belle Vogue Bridal was so amazing. Aubin knew exactly what type of dress I was going for when I started describing it! I fell in love with Style D2988's fit-and-flare silhouette. It really shows off curves and made me feel amazing!
How would you describe your wedding?
Our theme was elegant, semi-rustic and very FRESH. We had TONS of eucalyptus greenery and fresh white and pink flowers!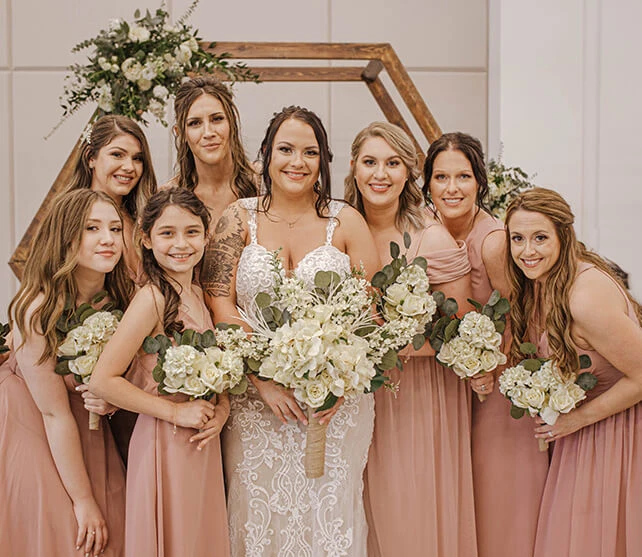 Your photos are incredible! There are tons of smiling faces.
We wanted to make our wedding very personal to us. We had literally ALL of our nieces and nephews in our wedding party! It was important to me and Ben that everyone was included in our big day. We even had 5 flower girls and 5 ring bearers!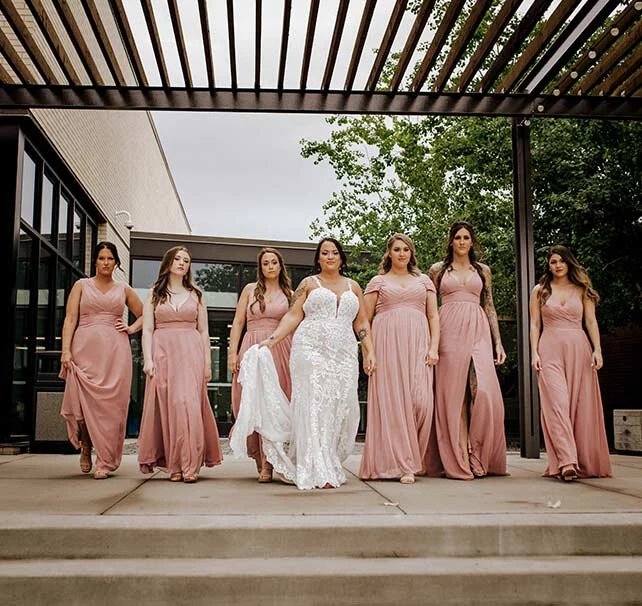 What is the most special memory from your wedding day?
My most special memory was when my now husband asked my 9-year-old daughter during our ceremony if he could marry me. I had no idea he was going to have her come up to us and ask her that! He had a whole speech prepared and presented her with a necklace that said "bonus daughter". There wasn't a dry eye in the room!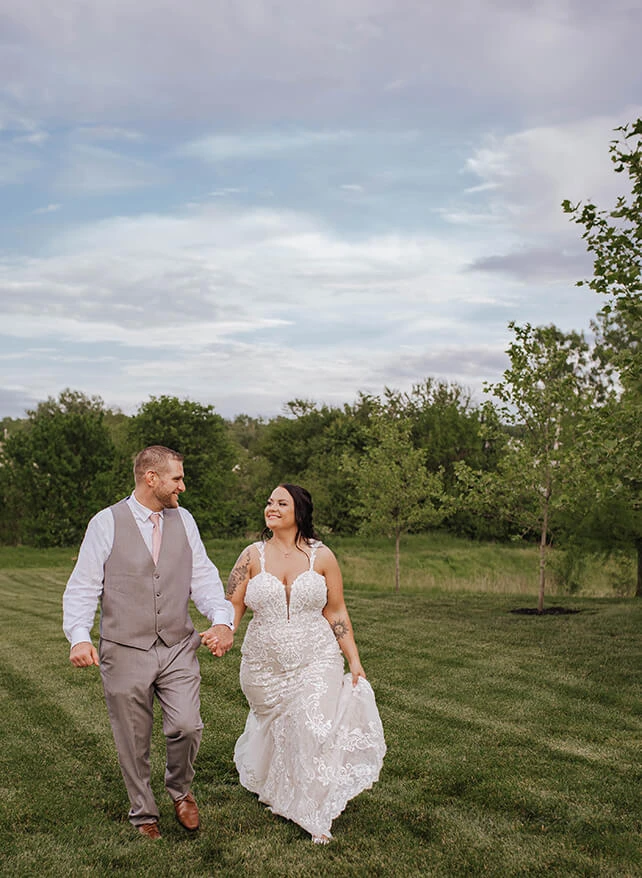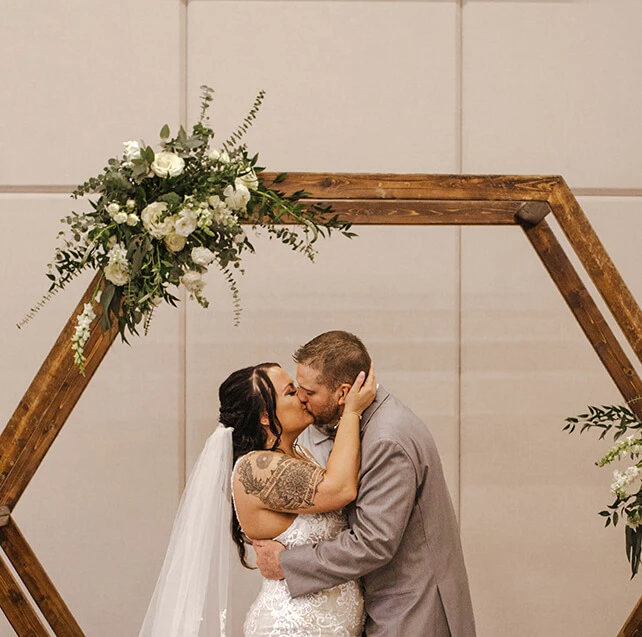 Wishing our beautiful #TrueBride Madi and husband Ben a wonderful marriage filled with joy and love! We're so thankful to be a part of their wedding memories. Cheers to a lifetime of laughter and happiness!
Are you ready to embark on your own bridal journey? Book an appointment today at one of our True Society stores to get started! We can't wait to help bring your bridal vision to life!
Photos by Hallie Lemon