Our stunning True Society bride Zaina and husband Marcus' wedding day was heavily inspired by all things floral. The couple said "I do" outside surrounded by wildflowers. Inside, the venue was beautiful with floral decor from Wild Hill. Zaina said Style 1165 by Martina Liana felt extra special because it has the most breathtaking floral lace from top to bottom. Flowers have always been a part of the couple's love language, and it only made sense to have them be a big part of their special day. Read on to see how their gorgeous wedding day came together!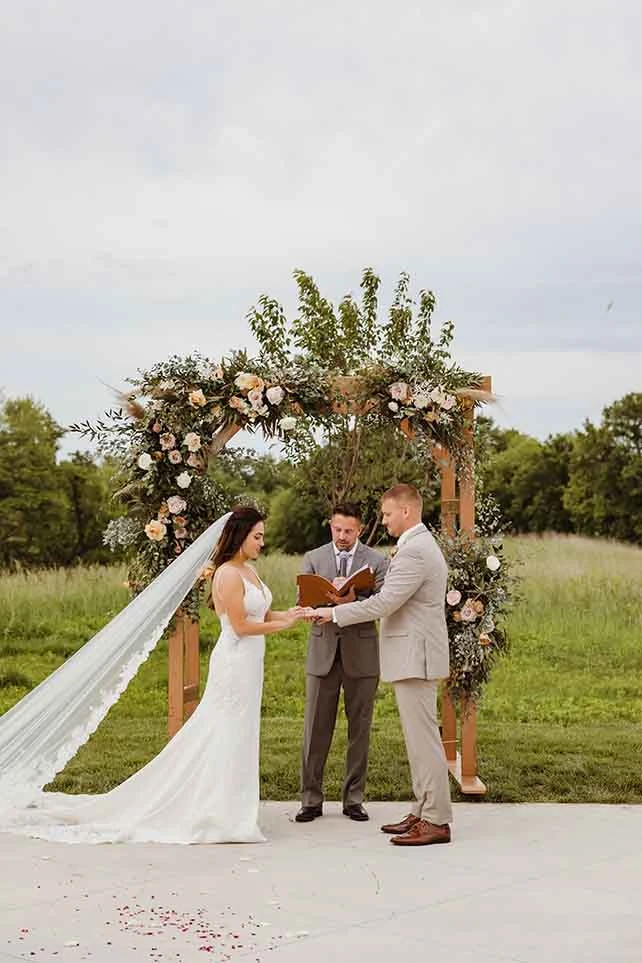 Tell us about the proposal.
Marcus proposed to me at one of our favorite restaurants in Briarcliff! All the signs were there – my friend making nail appointments for us, the wait staff saying, "we will sit you somewhere special tonight." Every sign was right in front of me and I still had no idea! At the end of our romantic dinner he got down on one knee and proposed. I was shocked! I said, "yes" we both cried and called our families. We celebrated all night with champagne in downtown KC.
How did you know Style 1165 by Martina Liana was the one?
I went into wedding dress shopping without knowing anything about styles, fabrics, fits. etc. All I knew was that I wanted to "feel like a bride" when I put on my dress. I tried on hundreds of dresses and I knew Martina Liana 1165 was the dress because it was the first wedding dress I put on that I felt like I was wearing the dress and the dress wasn't wearing me.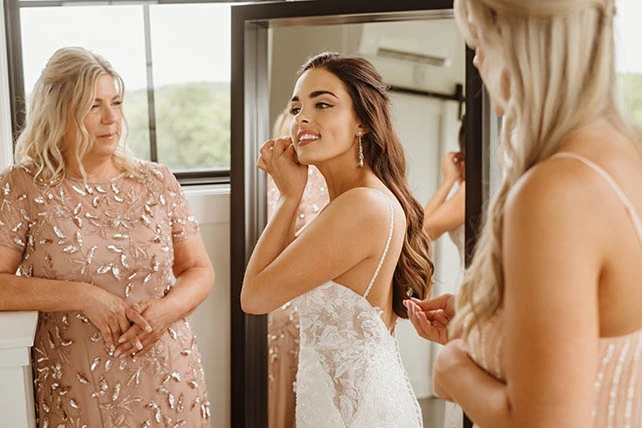 Tell us more about that "Say Yes to the Dress" moment.
When I put on the dress, I was quiet. I stepped closer to the mirror and took a moment to appreciate all the beautiful little details. It checked all the boxes I didn't know I had – lace, sparkle, beautiful train – the list went on. I turned around to my mom and my little sister with a big smile on my face and said, "I don't want to take this off."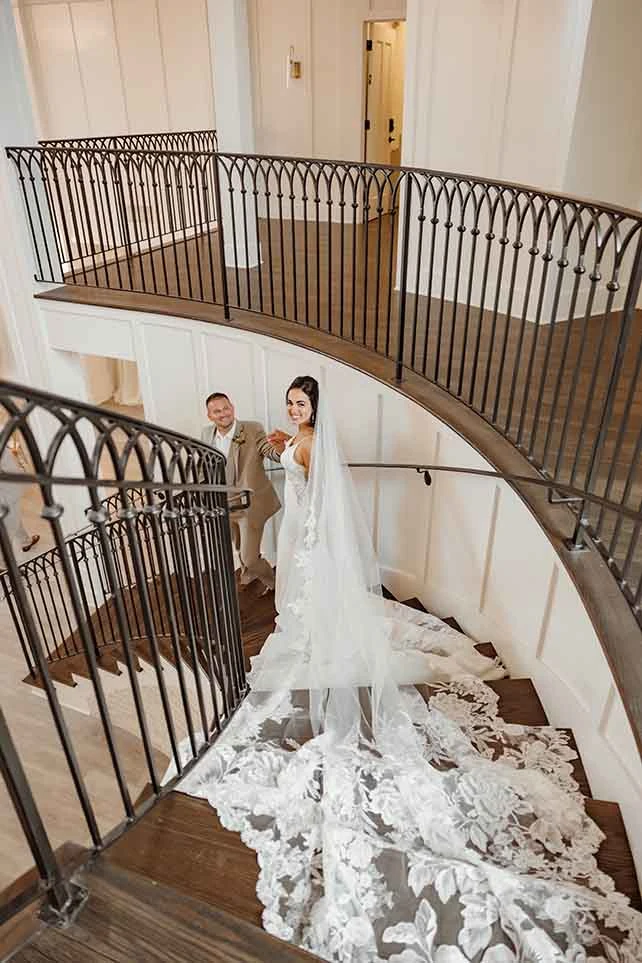 Tell us about your special moment during your last dance!
My husband Marcus and I had a "private last dance." While our guests were outside lighting sparklers and lining up for our exit, Marcus and I danced all over the dance floor, just the two of us. It was a special moment we had where we were able to slow down just for a bit and soak in all the love we felt throughout our day.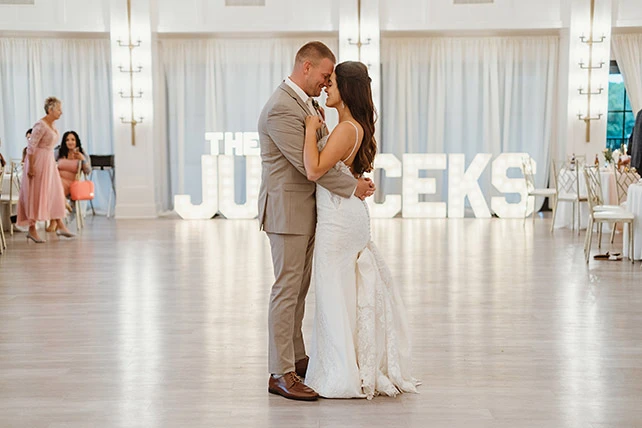 How did you commemorate family during your ceremony?
I'd always pictured myself walking down the aisle with my grandpa and my dad. Unfortunately Alzheimers took my grandpa a few years too soon. He was on my mind throughout the entire wedding process, and I felt a little empty knowing he wouldn't physically be there on our day. Before I walked down the aisle my mom and maid-of-honor sister surprised me with a locket to wrap around my bouquet. My locket had pictures of my grandpa and me, so in a way he was still with me when I walked down the aisle. I was overwhelmed with gratitude and love. My mom and sister knew exactly what I needed to make our wedding day perfect.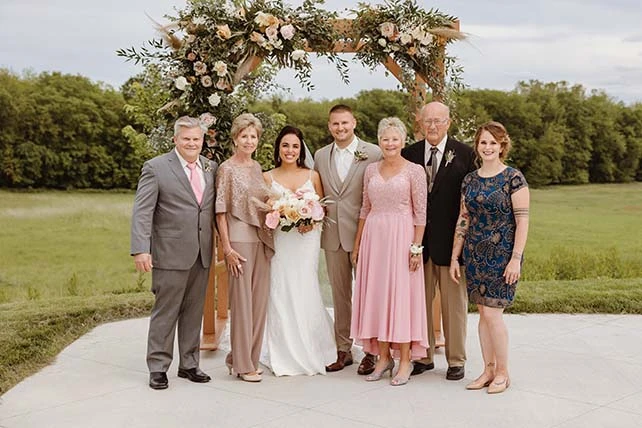 Do you have any advice for future #TrueBrides?
The best wedding advice I have ever received was to make all decisions through love. Something special we did to honor my grandpa was in lieu of wedding favors we donated money to the Alzheimer's Association. In this way even though he wasn't physically present on our day, I felt he was with us in spirit.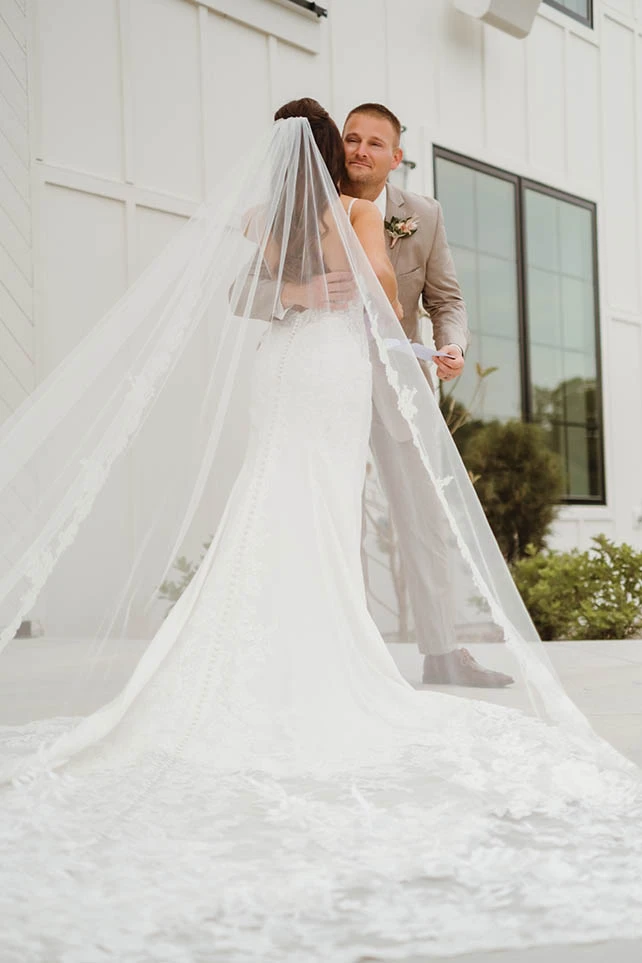 Congratulations to the happy couple, wishing you a lifetime of love and happiness!
Photography by Kay x Bee.
Ready to find your dream dress? Book an appointment at a True Society location near you today.
True Society brides, did you find your dress with us and want to be featured as a #TrueBride? Share Your Story with us– we love reading all about your bridal experience and swooning over your photos.
Want to see more wedding inspo from our True Bride nuptials? Follow us on Instagram for Real True Bride features, bridal advice, and the latest collection launches at a True Society location near you.