True Brides, you're in for a treat. Inspired by the iconic Royal Wedding, our True Society bride Julia felt like true royalty in an elegant wedding dress from our exclusive label Oxford Street! Read on because this intimate winter wedding is sure to melt your hearts.
Our True Society bride Julia gave us the down low on her dress shopping experience at True Society and shared the most gorgeous photos from her romantic winter wedding. She looked stunning in her classic A-line Oxford Street gown, even Kate Middleton would be awe-struck. We were absolutely blown away by Julia's Christmas proposal story, and her intimate wedding sounds like the perfect end to a sparkly surprise. Get the details below!
Tell us about your proposal…
It was Christmas! Greg and I had been dating for almost five years. That morning, he told me to open my stocking before we started opening our gifts, and I noticed mine was empty. He said he must have forgotten the gifts. "I'll be right back," he said. He told me to close my eyes and came back into the room. I remember thinking, close my eyes for a stocking gift? But I did it anyway. When Greg told me to open them, he was down on one knee and asked me to marry him. I was extremely surprised and ecstatic!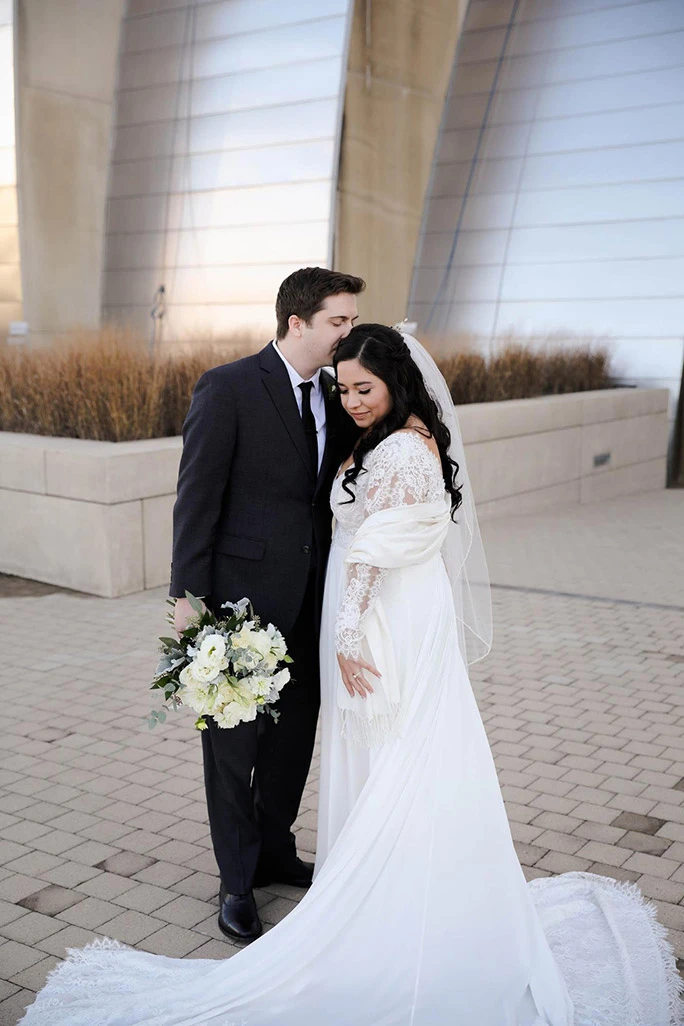 So, Kate Middleton was your style inspo?
Yes! I wanted my wedding day look to be elegant and classic. Since our wedding date was in December, I wanted a wintery aesthetic, but not shimmery like Christmas. I knew I wanted long sleeves and lace similar to Kate Middleton's royal wedding dress. That's why I fell in love with my dress. It had everything I was imagining!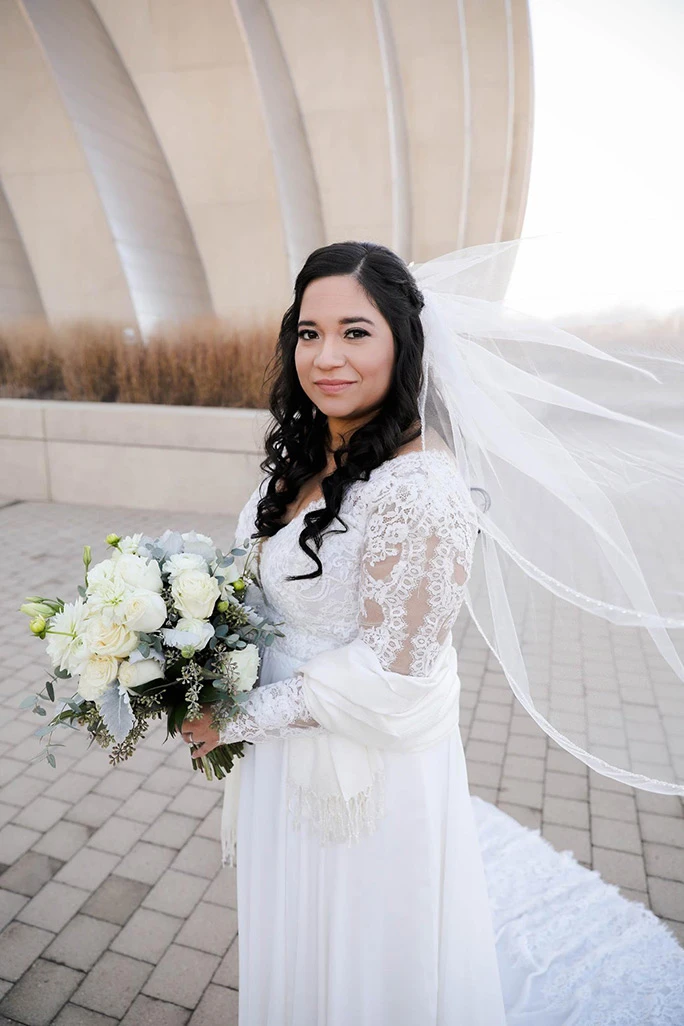 Tell us about your dress shopping experience…
I found my dress on the first day of wedding shopping. I brought my mom and my best friend, and we had an amazing time. My bridal stylist was a huge help, and she helped me select many dresses that were similar to my bridal vision. She made me feel super comfortable and was very accommodating. It's so true what they say when you try on a dress and you KNOW it's the one. That's exactly how I felt when I tried on my Oxford Street wedding gown!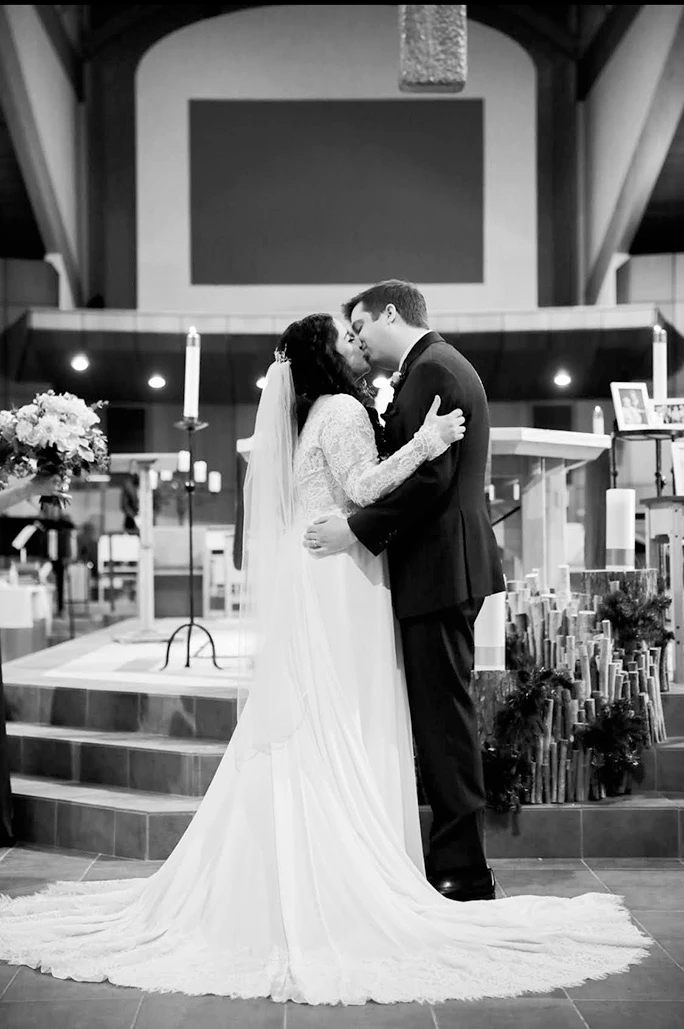 What's the most special memory from your wedding?
2020 wasn't an easy year to be a bride or have a wedding, especially in December. We cut our guest list down significantly and made many changes to ensure our guests felt as safe as possible. My husband and I really wanted that day to be a special one where we were surrounded by our people. Our closest family and friends who had been by our side from the beginning of our love story, and that's how it was. December 5th turned out to be a very special day not just for my husband and me, but for our loved ones too.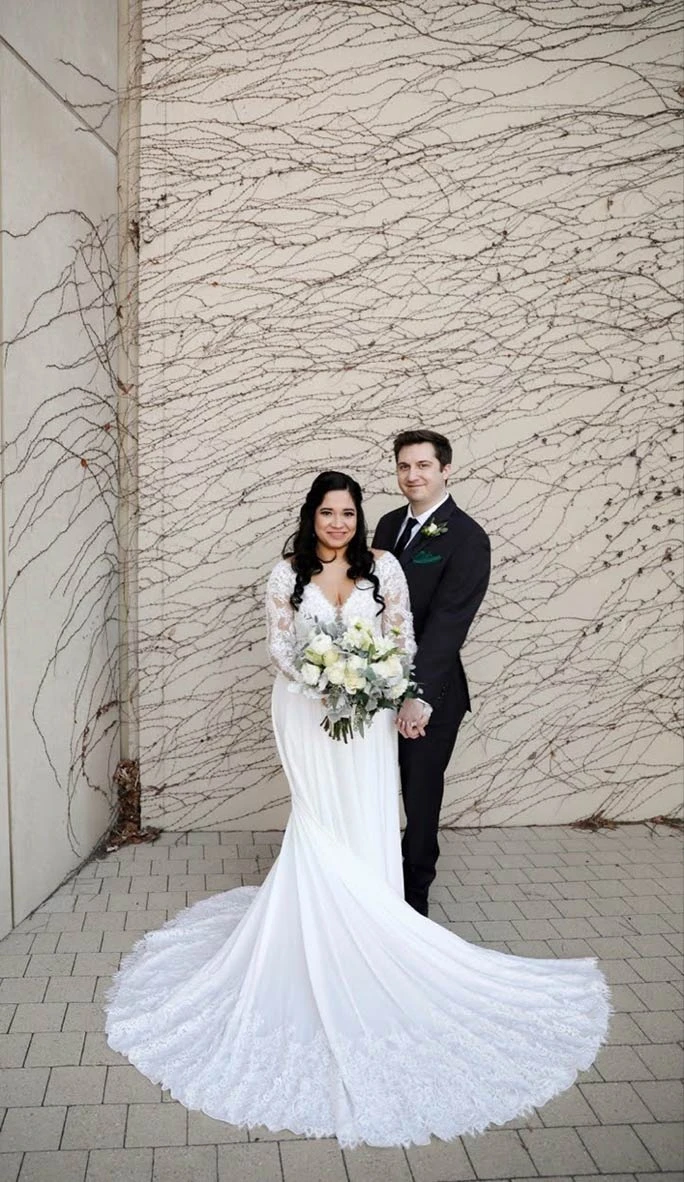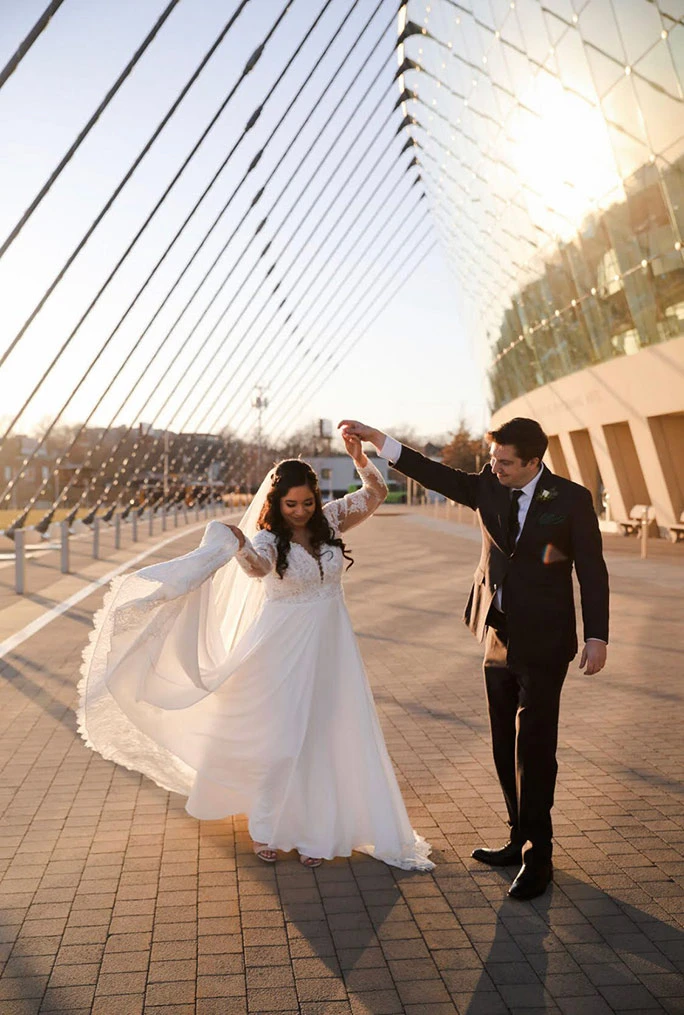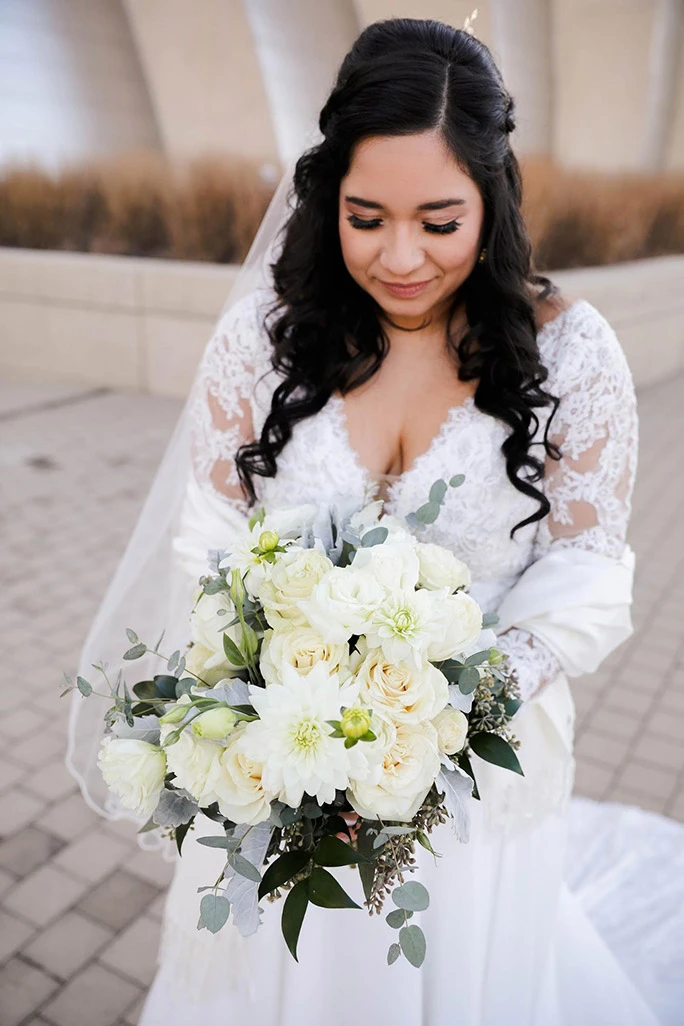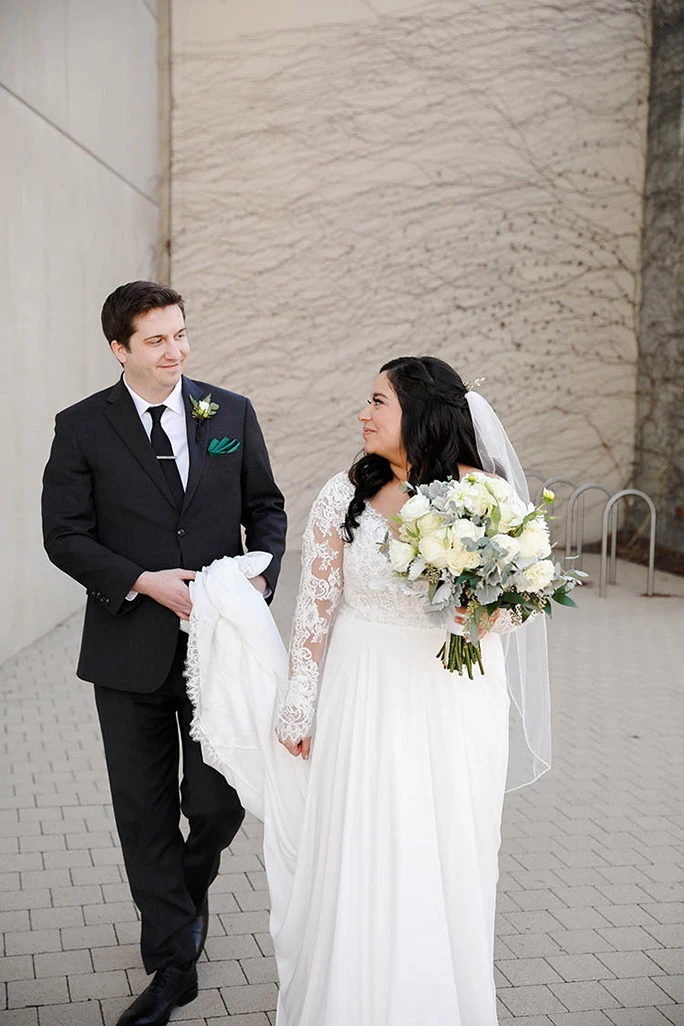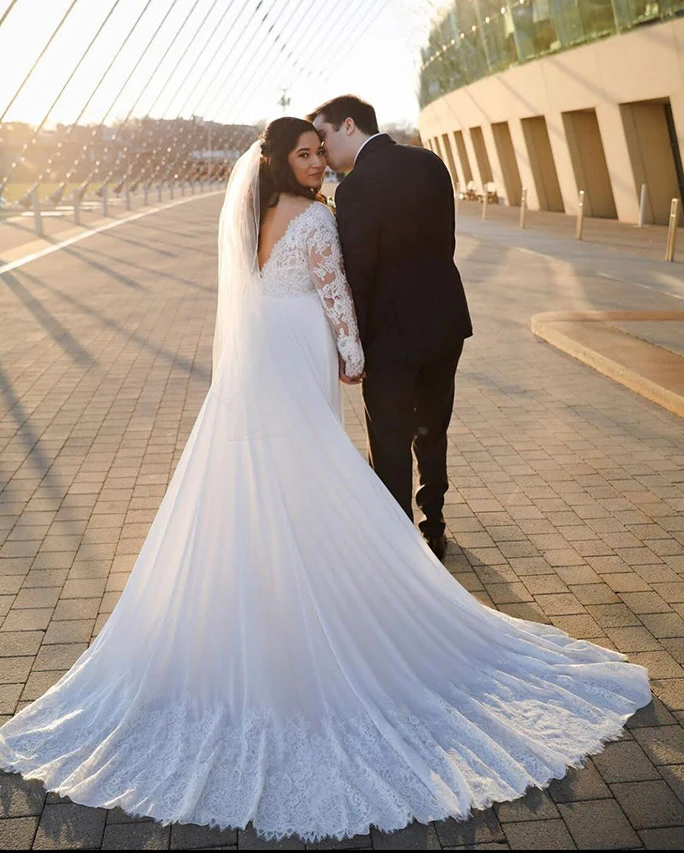 Photography by Rachel Rudeen
Ready to find your dream dress? Book an appointment at True Society today.
Want to see more wedding inspo from our True Brides? Follow us on Instagram for real bride features, bridal advice, and the latest collection launches at a True Society location near you.
True Society brides, did you find your dress with us and want to be featured as a #TrueBride? Share Your Story with us– we love reading all about your bridal experience and swooning over your photos!