Our True Society by Belle Vogue Bride Beth looked absolutely stunning on her special day! She and her husband Rex got married in a beautiful church in Kansas City surrounded by friends and family, and even their dog, Phog! Beth wore Stella York Style 6886, a gorgeous princess-inspired ballgown. Although their big day was more formal, Beth's goal was to also keep the ceremony light and spring-like so they chose a dusty blue theme and white flowers with greenery for all the florals. Continue reading to hear more from Beth about her perfect day.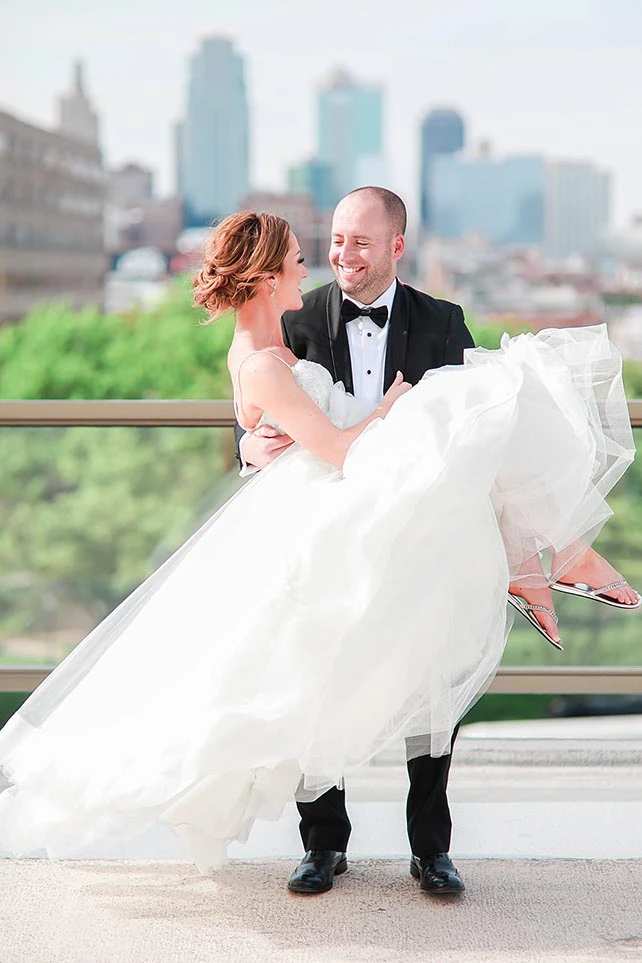 Tell us about your romantic tropical proposal!
Rex proposed in Maui, Hawaii. I was totally surprised. My family was there and we celebrated with a lot of champagne!
How did you know Style 6886 by Stella York was the one?
I wanted to look like a princess. I knew in my adult life there wouldn't be many more opportunities to wear a big, frilly dress. I also wanted a timeless, classic, and elegant look. I wasn't expecting to go for sparkle, but it ended up being my favorite part of the dress! Holly at True Society helped keep me true to my bridal vision. We got to take the dress outside and see it sparkle in the sun!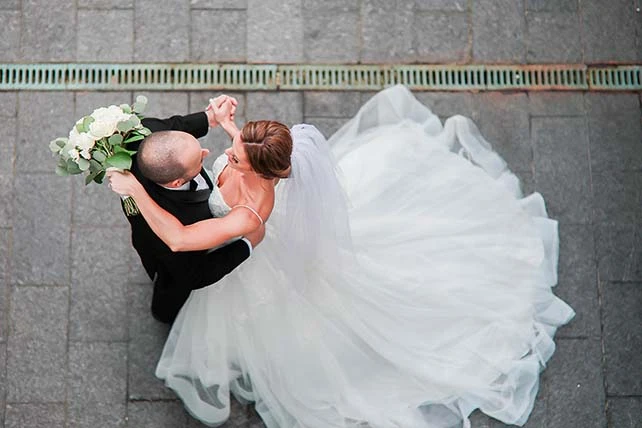 What was important to you for your ceremony?
We decided to get married at Visitation Church, rather than our childhood churches, because that is the parish we live in. We took a lot of pride in choosing our ceremony music and readings. Rex and I both have a lot of siblings, so it was important that we included all of them in the bridal party. We even got to meet up with our dog, Phog, during the day for some pictures.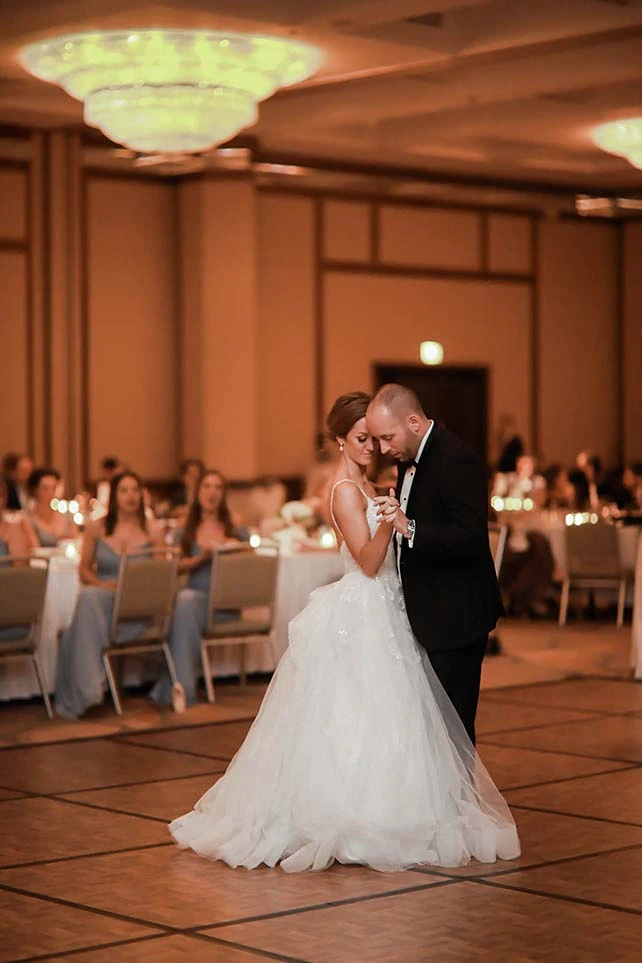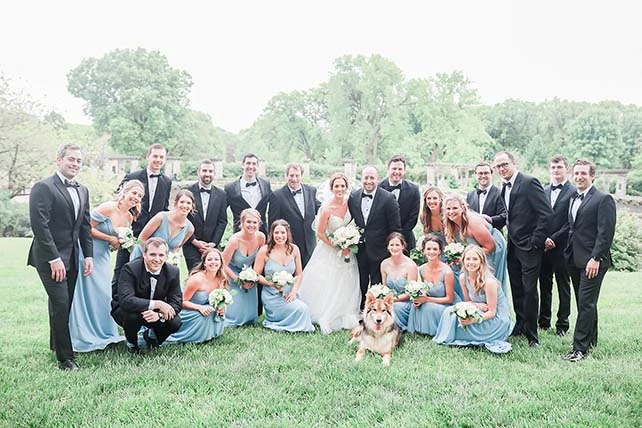 That reception skyline though…
We met and fell in love in Kansas City. When our first venue fell through (due to COVID) we were very excited to find out that the Westin was available for our date and that we could do our cocktail hour on the rooftop with the KC skyline in the background. My dad's restaurant company catered the cocktail hour and reception, and we were able to host our after-party at one of his restaurants! The food was incredible.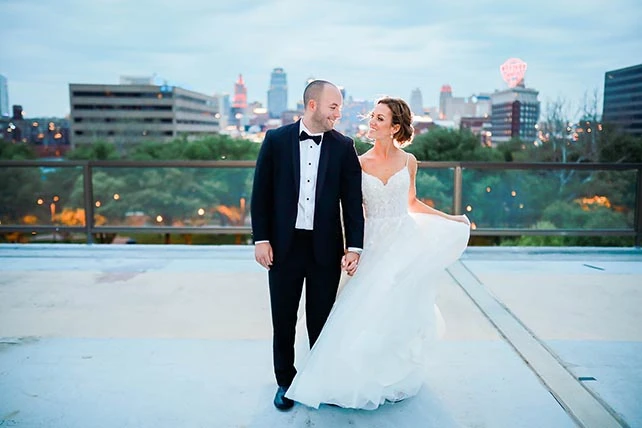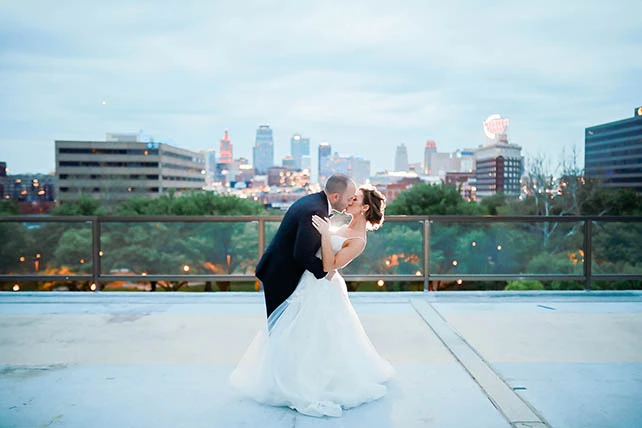 Tell us about your reception entertainment.
The band really hit it out of the park. This was the post-COVID party that all of our family and friends needed. My mom even surprised us by organizing a flash mob during one of the band breaks! It was so touching to see that so many of our family and friends had taken the time to learn a routine for us.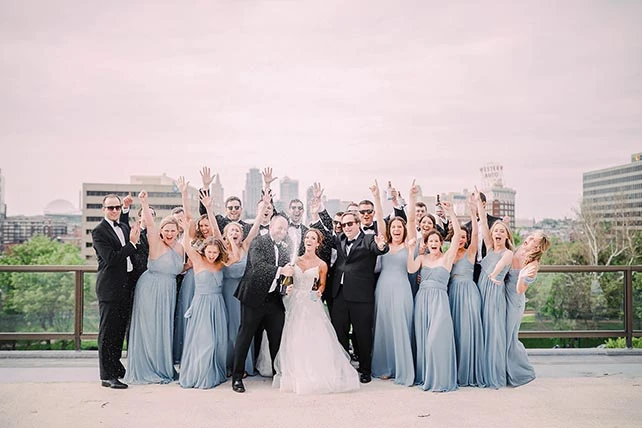 What was your most special memory from the day?
After the reception, two of the members from the band (trumpet and tambourine) led all of our guests from the hotel ballroom to the nearby bar where we were hosting an after-party. It was spontaneous and unplanned, and they ended up playing "When the Saints Go Marching in" which is my college's fight song! It was so fun!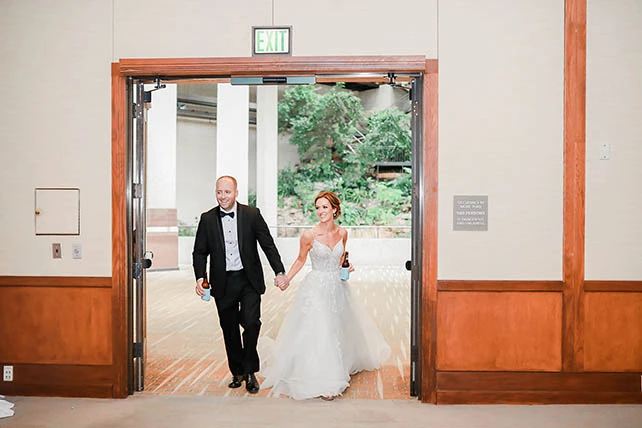 Wishing our beautiful #TrueBride Beth and husband Rex a wonderful marriage filled with happiness and love!
Photography by Lauren Schlesselman
Are you ready to find your dream wedding dress? Book an appointment at True Society.
Want to see more wedding inspo from our True Brides? Follow us on Instagram for real bride features, bridal advice, and the latest collection launches at a True Society location near you.
True Society brides, did you find your dress with us and want to be featured as a #TrueBride? Share Your Story with us– we love reading all about your bridal experience and swooning over your photos!