Bright lights, bustling energy and chic city locales make saying "I do" to a city wedding a must for the bold bride! Whether you love an industrial venue, an intimate restaurant wedding or a rooftop soiree—our True Crew has pulled together their favorite modern wedding dresses for a wedding in the city.
What is a Modern Wedding Dress?
A modern wedding dress is a contemporary take on bridal fashion, characterized by its sleek lines, minimalist aesthetic or innovative design elements. Modern gowns often embrace clean wedding dress silhouettes, geometric shapes and unexpected details to create a fresh and fashion-forward look. Modern wedding dresses may feature elements such as asymmetrical necklines, cutouts, illusion panels, architectural draping or unexpected fabric combinations.
Who Typically Wears a Modern Wedding Dress?
Brides who want to exude a sense of sophistication and individuality often opt for a modern dress. The modern bride may believe that less is more and wants to let their gown's simplicity speak for itself.
What Styles Will Make Brides Pop at a Wedding in the City?
When choosing a wedding dress for the big city that will make brides pop, look for interesting details like asymmetry, color variation or architectural details. A city hall wedding dress offers versatile choices. Brides can opt for a short dress, pantsuit, jumpsuit or a two-piece set. A white dress will always stand out against the nighttime skyline. However, it's important to incorporate your personal style to create a look that reflects you!
Modern Wedding Dresses
Simple Modern Wedding Dress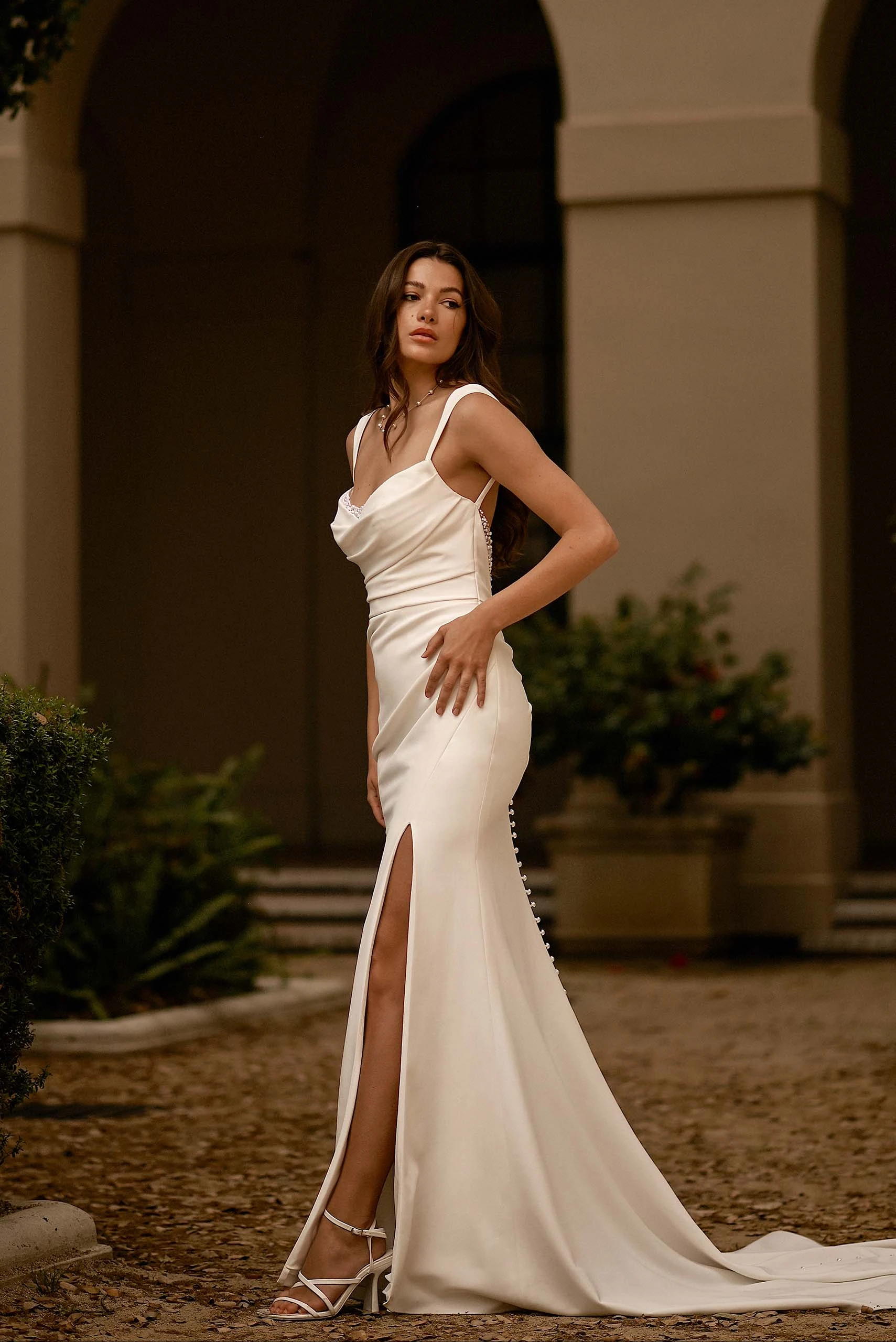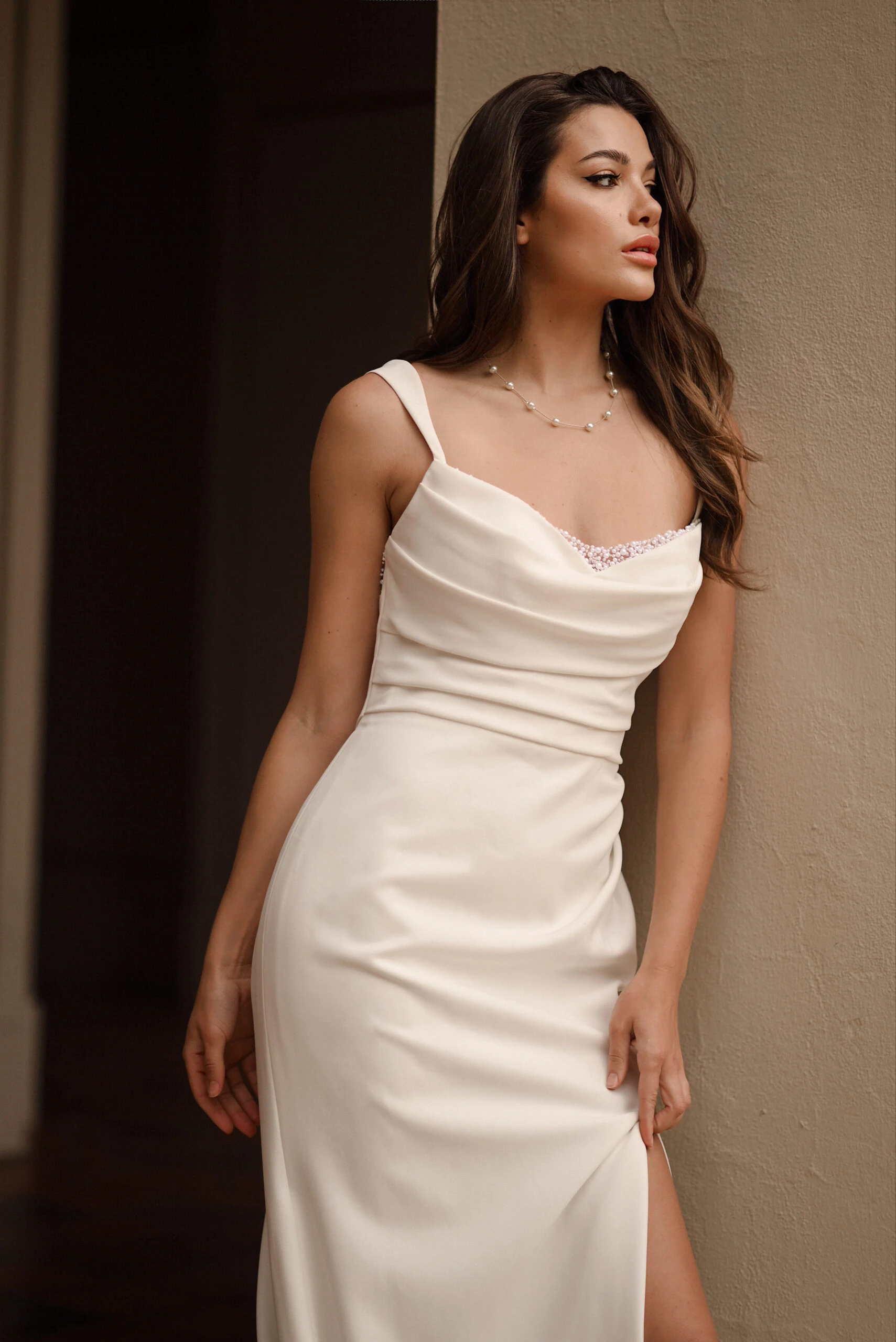 Essense of Australia Style D3823
Simple modern wedding dresses are ideal for the bride who wants a chic look for a city hall, loft, rooftop or museum wedding! Clean and modern with a touch of sparkle, Essense of Australia Style D3823 features wideset shoulder straps and a draped scoop neckline with an alluring hint of pearl beaded accents.
More shimmering pearls embellish the low open back that concludes with a fitted ruched hip to highlight the natural curves of this column sheath silhouette. In luxurious crepe satin, this chic designer bridal look concludes with a soft sweeping train for an elegant and glamorous finish.
Modern Lace Wedding Dress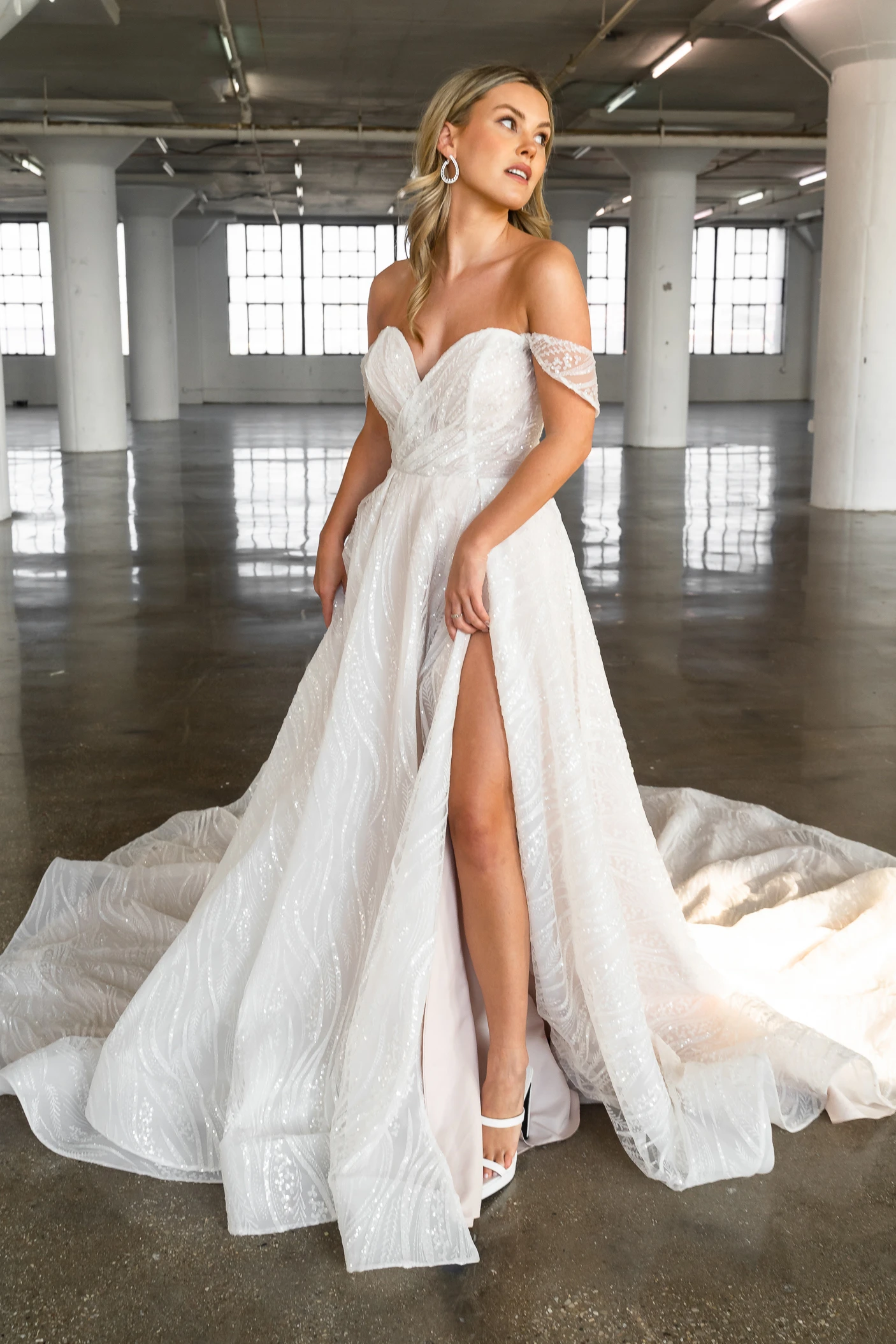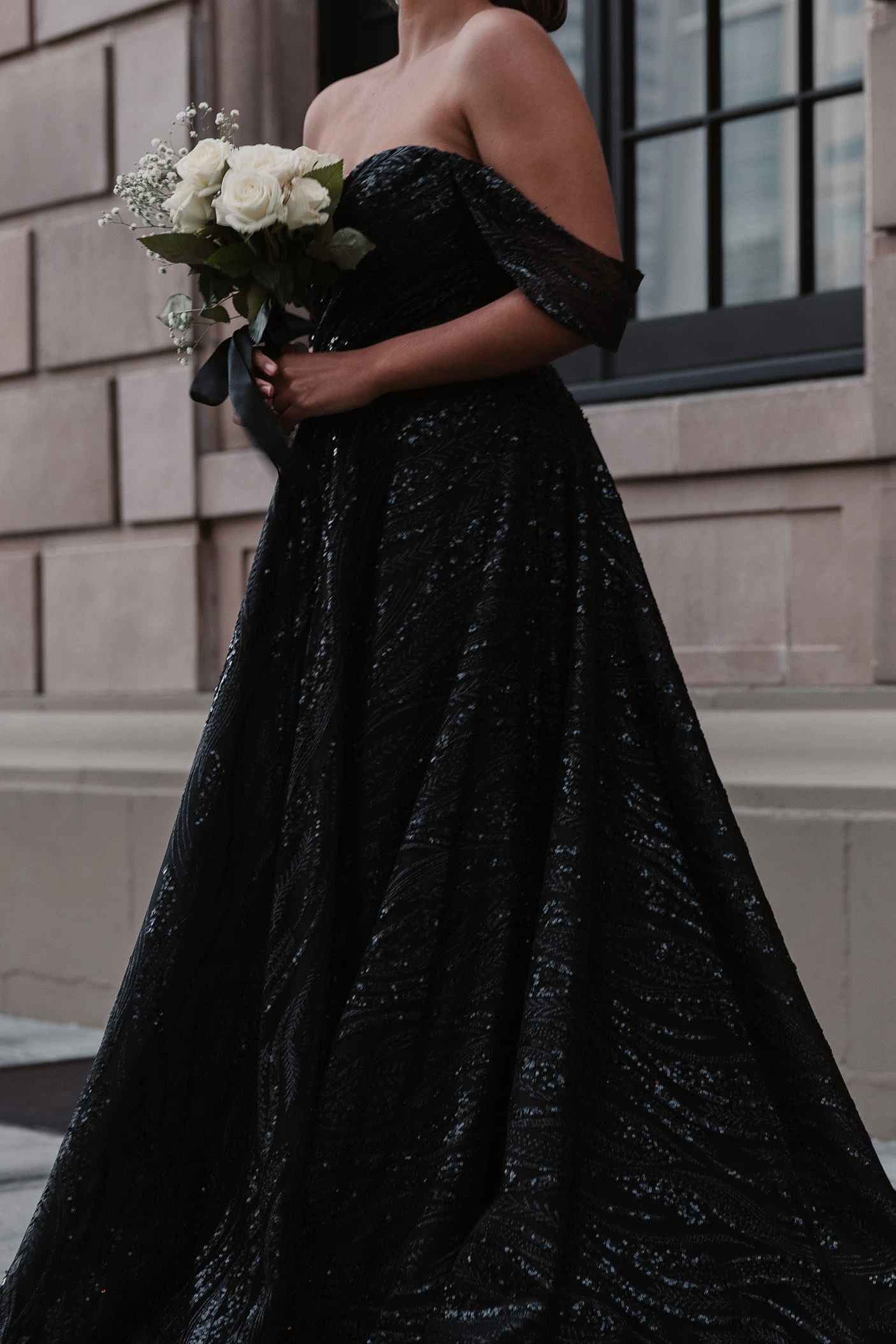 Essense of Australia Style D3648
A modern lace wedding dress that shimmers in the city lights is always a "yes" in our book! Step into sparkling luxury with Essense of Australia Style D3648 — a runway-worthy gown for the sophisticated bride.
In sequined graphic lace, this modern wedding dress features an alluring sweetheart neckline and detachable off-the-shoulder straps. From the waist, a full A-line skirt forms a sumptuous silhouette that shimmers down the aisle and whimsically flows with a sexy high slit and glamorous royal train.
Modern Classic Wedding Dress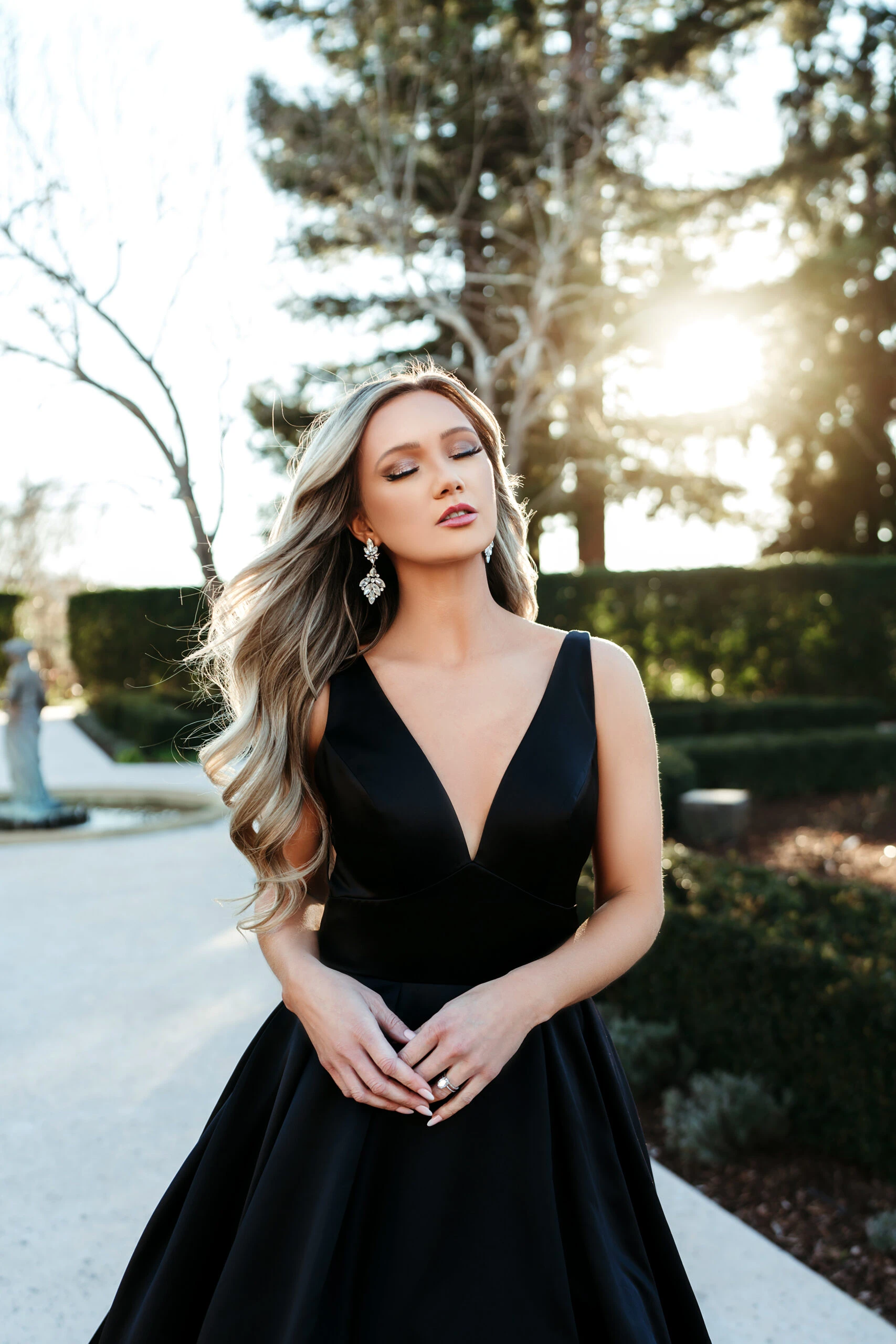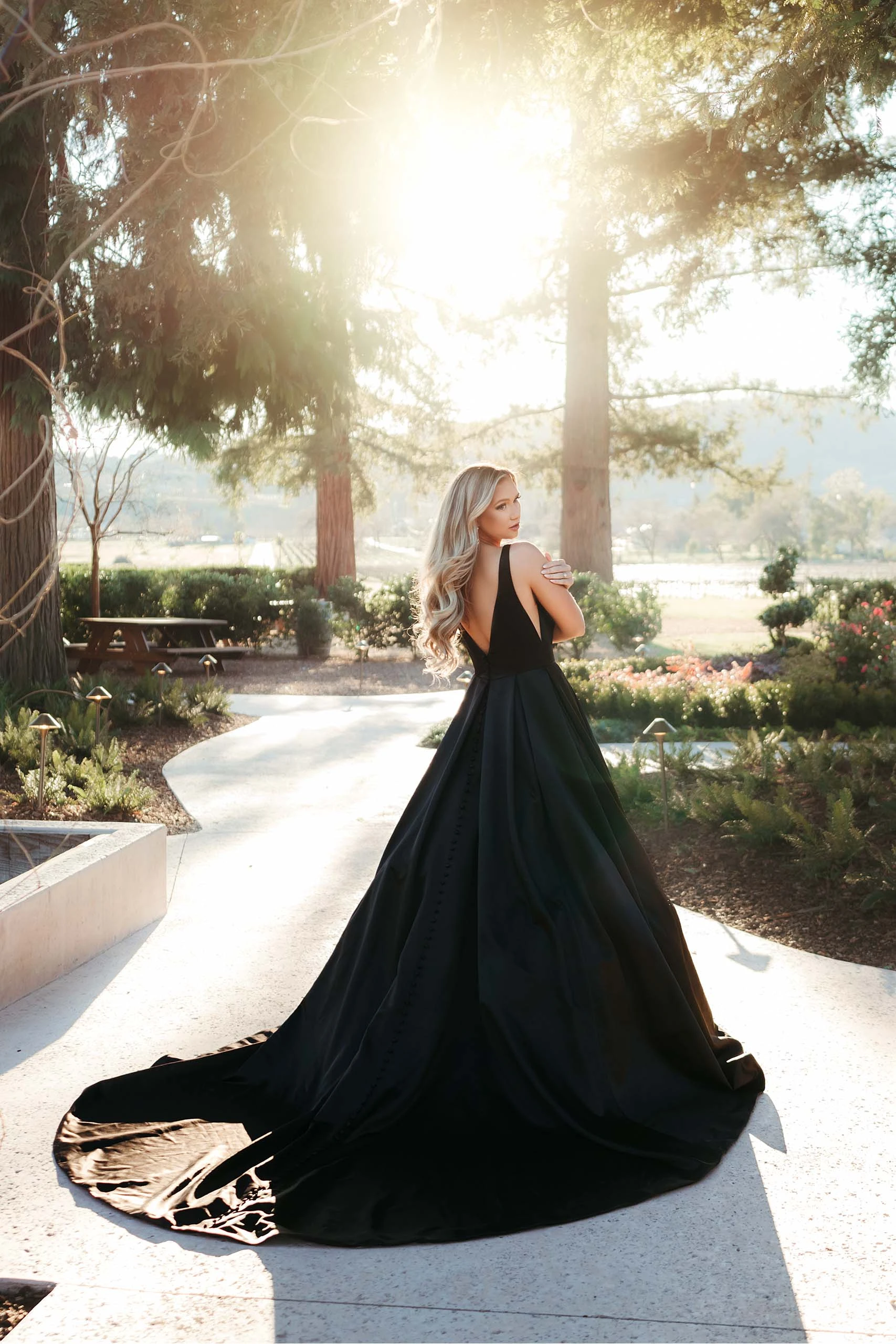 A modern yet classic wedding dress is a chic choice for a swanky city wedding! Bold and chic, Stella York Style 7755 radiates with its lustrous satin construction and impeccable ballgown silhouette. This style is available in black, white and ivory.
From sleek shoulder straps, a flattering deep V-neckline dips into a fitted banded waistline. A complimentary V-back meets the waistline, and a row of fabric-covered buttons adorns the entire length of this modern wedding gown. From the tailored waist, a regal ballgown skirt extends to form a sweeping cathedral train.
For the daring modern bride, this black wedding dress makes a statement down the aisle. You can view more timeless wedding gowns in our post about Elegant Wedding Dresses from Classic to Sophisticated.
Modern Minimalist Wedding Dress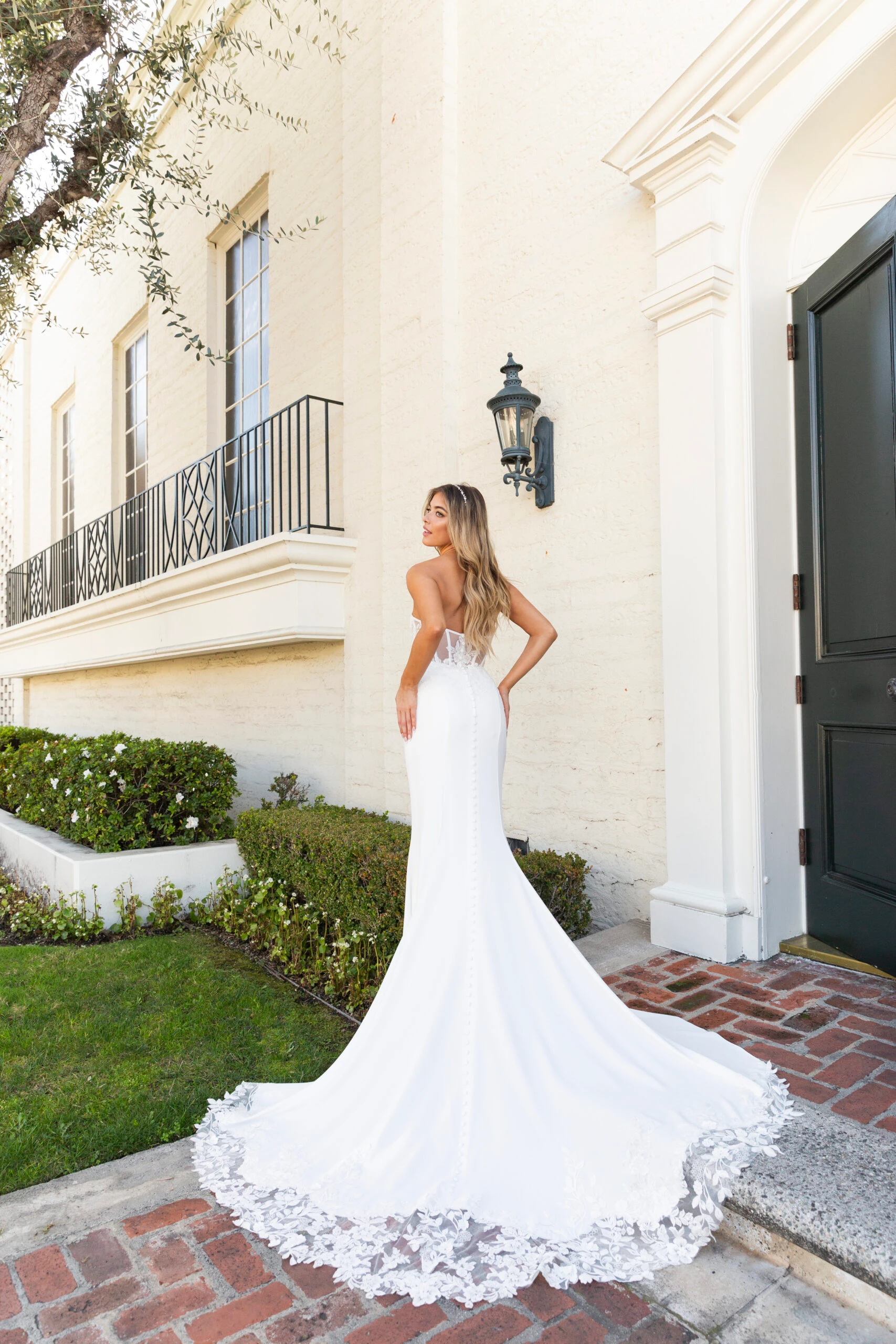 Sometimes less is more when it comes to your wedding day look. Stella York Style 7634 adds just the right amount of extravagance with its floral lace details and on-trend side cutouts.
This runway-inspired minimalist wedding dress starts with a stunning strapless sweetheart bodice embellished with 3D florals and flattering sheer cutouts that wrap into a sheer paneled back of tulle and lace. At the waist, the floral accents disperse into a chic skirt of luxurious soft crepe that drapes into a stunning lace cutout train for the final glamorous touch.
How Should Brides Accessorize to Stand Out?
Modern wedding dresses make for stunning canvases for accessories! While choosing pieces to complete your look, it is important to consider the details of your gown. A feather or leather jacket adds texture and a glamorous edge to a simple gown. Headpieces, like a birdcage veil, bring a hint of Old Hollywood glamour to a modern vintage wedding dress.
Statement jewelry can add a personal flair to your look, whether you opt for a touch of color or non-traditional materials. Remember, the key to standing out is choosing accessories that reflect your style and complement your dress while adding a touch of individuality. Feel free to experiment and have fun with your choices to create a memorable and distinctive look for your city wedding.
What Theme Correlate with a Big City Wedding?
Choosing a theme for your big city wedding can help create a cohesive and memorable atmosphere. Here are a few theme ideas that work well for a city wedding:
1. Modern Glamour: Embrace the sleek and sophisticated vibe of the city by incorporating modern and glamorous elements. Think clean lines, metallic accents and luxurious textures. Incorporate metallics, black and white color palette, along with modern décor pieces, such as geometric centerpieces, acrylic chairs and crystal chandeliers.
2. Urban Chic: Celebrate the urban charm of your city by incorporating industrial elements into your wedding theme. Utilize exposed brick walls, string lights and reclaimed wood for a stylish and laid-back atmosphere. Adding nods to the city you are in adds a personal touch and is especially great if you have guests from out of town.
3. Art Deco: Pay homage to the iconic architecture and design of the Art Deco era. Incorporate geometric patterns, bold colors like gold, black and silver, and luxurious materials like velvet and satin. Vintage-inspired elements like a classic car for transportation make for a grand statement.
How To Make a Statement at a Big City Wedding?
If you really want to make a statement at your city wedding, consider a custom wedding dress for a one-of-a-kind look. At True Society, we believe that your wedding dress should reflect your individual style, and we'll do everything we can to ensure you walk down the aisle in a gown you absolutely love! That is why Martina Liana and Martina Liana Luxe offer custom wedding dresses, meticulously crafted to meet your exact bridal vision. You can learn more in our Custom Wedding Dress Guide for the Modern Bride!
Finding a modern wedding dress for your city wedding allows you to express your personal style and stand out amidst the urban backdrop. By accessorizing thoughtfully and considering themes that reflect the city's energy, you can create an unforgettable bridal look that complements your city wedding.
Are you ready to begin your gown search? You can view even more wedding dresses and learn more about designer wedding dresses at True Society. Then find a location near you and book an appointment with us to find the modern dress of your dreams! Gown availability varies per store.