Join us the weekend after Thanksgiving, November 27-29, for our annual Thanks & Giving event at both locations (Nov. 29 only at Crossroads). We host this special event to show thanks to the community by participating in a food drive benefiting Operation Breakthrough.
This year's event will be hosted at both True Society by Belle Vogue Bridal locations. Our team has prepared a FAQ to assist True Brides ahead of the event—we hope to see you there! ✨
What Is Thanks & Giving?
At True Society Belle Vogue, we pride ourselves on helping others. Not just our brides, but also our Kansas City community. As an independent bridal boutique, we understand the value in giving back, which is why we're so excited to partner with Operation Breakthrough for our special Thanks & Giving food drive!

Operation Breakthrough started due to a response to requests from parents in the central city for quality childcare for children of the working poor. Their mission is to provide a safe, loving environment for children in poverty and to empower their families through advocacy, emergency aid and education. They provide quality before-school care & after-school care and non-perishable food items to the children they serve.

Supporting our community is a part of our company's core values and we're so grateful to be partnering with Operation Breakthrough this holiday season to help their cause.
Option 1
For every 5 canned goods or non-perishable items you bring to your appointment on Friday/Saturday/Sunday, you will be entered into a raffle to win your gown for free.

*Bride must have an appointment on and purchase their gown on Nov 27th, 28th or 29th.
*Limited to 4 raffles entries per bride/bridal party (maximum of 20 canned goods or non-perishable items).
*Gown not to exceed $1699. If a bride purchases a gown that is priced over $1699 then the gown will be discounted by $1699. If a gown purchases a gown less than $1699 then the dress will be free. The difference is not credited toward other items.
Option 2
Bring a minimum of 5 canned goods or non-perishable items on Friday/Saturday/Sunday and you will receive 20% off any accessories purchase.

*Bride does not have to have an appointment to participate in this promotion. A bride may come in to drop off at least 5 canned goods or non-perishable items and we will enter their 20% discount in their file for their future purchase.
*This offer is not able to be used on past purchases.
*Accessories include full price veils, jackets, belts, & jewelry.
*20% is off pre-tax price.
*The offer must be used with in 2 months of Thanks & Giving Event.
Option 3
Every bride who purchases her gown on Friday/Saturday/Sunday will be entered into a raffle to win 20% off their bridesmaid gowns upon purchase.

*We will select 3 brides to win.
*Offer must be used within two months of the Thanks & Giving Event.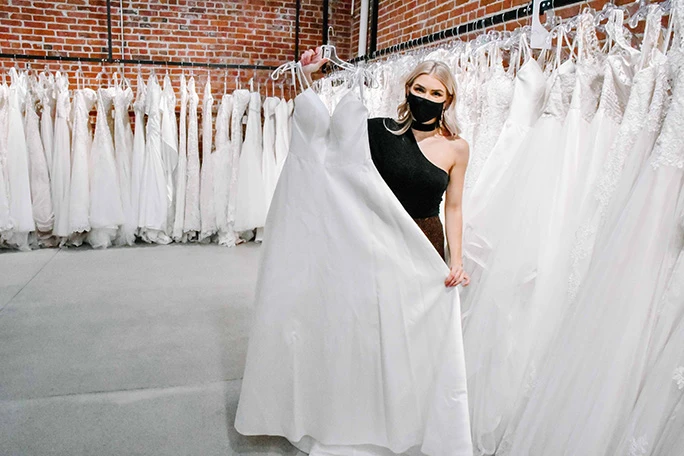 What Are You Doing to Keep Us Safe During The Event?
Keeping our Society safe and healthy is of utmost importance. All our guests and staff are required to wear a mask in the store. Additionally, we ask each of our guests to wash their hands prior to the start of their appointment to prevent the spread of any germs via touch. Finally, we sanitize each gown between try-ons to ensure they are clean and safe for the next bride.
Where Does My Donation Go?
We're so excited to partner with Operation Breakthrough for our special Thanks & Giving event to support our Kansas City community! Our True Society team is so grateful for the opportunity, and we can't wait to meet more of our amazing True Brides! If you'd like to participate, book your appointment online here to secure your spot.

If you have any additional questions, please call us at either of our two locations.


If Media Inquiries: Please reach out to Brooke Pahura at brookep@essensedesigns.com.