At True Society, we make it our mission to help every bride that walks through our doors feel her very best in a dress that makes her true self shine. Recently, Kansas City style blogger Bria Jones stopped by our Kansas City Crossroads location to start her dress journey and we had the best time helping her! Together with our amazing bridal stylists, we helped our girl have her very own "yes" moment.
Because of COVID, Bria came into True Society without her entourage, but we helped her set up a Zoom meeting with family and friends so they didn't miss out on her once-in-a-lifetime experience. Bridal Stylist Molly knew just how to create a fun and encouraging environment so Bria never felt like she was missing out.
Like so many of our brides, Bria came in with a specific vision but an open mind when it came to trying on a variety of styles. We always suggest trying on gowns and silhouettes you wouldn't normally gravitate towards just to get an idea of what you like – because you never know until you try it on!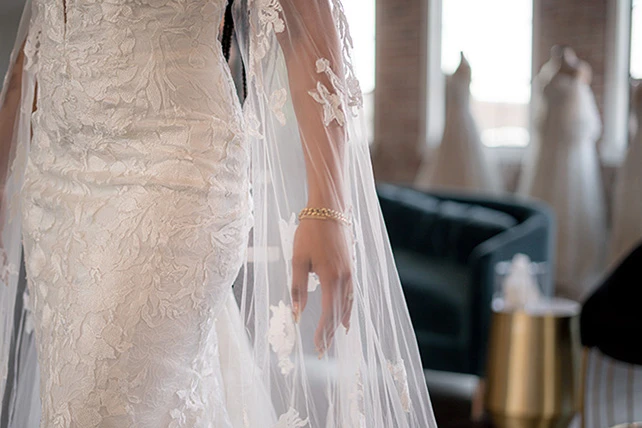 Essense of Australia Style D2761: Classic Satin Ballgown with Pockets and Off-the-Shoulder Sleeves
We started with some clean and modern looks with a timeless twist. Bridal Stylist Molly suggested she try on a classic ballgown first and Style D2761 by Essense of Australia checked that box! Bria loved the off-the-shoulder neckline and soft fabric – plus those hidden pockets can't be beat! Fabric-covered buttons down the length of the entire train was also a feature this bride-to-be loved. Many of our brides say that this subtle touch adds so much elegance to their gowns.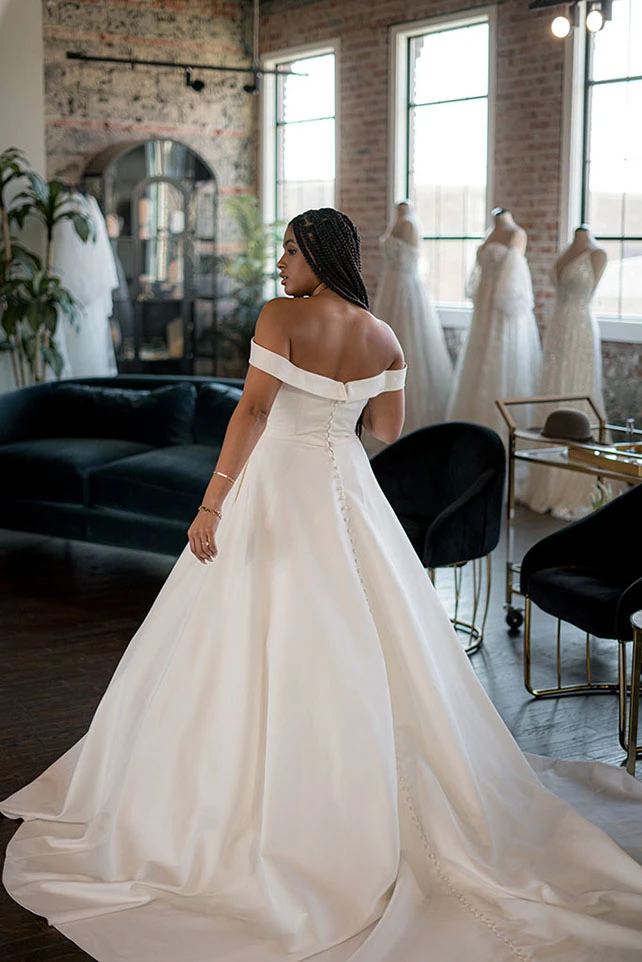 Martina Liana Style 1266: Sleek and Modern Mermaid Wedding Gown with Puffed Sleeves
Next, we opted for a more modern take on the clean looks trend. Style 1266 from the latest Martina Liana collection was a major hit! Detachable puff sleeves and a really cool neckline gave Bria a chance to try-on something she didn't necessarily think of to begin with. We're firm believers in trying all options and a dress like Style 1266 gives brides a more fashion-forward look. Bria loved our Martina Liana bridal collection and loved that this collection offers custom options to create the dress of your dreams.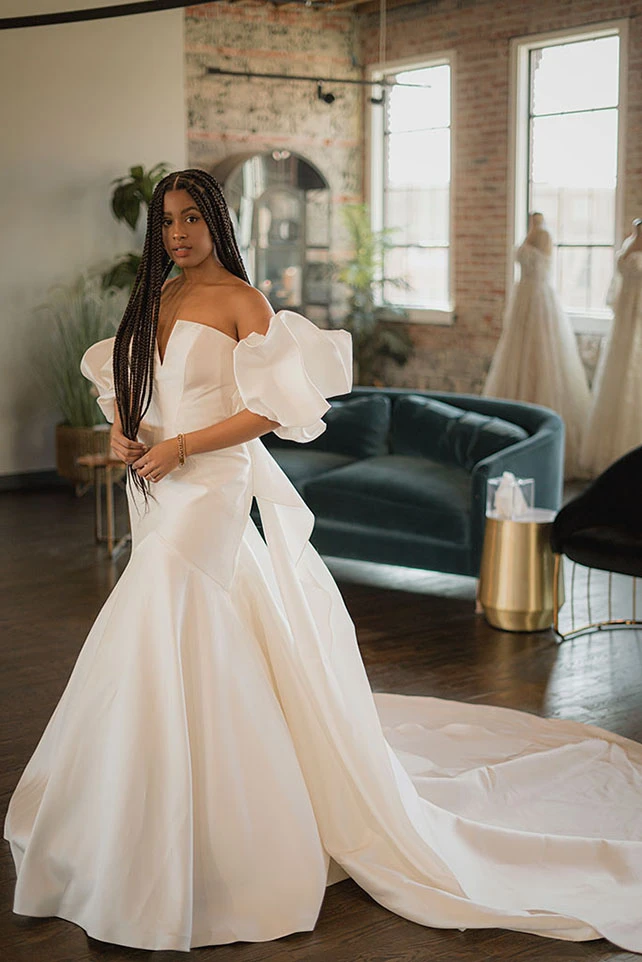 Martina Liana Luxe Style LE1106: Sleek Crystal-Encrusted Bridal Gown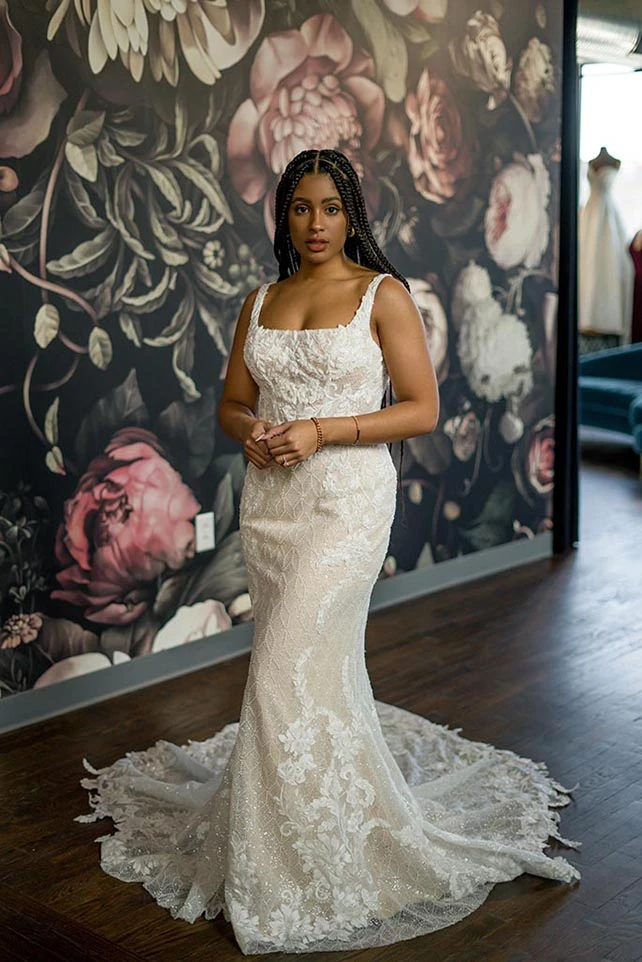 After trying on a few more boho options, Bria decided it was time to try on something ultra glamorous. The new Martina Liana Luxe collection was just the ticket to achieve this look. Exclusive to our Crossroads location, the Martina Liana Luxe collection offered Bria a chance to try a wedding dress with couture finishes and a sexy silhouette. She gravitated towards Style LE1106 for its geometric sequin beading and modern, square neckline. The shaped train was also a major hit!
When we explored all options, Bria had a very specific "yes" moment. And while we won't reveal which dress she said yes to – no it isn't in this blog post! – we can say it was the obvious choice. Because what they say is true, when you know, you just know! We cannot wait for Bria to walk down the aisle in her wedding dress and we are so honored to be a small part of her big day. Thanks for shopping at True Society, Bria! We loved having you.
Are you ready to find your dream wedding dress? Book an appointment at True Society.
Want to see more wedding inspo from our True Brides? Follow us on Instagram for real bride features, bridal advice, and the latest collection launches at a True Society location near you.