At True Society we can help you find the ultimate beach wedding dress. With hundreds of wedding dresses in-store and with everything from sheer chiffon gowns to lace dresses, we have a wide variety of gowns for you to choose from for your destination wedding.
When shopping for a beach wedding dress, think about where you're getting married before you start. This is will ultimately help you narrow down which silhouettes for the seaside venue, weather and location. Once you have a location and date, then you can decide on what types of fabrics will work best. If you're getting married during hotter months of the year, lighter fabrics like chiffon and sheer tulle will be your best friend. Slim silhouettes and shorter trains are also a great choice for beach weddings because they tend to be lighter and easy to move around in.
There are so many types of beach wedding dresses, too. From boho wedding dresses to simple silhouettes, you can find the perfect dress for your destination wedding in our stock of wedding gowns. For a boho look, try something with more graphic lace and a plunging neckline from our Essense of Australia collection. If you want a more simple wedding dress, try an all crepe gown from designer Martina Liana. Our exclusive Stella York collection is perfect for the bride who wants a casual beach wedding dress for an affordable price.
Once you get to your beach destination, it is best to steam your gown before you wear it. You never want to fold your gown, in case of creasing. Bring a handy steamer with you and steam the gown the night before. If you're worried about a steamer being too hot for the gown, you can always ask us to demonstrate how to properly steam your gown before you leave the store.
Traveling with a wedding dress can be tricky, too. If you're flying – which most likely you will be if you're traveling to the beach – you'll want to carry your dress onto the airplane in a sturdy garment bag. Almost all airlines will be willing to accommodate that type of luggage in the overhead bin! Kindly ask a stewardess before you board the plane how best to lay your gown in the compartment and most will be more than willing to help you board early so you can have enough room for that precious cargo.
Stella York takes pride in their attention to detail and ensuring that each gown is made with tremendous precision and thought into each stitch. Their most popular gowns are inspired simply from the latest red carpet trends. Look at some of the latest gowns here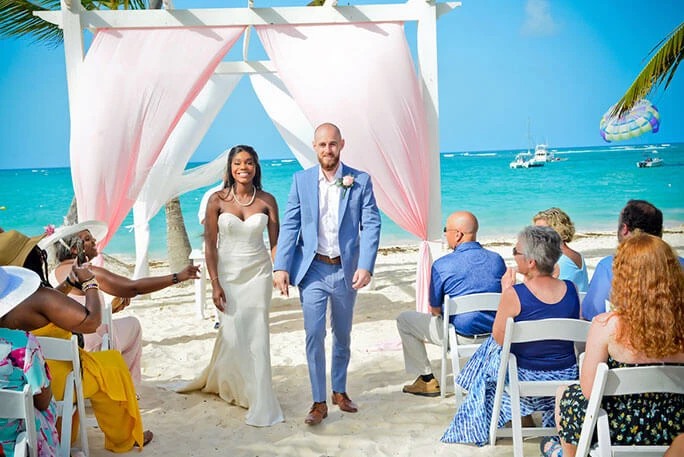 So, are you ready to start shopping for your destination wedding dress? Click here to find your dream dress with us, today!