Slip wedding gowns are making a comeback, and we are here for it! Effortlessly sophisticated and minimalistic, simple slip wedding dresses are elegant and unexpected. They have even been making an appearance at many iconic celebrity weddings, due to their chic appeal.
Whether you're looking to wear this contemporary silhouette for your ceremony, reception or after party, we have a stunning collection of minimalist slip wedding dresses at True Society. Check out our guide to the top styles for 2022 and find the best slip dress for your big day!
What You Need to Know About the Slip Wedding Dress Trend
The slip wedding dress trend is definitely having a moment! This '90s-inspired look is sleek, unadorned and minimalist—making it a chic option for the modern bride. Carolyn Bessette was the original trendsetter, wearing a slip-style dress when she married John F. Kennedy Jr. in 1996. Since then, the style has been coveted by fashion-savvy brides looking for something different. If you're considering a slip wedding dress, here is everything you need to know.
What is a Slip Wedding Dress?
A slip wedding dress is a simple, elegant and sometimes sexy silhouette. It typically features spaghetti straps (or no straps at all) and a semi loose-fitting silhouette. The result is a sleek, bridal look that is a fresh alternative for the minimalist bride.
Why Choose a Slip Wedding Dress?
There are many reasons to choose a slip wedding dress. For the bride who wants a lightweight dress that feels airy and less heavy than traditional styles, the slip wedding dress is a fabulous option. This trendy wedding gown style is also incredibly chic and modern, a fabulous alternative for brides who want to make a statement. Slip dresses are also ultra-versatile and can be worn and paired with many different bridal accessory styles.
If you're considering a slip dress for your own wedding, below are a few factors to keep in mind:
Make sure to choose a dress that fits well. Slip dresses are sometimes relatively sheer, so it's essential to get the right size to flatter your figure.
Keep the embellishments simple and accessorize to show more of your personality.
Don't be afraid to experiment with different lengths. A shorter slip dress can be fun and flirty, while a floor-length gown will make more of a dramatic statement.
With these tips in mind, you'll be sure to find the perfect slip wedding dress for your big day! Browse our curated selection below for a few of our favorite styles.
Top Slip Wedding Dresses for 2022
LACE SLIP WEDDING DRESS WITH V-NECKLINE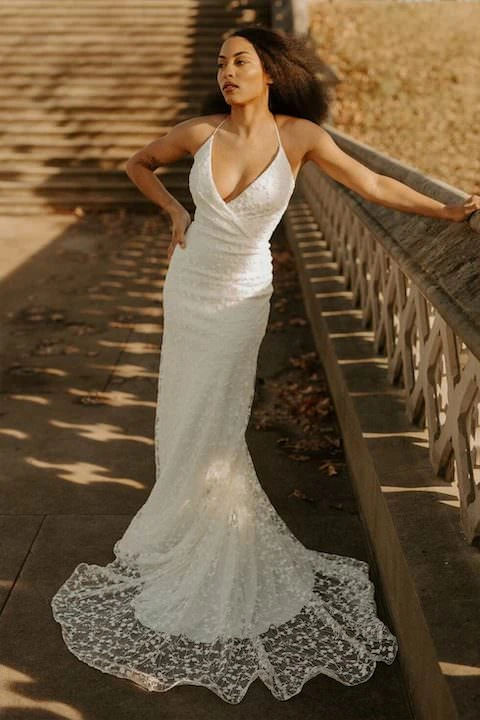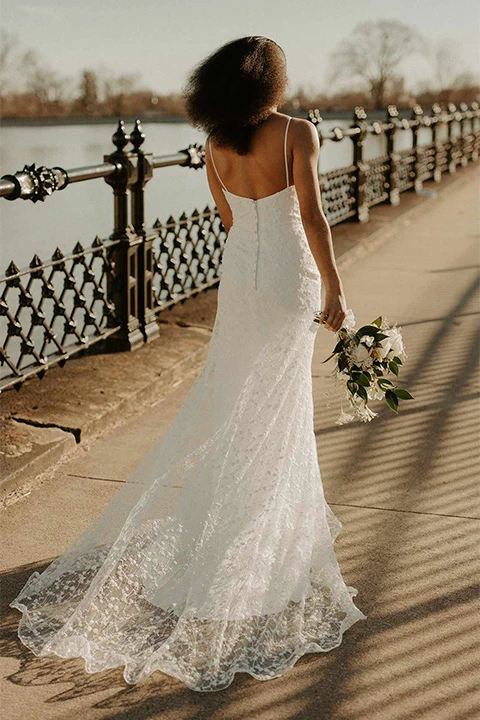 If you're looking for a slip wedding dress that's both sexy and sophisticated, look no further than Stella York Style 7553. This chic slip gown features an all-over floral lace paired with an ultra-flattering column silhouette. With delicate spaghetti straps and a plunging V-neckline, this dress is sure to turn heads. The low square back detail and the row of fabric-covered buttons add a hint of elegance and charm. The bodice effortlessly drapes into a luxurious sheath skirt and sheer lace train, completing the look with modern flair.
Simple Slip Wedding Dress with High Slit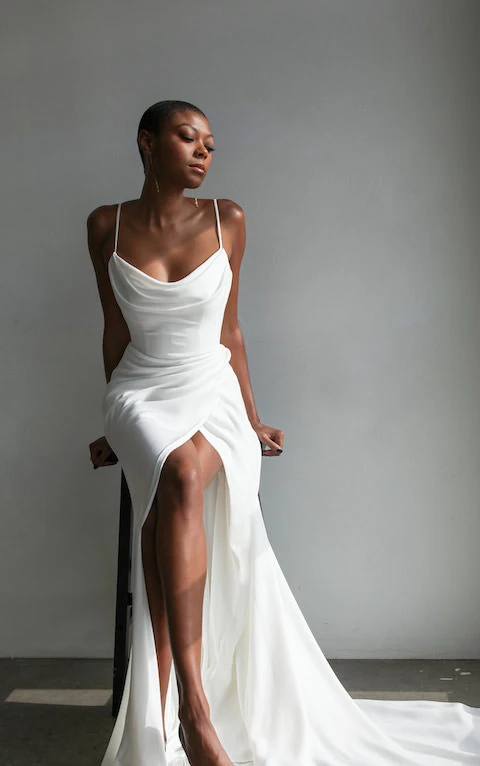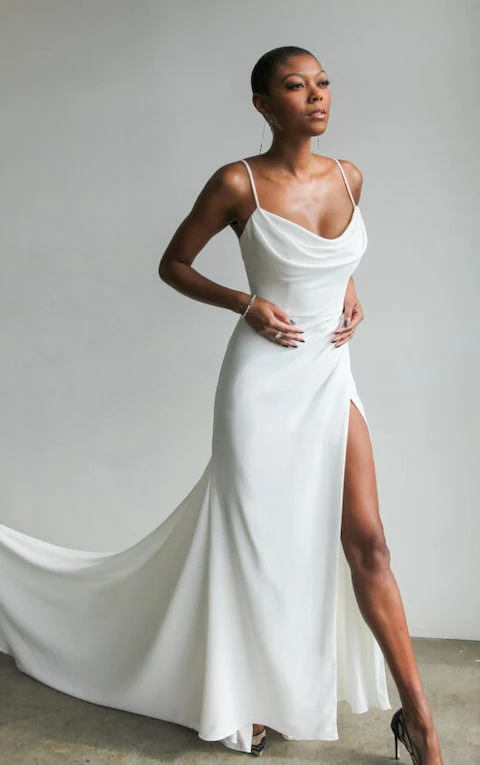 For the minimalist bride who wants to make a stylish and modern statement, Essense of Australia Style D3589 offers a soft, luxe and sensual look. The sleek, liquid crepe fabric hugs your curves in all the right places, while the high slit adds a sexy touch. An ultra-flattering cowl neckline paired with spaghetti straps delivers a fresh approach to the '90's-inspired trend.
Whether walking down the aisle or dancing the night away, this chic style will make you feel like a Hollywood starlet. Brides can channel their fashion-forward side in this simple slip dress.
Strapless Rustic Wedding Dress with Luxe Back Detail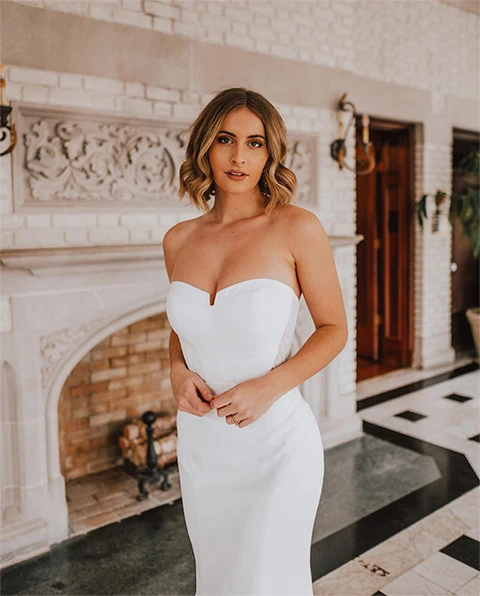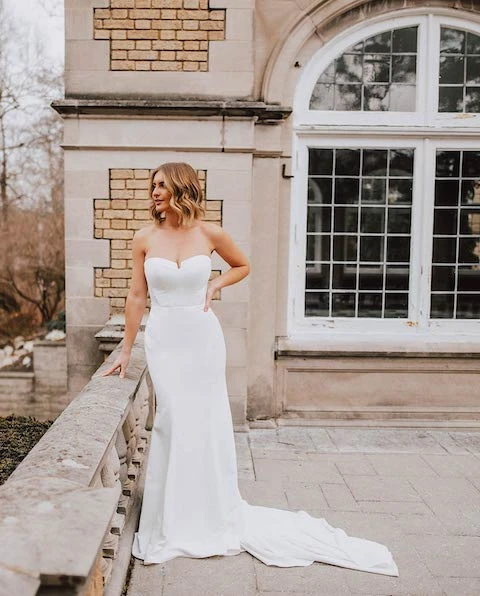 If you're looking for a simple slip wedding dress that still has that wow factor, look no further than Essense of Australia Style D3546. This strapless fit-and-flare silhouette is ideal for the minimalist bride who wants to make a statement. The sweetheart notched neckline is both elegant and sophisticated, while the side lace cutouts add a touch of sexiness. The fabric-covered buttons add a touch of timeless elegance, while the back bodice features sheer lace detail that makes this chic and minimalist gown unforgettable.
A-Line Slip Wedding Dress with Slit and Pockets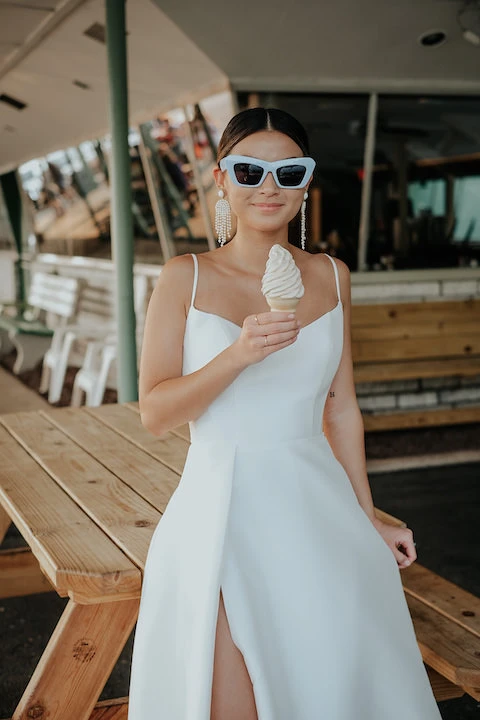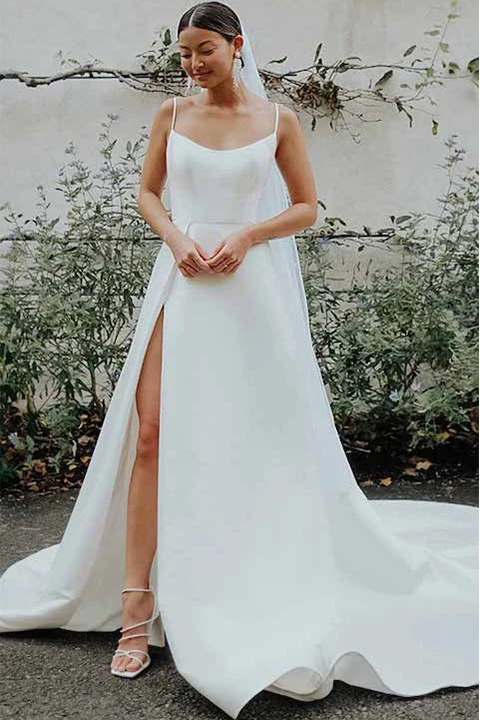 Essense of Australia Style D3460 is the epitome of a classic silhouette elevated for today's bride. The spaghetti straps, sexy cutouts and striking slit down the side of the dress make this gown one of a kind. For a beautiful final touch, the fabric-covered buttons trail all down the skirt in a sophisticated, elegant way. This A-line slip gown is sure to make your walk down the aisle a memorable one!
Plus Size Slip Wedding Dress with Detachable Bow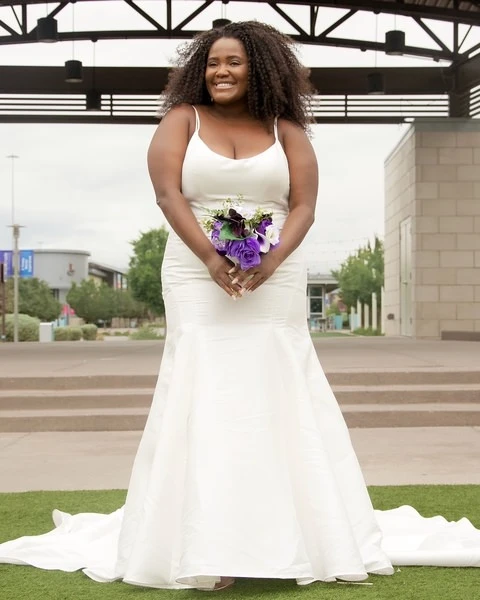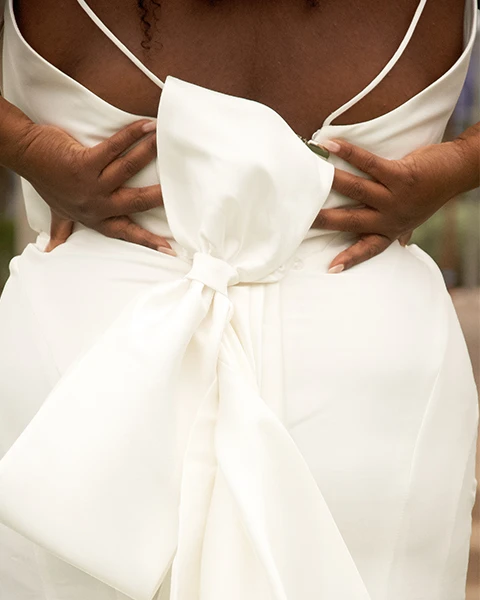 For the curvy bride looking for a slip wedding gown that's both stylish and distinctive, Essense of Australia Style D3404 is filled with simple yet sleek details! This elegant gown is made from head-to-toe matte Mikado fabric, with clean lines and bold accents. The scoop neckline is effortlessly supportive, while the boning along the bodice provides sexy structure all day long.
The double strap meets at the back of the gown in a delicate V shape. Down the skirt, contour seaming beautifully highlights the body's natural curves, flaring out below the waist to complete the timeless silhouette. The detachable bow adds an ultra-modern touch for a truly show-stopping finish. Whether you're looking for a timeless or modern take on the classic wedding dress, this gown has you covered!
Silk Slip Wedding Dress with Open Back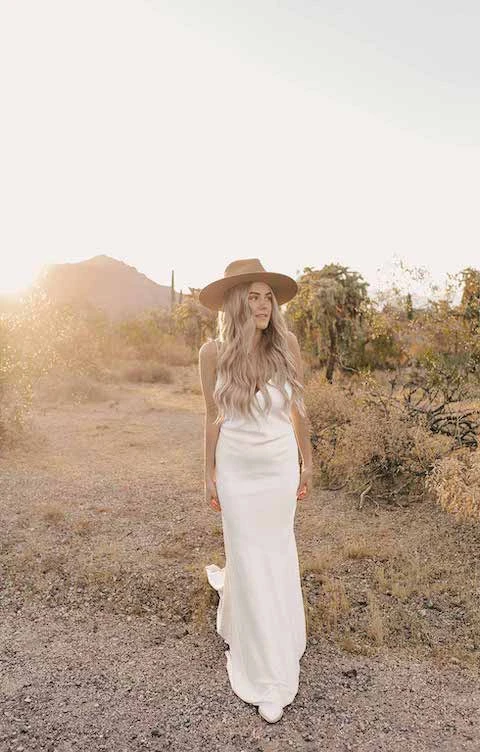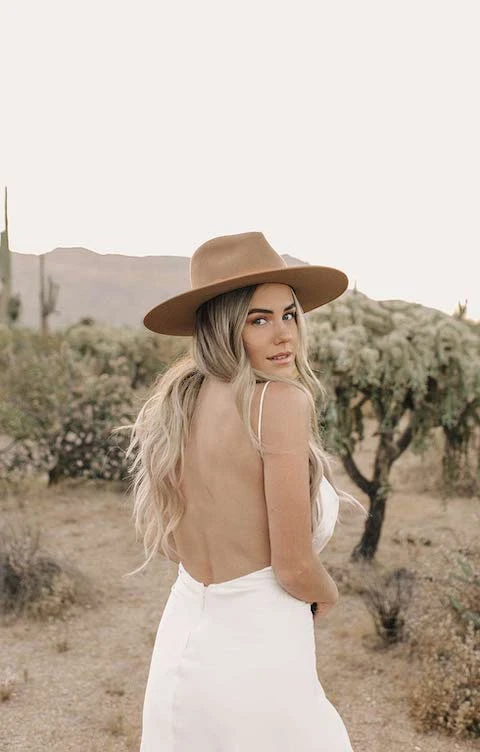 Just like your love, the All Who Wander sloan gown is effortless, real and refined. The sand-washed silk satin in a sheath silhouette is the epitome of modern sophistication. With a simple neckline and shoestring straps, this open back slip dress emulates the negligee-inspired trend. Minimal and chic, the sloan gown is for the bride looking for a statement that says more with less.
Sequin Slip Wedding Dress with Optional Lace Jacket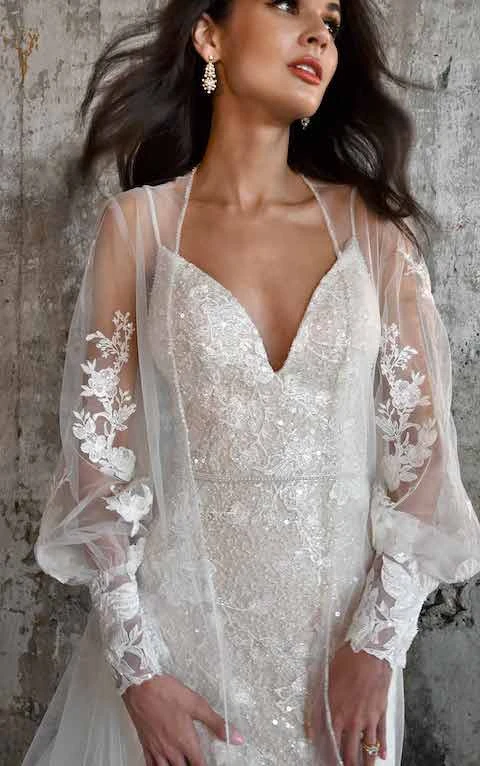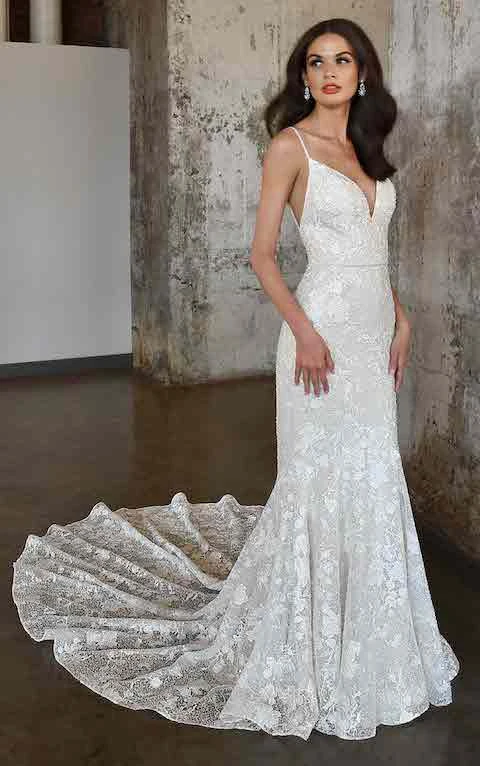 A slip wedding dress is the epitome of chic, and Style LE1181 from Martina Liana Luxe is a sequin slip dress that exudes luxury from every angle. The plunging V-neckline is accented with handcrafted beading and stunning sequins, and the optional Martina Liana Luxe Style JEWEL lace jacket gives the haute couture gown a hint of bohemian glamour. In contrast, the open back, delicate straps and detachable Martina Liana Luxe Style SUKI beaded belt with pearl accents add a soft, feminine flair.
Whether you're a bride looking for a glamorous version of the slip wedding dress or want an effortless touch of 90's charm to your shimmery bridal look, this gown is the retro glam statement for you!
There are so many gorgeous slip wedding dresses and designs! No matter your personal style, there's a slip dress awaiting you at True Society. Find a bridal store near you to start shopping for your dream dress today! Style selection varies per store.