At True Society, we absolutely love when we get the chance to host a few of our favorite influencers in our stores. Recently, we had the pleasure of introducing some of our Viennese influencer friends —Zoe, Bianca, Jessica, Laura, Sandra, Julia, Rebecca and Isabel—to our beautiful new True Society store in Vienna.
After our True Crew gave our lovely guests a tour of our sun-filled boutique, featuring towering ceilings and a personal spacious fitting area, it was time for the ladies to try on some wedding dresses!
Transforming from everyday attire into an elegant ballgown queen or a free-spirited boho bride within minutes, our #TrueBrides looked absolutely STUNNING in our gowns. No matter each influencer's style, they truly had endless dress options to fit their personalities.
Let's take a peek at some of their favorite styles: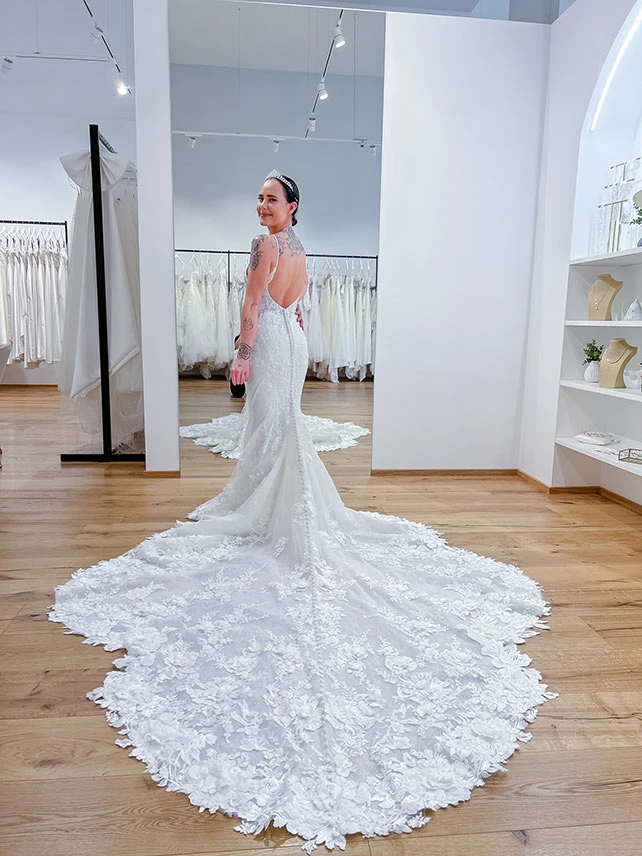 Bianca stuns in this striking silhouette by Martina Liana.
Bianca looked gorgeous in this fashionable and romantic gown, Style 1305 from Martina Liana. The floral design is enhanced with 3D organza elements and blends with brilliant sequin details and beadwork for a beautiful shimmer effect. The long scalloped train adds a touch of classic bridal style to this fabulous dress. The sparkling crown added just the right amount of glamour to her look!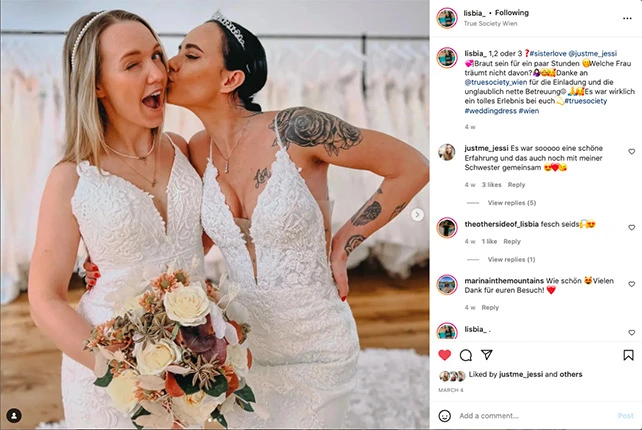 How gorgeous did sisters, Jessica and Bianca (shown above), look in Style 7324 by Stella York and Style 1305 by Martina Liana?
Chic. Simple. Elegant. A true description of the way Jessica looked in Style 7324 by Stella York! With its plunging V-neckline and classic column silhouette, this gown is a truly timeless bridal look. Delicate graphic lace wraps around the bodice and the intricate patterns of the lace are shown through sheer details in the back of the gown. Shown next to Jessica is her beautiful sister, Bianca, in Style 1305 from Martina Liana.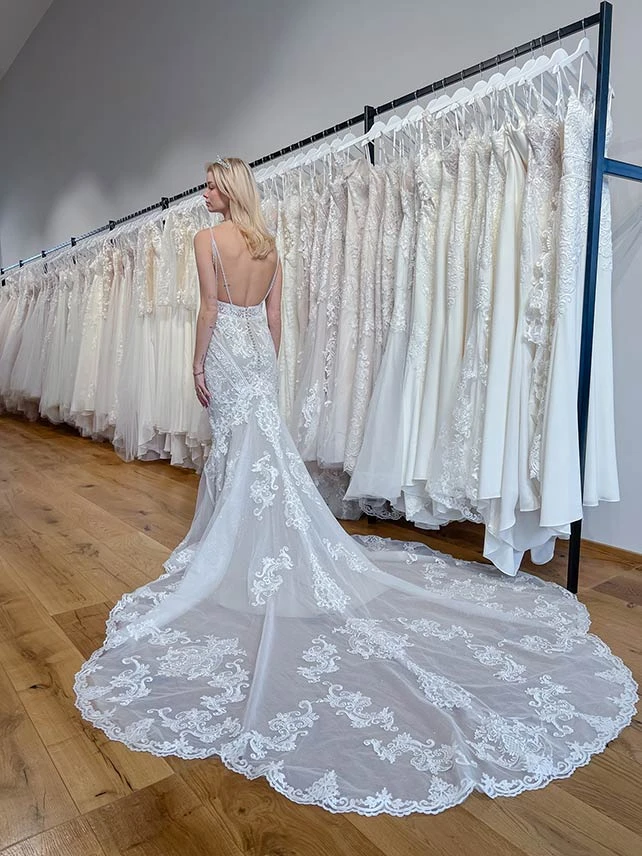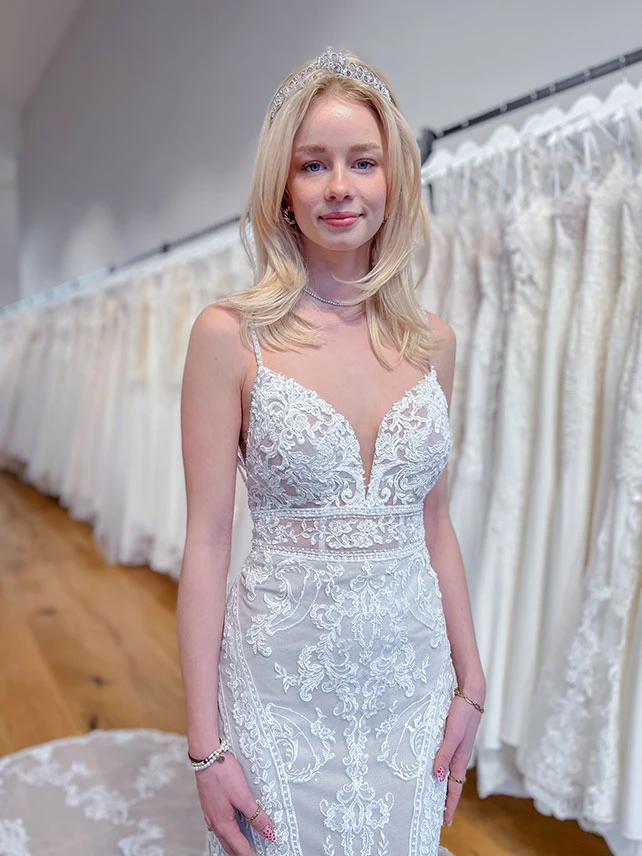 Zoe in an elevated, sleek and sexy style from Essense of Australia.
See how beautiful Zoe looked wearing Style D2887 by Essense of Australia. This fabulous fit-and-flare wedding dress features thin beaded straps and a graphic lace bodice with linear details, which creates an incredibly flattering silhouette. The spectacular sheer train flows out over the gown and forms a subtle scallop for a dramatic finish.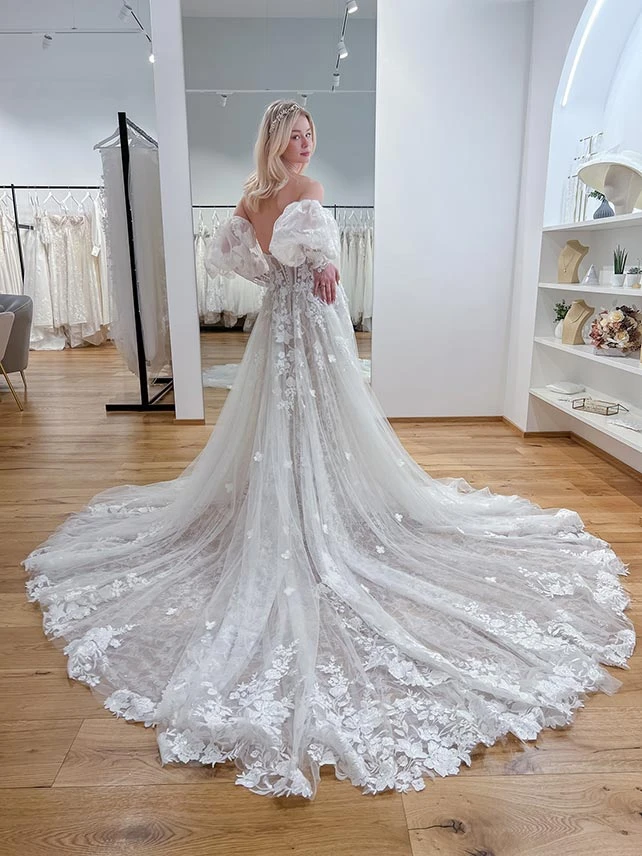 Zoe in a luxurious lace wedding dress, Style 1419 from Martina Liana.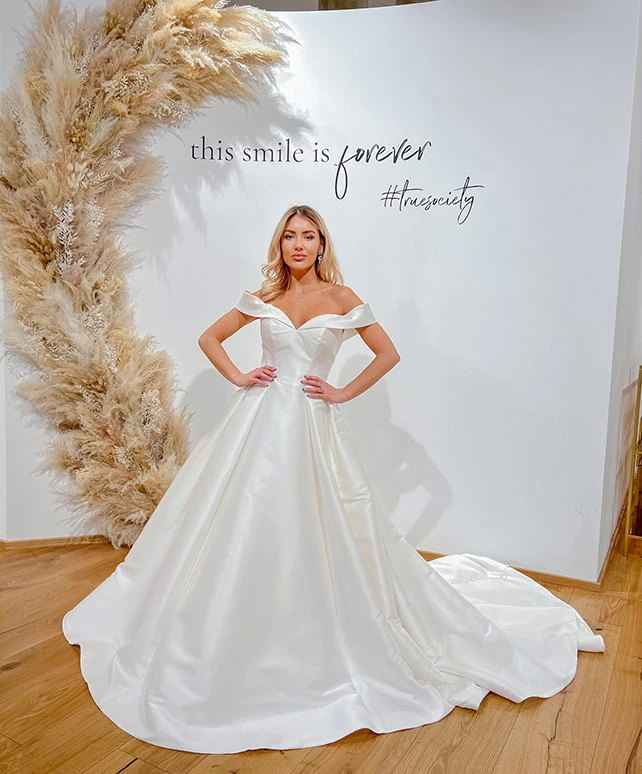 Sandra in an elegant off-the-shoulder ballgown from Essense of Australia.
Sandra looked like royalty in Style D3232, a minimalist masterpiece from Essense of Australia. Featuring a banded off-the shoulder neckline and a sweetheart dip in the front, this classic ballgown is effortlessly feminine and SO chic. The pockets in the pleated skirt create luxe texture and volume throughout.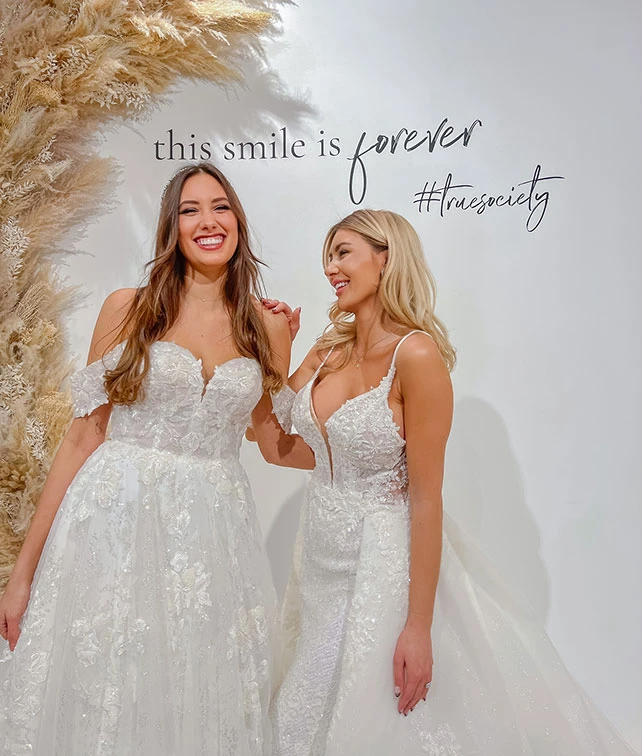 Julia is seen here in a lace sweetheart wedding dress by Essense from Australia and Sandra in a fit-and-flare beaded wedding gown from Martina Liana Luxe.
Julia looks sophisticated and charming in Style D3414, a sweet and chic wedding dress by Essense of Australia. The bodice with sweetheart neckline is paired with vintage-inspired lace patterns to create a romantic yet elegant look. Floral lace appliques cascade along the frothy, voluminous skirt, creating sparkling shimmer with every movement.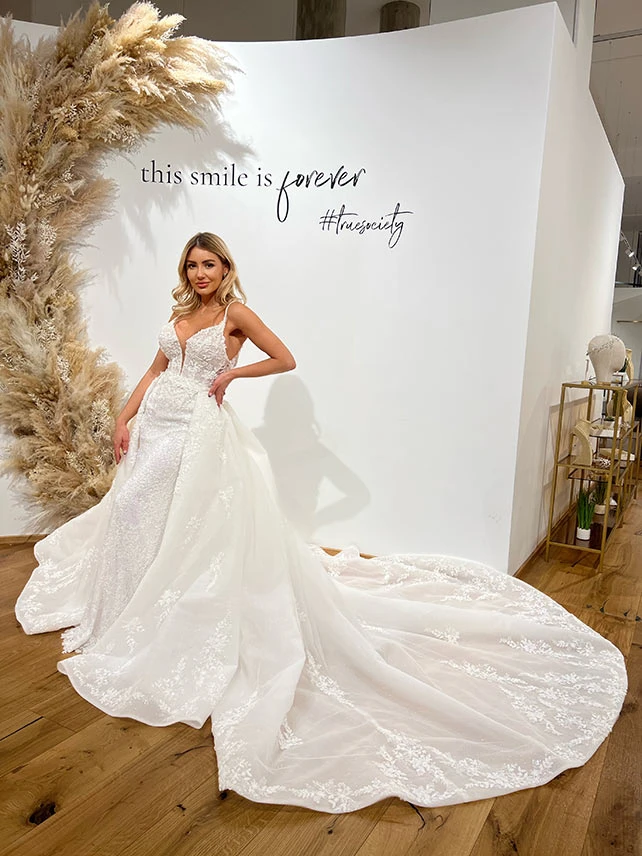 Sandra in a showstopping sleek fit and flare wedding gown by Martina Liana Luxe.
Sandra looks absolutely majestic in this Martina Liana Luxe gown. Style LE1125 stuns with its luxe botanical patterns and the abundance of layered beadwork and pearls, which add a hint of glamorous texture and shine. The figure is enhanced by delicate floral elements and beadwork, which are accentuated by the sheer side cut-outs. Complemented by a detachable, high-volume overskirt, this gown creates a truly iconic fashion moment.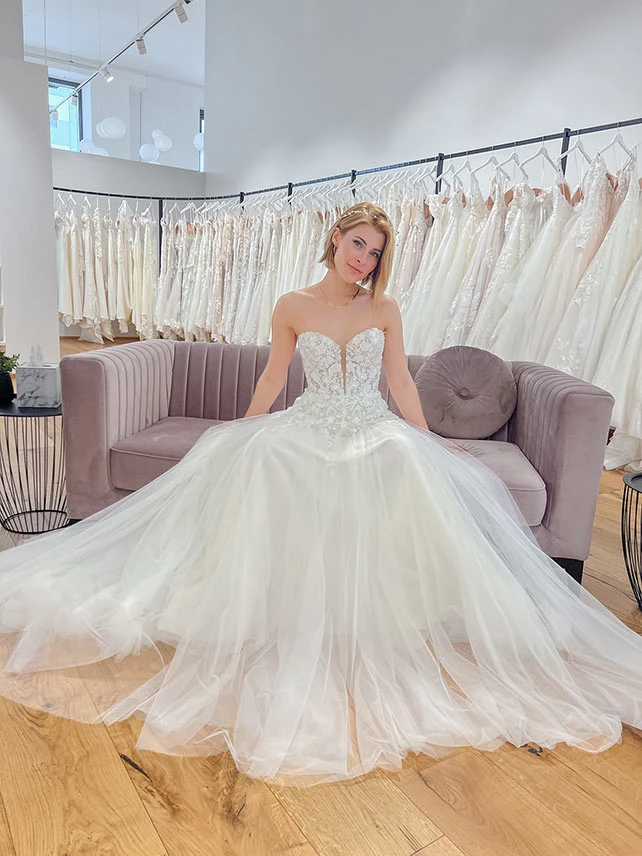 Rebecca in a romantic sweetheart wedding dress from Martina Liana.
Rebecca transformed into a flawless fairy tale princess in this ultra-feminine wedding dress with floral details by Martina Liana. Style 1358 is for the free-spirited bride with a flair for romance. The bodice features a classic sweetheart neckline, which is embellished with 3D floral appliques, beading and pearls for dazzling dimension and texture. A frothy skirt and delicate lace patterns flow down the skirt, creating a ballerina-inspired silhouette.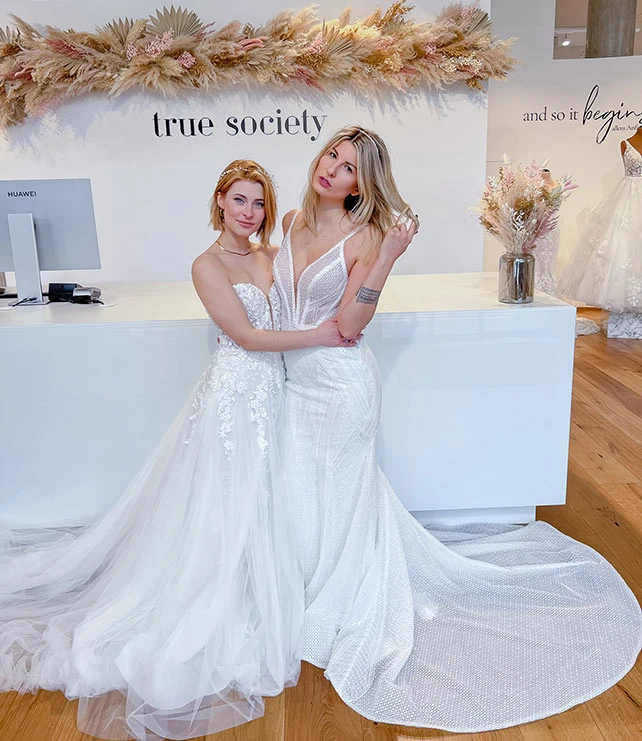 Rebecca (shown above) and Isabel looked incredible in their Martina Liana and Martina Liana Luxe gowns.
Isabel wowed us in Style LE1166 from Martina Liana Luxe, which exudes understated elegance and modern luxury. This handcrafted wedding gown is the embodiment of luxurious bridal style. Featuring head-to-toe sparkle and graphic lace detailing, this sleek and sexy silhouette exudes an extravagant and majestic appeal.
Once again, we were speechless by the truly breathtaking looks each of our True Friends created by choosing their favorite gowns and accessories to highlight their personal style.
Are you newly engaged and ready for the most incredible bridal shopping experience of a lifetime? Book an appointment at a True Society location near you today.
Want to see more wedding inspo from our #TrueBride collective? Follow True Society on Instagram for real bride features, bridal advice and the latest collection launches at a True Society location near you.