We'd be lying if we said we didn't have a soft spot in our hearts for brunch weddings! A relaxed and intimate atmosphere, sun-soaked ceremonies, espresso sans the martini — intimate celebrations of love like this are just too sweet! They are even sweeter when they are paired with the perfect weather to cozy up with family and friends.
The love for board games and puzzles brought Grace and Connor together one lucky summer, but it was during the winter that this couple's love really flourished. With a romantic Christmas-time proposal behind them, planning a winter wedding day with personalized puzzles was just the natural next step.
In pursuit of a long sleeves dress for her winter celebration, Grace headed to True Society by Belle Vogue Bridal in Lenexa, Kansas. Almost immediately, she found her dream bridal look in Stella York Style 7169 — a wedding dress for the timeless romantic at heart! The gorgeous dress was perfectly paired with airy and ethereal portraits filled with snow sceneries that brought the fairytale full circle!
Take a trip to a winter wonderland in Grand Rapids, Michigan with us and dive into Grace and Connor's wedding day story!
Tell us about your proposal!
Christmas is our favorite time of year! Connor proposed on December 26th in front of a large Christmas tree in the city where we met. He convinced me it was a good day to go for a walk around downtown since we were in town for the holiday. Little did I know, he had planned for his friend to meet us downtown and take some pictures of him popping the question!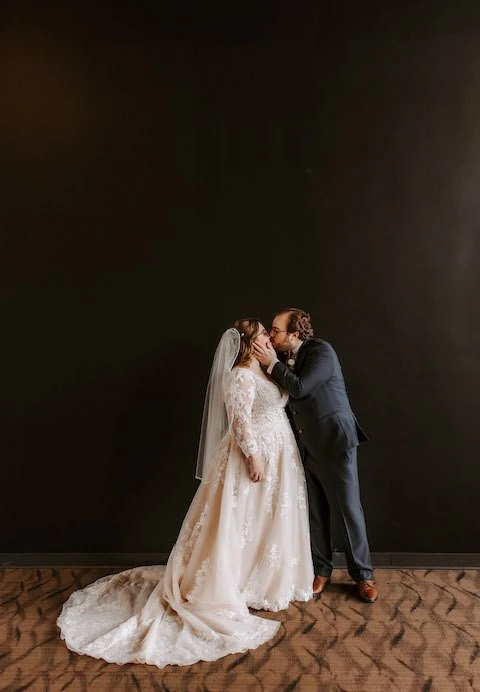 Tell us about your dress shopping experience at True Society.
I would describe my bridal style as classic and romantic. I went to my appointment looking for a long sleeve lace dress for my winter wedding and found exactly what I wanted almost immediately at True Society by Belle Vogue Bridal.
I was so impressed by the inclusive sizes and wide variety of choices. Even though I found what I was looking for quickly in Stella York Style 7169, I tried on several other styles at my appointment as well. It was also super easy to find the most complementary veil and get my dress ordered for our big day!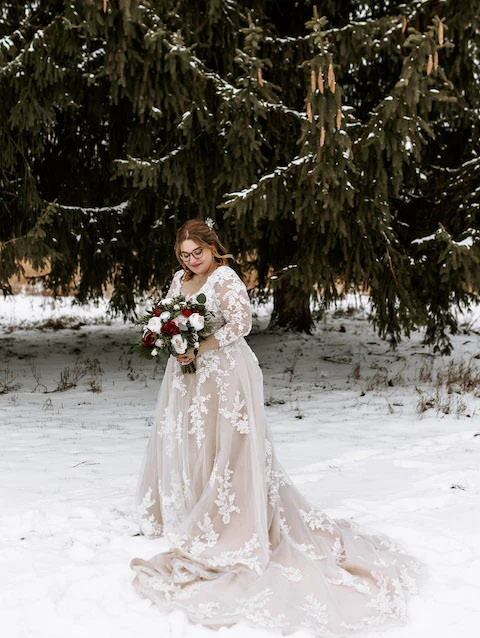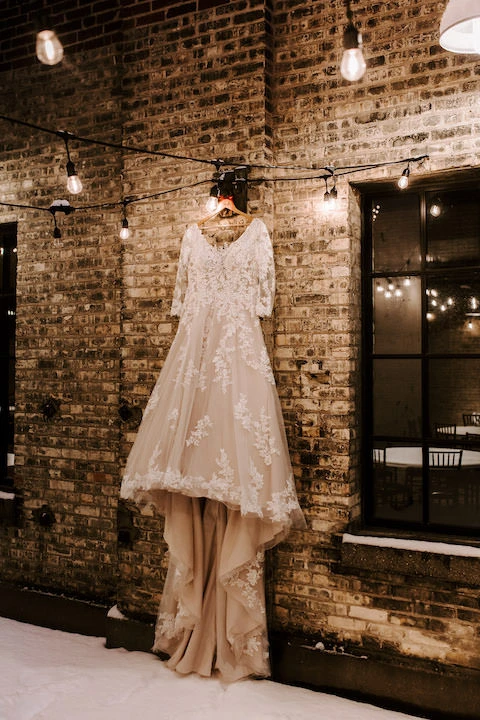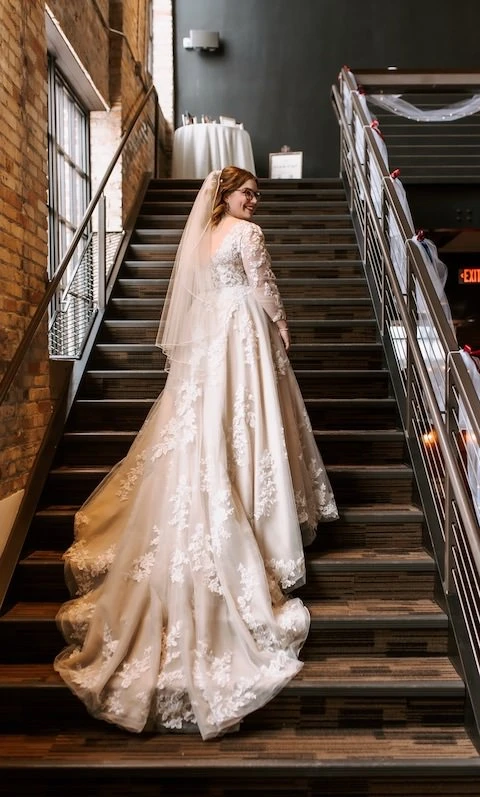 Tell us about your wedding day.
The goal of our wedding was to host a great party that would be romantic and timeless for everyone involved. Connor and I love the winter, so it was easy to decide on a winter wedding. We fell in love over a summer by bonding over our love of board games and puzzles – so we decided to include that in our wedding!
Our reception was a relaxed brunch with mimosas and custom puzzles made from our engagement photos – it was so nice to be able to just hang out with our guests and enjoy our marriage with our family and friends!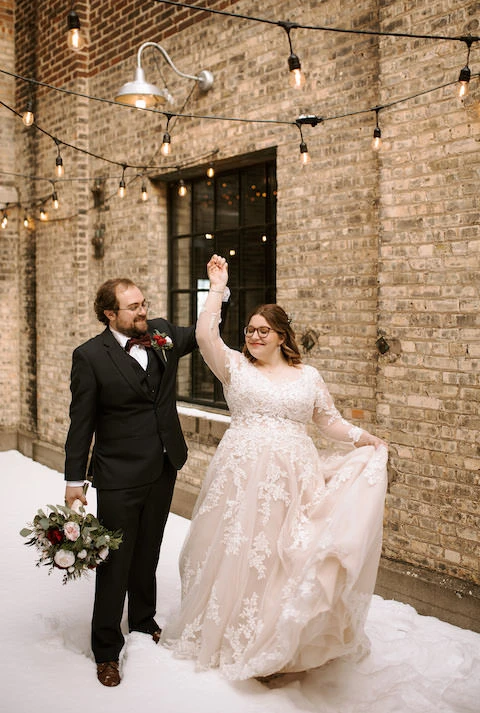 Tell us about your favorite moments of your wedding day.
The most special memory from our day had to be taking photos at a nature reserve after the reception concluded. We were blessed with a beautiful snowfall the day before our wedding, so the photos turned out stunning — even if we were a little cold while taking them! This was so special because it was our little escape as Mr. and Mrs.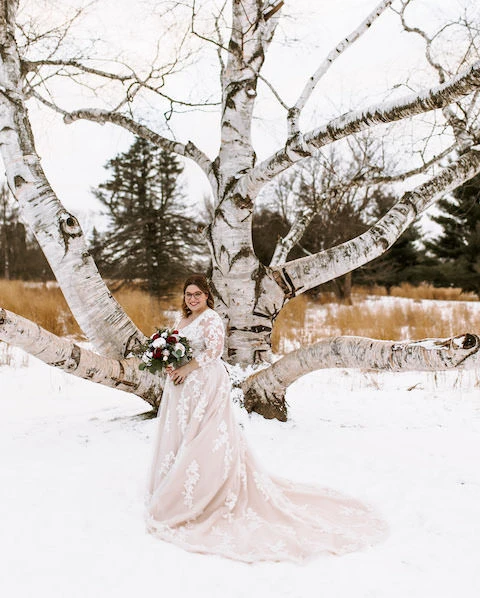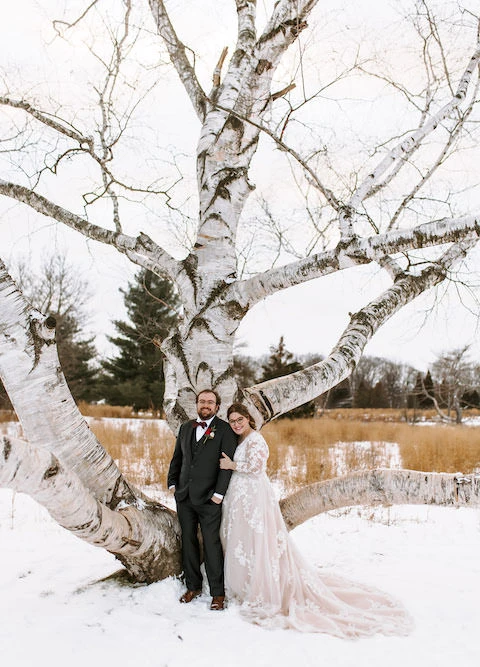 Cheers to Grace & Connor!
Photography: Andi Bennette
Venue: New Vintage Place
Ready to find your dream dress? Book an appointment at a True Society location near you today. Availability varies per store.