True bride Jamye created an epic 1920s-inspired wedding—and we're absolutely swooning over it! From the vintage lace wedding dress to the location to the dapper groom, no detail was overlooked. Jamye was a vision in vintage; a true Gatsby girl. The special day was full of elegant glitz and glamour that would make even Daisy Buchanan jealous. We don't blame you if you can't stop staring—we are guilty, too!
From the Bride:
We chose our location based on the look of it alone—it was the first and only venue we toured! The Harlow, formerly The Berg Event Space had an amazing modern yet vintage feel that was exactly what we were looking for. It gave us the perfect warm and intimate event. We wanted our wedding to feel more like an elegant cocktail party and less like the typical wedding. With that in mind, my husband was also very adamant about wearing a very well-tailored suit rather than the obligatory tuxedo. We set our wedding date in November since we both adore fall, and chose comfort foods for the reception: apple pork, cherry-rubbed turkey, a mashed potato bar, roasted vegetables and butternut squash.
The most special memory of our day was seeing all of our friends and family having such a great time at our wedding. What made it extra special was seeing so many of the guests wearing '20s-inspired outfits! I was so happy that our guests were as enthusiastic about our wedding as we were. Another wonderful memory was having my new husband so involved in the planning process. In all the areas of planning where I didn't have an opinion one way or the other, he was able to give a solid answer.
As far as styling, I really wanted our theme to shine through every detail. I let my maid-of-honor and bridesmaid pick their own dresses so that they could put their own spin on the theme, and it worked out so perfectly. I only accented my Stella York wedding dress with a head-piece and earrings for a simple 1920s look since it has so much beading. As a bride, I didn't want to overdo it! We wanted an elegant, glittering Gatsby wedding, and that is exactly what we achieved. Every detail was absolutely perfect.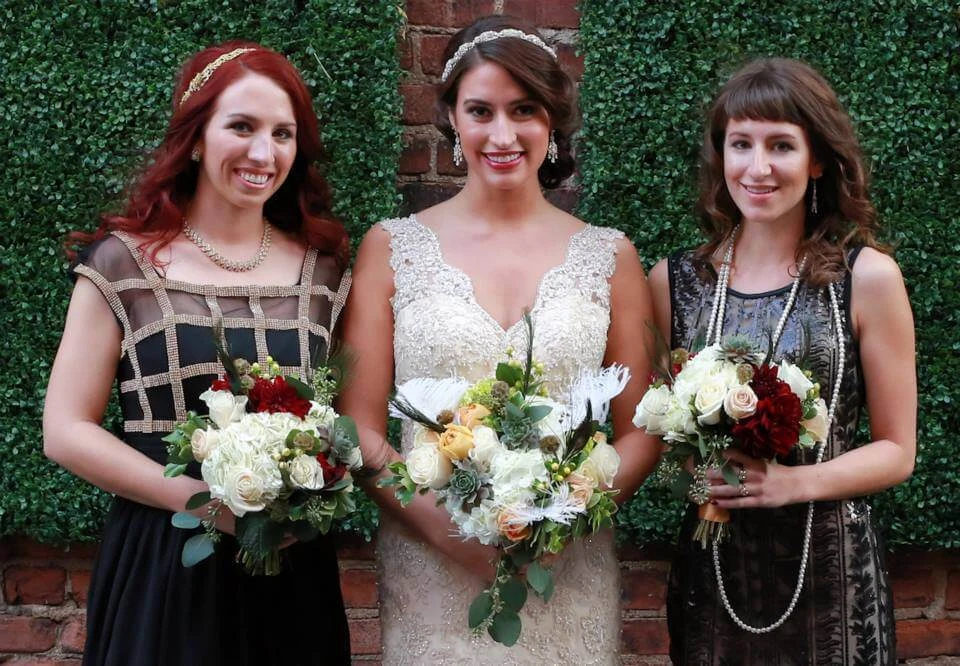 We loved being a small part in Jamye's big day! To see more swoon-worthy styles like the dress Elizabeth wore, call us at 913.317.8981 or click here to make an appointment
Dress: Stella York
Location: The Harlow, formerly The Berg Event Space