While bridal trends may come and go, there is a delightful trend that has captured the hearts of modern brides and will continue to for years to come: wedding dresses with pockets! Gone are the days when bridal gowns solely prioritized elegance over practicality.
With the emergence of wedding dresses featuring pockets, brides now have a stylish solution to keep their essentials close at hand on their special day. These functional yet fashionable additions have become a beloved feature, allowing brides to seamlessly carry their lipstick, vows or even a snack on the go!
What is a Wedding Dress with Pockets?
"It has pockets" may just be a bride's favorite discovery when they find a gown they love! The benefits of choosing a wedding gown with pockets may seem few. Upon deeper reflection, it's easy to see why brides can't get enough of this trend!
You use them to carry your essentials—a lipstick for a quick touchup or a tissue for those tearjerking vows. They also provide opportunities for fun posing and, simply, a place to put your hands!
Pockets are typically located on the sides of the skirt at a comfortable level for brides to place their hands. We want the pockets to be functional and comfortable, after all!
The usual wedding dress silhouettes that feature pockets are A-lines and ballgowns. You can also find jumpsuits with pockets for a second look or for the bride who wants something different. Common wedding dress fabrics for wedding dresses with pockets include satin, Mikado, lace or those with a structure.
If you want pockets but don't love the idea of them being prominent, don't fear! Invisible pockets give you the best of both worlds. They are cleverly designed pockets that are seamlessly integrated into the fabric of the gown, creating a discreet solution for brides.
Unlike traditional pockets that may disrupt the silhouette or add bulk, invisible pockets are carefully placed and concealed within the layers of the dress. This helps to maintain the gown's aesthetic appeal.
Wedding Dresses with Pockets
Summer Beach Wedding Dress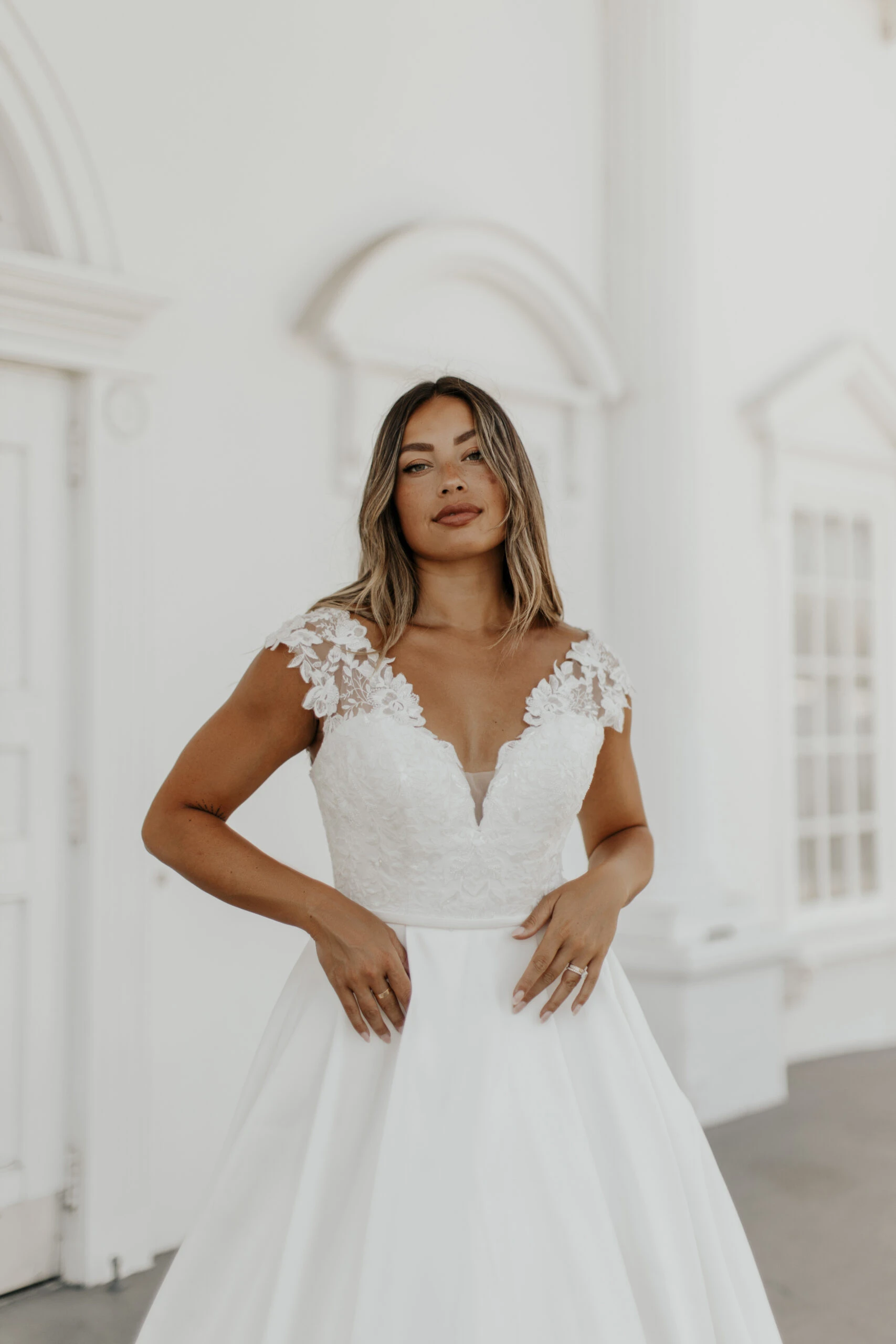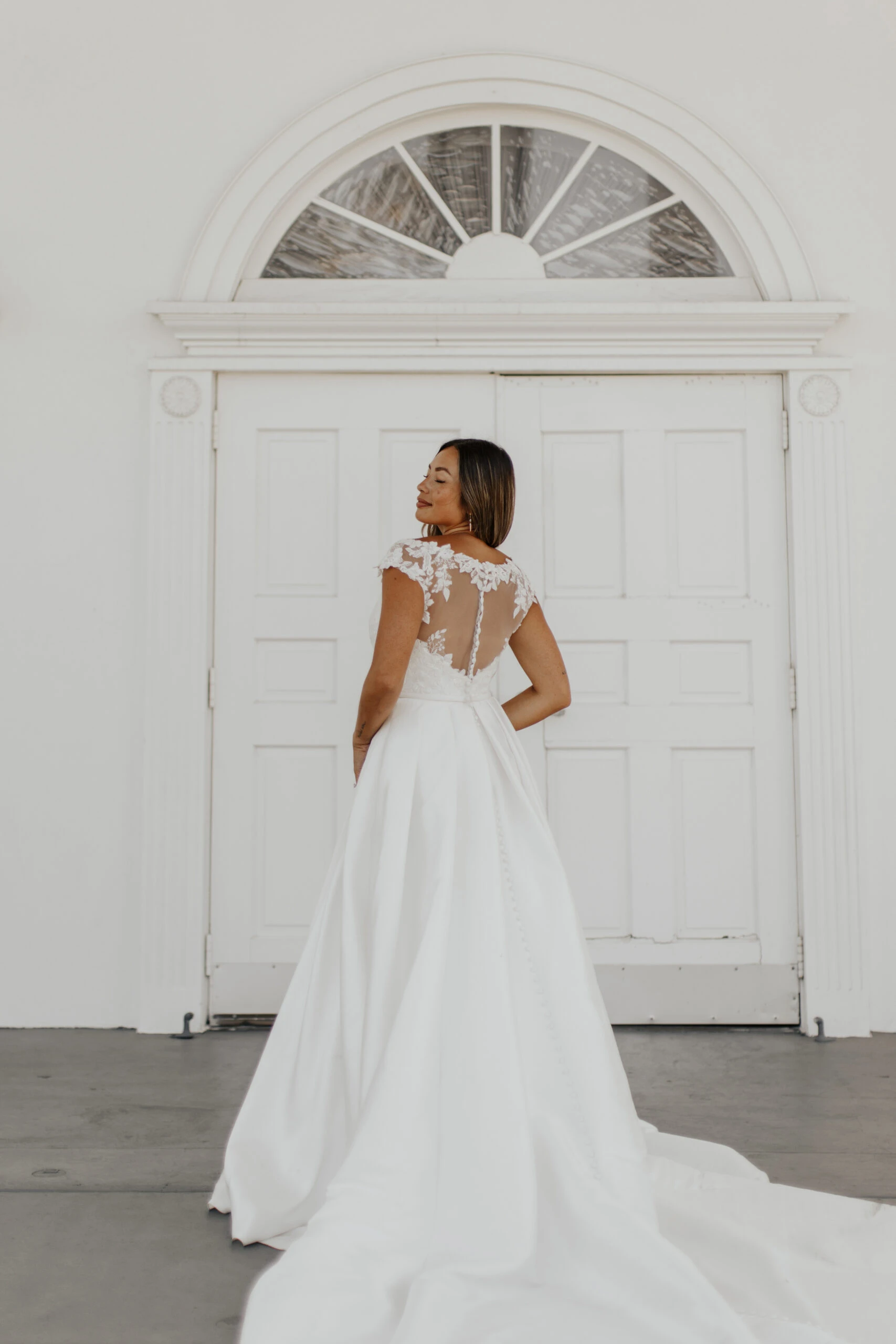 Sleeves add a classic touch to a modern wedding dress with pockets. Combining a contemporary ballgown skirt with an endlessly romantic lace bodice, Stella York Style 7577 is a modern lace wedding dress with an ultra-glamorous fit.
The organic lace of the sheer cap sleeves highlights a beautiful floral design before plunging into a V-neckline to accentuate the figure. The sheer illusion back features gorgeous lace details for a stunning bridal touch, while the vintage-inspired fabric-covered buttons line the entire length of the epic ballgown skirt.
The natural waistline unfolds into a softly pleated ballgown skirt with discreet pockets sewn into the luxurious Mikado silk to complete this striking design. This wedding gown is also available in plus sizes.
Simple Wedding Dress with Pockets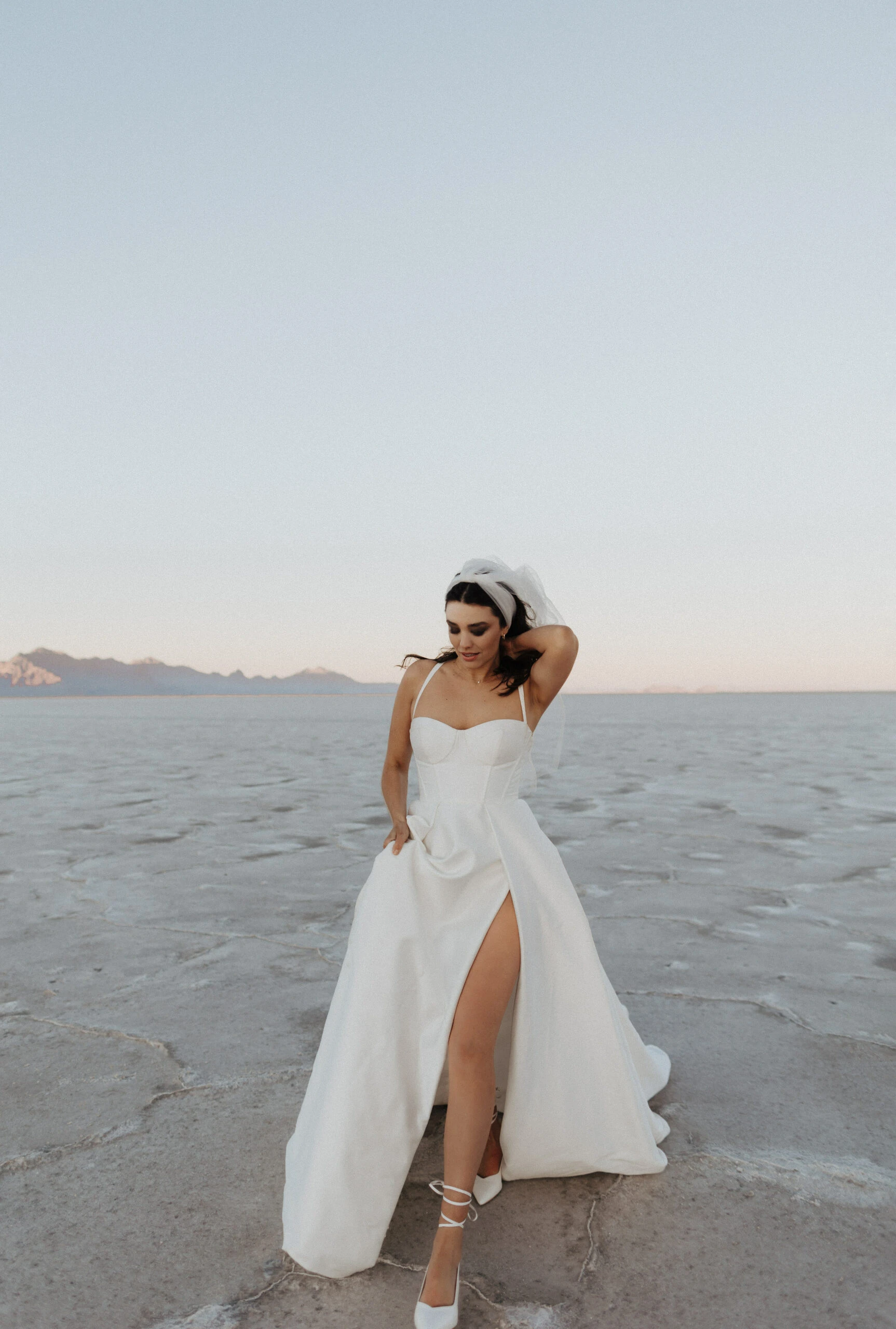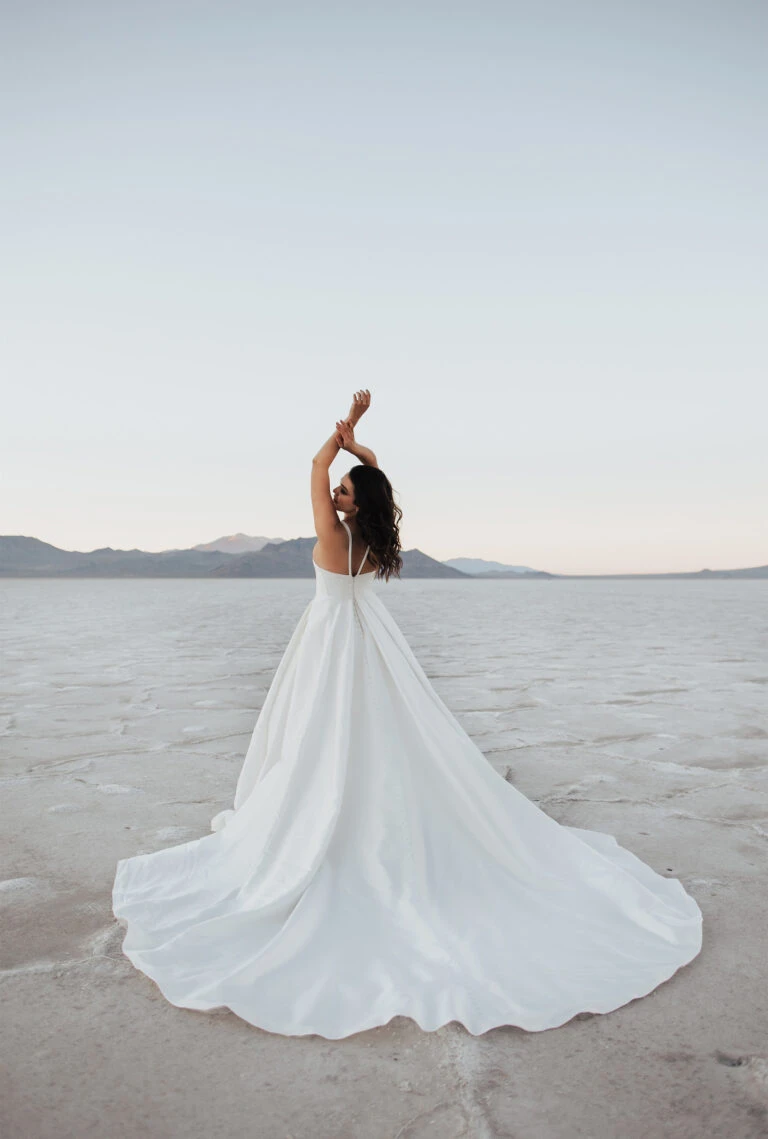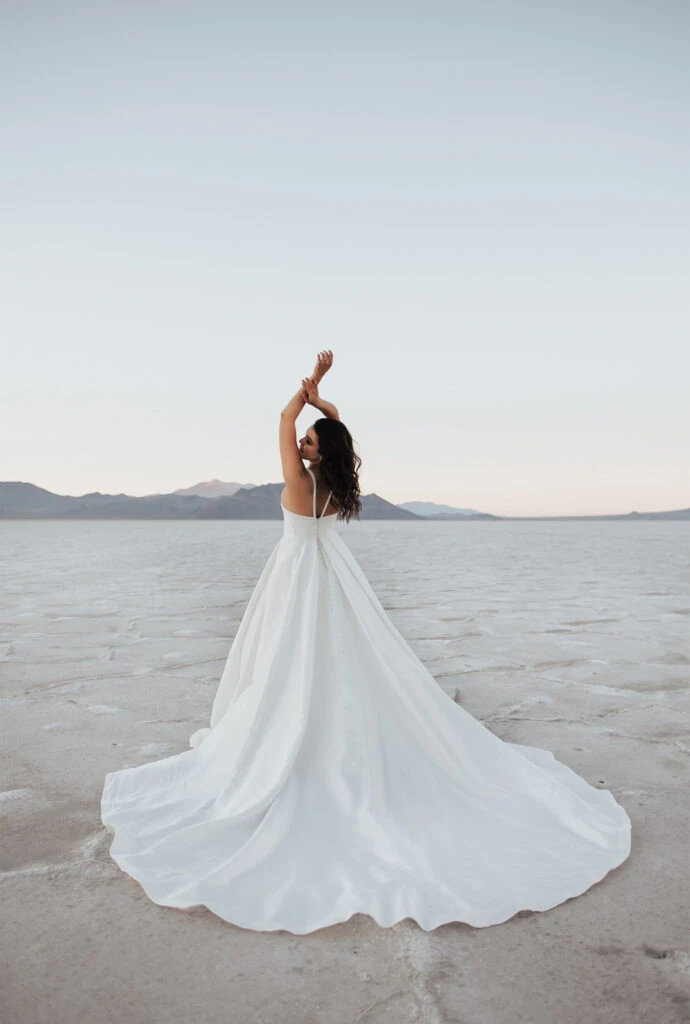 Martina Liana Luxe Style LE1209
A simple bridal gown with pockets combines two of bridal's top trends in one! Martina Liana Luxe Style LE1209 combines effortless glamour with a high-fashion design for a chic ballgown for the modern bride.
Sleek satin spaghetti straps grace the shoulders to meet a contoured bustier bodice with a couture fit in the front and form a V shape in the back. The luxurious duchesse silk satin forms pleats at the waist before glamorously draping into a modern ballgown skirt. Discreet pockets and a demure side slit add the final bespoke details to this ultra-luxurious bridal silhouette.
A-Line Wedding Dress with Pockets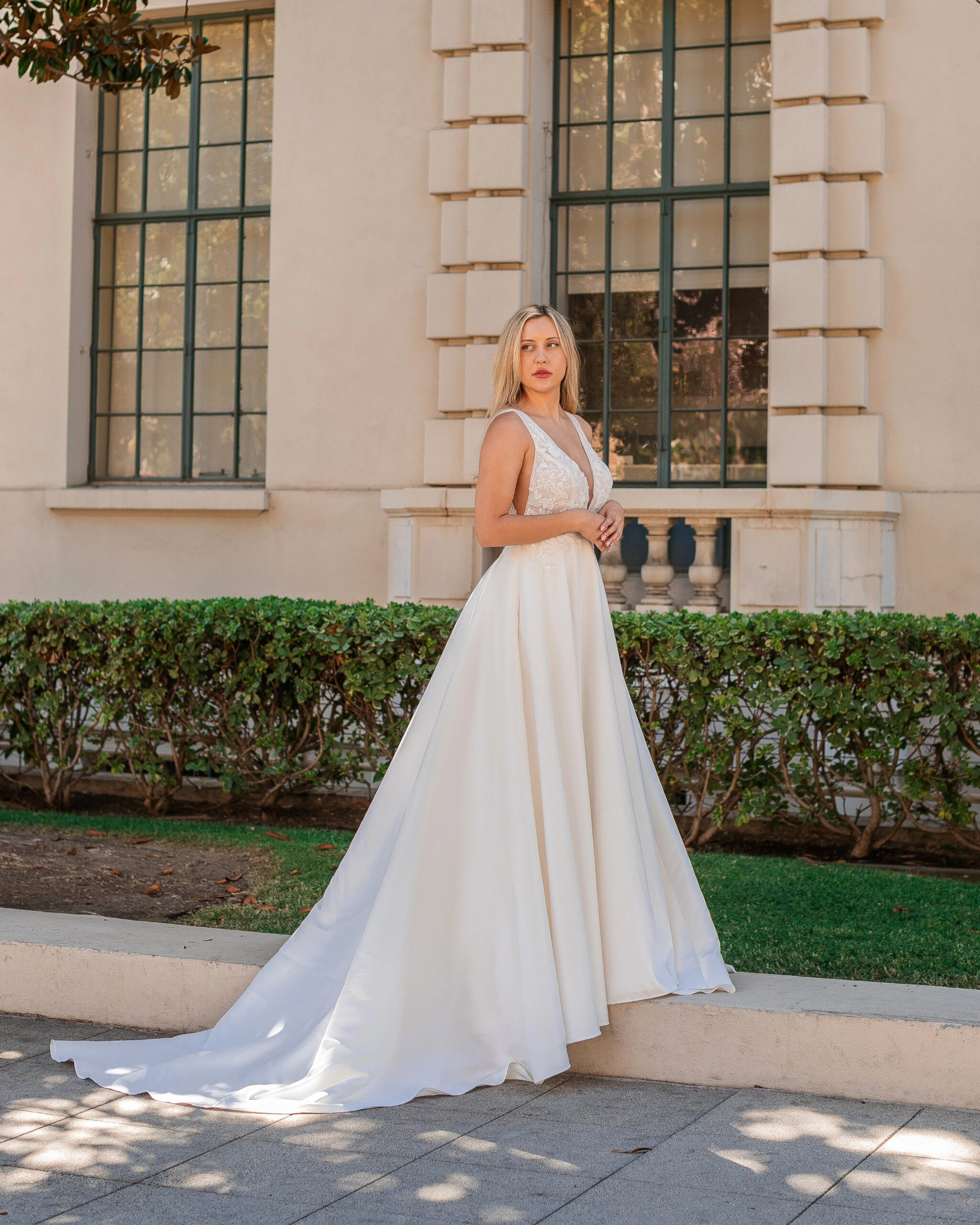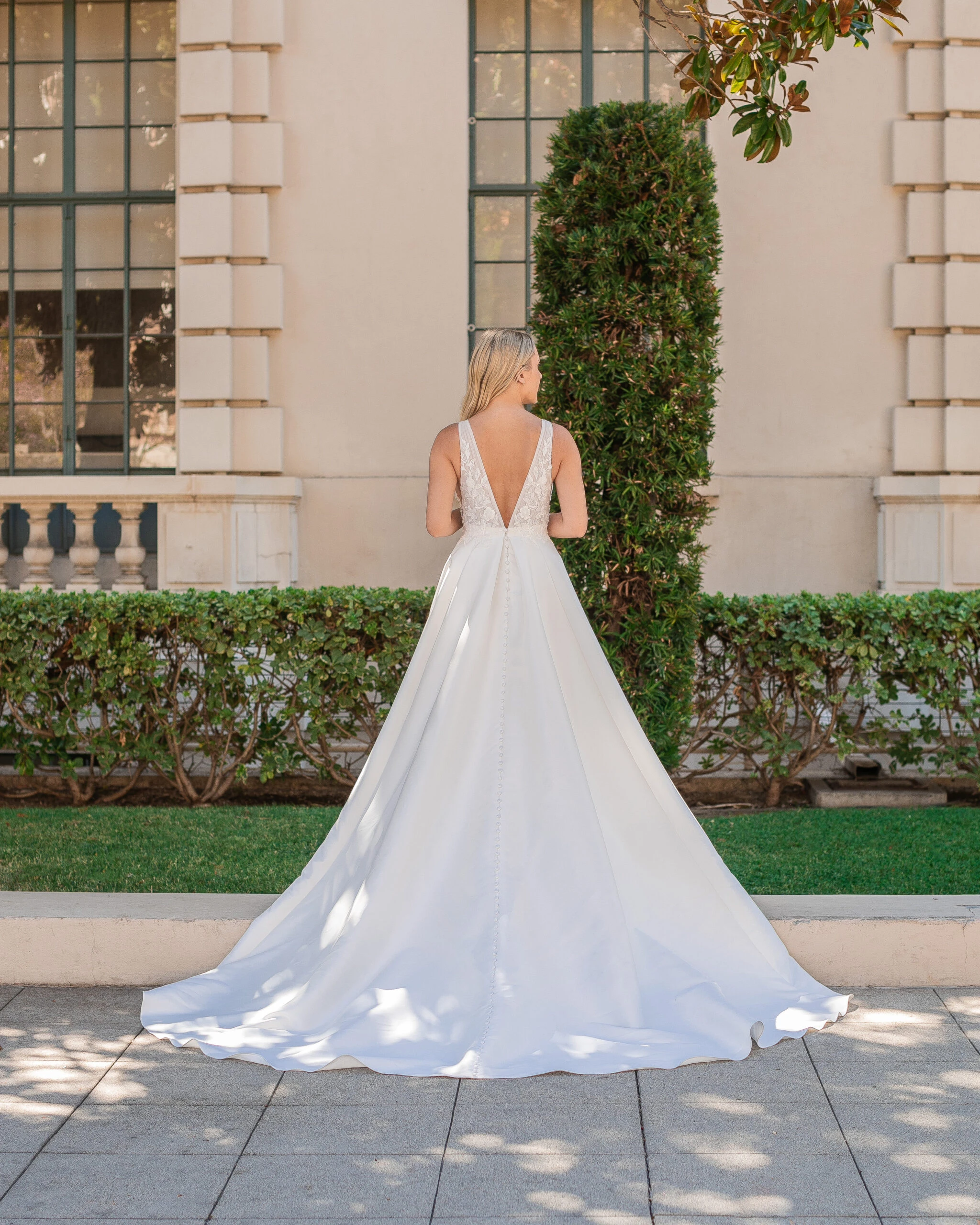 Essense of Australia Style D3640
For a more streamlined take on a wedding dress with pockets, opt for an A-line silhouette over a ballgown. Ever so elegant, Essense of Australia Style D3640 showcases beautiful, pleated tulle shoulder straps, a sheer 3D floral lace bodice and a deep plunging V-neckline—featuring an unrepeated mix of romantic and sexy bridal style.
The deep V-back complements the front bodice and leads to a row of fabric-covered buttons at the waist extending to the hem. The delicate beaded floral lace trickles over the waistband onto the full pleated Mikado A-line skirt. Invisible to the eye, pockets add a final touch of simple modernity to this stunning piece.
Plus Size Wedding Dress with Pockets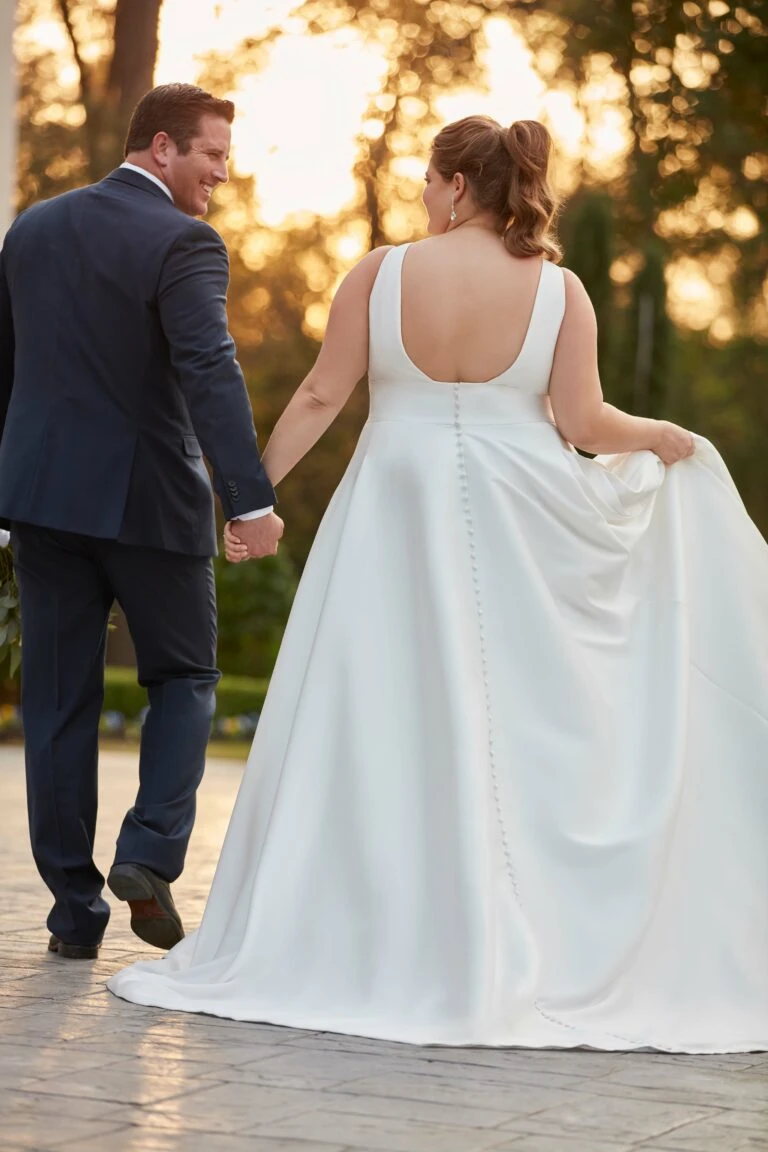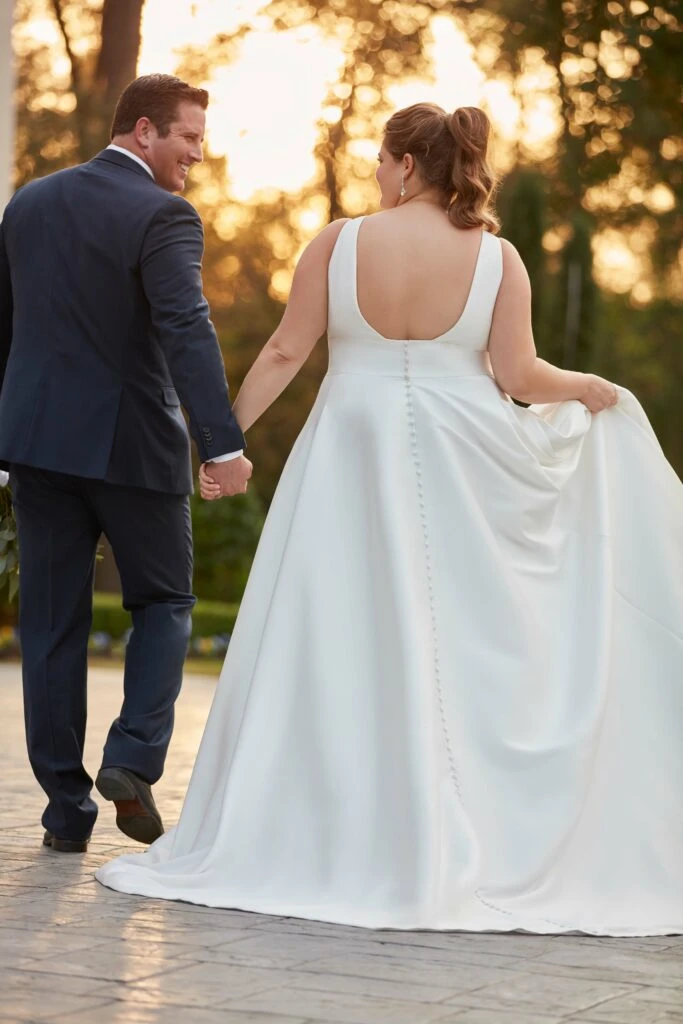 Pockets are for every bride, and Stella York Style 6758 is proof! This royal-inspired plus size wedding dress is as timeless as love itself.
Made of matte Mikado fabric, the ballgown silhouette features a modern empire waist and an open, square back. Fabric-covered buttons run down the length of the train, and pockets have been added for a modern touch. This gorgeous gown is ideal for the bride who wants a classic style on their wedding day!
Boho Wedding Dress with Pockets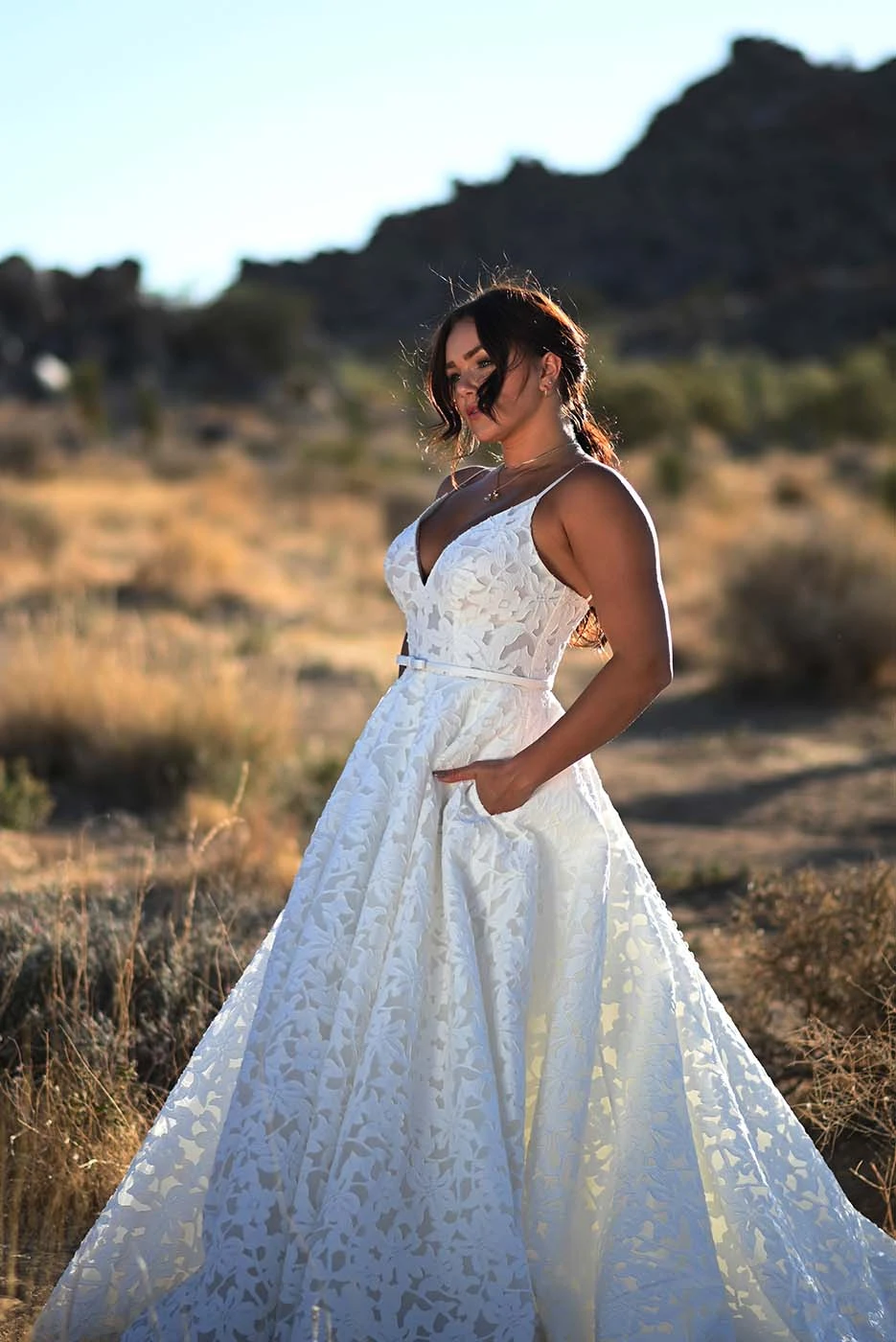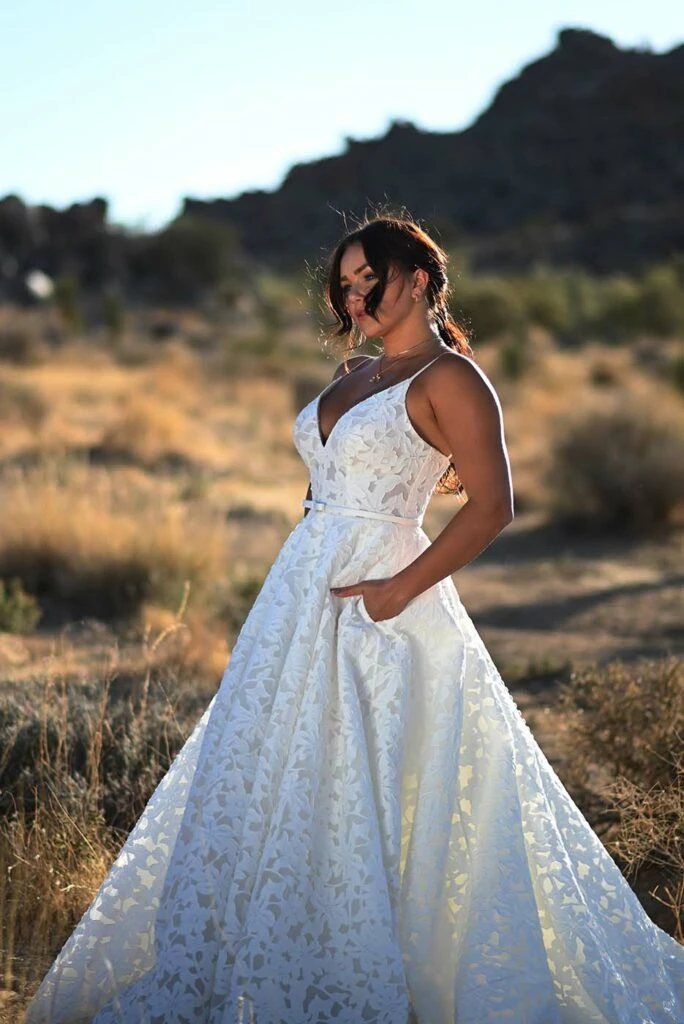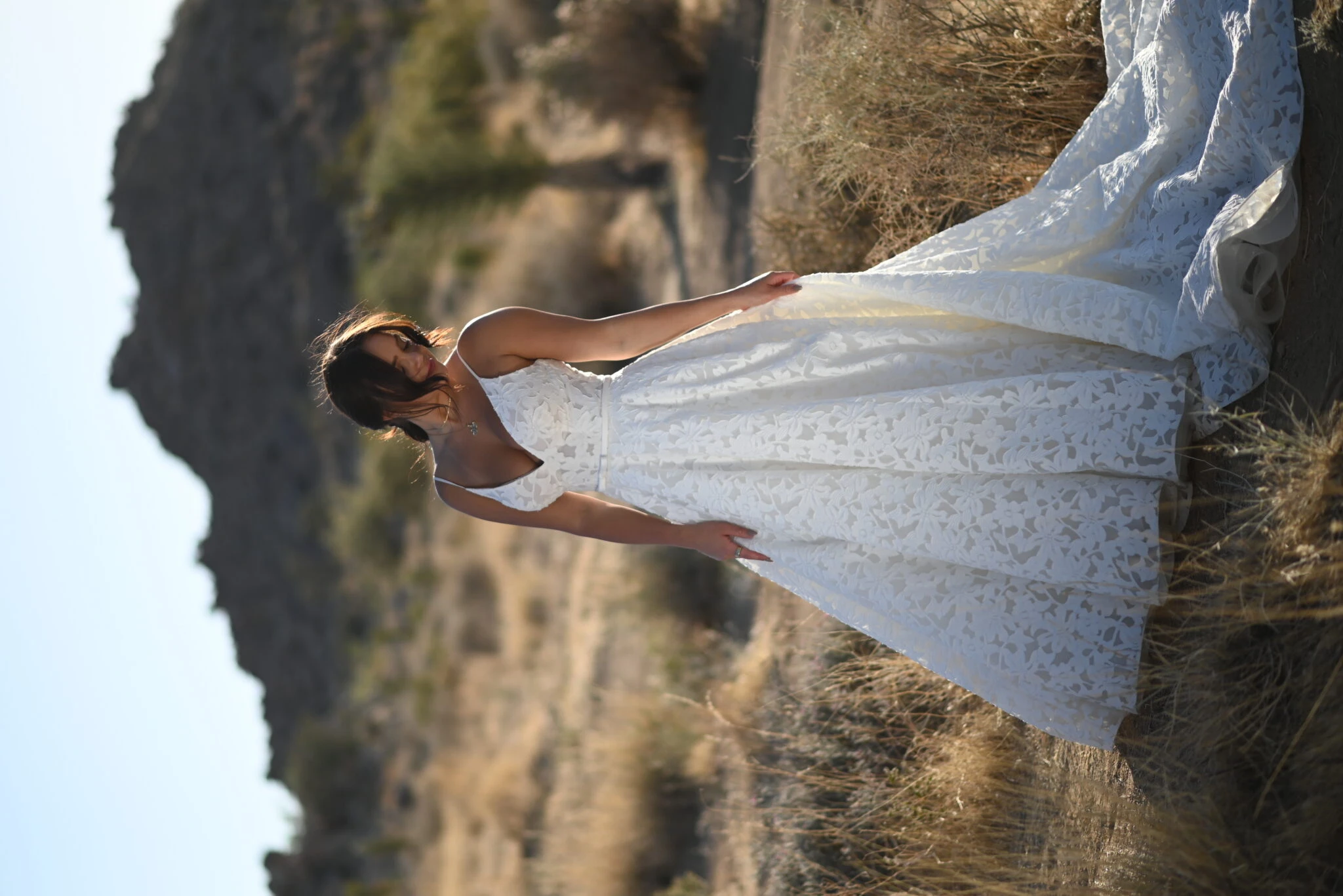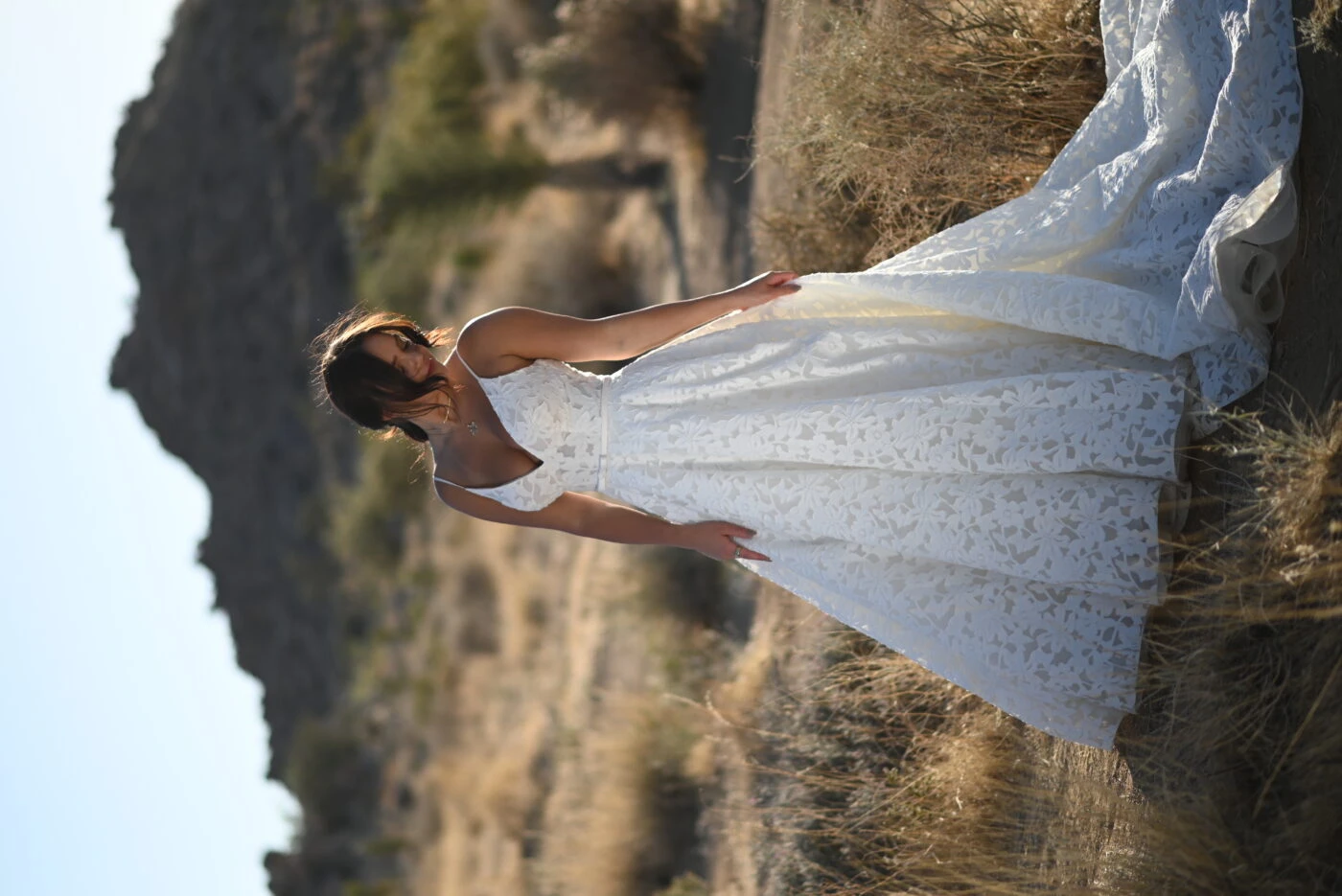 A bohemian wedding dress with pockets? They do exist! Martina Liana Style 1467 proves that pockets work for every bridal style.
Simple and elegant, the classic A-line silhouette is modernized by a textured floral organza lace throughout for that chic, boho bridal look. Sleek spaghetti straps meet a deep V-neckline for a flirtatious touch. The squared lightly dipped back is accented by a row of fabric-covered buttons that adorn the gown from the back bodice to the edge of the train.
At the tailored waist, a chic Silk Zibeline bow belt can be added or removed for each bride's personal style. The voluptuous A-line skirt discreetly contains hand pockets for a simple and easy wedding look that adds a modern twist on tradition.
How Do you Pose in a Wedding Dress with Pockets?
For the bride who loves their own cover girl moment, a wedding dress with pockets provides opportunities to include fun poses in your wedding photos. Here are a few of our top tips for posing with pockets:
Allowing your thumbs to peek out of the pockets adds a relaxed vibe.
Make sure to relax your elbows, not letting them poke out to the sides too much.
Experiment with putting only one hand in a pocket, then both. Either way, a wedding dress with pockets will give your photos a cool, effortless vibe.
You can also practice your poses beforehand during your fittings, so you feel comfortable and confident on your big day!
What Wedding Locations Are Good for Wedding Dresses with Pockets?
Pockets on a wedding dress can give your gown a relaxed vibe, making this style ideal for garden, vineyard, backyard, barn or even city hall weddings. That being said, of course, you can find more formal styles that feature pockets. If you ask the True Crew, pockets are a great idea anywhere and everywhere!
It's easy to understand why wedding dresses with pockets have become a beloved trend for modern brides, offering both style and convenience! With these hidden treasures seamlessly integrated into their gowns, brides can effortlessly carry their essentials while radiating confidence, elegance and practicality on their special day.
Are you ready to find your dream wedding dress with pockets? Find a True Society store location near you and reserve your appointment. Our True Crew can't wait to help you find a gown that brings your wedding vision to life! Availability varies per store.