Do you love scouring vintage shops for retro clothing from decades gone by or watching old movies? If so, a retro wedding dress may be the style for you! Whether you're going for Gatsby-style glamour or a boho 70s look, we have plenty of retro wedding dresses for the modern bride at True Society! Keep reading for our True Crew's picks and bridal fashion inspo.
What's a Retro-Inspired Dress?
A retro wedding dress refers to a style of wedding gown inspired by fashion trends from past eras, typically from the 1920s to the 1980s. This attribute gives the dress a vintage look that inspires nostalgia. The specific era that influences the dress will determine its details, silhouette and more.
What aspects of a dress make it retro-inspired?
When it comes to retro wedding dresses, the following factors can cause a gown to be reminiscent of a particular era:
Silhouettes: Often, each era is marked by a popular silhouette. This could include flapper-style straight cuts from the 1920s, full skirts and cinched waists from the 1950s or flowy, bohemian silhouettes from the 1970s. 
Fabrics: The fabric of the wedding dress is a major factor in adding a vintage vibe to your look. Vintage-inspired fabrics may include lace, tulle, satin or brocade.  
Necklines and Sleeves: Another element of retro style are the specific necklines and sleeve styles that were iconic in different eras. For example, off-the-shoulder necklines were popular in the 1950s, while bell sleeves were a hallmark of the 1960s and 1970s. Don't forget the puffy sleeves of the 1980s! 
Embellishments: Beading, sequins, embroidery and lace were frequently used to add intricate details to dresses in earlier decades. Retro wedding dresses may feature these embellishments to recreate the vintage styles of eras gone by. 
What are Some Popular Retro Eras for Wedding Dresses?
Ready to learn more about the bridal fashions of years past? Here are some characteristics of retro and vintage wedding dresses through the decades.
1970s
Key 1970s bridal trends include billowing silhouettes, flowy long sleeves, floral elements and a free-spirited bohemian flair. The 70s bride was all about individuality, which is why this bridal style is still so popular today!
1960s
The 1960s were a blend of Jackie Kennedy-inspired styles that eventually morphed into the flower-child bohemian look present in the 1970s. Cap sleeve and sleeveless styles and sheath and A-line silhouettes were popular during this decade. Shorter hemlines and tea-length dresses took the fashion world by storm.
1930s
Fitted bias-cut silhouettes and silky fabrics were all the rage in the 1930s, giving off a sleek and sophisticated vibe. High necklines and long sleeves were also popular during this time. To achieve this vintage bridal look today, choose minimalistic, vintage wedding gowns with long sleeves and statement shoulders.
1920s
The 1920s were known for the Art Deco movement! Think Gatsby-style fashion: beading, feathers, sequins, geometric elements, cap sleeves and sleek, silky styles. Brides can bring the 1920s to their wedding day look by choosing a bridal gown with a geometric pattern or an Art Deco-inspired beaded lace.
Retro Wedding Dresses with a Modern Twist
Lace Retro Inspired Wedding Dress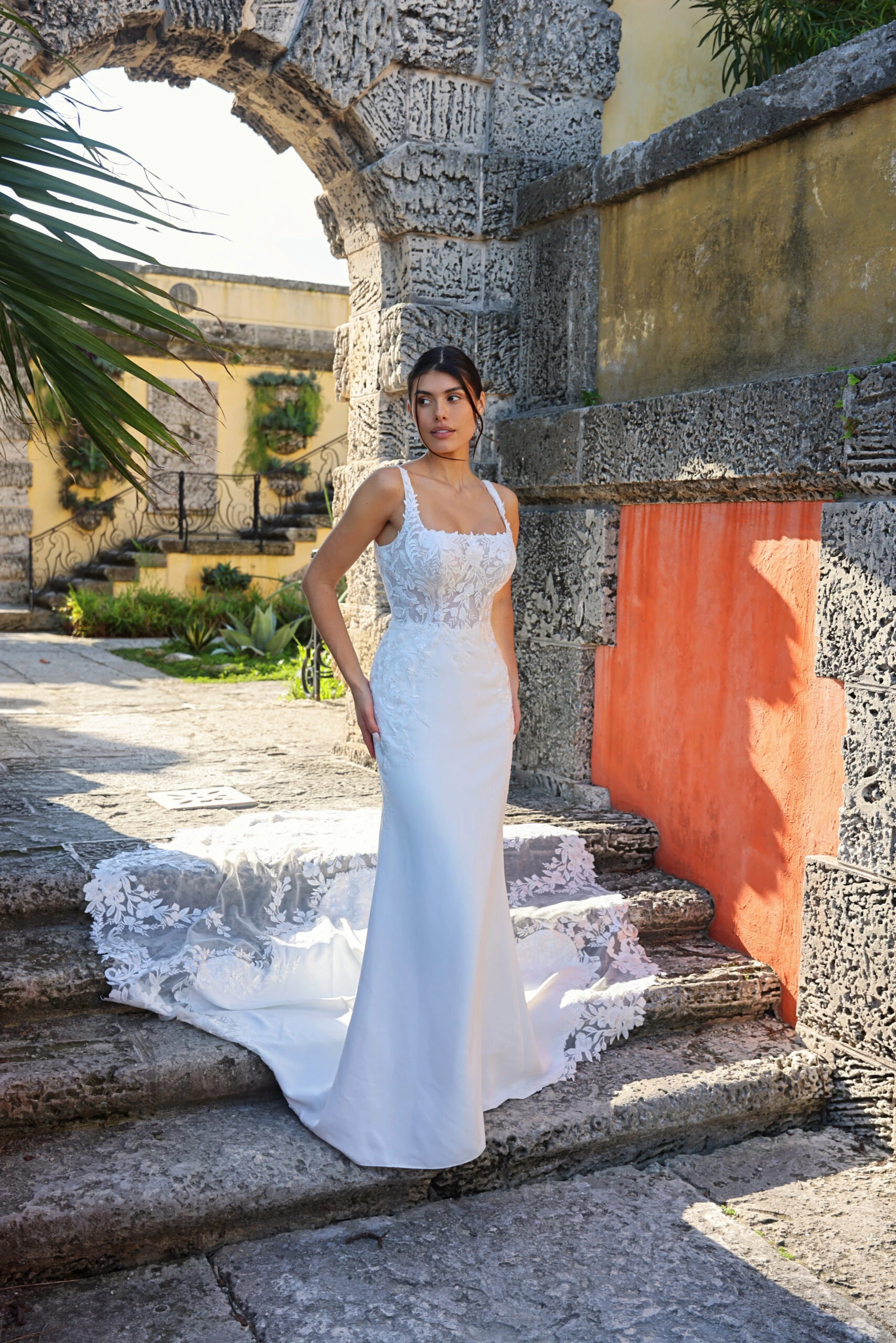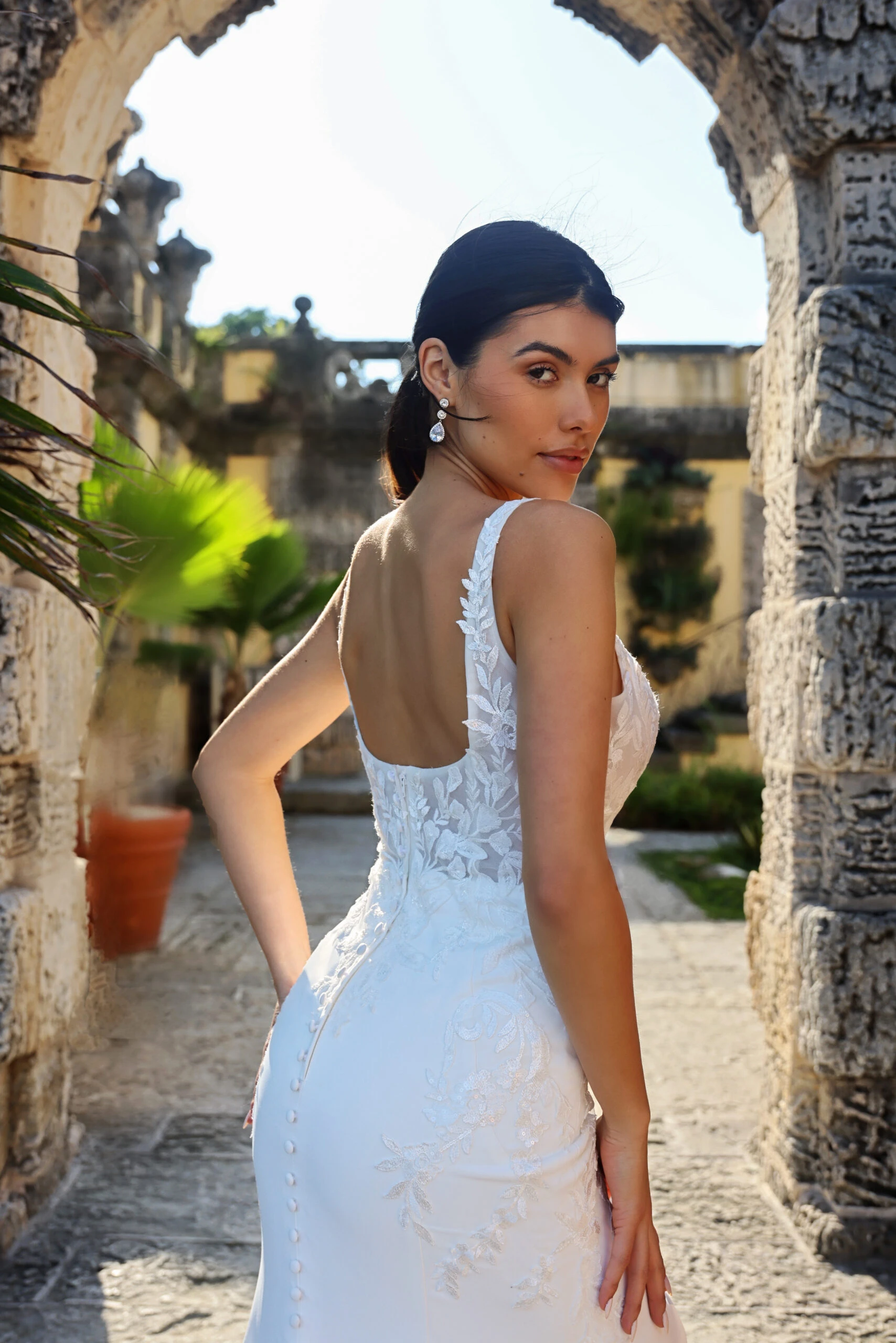 Stella York Style 7715 is a lace dress for the modern retro bride. Handcrafted lace details embellish this timeless yet modern gown, from its sheer lace bodice to its luxuriously romantic cutout train.
From graceful floral shoulder straps, a stunning square neckline complements the low square back. Wrapping around the hips, the fine floral elements accent the figure with hand-placed precision before melting into a clean column sheath skirt.
For the final fashion-forward touch, a gorgeous lace cutout train completes this romantic bridal gown for an unforgettable walk down the aisle. The figure-hugging silhouette of this gown is beautiful for the plus size bride who wants to show off their shape!
Art Deco Retro Inspired Wedding Dress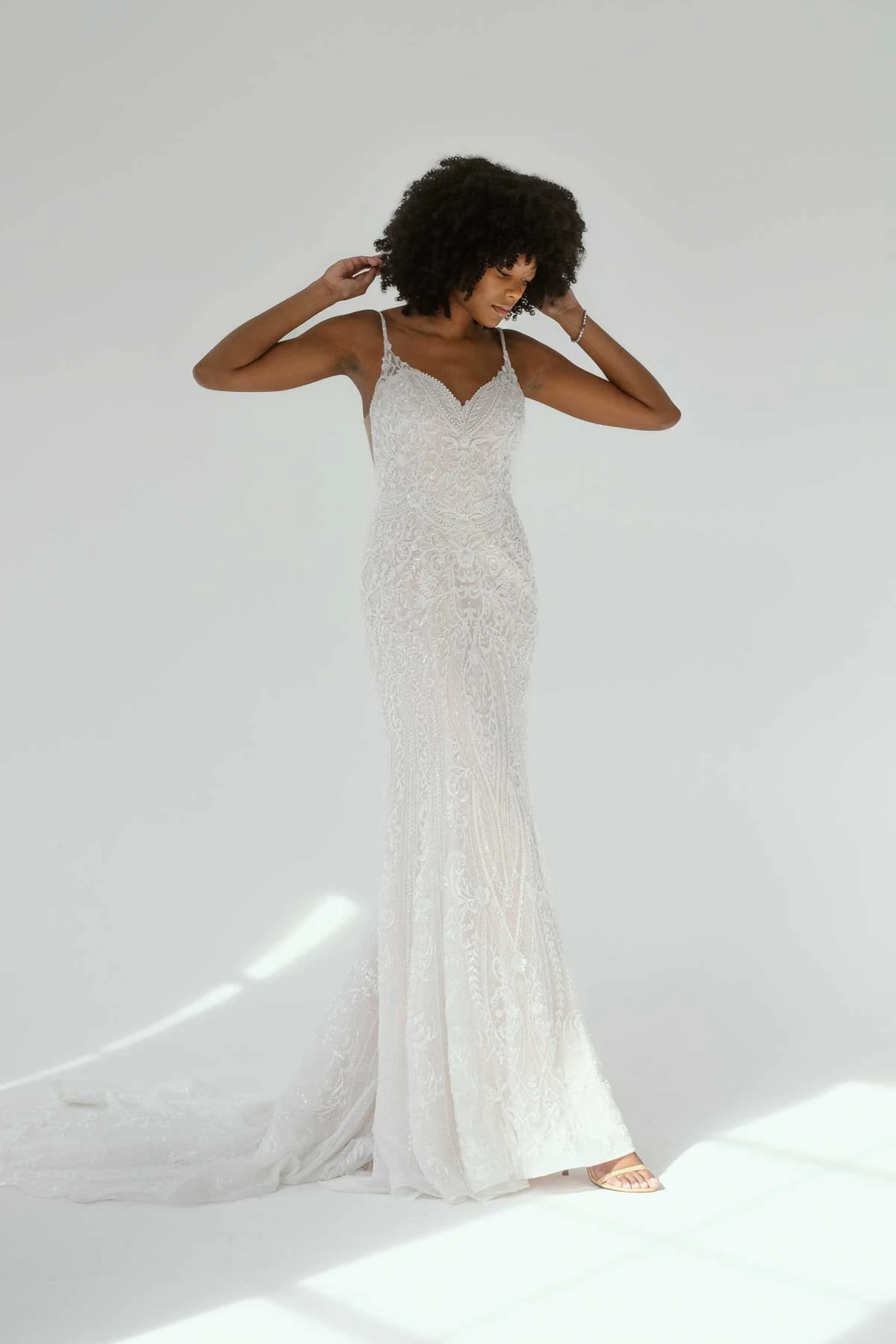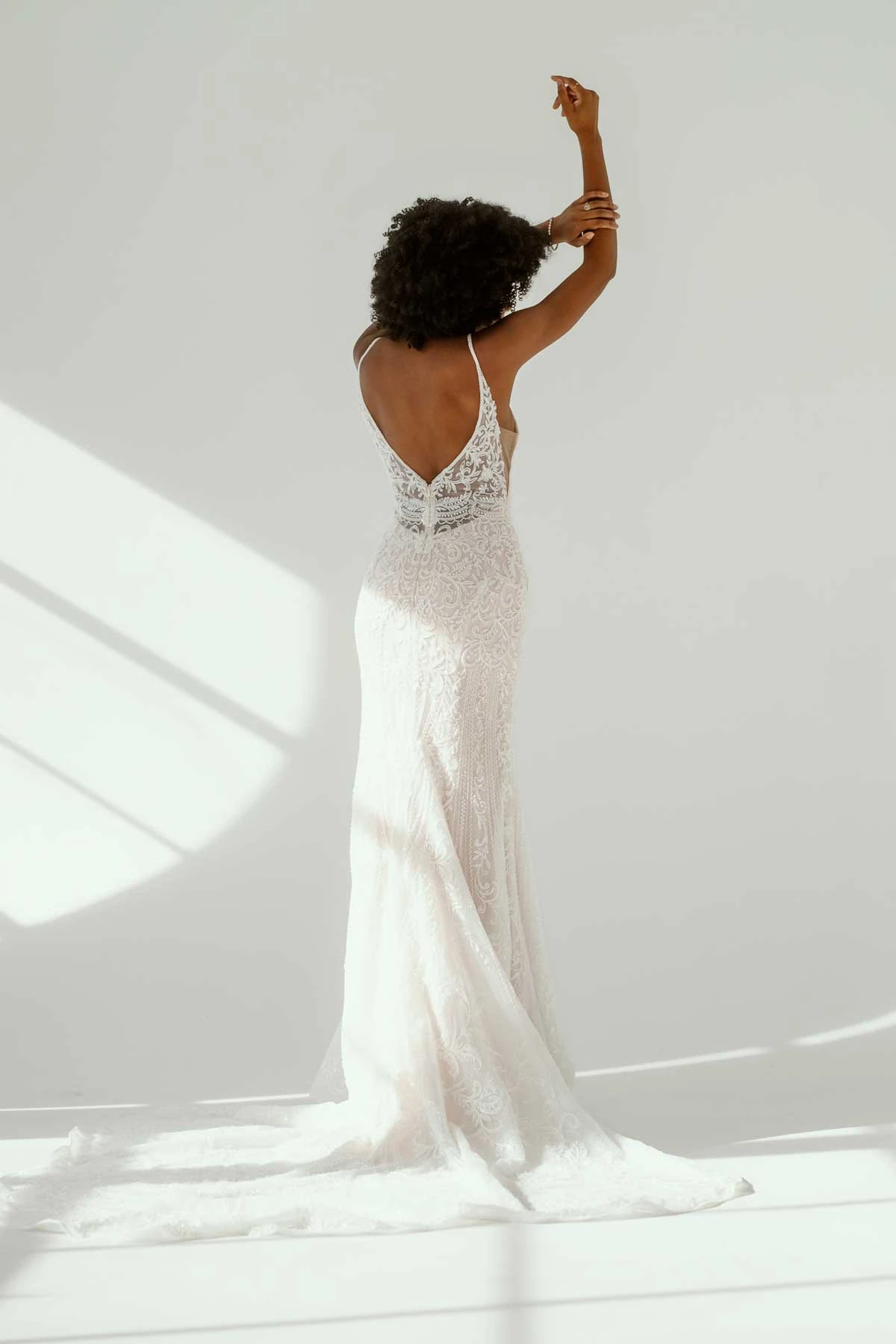 Essense of Australia Style D3837
Old-world glamour unfolds in this luxurious Art Deco style retro wedding dress. Essense of Australia Style D3837 features beaded lace over glittering tulle in a soft, flattering fit-and-flare silhouette.
Sleek spaghetti straps grace the shoulders and meet a soft V-neckline with lace embellishments. Sheer side cutouts and a low back add a touch of modern design and highlight the scrolling lace features.
Fitted past the hips, this sexy slip wedding dress unfolds into a long, shimmering shaped train that magically glides down the aisle. This wedding dress is ideal for the petite bride who wants a modern retro wedding dress!
Long Sleeve Retro Inspired Wedding Dress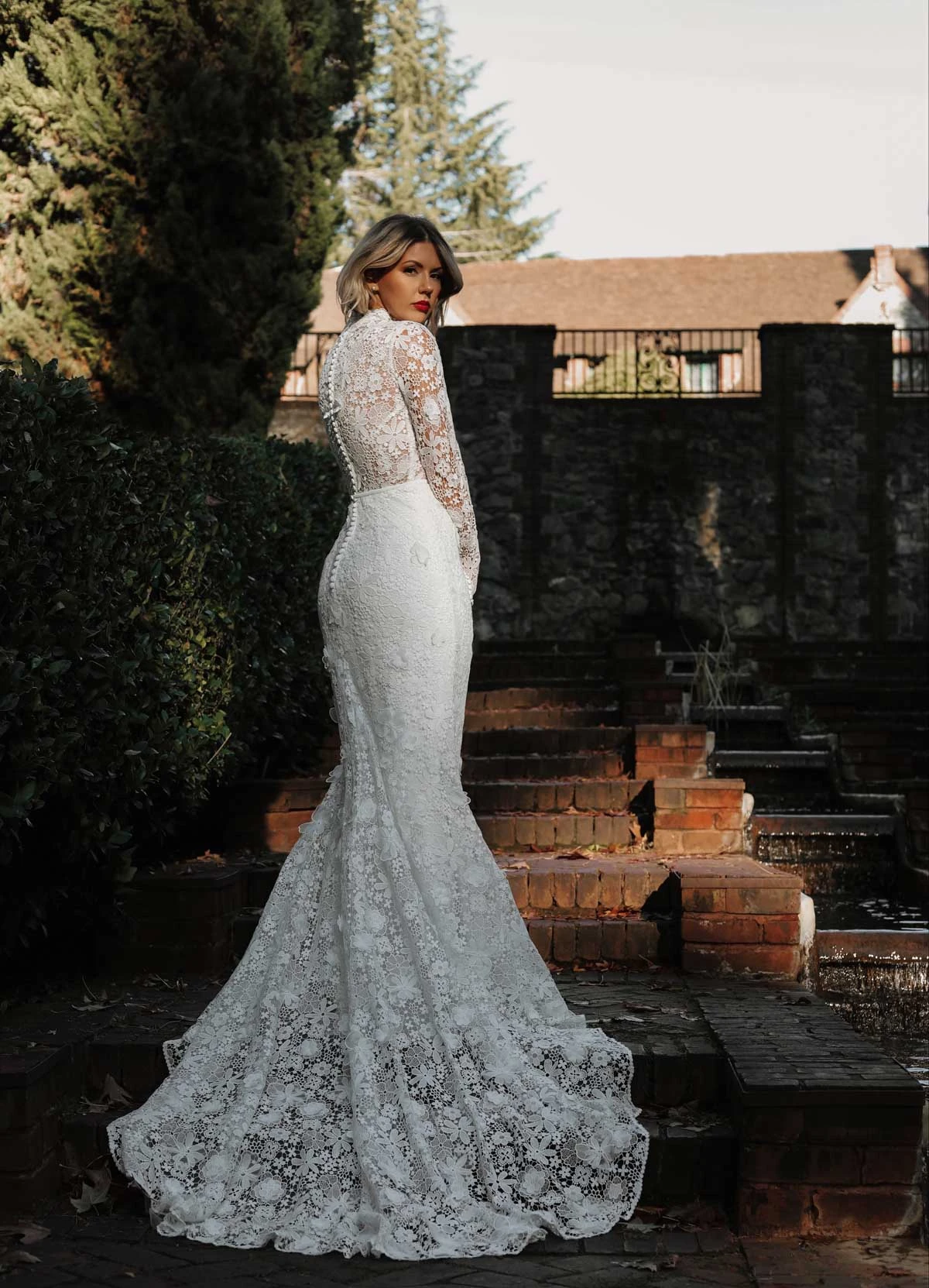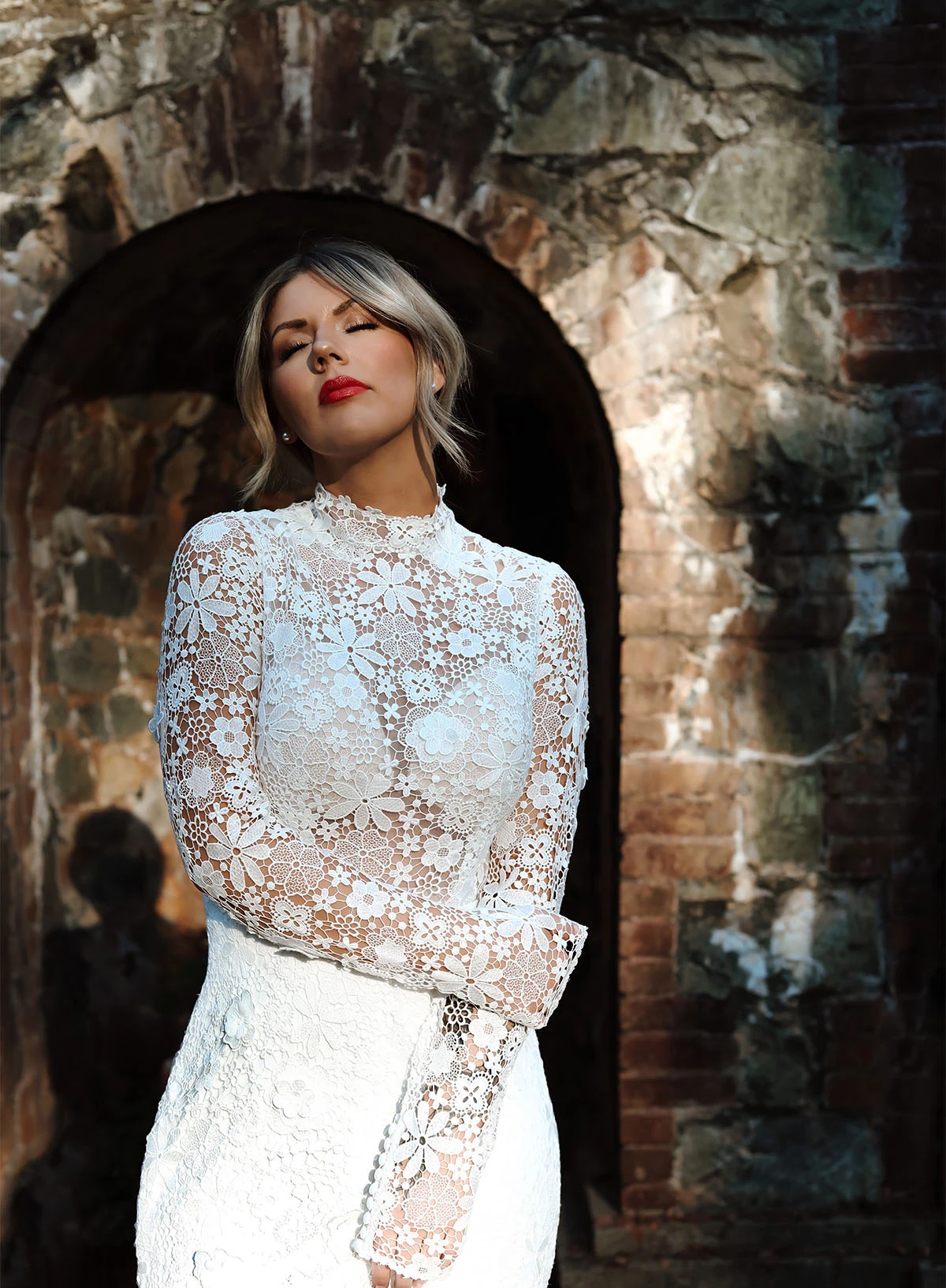 The All Who Wander layne gown creates a flawless balance of modern, sexy bridal design and timeless vintage elements. The sheer all-lace bodice begins with a high mock neckline before wrapping the torso and arms in a dainty vintage-inspired floral lace.
Elegant fabric-covered buttons trace the spine and conclude at the fitted hip of the column sheath silhouette with the option to add a fun detachable belt. In a garden of botanical lace, this form-fitting boho wedding gown concludes with a flattering skirt slit and sheer sweeping train.
Silk Retro Inspired Wedding Dress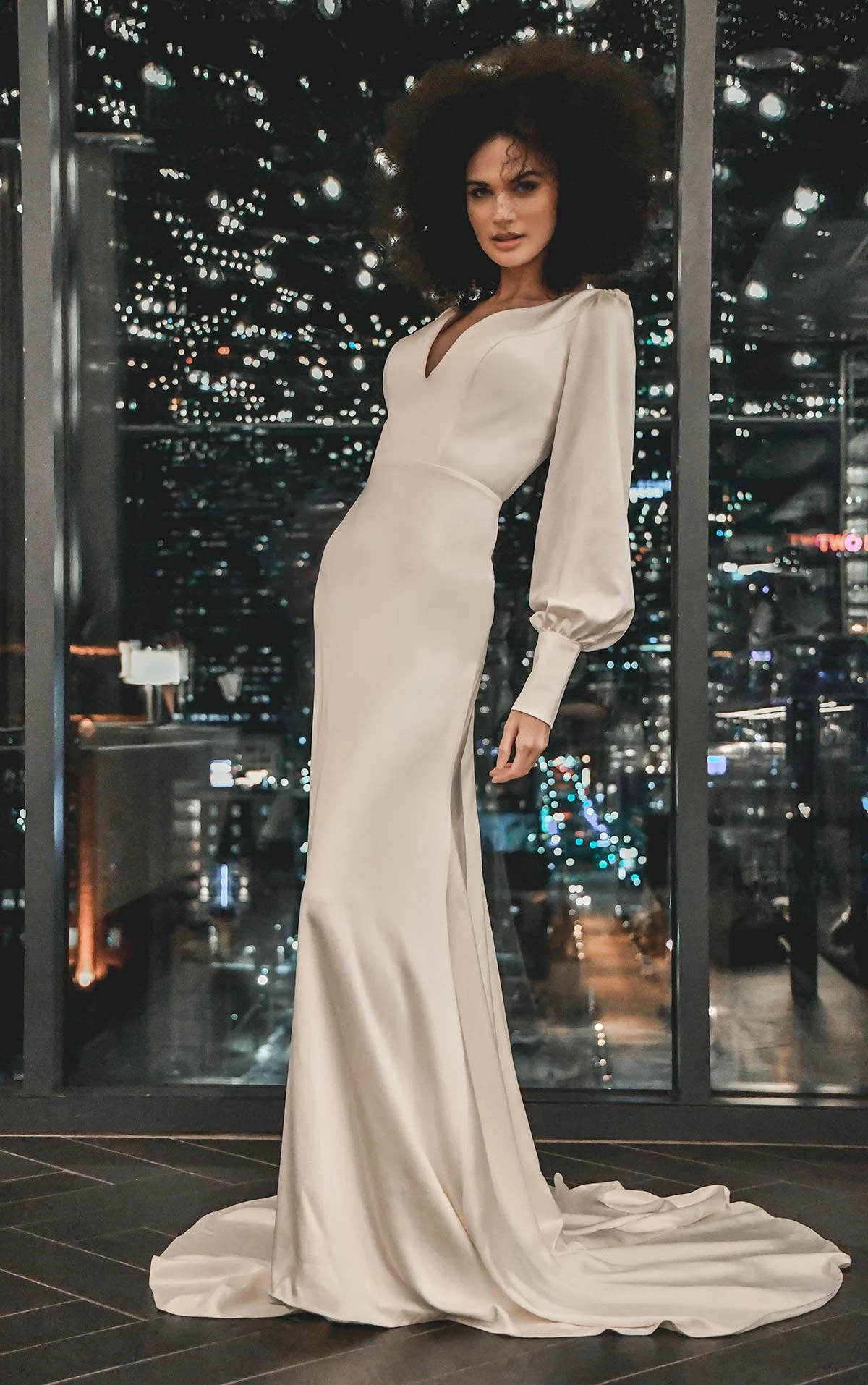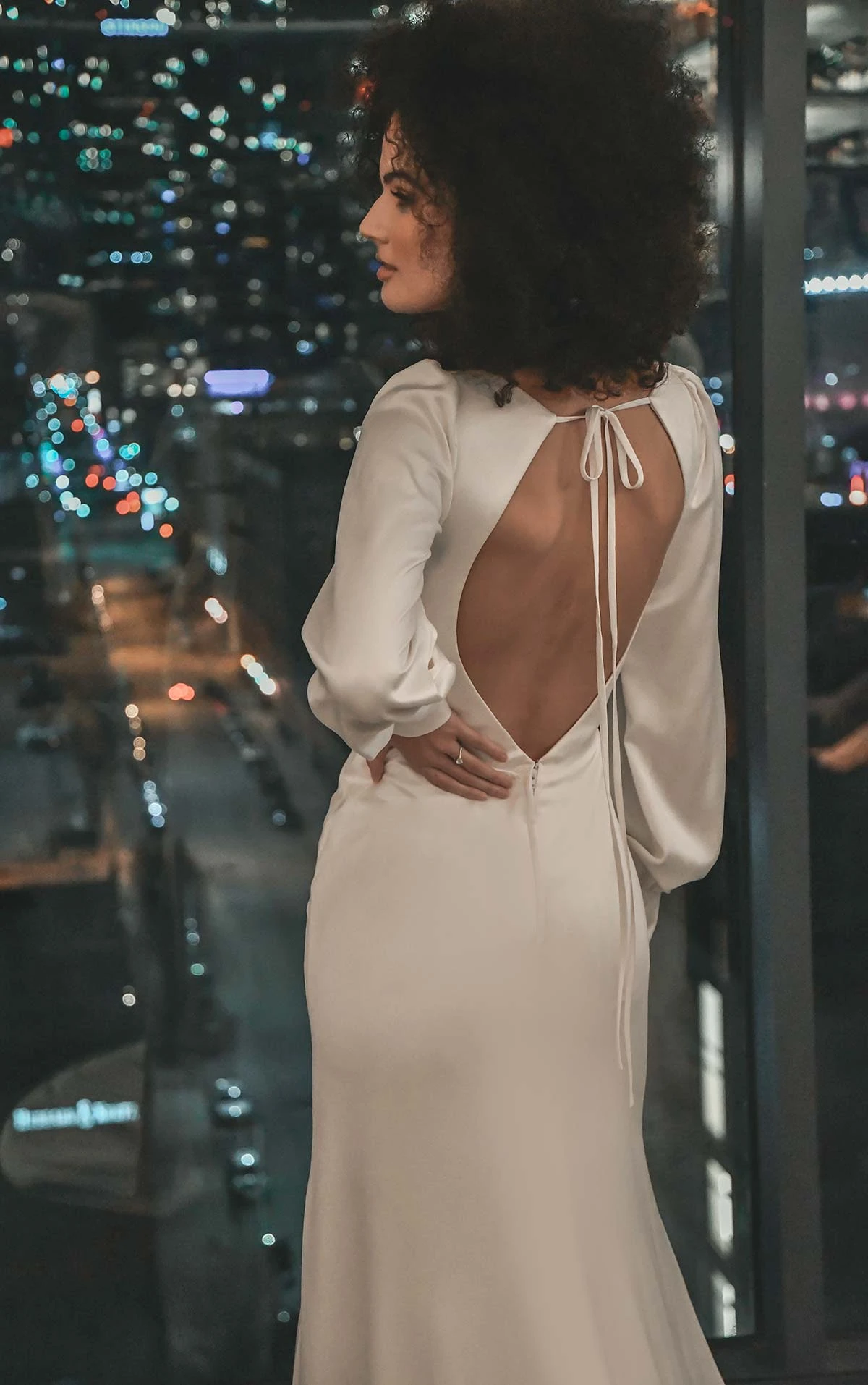 Martina Liana Luxe Style LE1155
Martina Liana Luxe Style LE1155 is an ultra-chic, fabulously simple wedding dress that speaks to the vintage dresses of the 1930s. Stunning silk satin and soft crepe lining work together to create this vintage-inspired masterpiece.
The V-neckline bodice is thoughtfully designed for ultimate comfort and glamour. A slight puff at the sleeve is a nod to bridal fashions of decades past but with a modern twist. The wrist cuff is adorned with delicate fabric-covered buttons.
The open back is made complete with a sweet bow at the neck for a flirty finish. The skirt effortlessly flows into a delicate train, completing this 1930s wedding dress with a flourish.
Tulle Retro Inspired Wedding Dress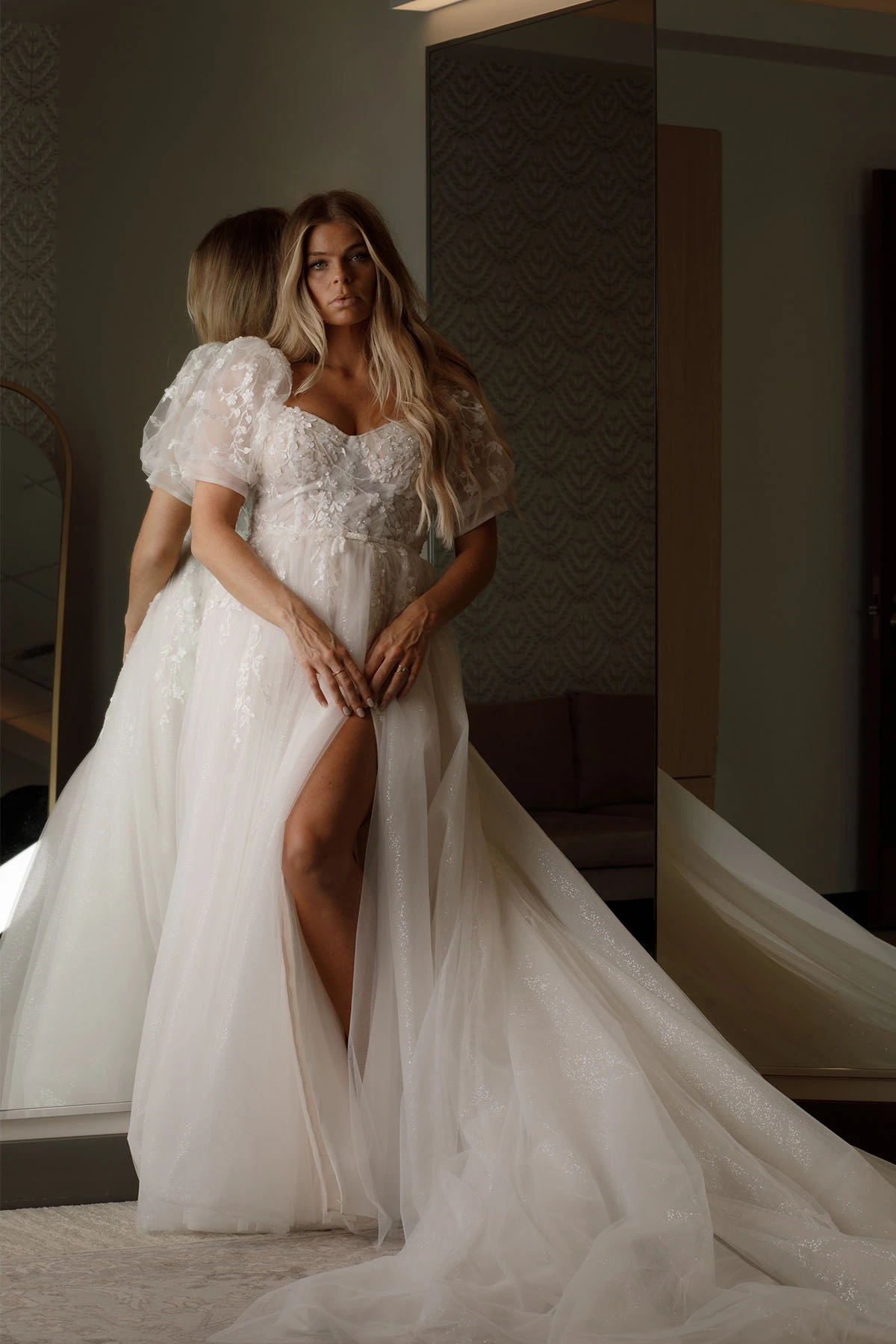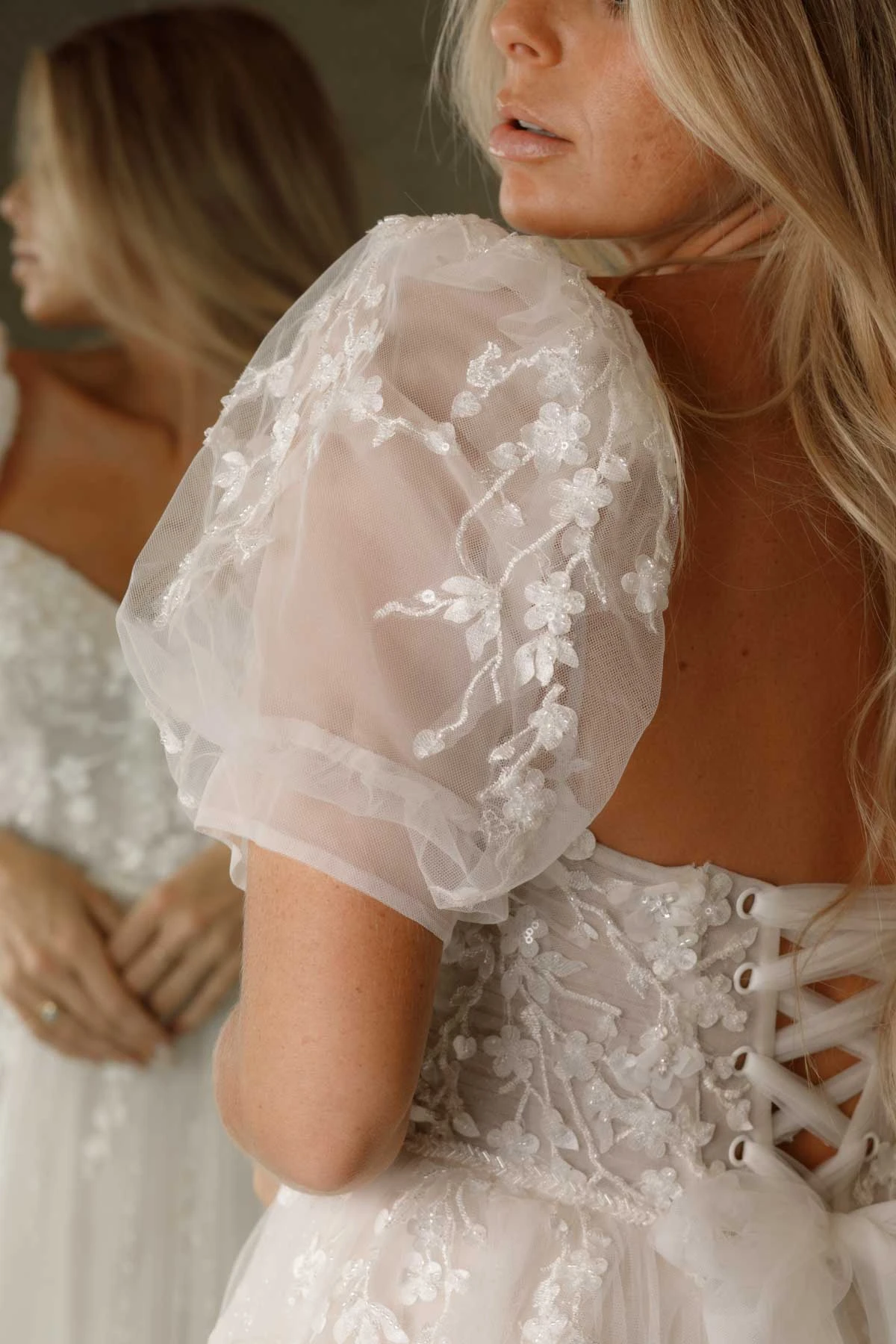 Reminiscent of classic romance, Martina Liana Style 1571 is a stunning A-line wedding gown with every couture detail the fashion-forward bride desires. Detachable sheer lace short sleeves puff at the shoulders and frame the flattering sweetheart neckline of the shimmering and translucent bodice.
Embellished in delicate 3D florals, the bodice wraps into a regal corset tie-back, cinching the waist and meeting a subtle beaded waistband. Effortlessly floating from the gathered waist, the sultry sparkle tulle skirt opens at the thigh and extends into a long luxurious train.
What is a Way to Mix Retro with Modern Dress Styles?
A gown can be modern and retro-inspired by combining one or a few of the characteristics of retro wedding dresses we listed above with today's bridal trends. A modern retro wedding dress may include a boho bell sleeve from the 70s combined with a modern asymmetrical neckline. You could also opt for an off-the-shoulder neckline reminiscent of the 1950s with a sleek sheath crepe skirt for a modern twist. It's all about a little bit of the old mixed with the new!
What to Consider when Selecting Accessories for Retro Wedding Dresses?
When choosing accessories for retro wedding dresses, the key is to consider which decade the gown is reminiscent of and select accessories that match the vibe of that time period. You can also go for a contrast and use your accessories to add a modern twist to a vintage wedding dress.
No matter which decade speaks to you the most, we have so many gorgeous modern yet retro wedding dresses for you to choose from at True Society! You can explore even more styles in our wedding dress gallery.
Are you ready to find the retro wedding dress of your dreams? Find a True Society location near you and book an appointment. Our True Crew can't wait to help you find the ideal vintage-inspired look for your big day! Gown availability varies per store.