Where are our fellow Kansas City boho babes at? We've got some major bohemian wedding decor inspiration coming your way! We are going to break down all the ways you can use different decor elements to pull off the dreamiest, effortless-looking boho wedding. You're in luck because True Society by Belle Vogue Bridal is the exclusive retailer in the Kansas City area of the newest boho wedding gown collection from designer, All Who Wander. This new label has you covered with the PERFECT bohemian wedding dresses – now all you need are the finishing touches to pull your dream wedding together!
Our top tip is to choose your boho wedding dress FIRST – you can then match your wedding decor to the type of bohemian bride you are! For example, if you're a more of a vintage boho bride you may want to incorporate some unique vintage elements into your wedding decor. You can also focus on making your boho wedding unique to you as a couple. Do you and your significant other love to listen to records, love to travel, or stargaze? Incorporate personal touches into your boho wedding to make your wedding unique to YOU!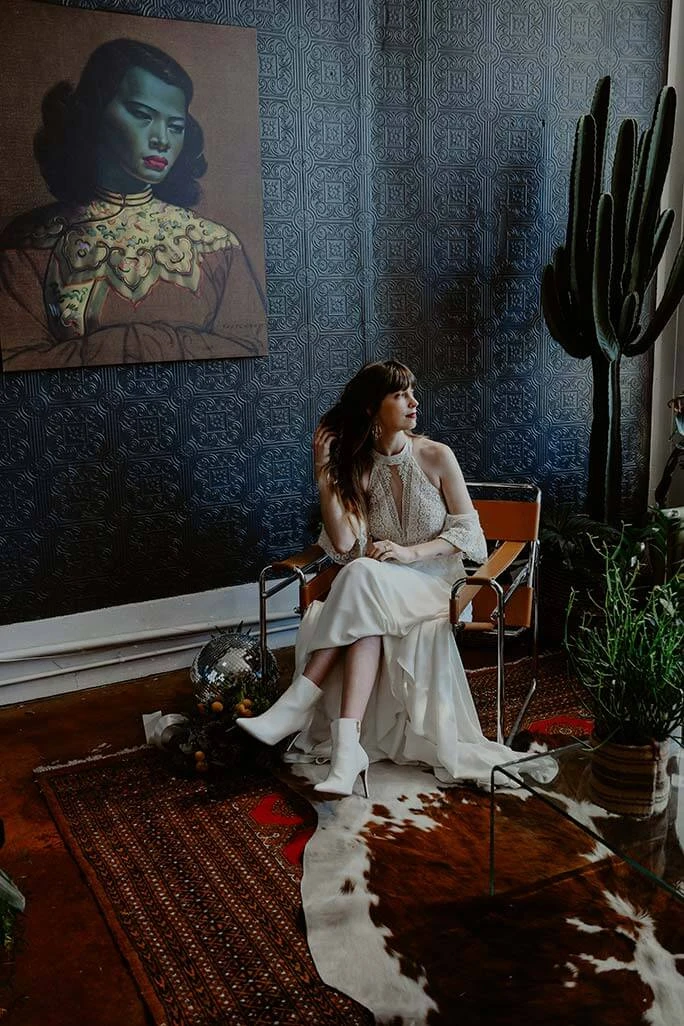 When it comes to your wedding day, it's all in the details. Layer, layer, layer (your details)! You can build your bohemian wedding decor up to create an effortless-looking wedding with perfectly paired, yet contrasting elements. Consider adding pampas grass for a natural touch and offsetting the muted tones with vibrant florals. Having a nature-incorporated backdrop is the perfect way to let your personality shine through, and create that perfect photogenic moment. Another easy tip to add a pop of personality to your wedding is to use rugs as aisle runners. This added detail will make your wedding feel more intimate and personable.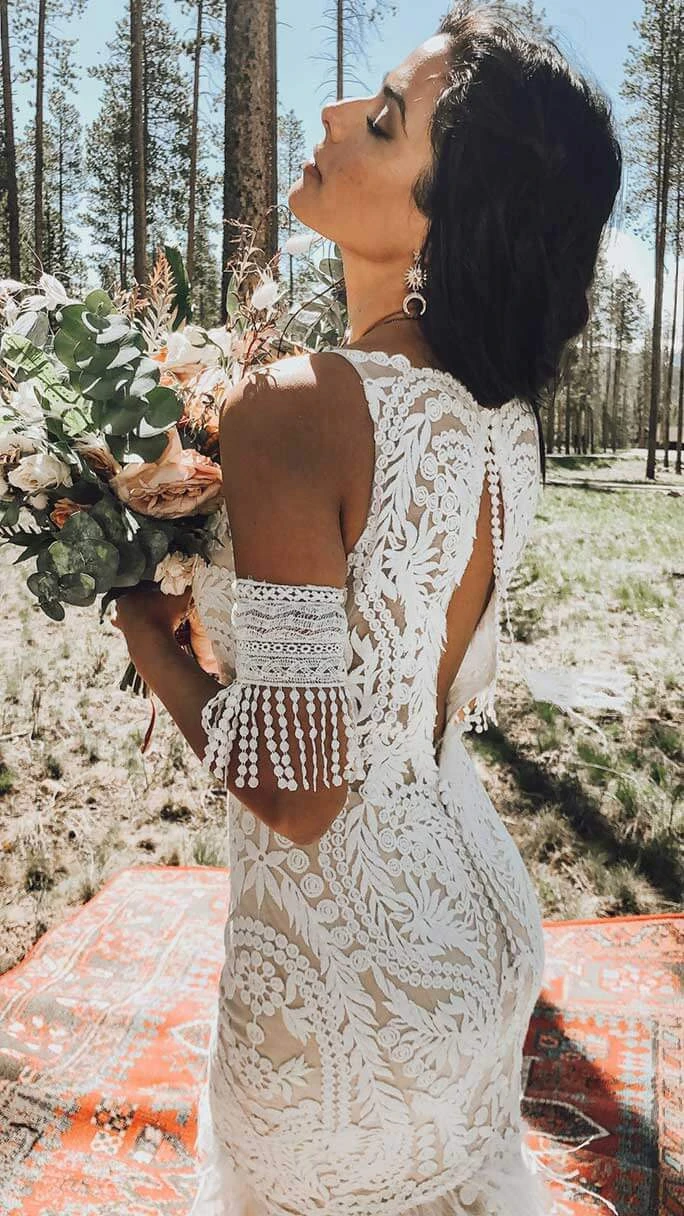 What's hot in the boho wedding world? Macrame! Macrame is incredibly versatile and can be used in so many different ways. We love the idea of hanging lights in macrame for a surprising boho element. Pair the Reece gown with the Poppy arm cuffs to mimic the free-spirited movement of macrame.
Thrifted chairs and furniture are the perfect way to create a beautiful wedding set up. Head to your local thrift store or hit up Facebook Marketplace to find a fabulous peacock rattan chair or two for you and your boho spouse. Paired with delicately placed florals, rattan chairs also make for a great photo op for your wedding pictures. These chairs are especially perfect for your ceremony table – you'll stand out and feel like a true bohemian goddess sitting on your throne!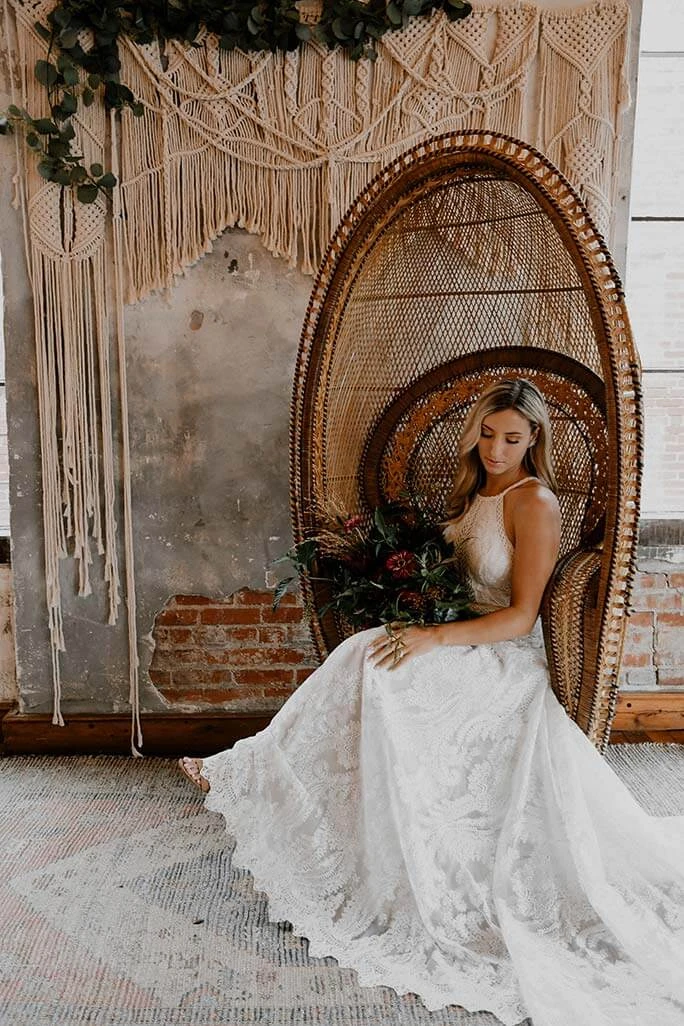 Matching your bouquet's flowers to your tablescape is a simple way to tie your ceremony and reception together. We love the green glassware for a pop of color that perfectly pairs with flowers. Complete your look with a stunning statement hairstyle to match your wedding decor as well. Check out our Veil Alternatives blog for additional inspiration on different ways to wrap up your boho look.
We hope these tips helped inspire you to create your dream bohemian wedding! Are you ready to find the boho wedding dress of your dreams? True Society is the exclusive All Who Wander retailer in the Kansas City area. Schedule an appointment with us to see and try on these bohemian gowns.