Mismatched bridesmaid dresses are one of the hottest trends for bridal parties. Giving bridesmaids the opportunity to choose dresses that fit their personalities, budget and body type is definitely a benefit to everyone! But creating a cohesive look can be a challenge for many brides. Luckily, at True Society, we have an extensive selection of gorgeous Sorella Vita bridesmaid dresses that will make even your most fashion-conscious friend happy!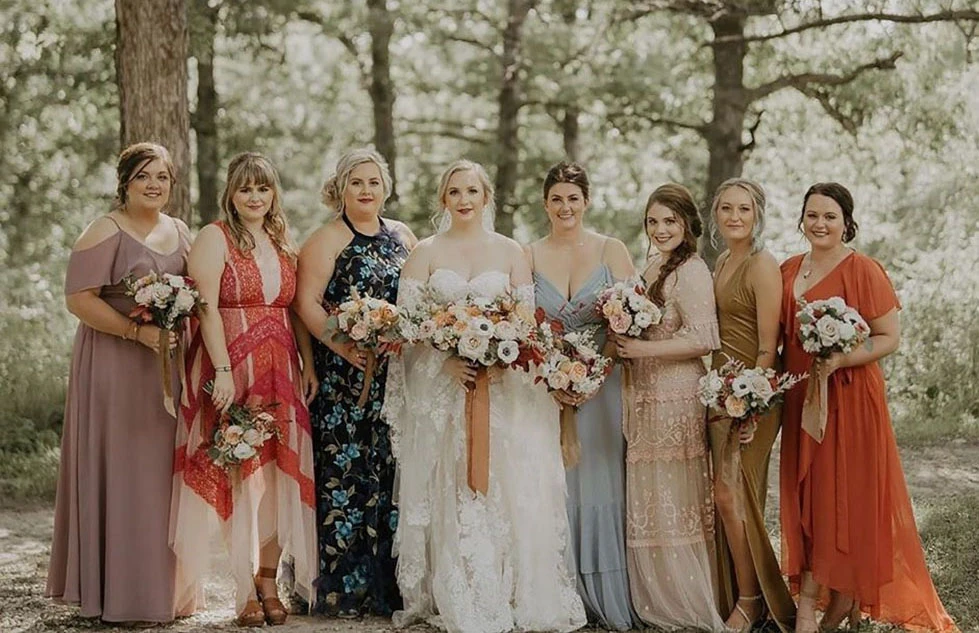 Photo by The Waldron Photograph Co.
Same Color, Different Styles
The easiest way to create a mix-and-match bridal party is by using gowns in the same color but in different silhouettes. By having your bridesmaids all in the same color, you get to keep the traditional look of a bridal party but give your friends an opportunity to choose silhouettes and shapes that flatter each of their figures. This way, each of your bridesmaids will feel confident and comfortable throughout the day!
Same Dress Style in Different Colors
So you've found a dress that you're in love with, but you have your heart set on a mismatched bridal party. Fear not! You can still have the versatility of a mix-and-match look with one silhouette simply by changing up the colors. The trick is to have a unformed silhouette in complementing colors that will stun your guests, and look gorgeous in photos, too. Take your time to thoughtfully play with fabric swatches before you determine your scheme, and try to keep it to no more than three variations of any color.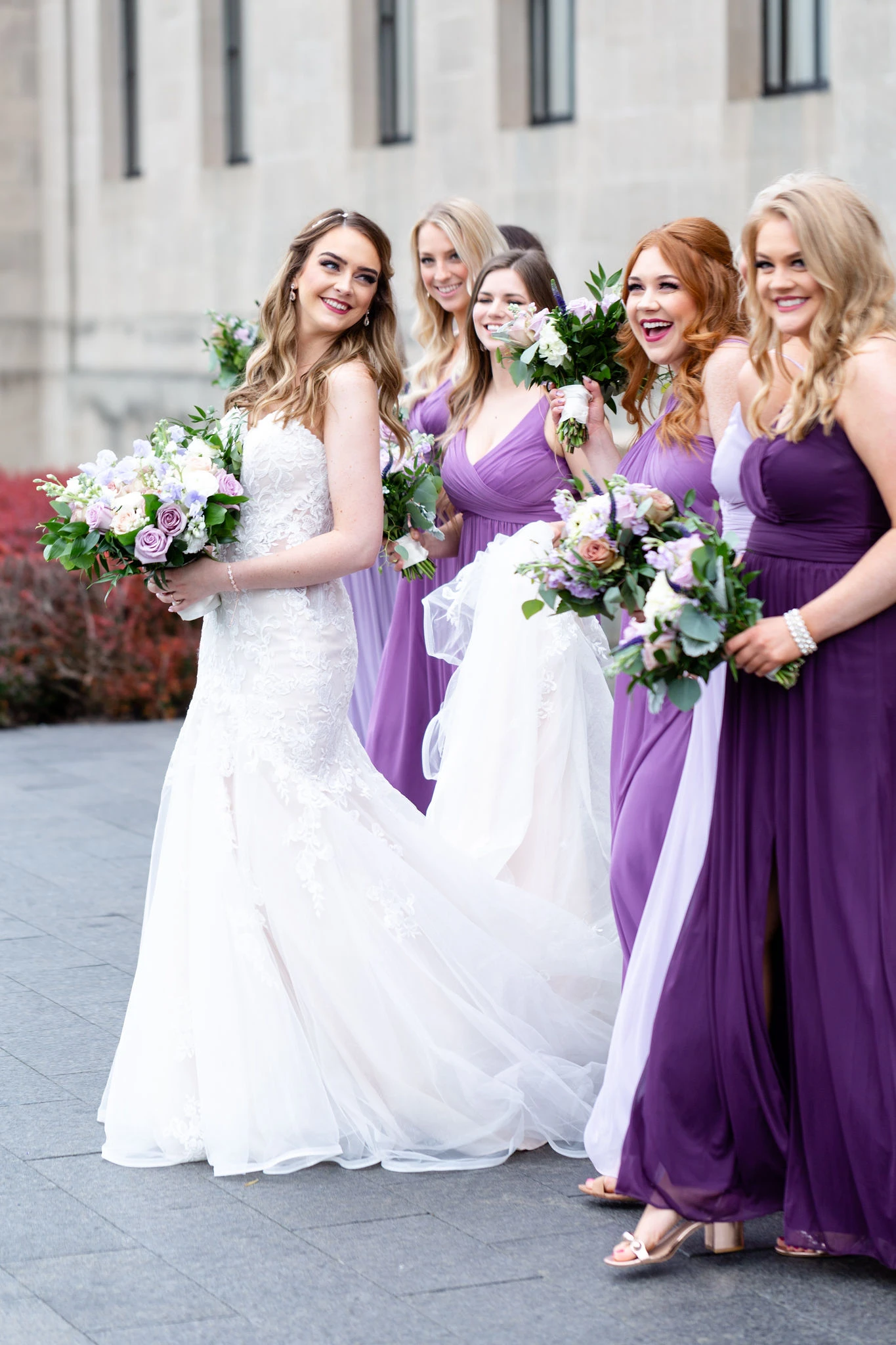 Photo by Ashley Ice Photography
Don't Vary Too Many Features
You might be tempted to choose gowns that are completely different from one another, but a good rule of thumb for a cohesive mismatched look is to not stray too far on the details. Try keeping the length of your gowns the same if you want different silhouettes and colors. Or, try different necklines and colors but in the same fabric. If you want different fabrics, (chiffon, lace, tulle, jersey) try keeping the necklines similar or looking for dresses with similar details like a banded waist, velvet straps or beading to bring the look together.
Double Check Your Hemlines
Consider the length of each dress as a key feature. Sometimes brides can be tempted to choose gowns with different lengths – short, midi, high-low, floor-length – but having too many variations in the length of your dresses can create a lot of confusion. If you change much more than the basics, you run the risk of a confused-looking bridal party. Whether you choose all floor-length gowns, a uniform midi hem, or varying lengths based on the silhouette, make sure you stick to one hemline or have a balance of each. The worst thing that you can do is have all your friends in one length and an odd man out in another, creating a look that feels more disjoined than mismatched.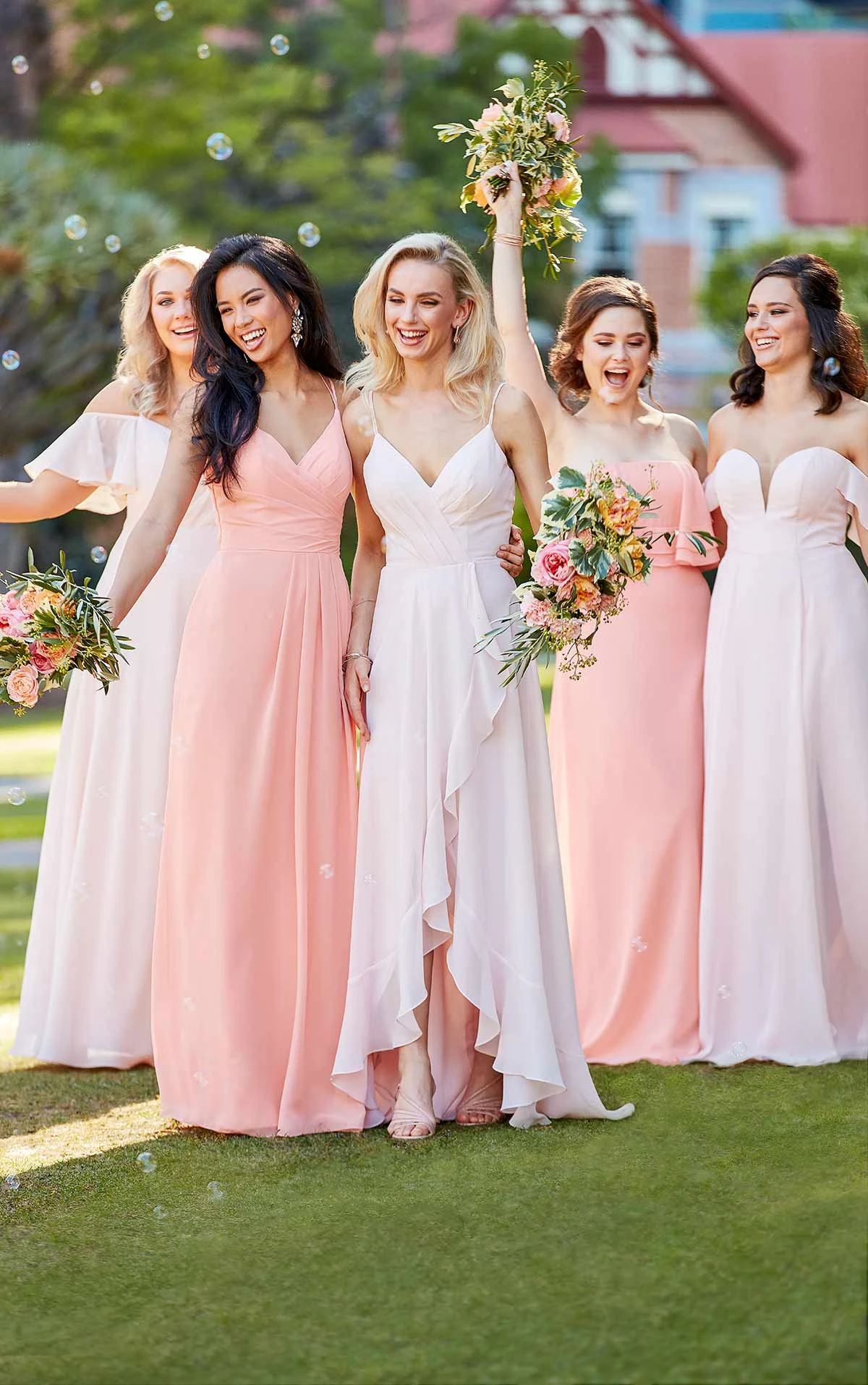 Stick with One Designer
With one designer, you can feel confident that the styles, fabrics and colors you choose will complement each other. Sorella Vita bridesmaid dresses are the perfect option for this type of wedding. First, choose your color and fabric combination, then shop silhouettes! The great thing about Sorella Vita is that if you choose a specific color, then all dresses in that fabric come in that color. With a range of gorgeous colors and luxe fabrics, you'll have such a fun time shopping and feel secure knowing your mismatched party will look gorgeous.
If a mismatched bridal party sounds like your jam, we'd love to help you achieve this ultra cool look. To see more of our Sorella Vita collection, click here. And if you're ready to book a bridesmaid appointment, please give us a call! We can't wait to see you.