For the grand opening of True Society in Berlin, we invited a few of our favorites into the bridal world for an unforgettable #TrueBride for a day experience. So happy to call these girls our #TrueFriends: Chantal and her sister Vanessa, Marie, Jennifer, Sophie and Maya, who brought her bestie Tamika.
After a private store tour through the newly renovated dreamy space in Hochzeitshaus, it was time for the ladies to try on wedding gowns for the very first time. How exciting! Transforming from a ballgown princess to a whimsical boho bride within minutes, our #TrueBrides for a day looked absolutely stunning in our gowns. No matter how different their styles were, they had endless options to fit their personalities.
Curious which dresses our ladies tried on? Let's take a peek at their favorites: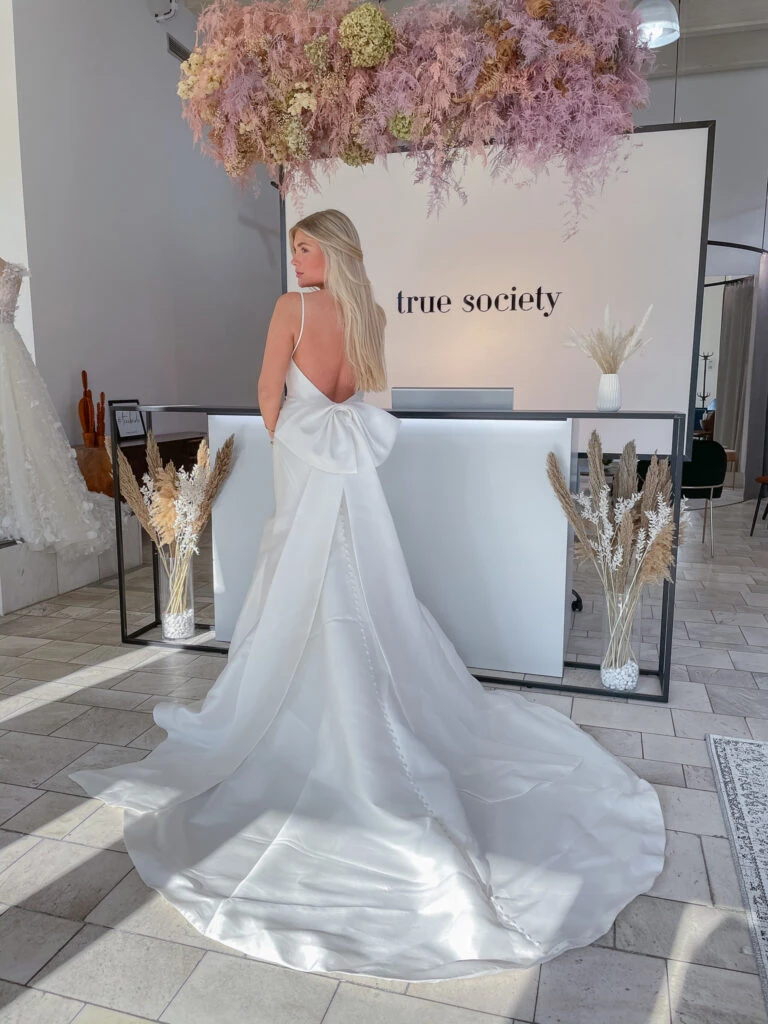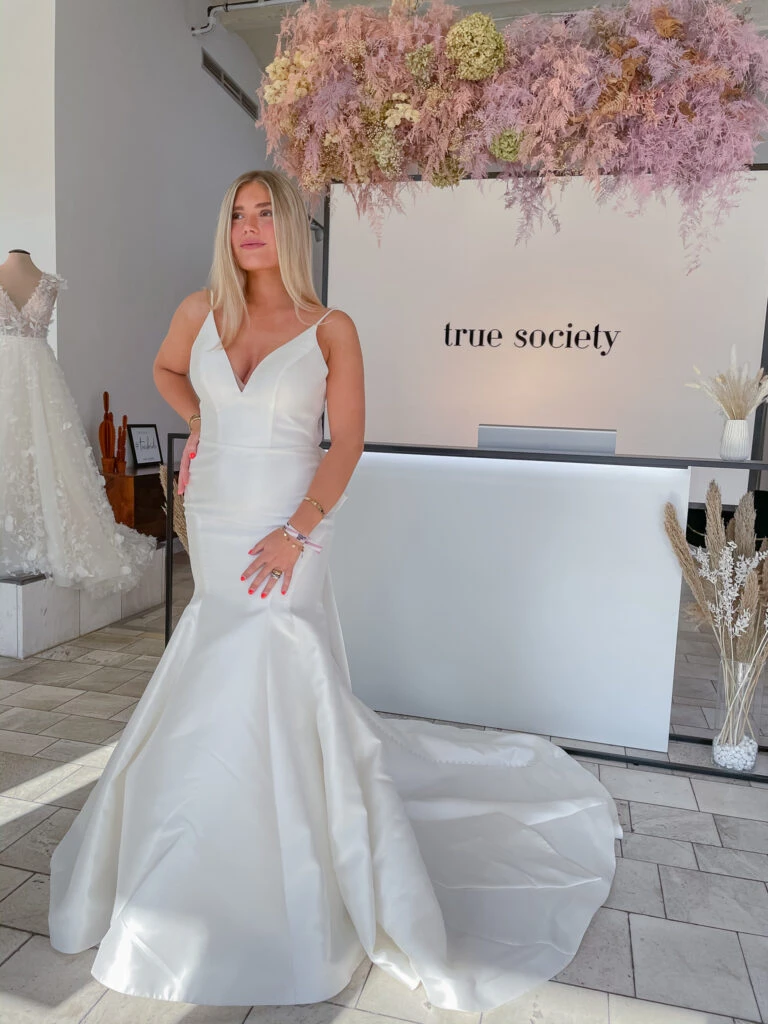 Sophie wanted something clean and modern with a luxurious twist to match her personal style. This minimalist Martina Liana fit-and-flare wedding gown was the perfect choice! The gown is crafted with a rich silk Zibeline fabric for a defined structure. The detachable bow is an absolute eye-catcher and adds THAT special something to this dreamy dress. .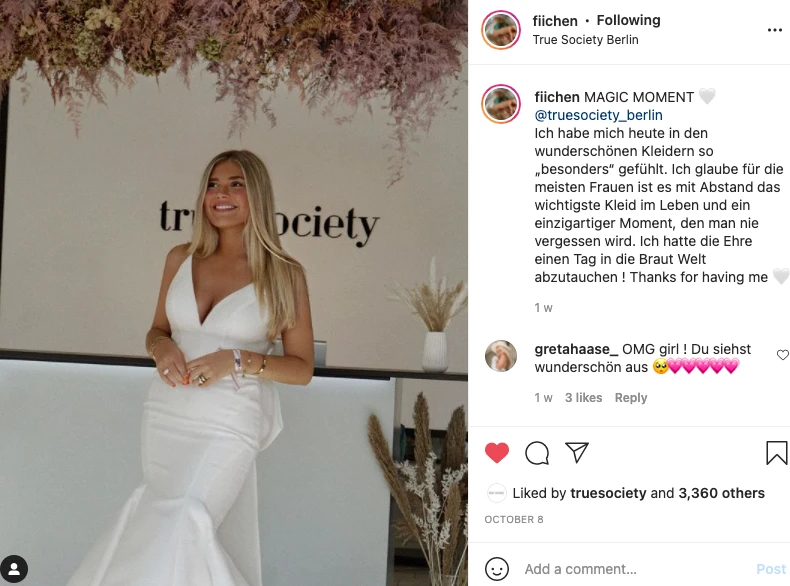 Style 1254 was also the dress that Sophie featured on her feed! Yay!
Essense of Australia Style D3216
Even though Sophie loves clean and minimalistic looks, she felt like a real princess in this beautiful sheer hand-beaded wedding dress with sheer sleeves. This dress sets a true fashion statement – a decadent mix of sequins and pearls decorates the sheer bodice and sleeves and flows into the lush skirt. So dreamy!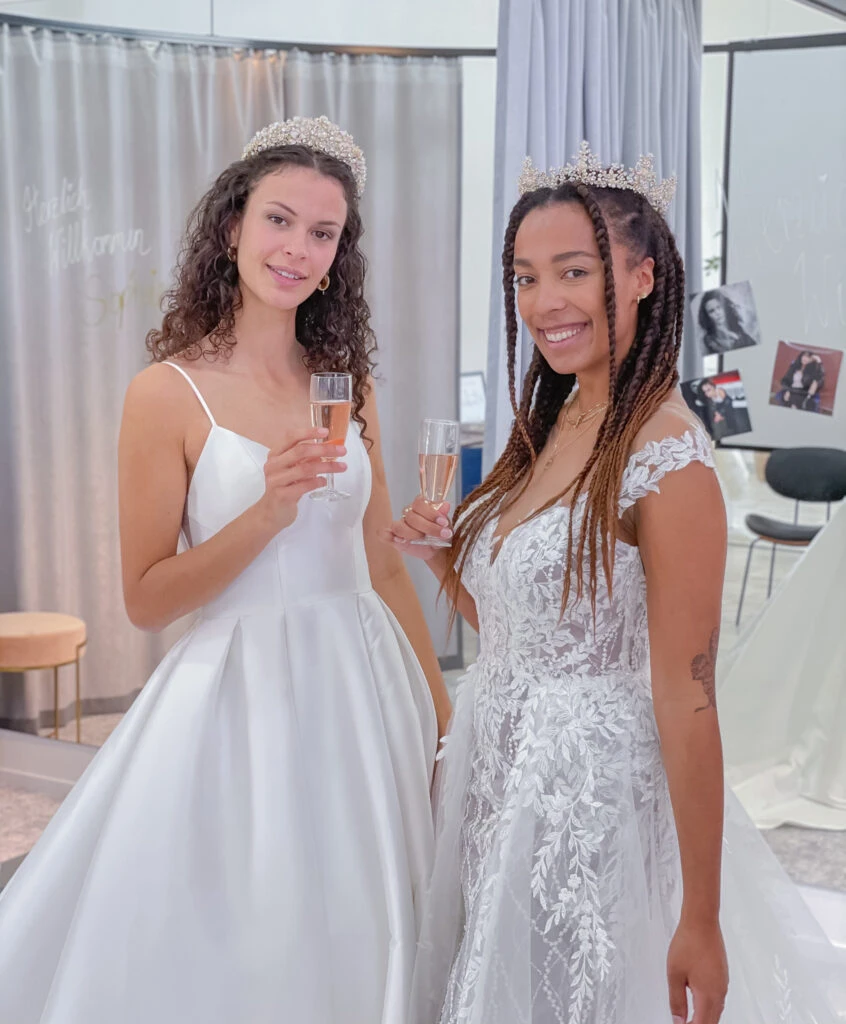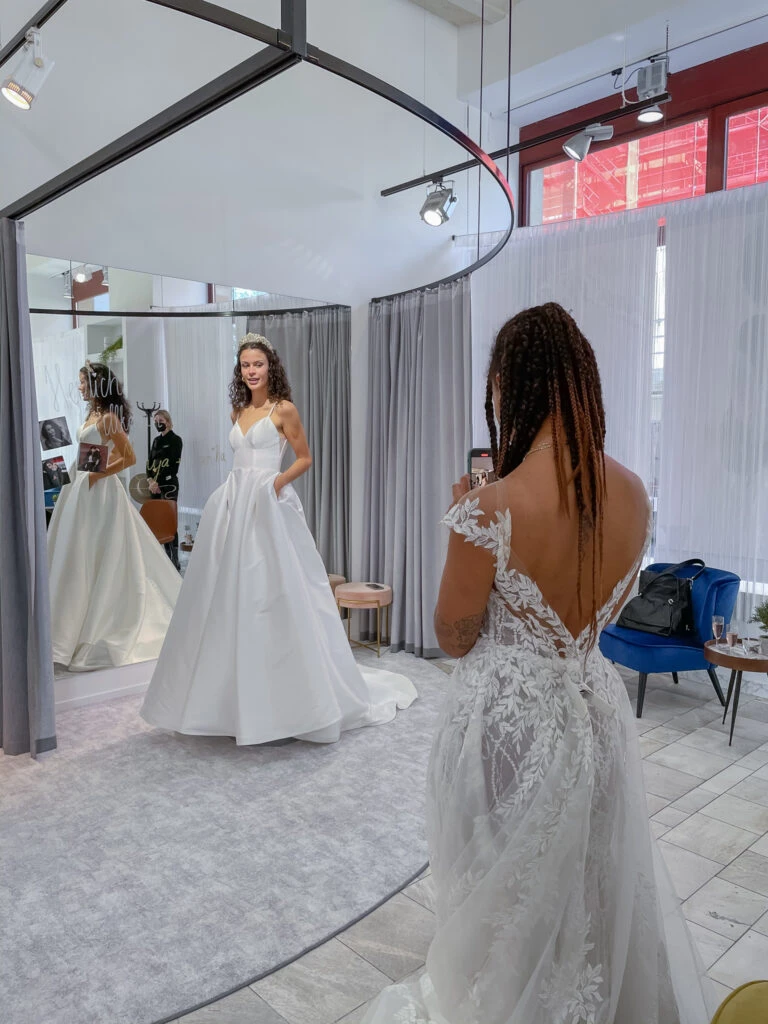 Maya: Oxford Street
Tamika: Martina Liana Style 1303
Cheers to an unforgettable #TrueBride experience at True Society in Berlin! Maya and her lovely friend Tamika had a blast trying on our breathtaking gowns.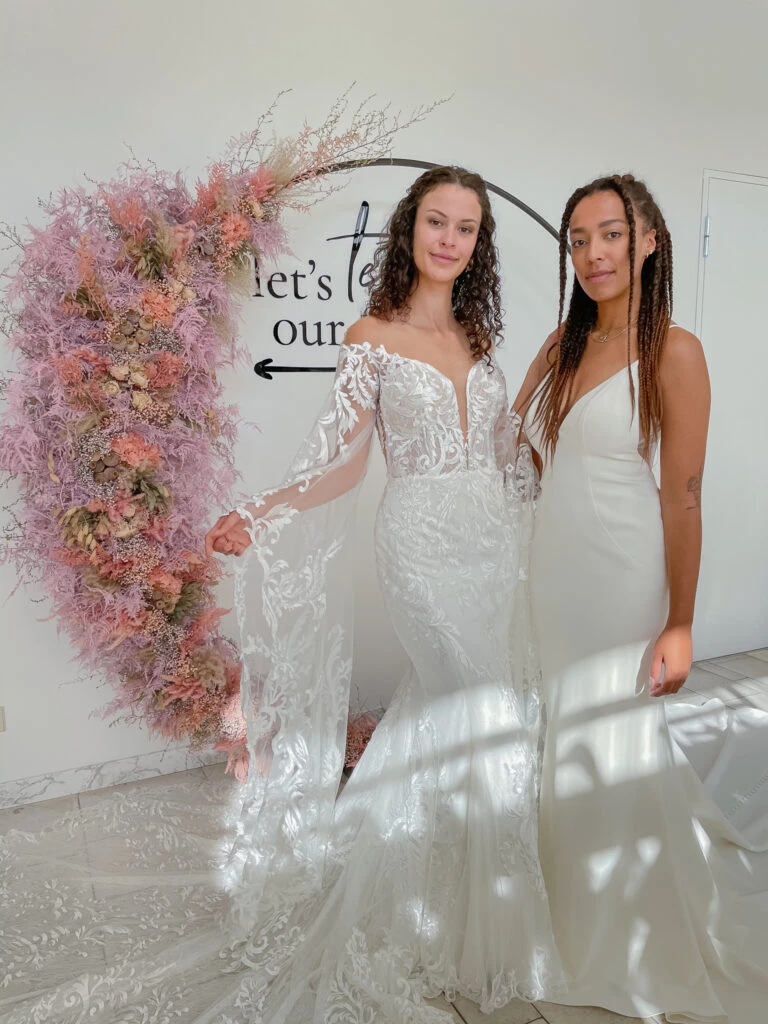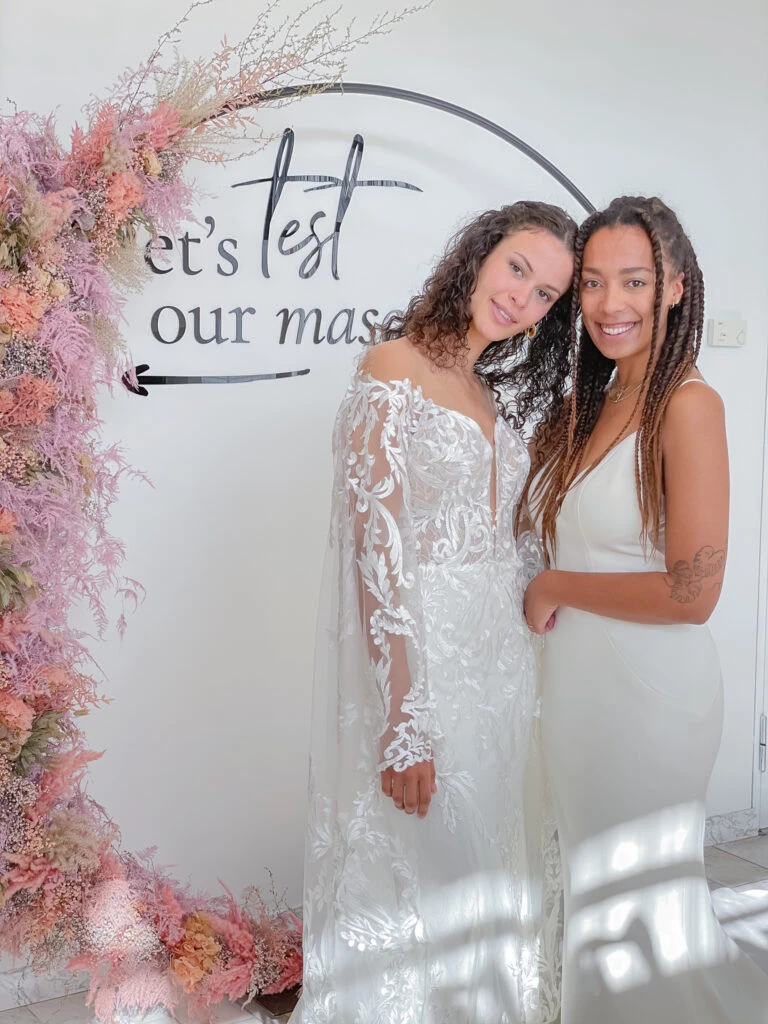 Maya: All Who Wander Bowie dress
Tamika: Essense of Australia Style D3305
Posing in front of our beautiful flower ring is even more fun when done with your bestie! Maya wore the stunning All Who Wander Bowie dress for major boho vibes! This bridal gown features a mix of incredible botanical shapes for a unique multidimensional effect. Tamika complemented her bestie's look with clean and simple Style D3305 by Essense Of Australia, a stunning reminder that sometimes less is more.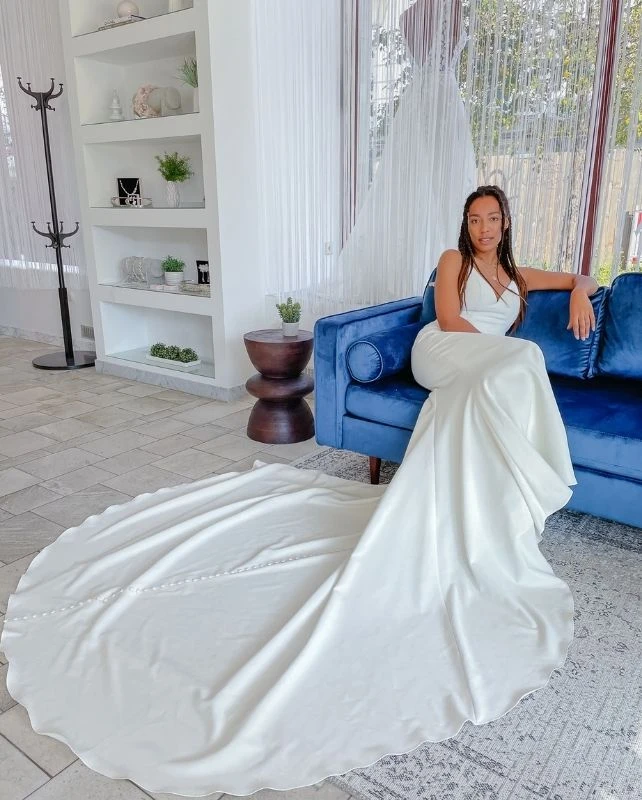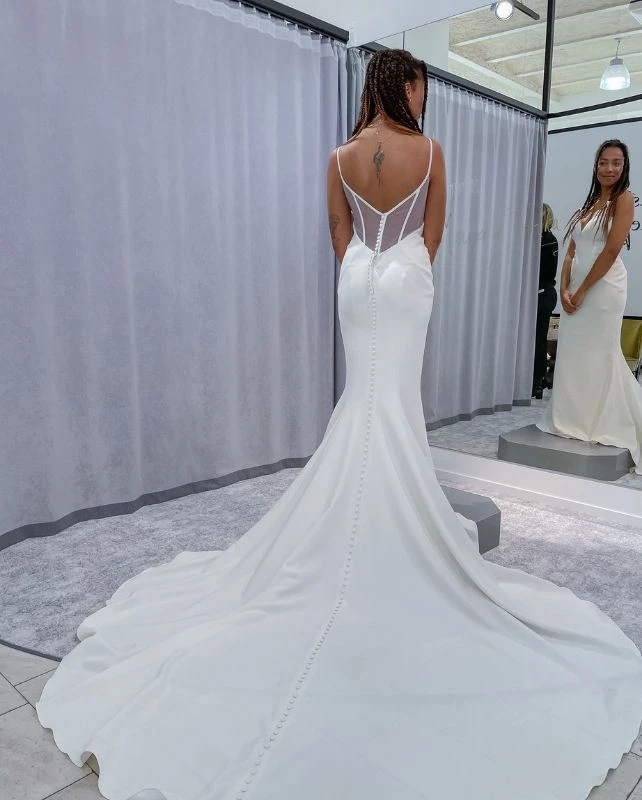 Tamika: Essense of Australia Style D3305
We can't get enough of Tamika in this wonderful v-neckline fit-and-flare wedding gown. And please let's talk about this dreamy sheer back with expertly-placed boning to provide sexy support.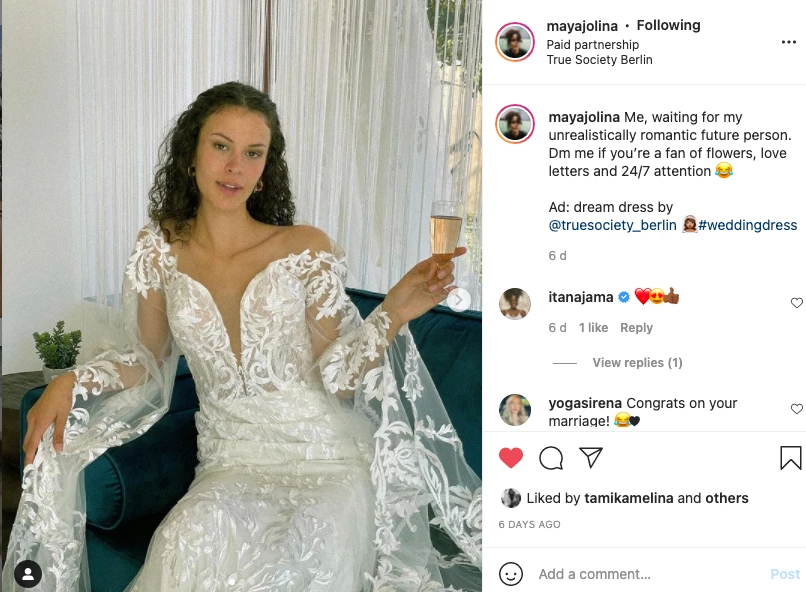 Maya is definitely having a good time wearing the All Who Wander Bowie dress.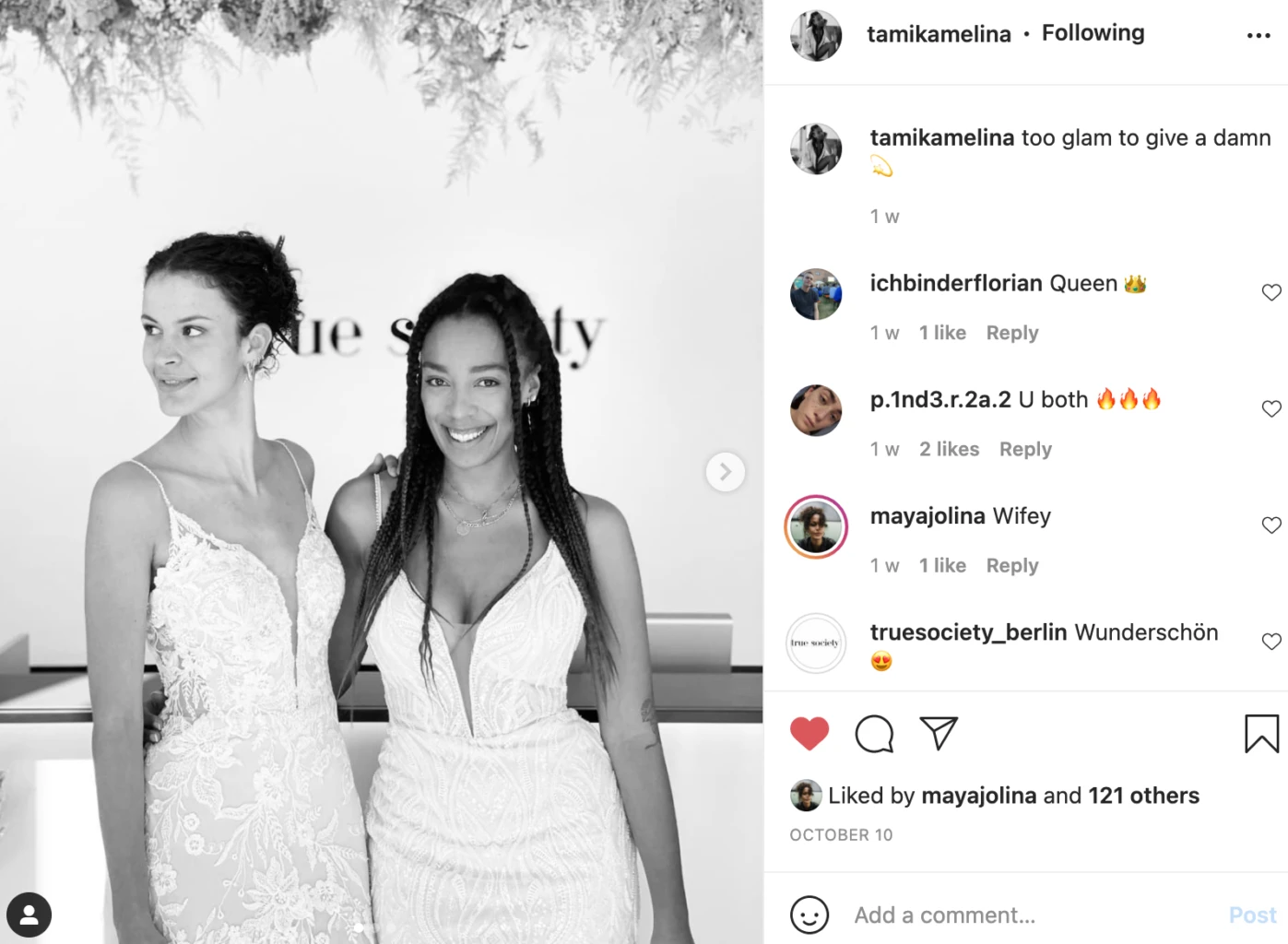 These ladies looked so GLAM!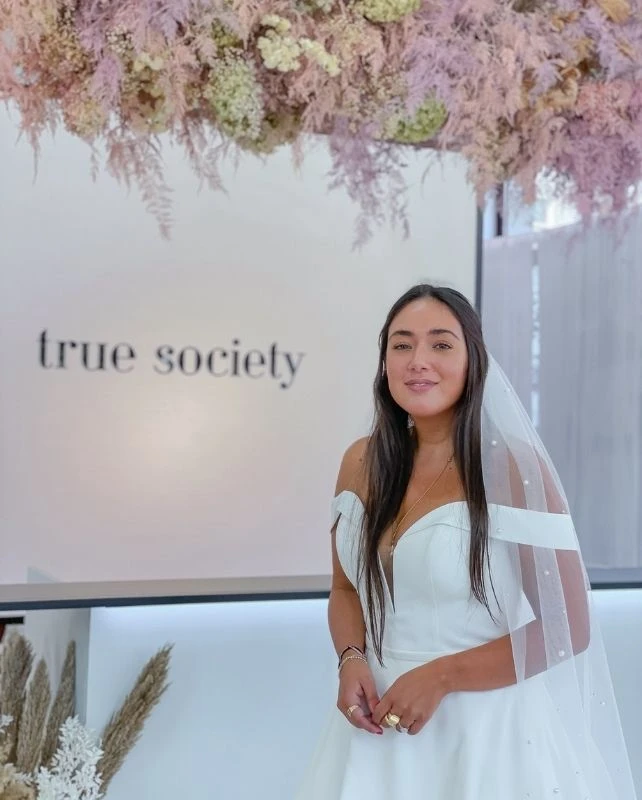 Essense of Australia Style D2761
Portuguese beauty Jennifer went for a classic Essense of Australia satin ballgown with off-the-shoulder sleeves. The silhouette features a plunging sweetheart neckline with off-the-shoulder straps, highlighting Jennifer's neck and shoulders beautifully. We completed her modern bridal look with a beautiful pearl veil!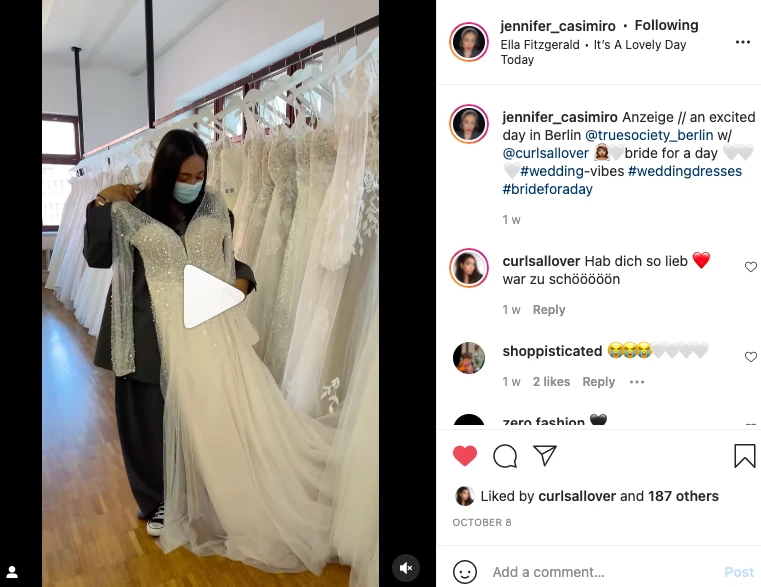 Jennifer showed her followers virtually around at True Society in Berlin.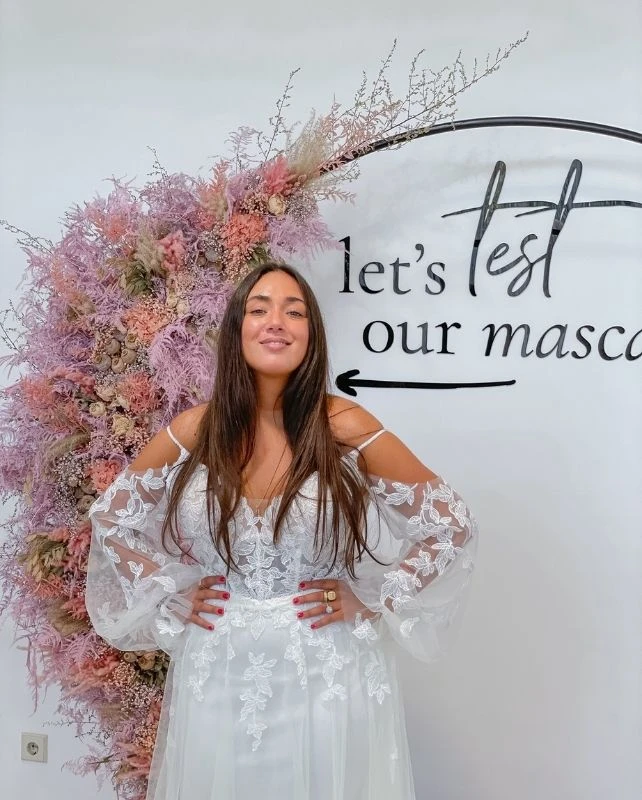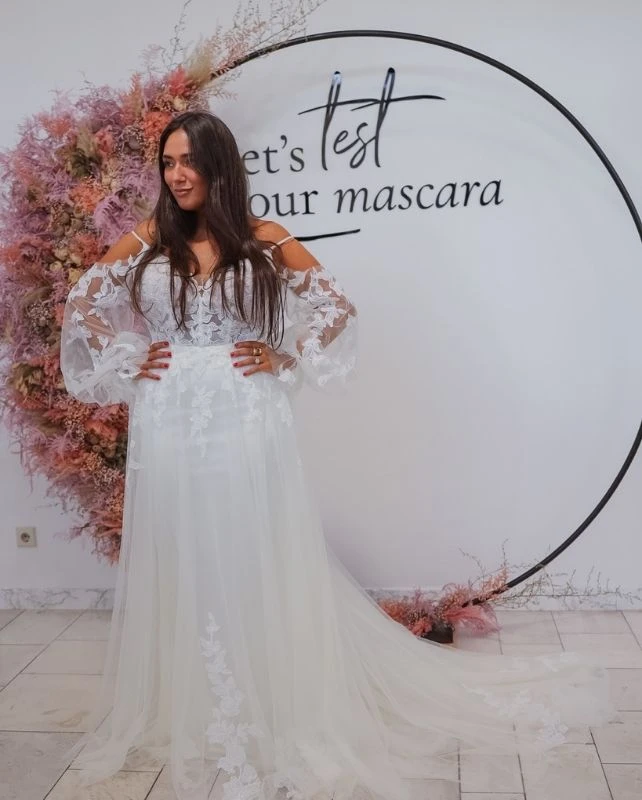 Jennifer's next look was a whimsical boho off-the-shoulder wedding dress. Didn't she look absolutely stunning? The long sleeves feature delicate lace appliques, creating a sweet boho-inspired look. Embroidered lace details include subtle sparkle for a beautiful glimmer with every movement.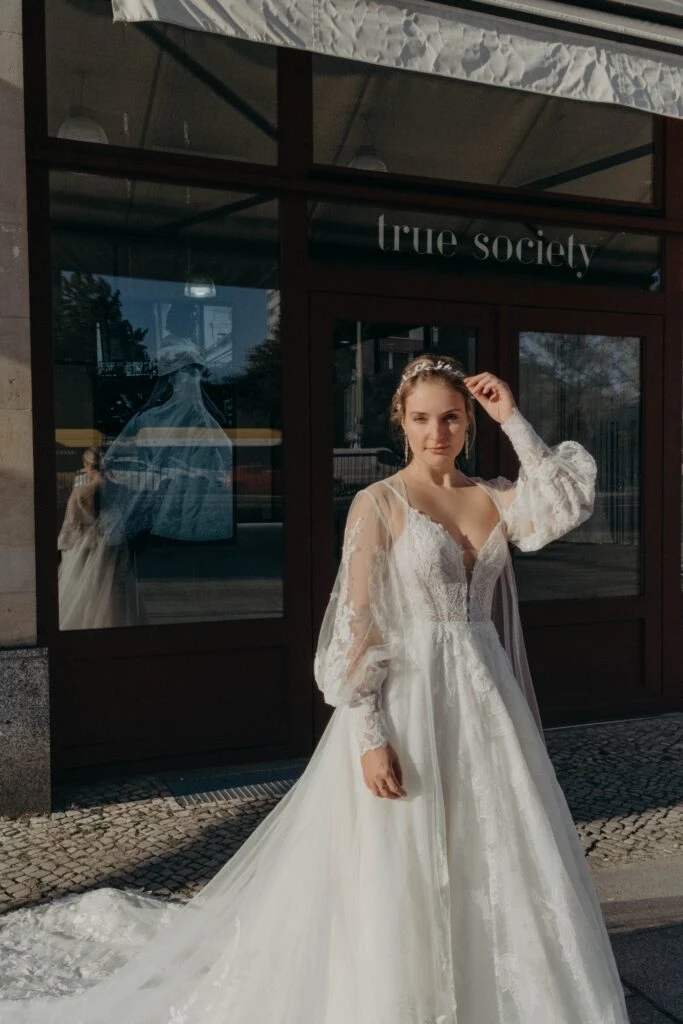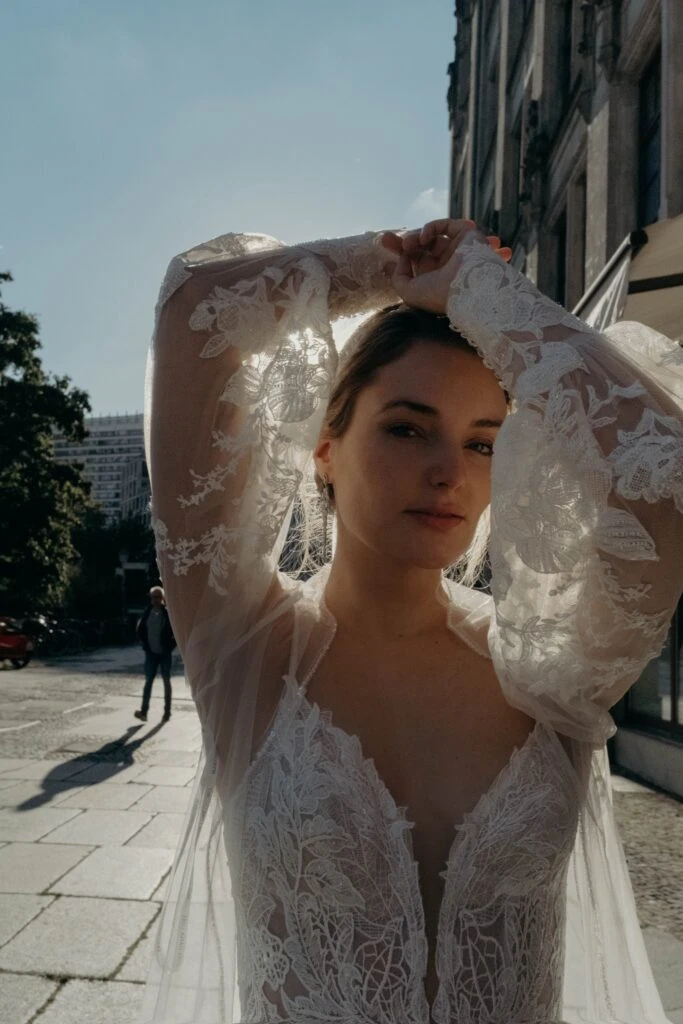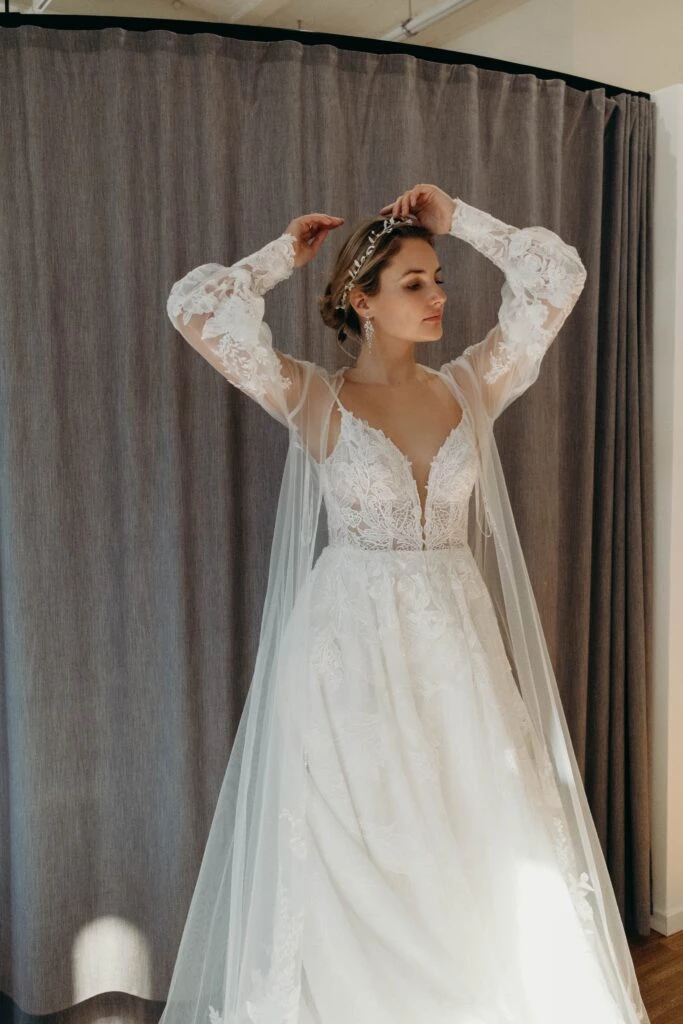 Dress: Martina Liana Style 1263
Jacket: Martina Liana Luxe "Jewel"
Marie took her boho spirit to new heights with Martina Liana Style 1263. Doesn't this soft A-line silhouette look gorgeous on our lovely Marie? The skinny plunge neckline with shoestring straps beautifully accentuates the décolletage, while the sheer graphic lace on the bodice is daring yet effortless.
To add that extra sparkle, Marie styled the gown with the Martina Liana Luxe "Jewel" Jacket. Wedding jackets are so trendy, and this one totally elevated her wedding day look.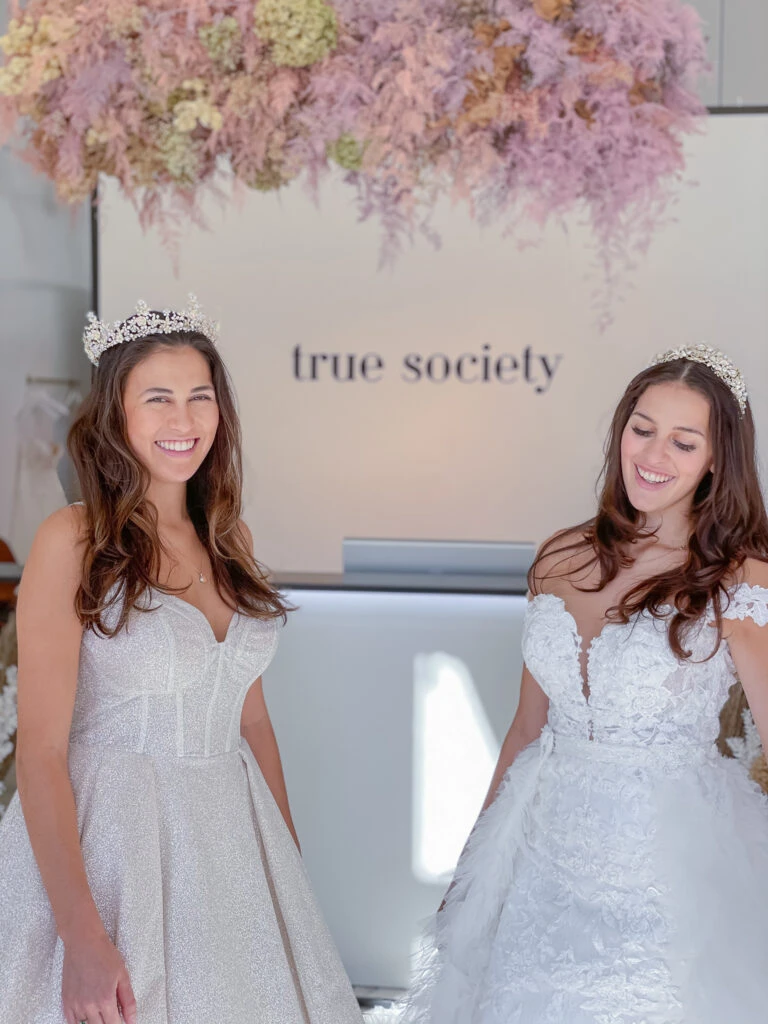 Vanessa: Essense of Australia Style D3345
Chantal: Essense of Australia Style D3216 with Martina Liana Luxe overskirt
Chantal and her sister Vanessa had a great time trying on our beautiful wedding gowns! In the first round, Vanessa chose glamorous Essense of Australia Style D3345. From head-to-toe sparkle to a striking silhouette, this wedding dress brings the drama. Chantal opted for Style D2641, a romantic French lace fit-and-flare dress by Essense of Australia. She paired it with an eye-catching Martina Liana Luxe overskirt for a perfect ceremony-to-reception look.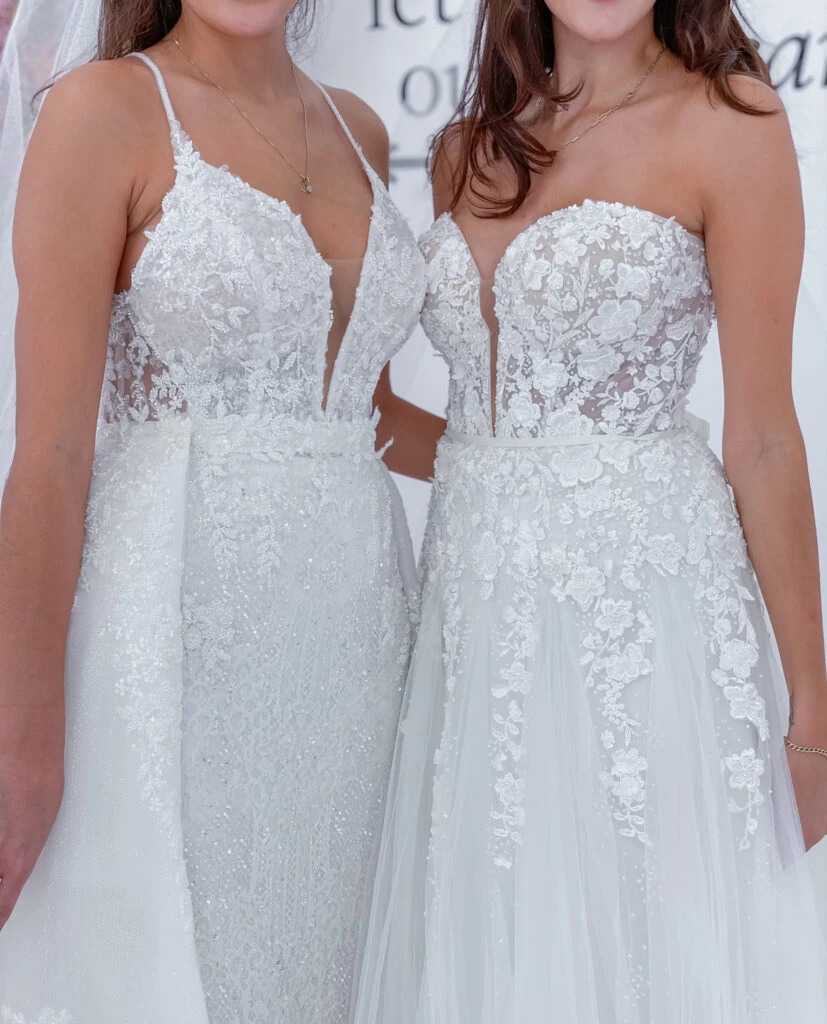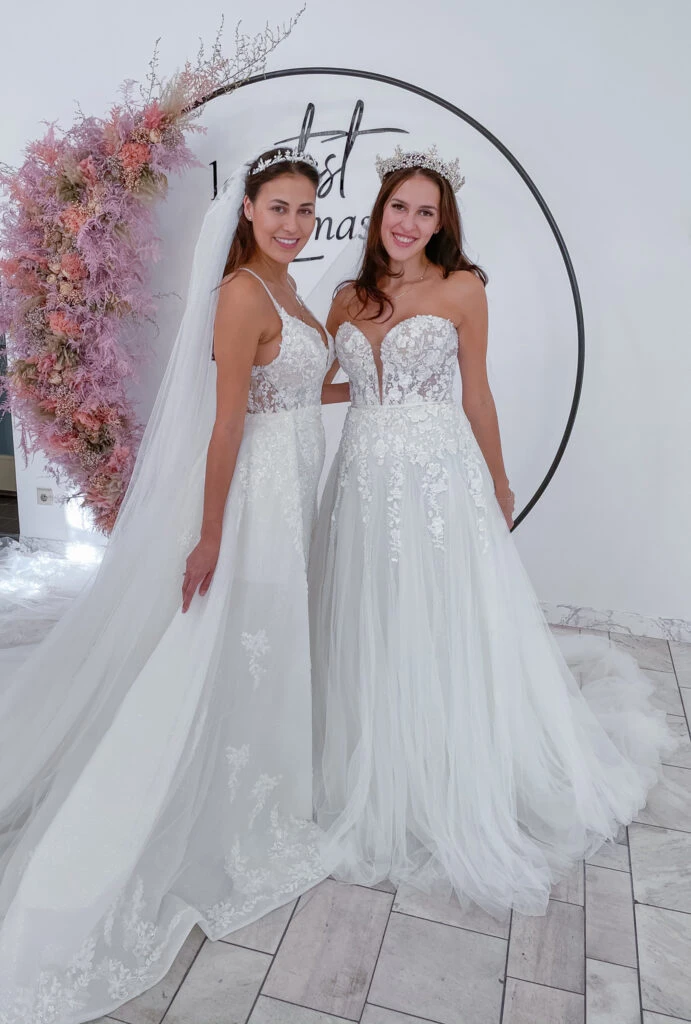 Chantal: Martina Liana Style 1358
Vanessa: Martina Liana Luxe Style LE1125
The sisters LOVED our Martina Liana & Martina Liana Luxe section! Chantal wore a romantic sweetheart neckline wedding dress with floral details. The classic sweetheart neckline is adorned with 3D floral embellishments, beading and pearls for an enchanting texture. The skirt consists of layers of classic and glitter tulle to create subtle shine with dreamy flowing movement. We completed the look with a sparkly crown hair accessory.
Vanessa chose a sleek fit-and-flare beaded wedding gown with an overskirt. This gown is an absolute showstopper. Beaded artisan laces featuring layered beadwork and pearls add texture and shine throughout the luxe botanical patterns. We added a long veil and a crown headpiece to accentuate her bridal vision.
Our #TrueFriends truly inspired us with their unique twists on classic bridal style. From romantic vibes to major boho flair, dreamy princess moments to luxurious minimalism, they created personalized bridal looks, which represented their true selves!
Are you newly engaged and ready for the most incredible bridal shopping experience of a lifetime? Book an appointment at a True Society location near you today.
Want to see more wedding inspo from our #TrueBride collective? Follow True Society on Instagram for real bride features, bridal advice and the latest collection launches at a True Society location near you.