We love Caitlin and Jeremy's fun country classic wedding at her family farm in Bourbon, Missouri. Congratulations to the happy couple, you looked fantastic!
From the Bride:
Describe your bridal style. How did you want to look on your wedding day?
I grew up on a farm in rural Missouri, which was also the location of my wedding. I wanted a dress with straps that fit my rustic theme, but I wanted something unique. My first dress shopping experience was with my mom in Chicago. It was more for fun because I thought for sure all of the dresses I tried on there would be out of my price range. When I was trying on dresses, I was very attracted to Martina Liana's style. I fell in love with style 817 but I wanted to buy it closer to home. That is how I found True Society by Belle Vogue Bridal. True Society was the only dress shop I could find close to Kansas City that carried Martina Liana! I had my heart set on that specific dress but when I got to True Society by Belle Vogue for my bridal appointment I found out there was a preview sale for Martina Liana. I went there to buy style 817 but I ended up getting 904 and I couldn't be happier! The lace and lattice, the long train, and sequins fit me like a glove. I got so many compliments on the dress and I really did feel like a princess! The dress was unlike any other I had seen.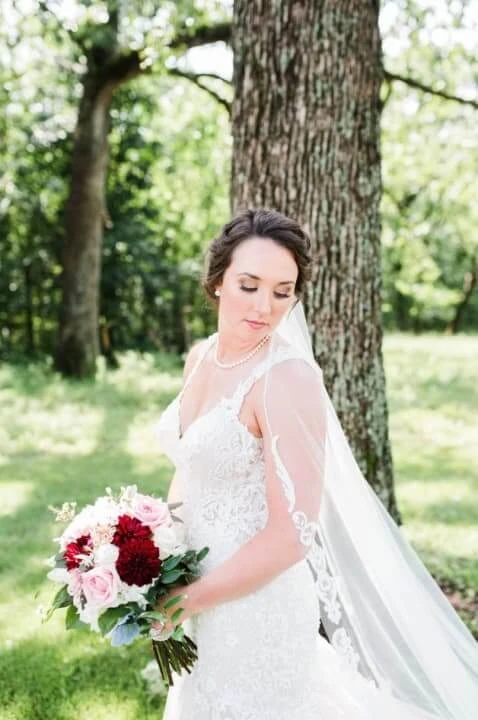 In your own words, tell us more about your wedding. What was your theme/colors? How did you make your wedding personal to your love story?
We got married on the farm I grew up in, in the front yard of my parent's home which really means a lot to me. This is where we spend the majority of our weekends. We were engaged for 2 years which gave us plenty of time to prepare! My dad and husband worked to build an arbor with cedar logs, and then my entire family worked to make a patio from stones from our creek. They did landscaping and worked really hard to make sure everything was perfect. Because of this, I refused to have a backup plan. There was way too much work put into the yard and arbor to not have a wedding there. Missouri weather is unpredictable when it comes to summer thunderstorms. The radar looked patchy that day. The morning of our wedding there was a bad thunderstorm. The wind was blowing, it was lightning, and the sky was black. The florist set up the arbor only to have to take it down to protect it all from the storm. However, about an hour before our ceremony they sky cleared up and it turned out to be an absolutely beautiful day!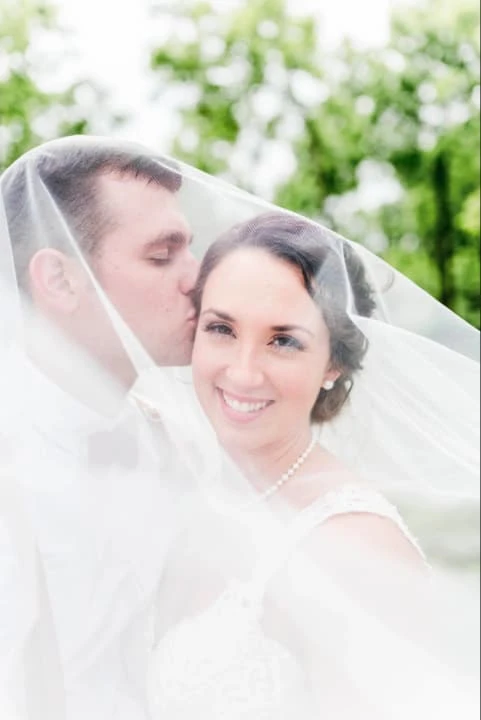 Our theme was rustic and our colors were light pink and burgundy. The florist decorated the arbor exactly how I envisioned it. Our photographer did a great job capturing pictures of everything from the detail and veil shots to pictures of us in my family's walnut orchard. We had our reception at Heartland Farms, not far from my parent's house. We had a live band perform and they were amazing. The food and cake were delicious. Our vendors all worked tirelessly and everything turned out perfectly! It truly was the best day of my life.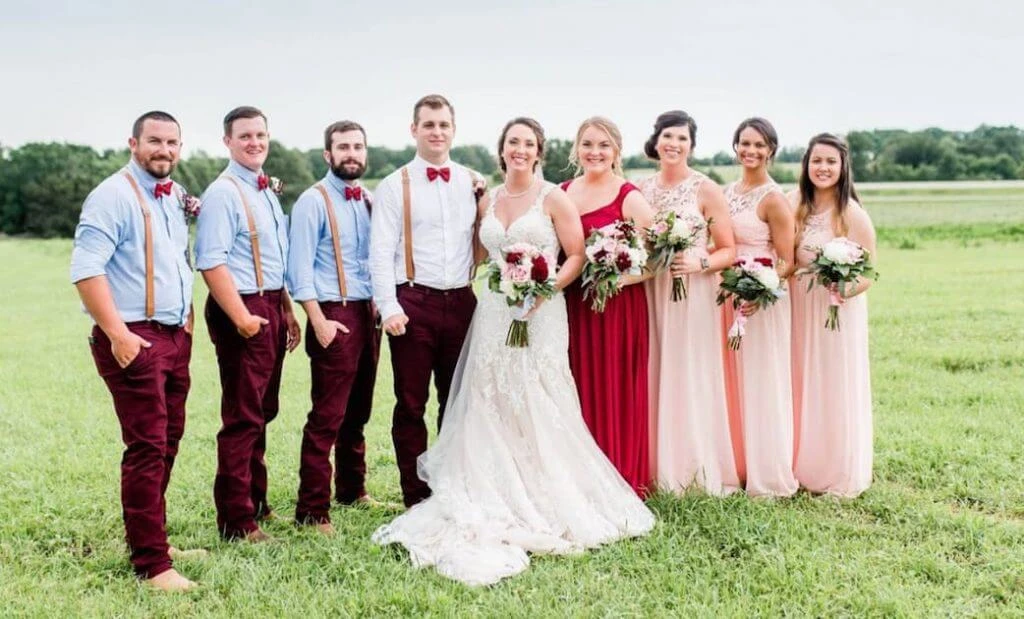 Wedding Dress: Martina Liana 904