Nothing speaks of romance like a dreamy outdoor wedding. There's something so enchanting about exchanging vows against a captivating backdrop of nature, with the sun streaming through trees and birds singing in the distance. It only makes sense that your wedding dress should be just as special!
Continue reading to learn more about stunning gown options for outdoor weddings. Our True Crew rounded up some of their favorite outdoor wedding trends and their top outdoor wedding dress picks— check them out below!
Which Season is the Best for Outdoor Weddings?
The general consensus is that spring and summer are the most popular months to hold an outdoor wedding. Spring brings lush blooms, fresh air and warmer weather for guests to enjoy. Summer ushers in bright days that often become balmy evenings ideal for dining outdoors or dancing under the stars.
Which Wedding Dress Styles are Best for a Spring or Summer Wedding?
For their outdoor weddings, brides should aim to select a dreamy outdoor wedding dress that's lightweight and comfortable enough for them to feel their best in the warmer weather. Fabrics such as lace and chiffon are great options —they will keep you cool in the heat while providing a touch of elegance.
Strapless, halter neck and spaghetti straps are beautiful neckline styles that work well with the warm weather, especially for beach wedding gowns. Details such as floral appliques, open backs and embroidery can add a hint of romance to an outdoor wedding dress, too.
What are Popular Color Schemes for Weddings in the Spring and Summer?
When it comes to color schemes for spring weddings, couples are often drawn to pops of pink and blush pastels. The soft hues flawlessly reflect the vibrant energy of springtime. To add a natural twist, many brides choose organic shades like sage green and mint for their wedding flowers or colors.
Summer wedding colors often take on a more vibrant vibe. Terracotta clay, mustard yellow and other warm, earthy colors are also great options for outdoor ceremonies that call for a natural aesthetic. Shades of bronze, rose gold and champagne can be added to the mix for a hint of metallic.
What is an Organic Wedding Style? What is an Earthy Wedding Style?
Organic weddings are all about creating an airy and natural feel, while earthy weddings can bring a rustic touch to the ceremony. Organic style wedding dresses often feature floral details and light bridal fabrics like tulle and chiffon, while earthy gowns may incorporate more patterns.
Organic wedding decor often includes lots of greenery and flowers, while earthy decor will have more wood elements in its design. For an organic style wedding on the beach, raw materials like driftwood feature prominently as centerpieces or altar backdrops.
When it comes to outdoor weddings, you want your dress to reflect the natural beauty of your surroundings. Consider the season, color scheme and style you'd like to achieve for your wedding day as you shop for a dreamy outdoor wedding dress.
Outdoor Wedding Dresses
For outdoor weddings, True Society has a huge selection of floral wedding dresses, simple bridal gowns and organic styles! Here are some of the True Crew's favorites to let your natural side shine through.
Nature Inspired Wedding Dress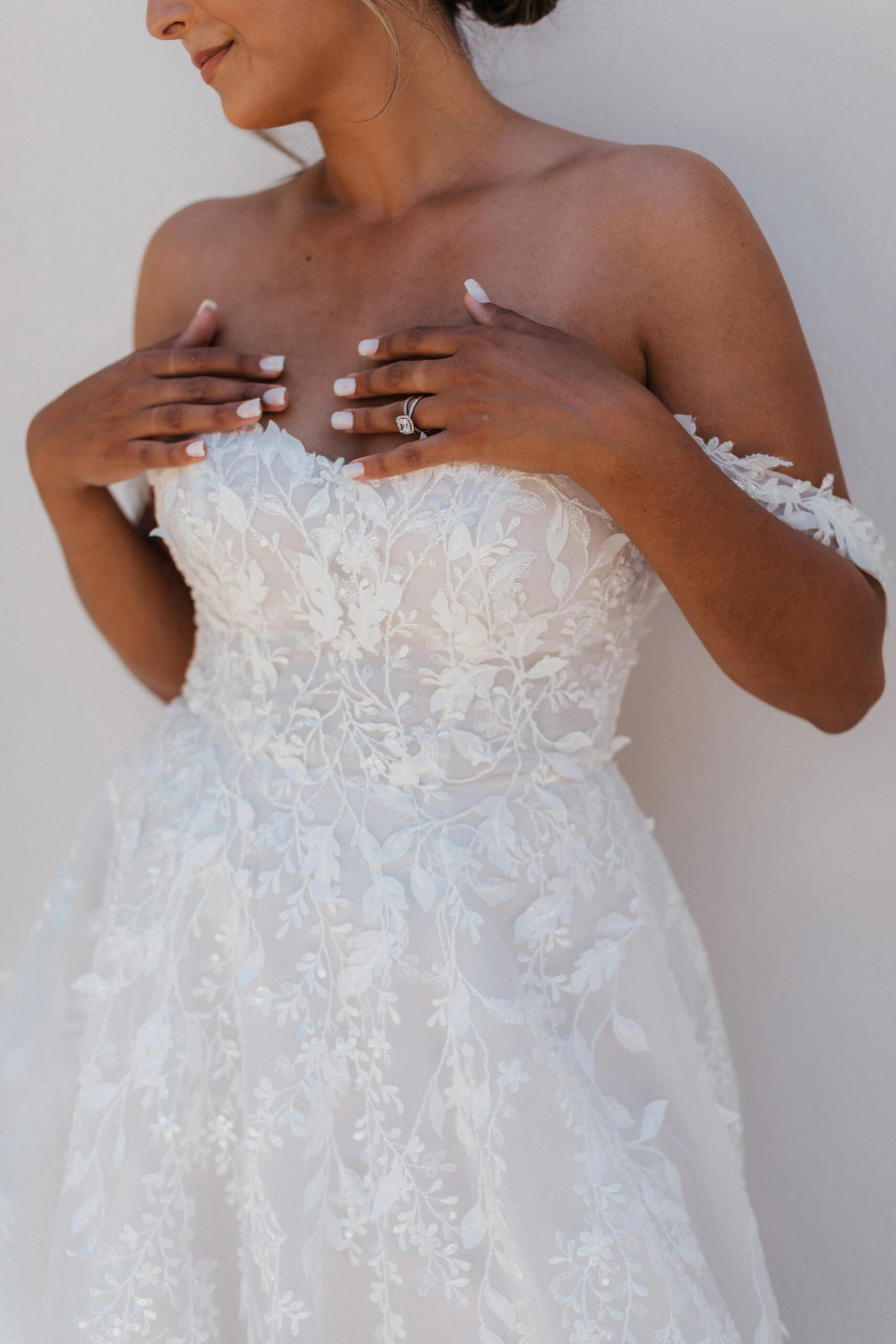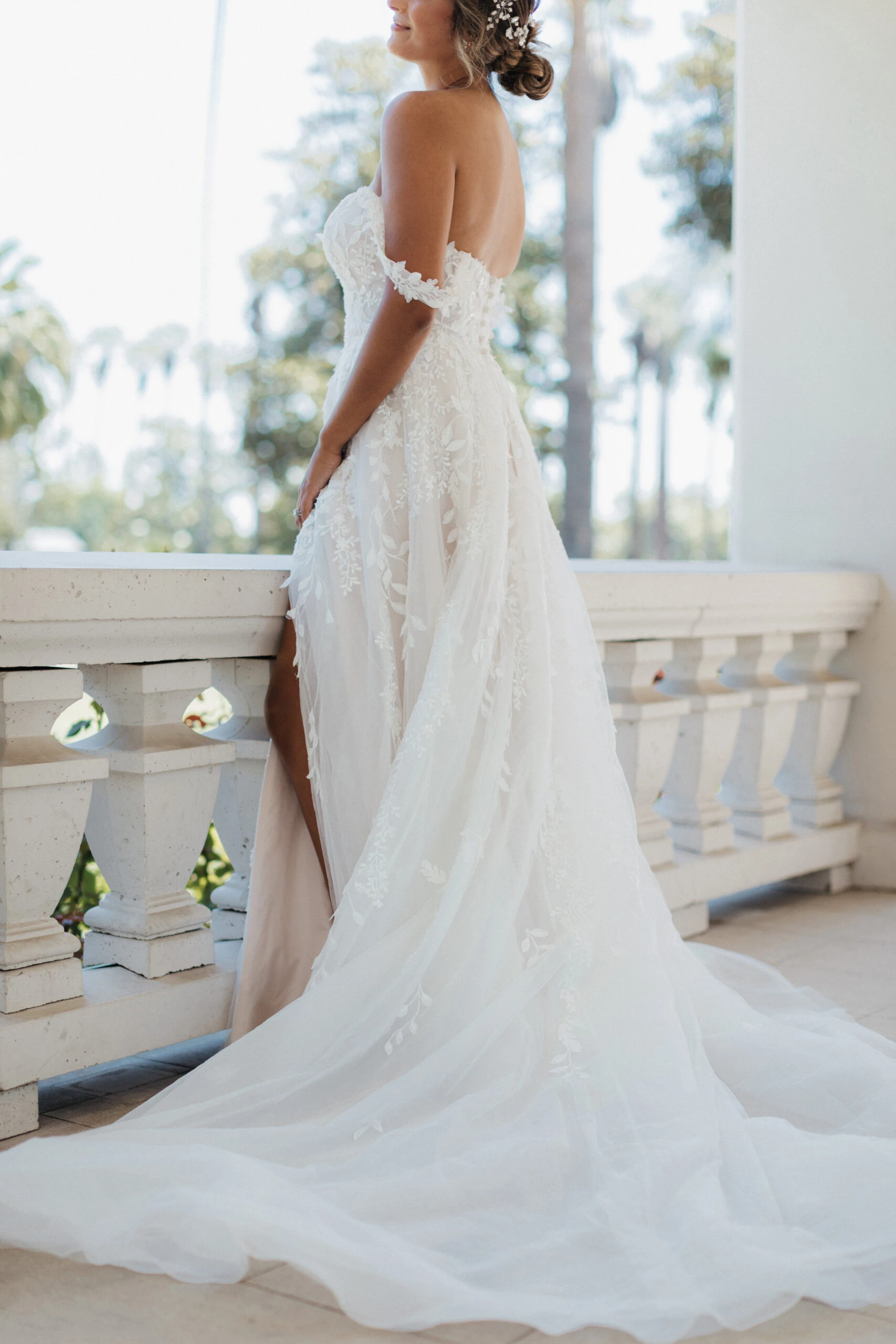 Essense of Australia Style D3668
Let your love bloom in the spectacularly romantic Essense of Australia. Style D3668! This nature like wedding dress is brimming with whimsical touches, including dreamy 3D floral appliques and delicate organic lace details.
Brides can style this dress up with off-the-shoulder detachable straps for a two-look-in-one. Whether you're looking for classic beauty or modern sophistication, this stunning nature inspired wedding dress will make your big day unforgettable!
Natural Wedding Dress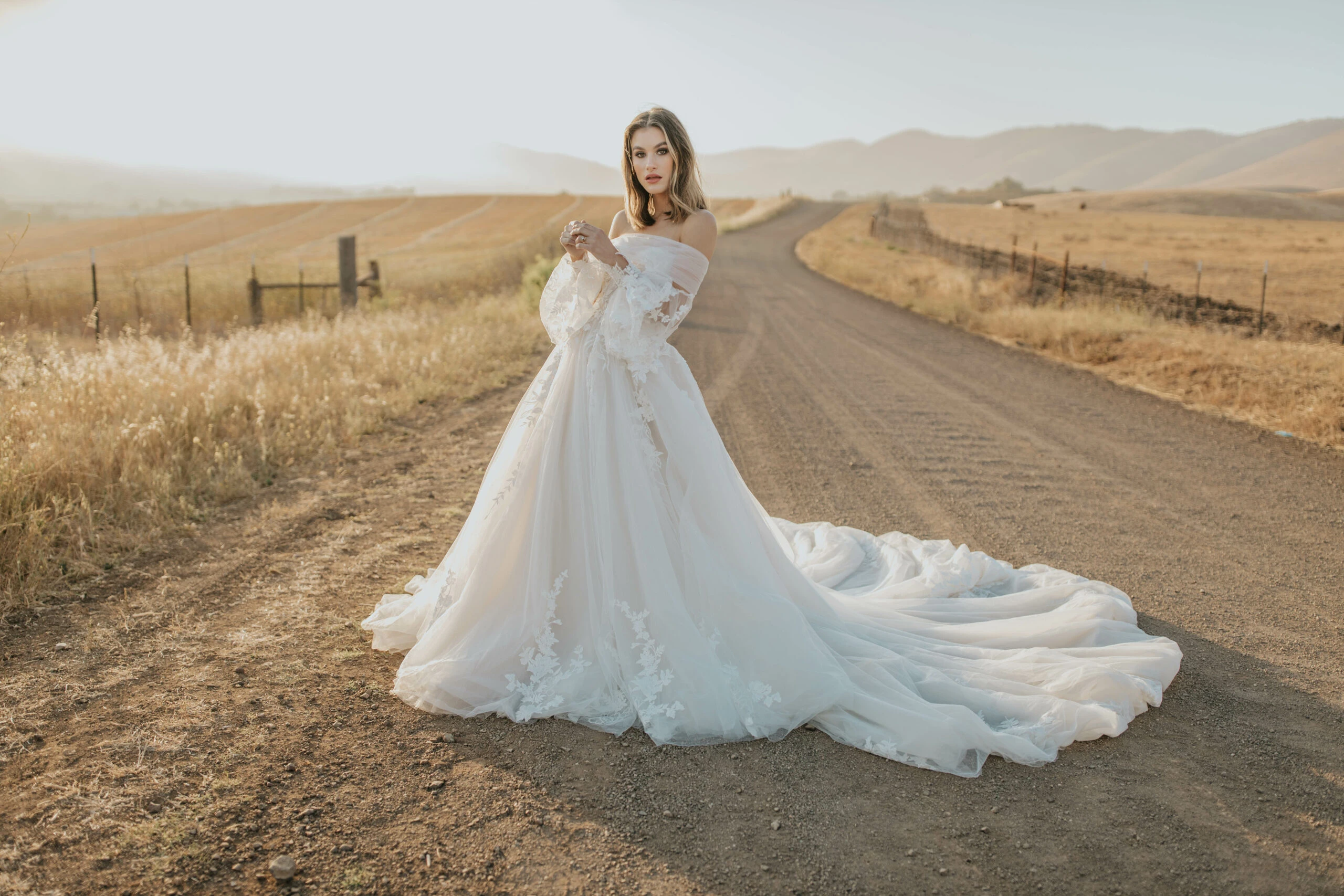 Martina Liana Style 1413 is made for brides looking for a dreamy wedding dress that captures the essence of modern romance. This natural wedding dress has an enchanting design with a contoured bustline, intricate boning and fashion-forward puff sleeves on the sheer bodice.
The delicate beadwork and rich embroidery create texture and dimension to the gown. The floral lace motifs bring an organic appeal that is ideal for summer weddings or spring outdoor celebrations.
Earthy Wedding Dress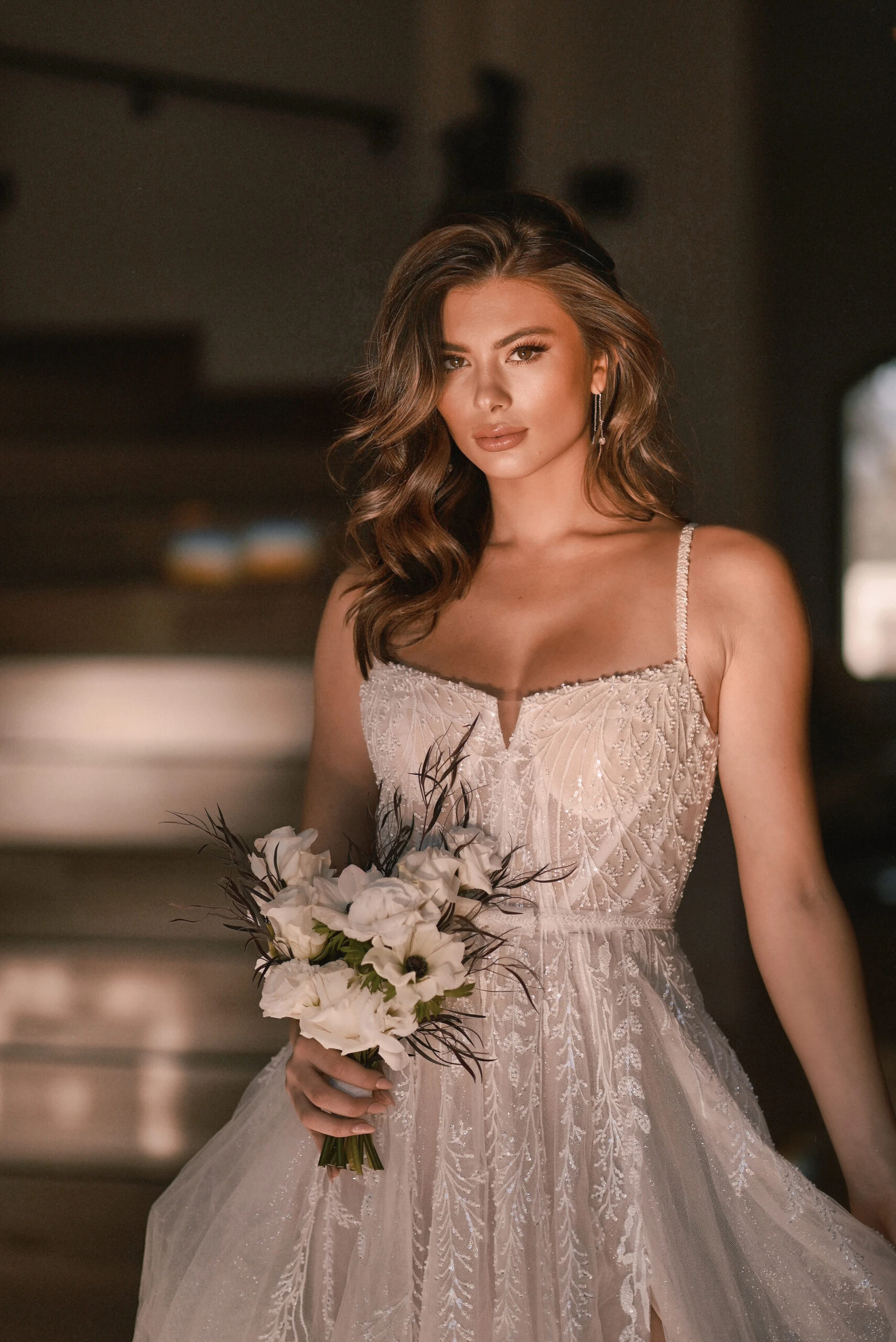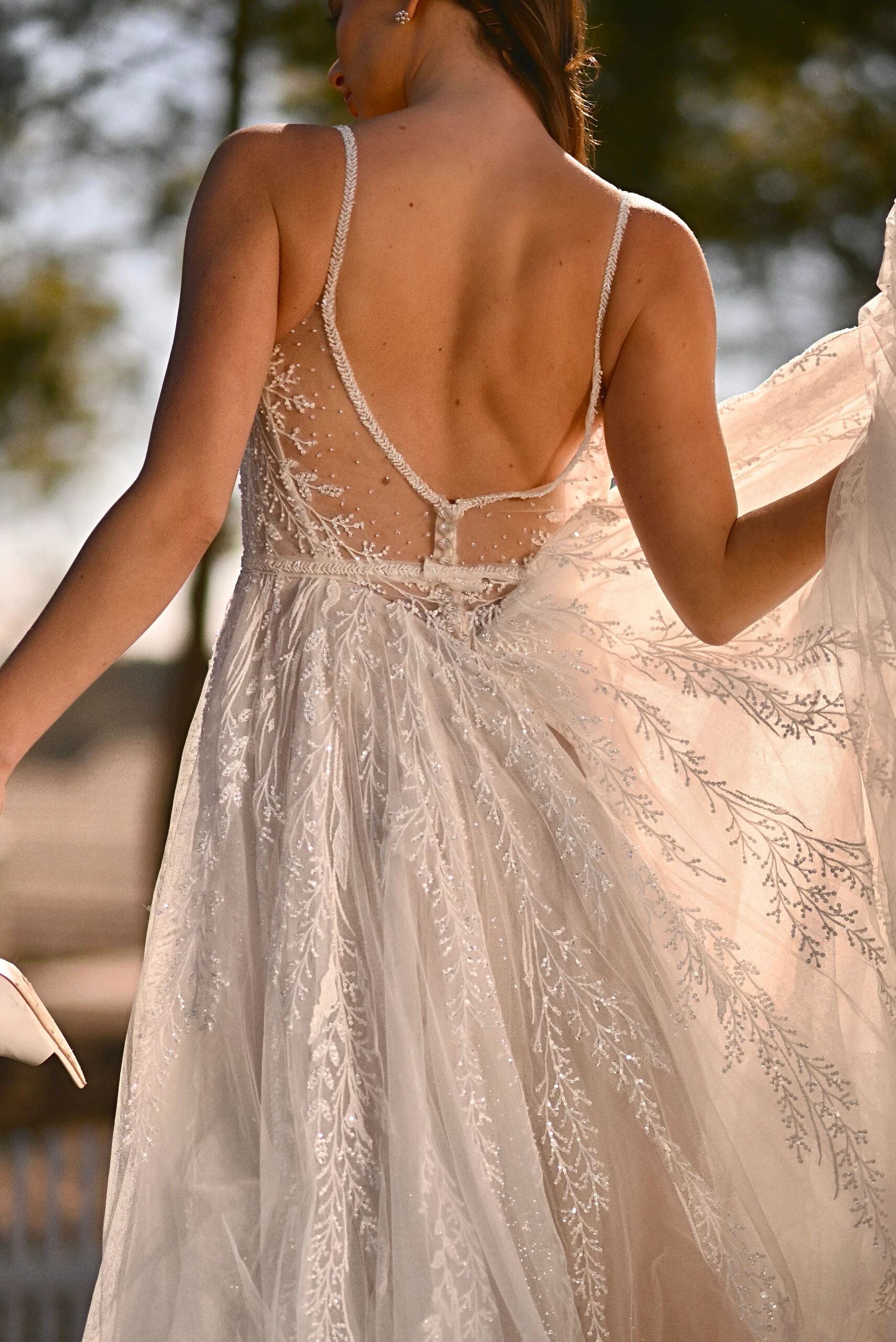 Look gorgeous from every angle in Martina Liana Style 1490, an ethereal couture masterpiece! This earthy wedding dress will take your breath away with its delicate beaded spaghetti straps and charming balconette bodice for a vision of pure organic sophistication.
Sparkle accents cascading into the frothy skirt of glitter tulle will definitely steal the show on your special day. This dreamlike gown has everything you need for an outdoor wedding look!
Organic Wedding Style Gown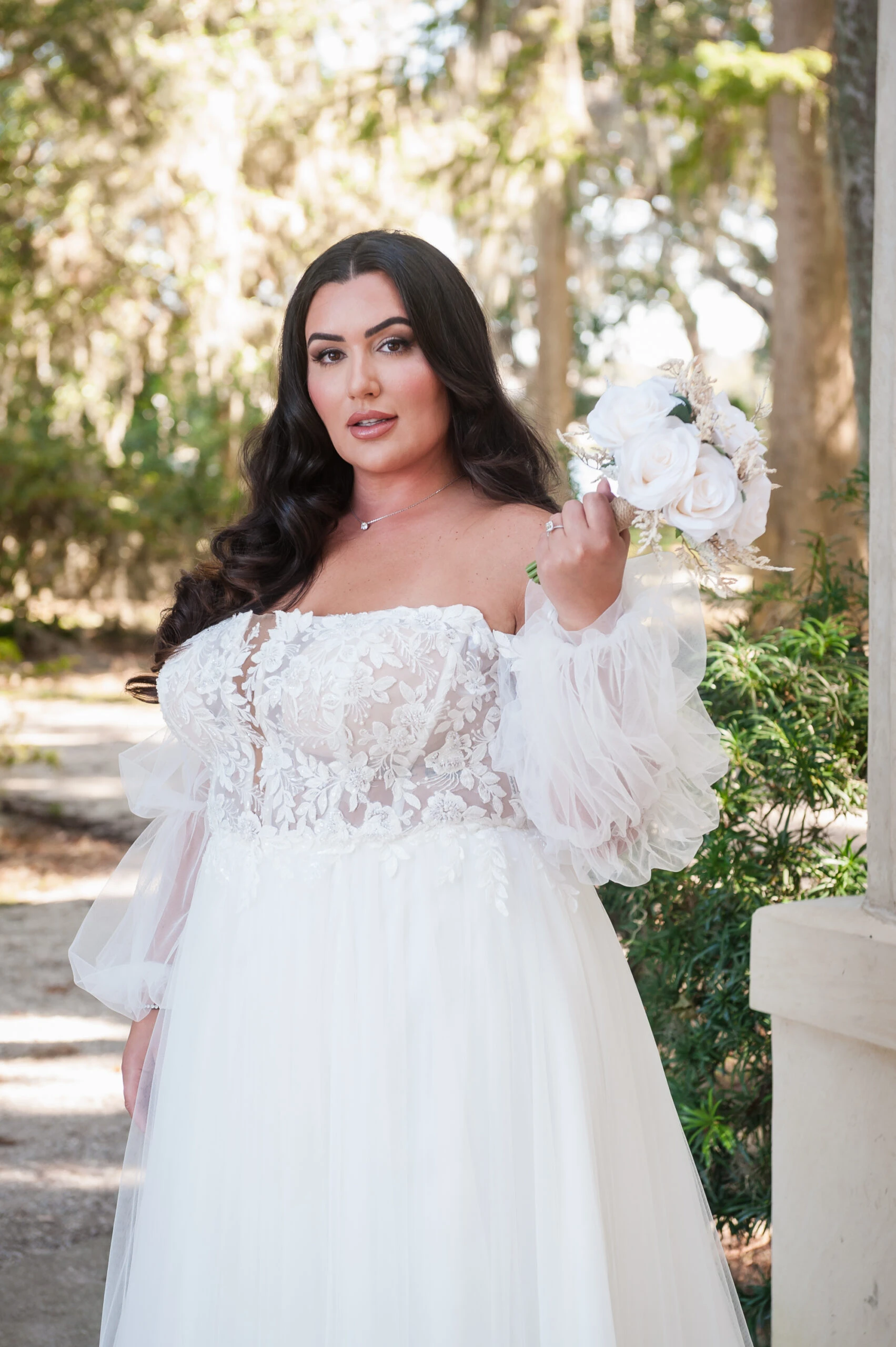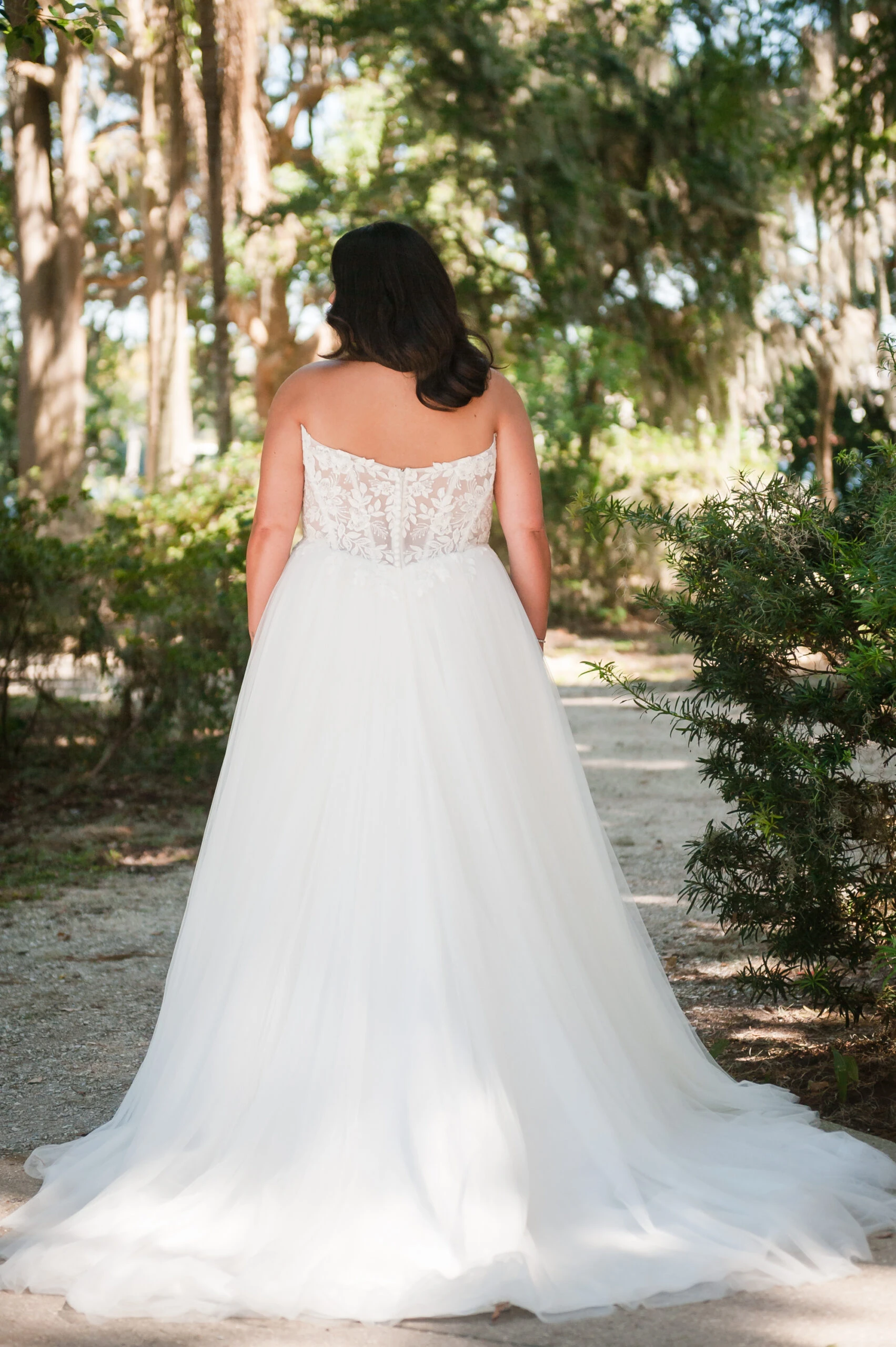 Get ready to be wowed by Stella York Style 7573! This whimsical organic wedding gown style is made to bring your romantic wedding vision alive.
The corset-style boning of the allover lace bodice adds an old-world charm. Its plunging neckline brings modern elegance, highlighted with large organic floral lace. A truly special addition is the sheer detachable off-the-shoulder long tulle sleeves!
No matter what time of year it is, there are plenty of options when it comes to dreamy outdoor wedding dresses at True Society. With the right dress and color scheme, your special day will be a magical event you'll remember for years—so go ahead and let your nature inspired style shine through!
Find a True Society store and book your appointment today to shop for your dream outdoor wedding dress! Die Verfügbarkeit variiert von Geschäft zu Geschäft.