Our beautiful True Society by Belle Vogue bride Catie had an incredibly intimate and unique wedding that represented her love story. She and husband Jordan's boho chic themed wedding celebrated their love story and family history. Catie wore Style D2680 from Essense of Australia and looked absolutely stunning! Their goal was to ensure that their guests had an incredible evening celebrating the union of their lives. Their urban nuptials were complete with a Mexican buffet AND a loaded mac and cheese bar! Their wedding seemed like a blast, and we are so thankful to have been a part of their story.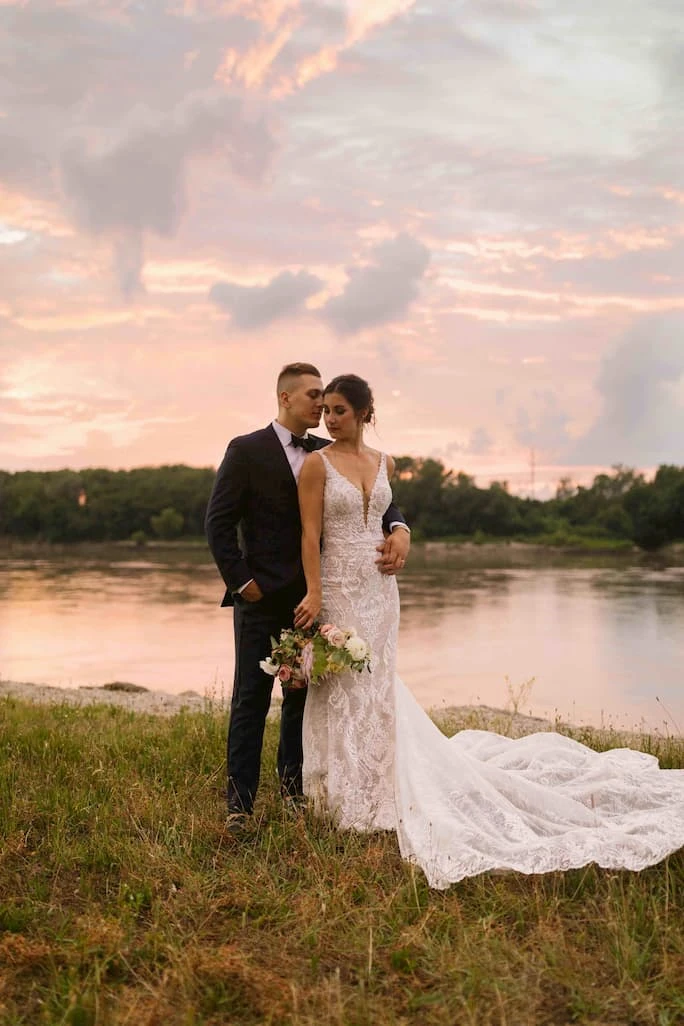 We asked Catie to tell us more about her wedding details and her experience throughout the wedding planning process. Keep reading to learn more about the inspiration, history, and love behind this beautiful wedding.
The Proposal
Catie gave us all of the heartwarming details on how Jordan proposed to her. She said, "In January of 2019, Jordan gave me a Berliner Weisse at a party where we met and told me to try it and let me know how I liked it. I took that as my permission to reach out to him afterward, and then we started talking about sour beers. A few weeks later, he gave me a Space Camper and asked me to be his girlfriend. We would often go on Boulevard tours with people visiting KC or to the Beer Hall with friends. Fast forward to November of 2019! Jordan and I are on a Boulevard tour with a group of friends and in the pouring rain he asks me to take a picture with him. I grudgingly agree, and we sprint outside to take a quick selfie. Once we get to the edge of the lookout, I turn to him, and he is down on one knee, tears in his eyes, asking me to marry him. I was super surprised! Looking back, I totally should've been more aware, but it made the proposal way more fun!"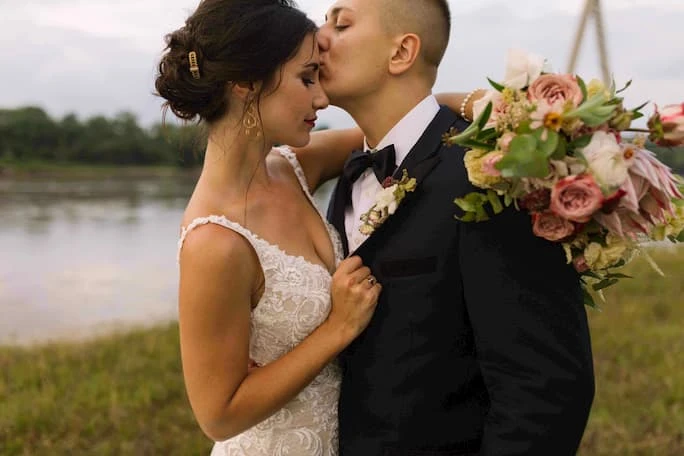 The Wedding Dress
Catie wore Style D2680 from Essense of Australia. This stunning fit-and-flare wedding dress was the perfect gown for her. We helped Catie choose the rum underlay to ensure the lace of this gown popped in photos. The best part? Catie took her gown and embellished it with beautiful family heirlooms that each told a tale of their history. We love when brides incorporate their loved ones into their special day in such a unique and intimate way.
Catie said, "My bridal style was FULL of family heirlooms and family ties. I wanted to honor the successful marriages before me as I started my marriage with Jordan. I wore earrings from my paternal grandmother who died 20 years ago. I also wore a gold pearl ring and matching hair clip from my maternal great, great grandmother. Every woman on my mother's side has worn it down the aisle! I borrowed a pearl bracelet from my mother-in-law to tie the entire outfit together. My engagement ring is made from the gold of my mother-in-law's original band, and my wedding band includes diamonds from my maternal great, great grandmother and my mother-in-law's engagement ring. I really wanted to honor the women who came before me and created successful marriages that allow me to be the person I am today with the view of marriage that I hold."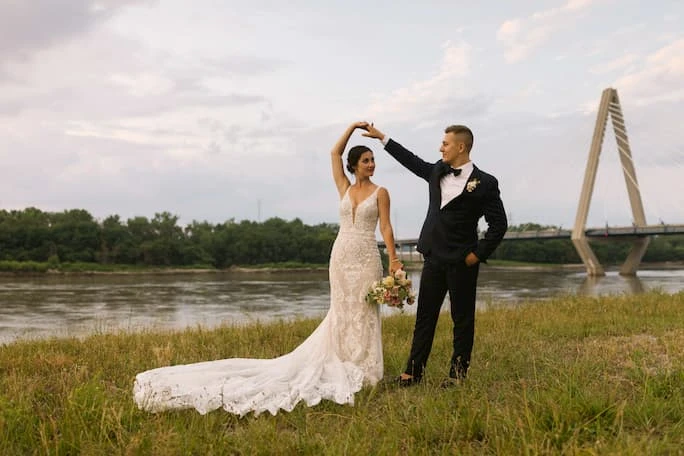 The Dress Shopping Experience
We were lucky enough to be referred to Catie by Jordan's cousin Renee, one of our bridal stylists! We love when our staff bring their loved ones to us.
When asked about the boutique, Catie said, "I immediately LOVED True Society! There were hundreds of dresses to choose from and the stylist helped me narrow down my choices with the style I described. They helped me pick out the PERFECT dress for my body. If you don't believe me, just look at how good I look in the dress! I really wanted a unique dress with fun patterns and little sparkle. This dress had a rum-colored underlay so the patterns of my dress really stood out. A few sparkles on the deep-V and straps allowed for the perfect bit of pop!"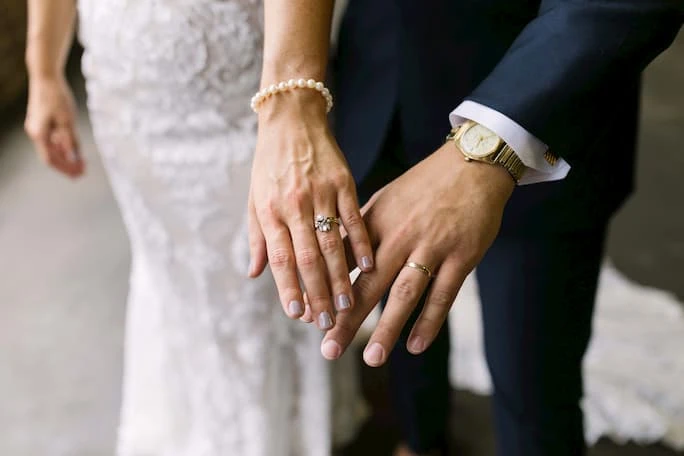 The Wedding
We asked Catie to describe her wedding details and inspiration. She said, "The theme was very boho chic. We had a lot of greenery along the tables and in the bouquets with bright pops of colors. My bridesmaids dressed in a mixture of light grey, dusty blue, mauve, soft pink, and gold. The groomsmen wore navy blue. Our wedding venue Magnolia Venue and Urban Garden is beautiful, so I didn't need much additional decoration."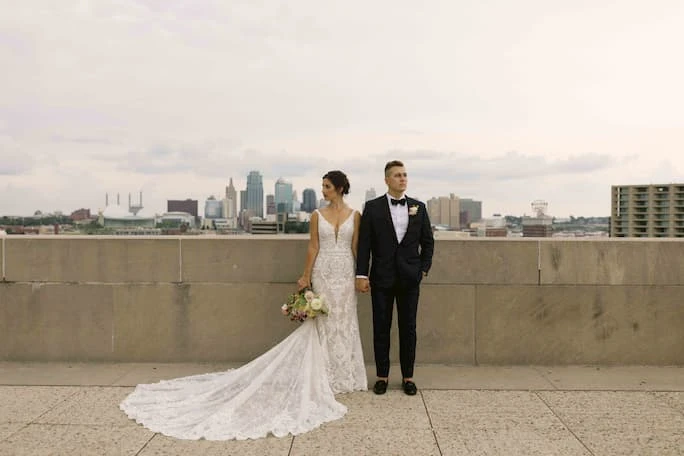 "We wanted to make the wedding extremely fun! Both Jordan and I have attended a TON of wedding. We wanted ours to stand out and the guests to have the most fun as possible. The bar was open before the ceremony so guests could grab a drink while watching our vows. We made sure to stay during the cocktail hour to talk to as many people as possible (and so we could TEAR UP the dance floor once it opened). Our food was a Mexican buffet with an adult mac & cheese station. It was so good, everyone went back for seconds! Our dance floor was open from 9 PM to 11:30 PM. We LOVE dancing and wanted to make the dancing portion the largest event of the night."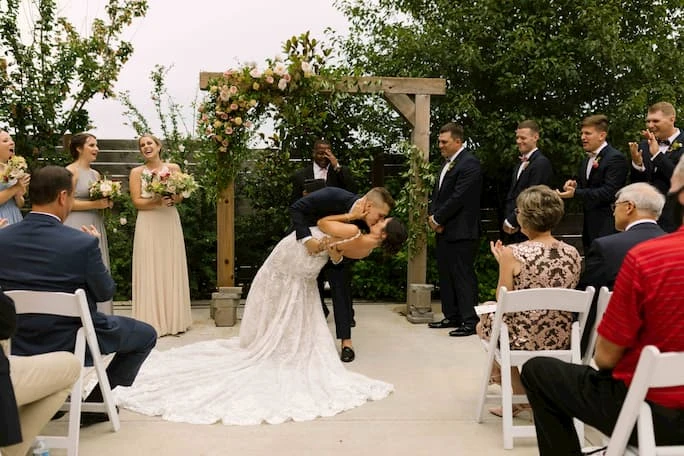 The Best Part?
We asked Catie what the BEST part of her wedding day was. She said, "The most special memory from the day was when Jordan and I snuck out of the reception to snap sunset pictures. It was the first moment after the ceremony where Jordan and I were able to fully soak in the moment that we had just gotten MARRIED! We were able to snap some pics for a bit with our photographer (a groomsman) and a videographer (my cousin). It was really special to have both of them capture those moments."
Although COVID-19 prevented Catie and Jordan from having their original wedding guest list, they were still so thankful for everyone that was able to attend. Catie said "Jordan and I were asked to look at everyone who attended the wedding to support our marriage. In the world of COVID, weddings have been hectic. Jordan and I had to ask a lot of people to not attend in order to follow capacity regulations, and there were people who didn't feel comfortable attending due to the virus. To look out at the close friends and family who were able to come to our wedding was an extremely special moment for both of us."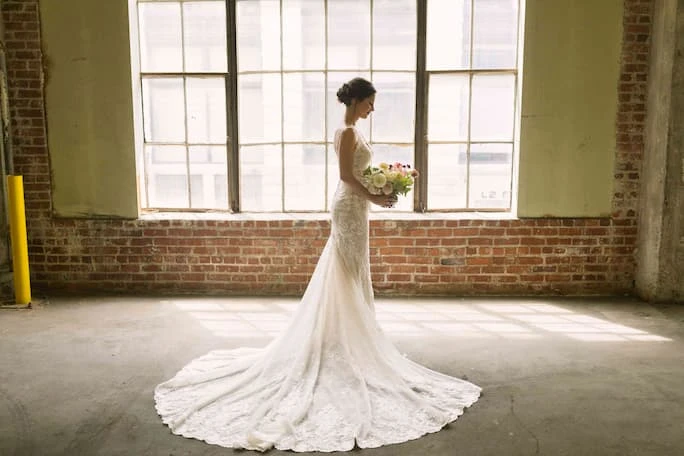 A huge congratulations to our beautiful True Bride Catie and husband Jordan. We absolutely adored their boho chic wedding. Cheers as they embark on a lifetime full of love (and sour beer)!
Are you ready to find your dream wedding dress like Catie? Book your appointment today and we'll ensure you find the "one"!
Photos by Adam Pane