Kansas City brides, if you're not a traditional veil gal we've got some major bohemian inspiration coming your way! From wide-brimmed hats to headbands (YES they are back), we've got tons of options for what you can wear instead of a veil. Whether you're going for the modern, rustic, casual or vintage boho bride look, there are so many unique alternatives you can choose from to pull your bridal look together.
Crown
If you're looking for an extravagant bohemian look, you may choose to opt for a more elaborate headpiece like a crown. Crowns can come in all shapes, sizes, and materials and are sure to accentuate your boho vibe. A crown would go well with a bohemian lace wedding dress like Avery.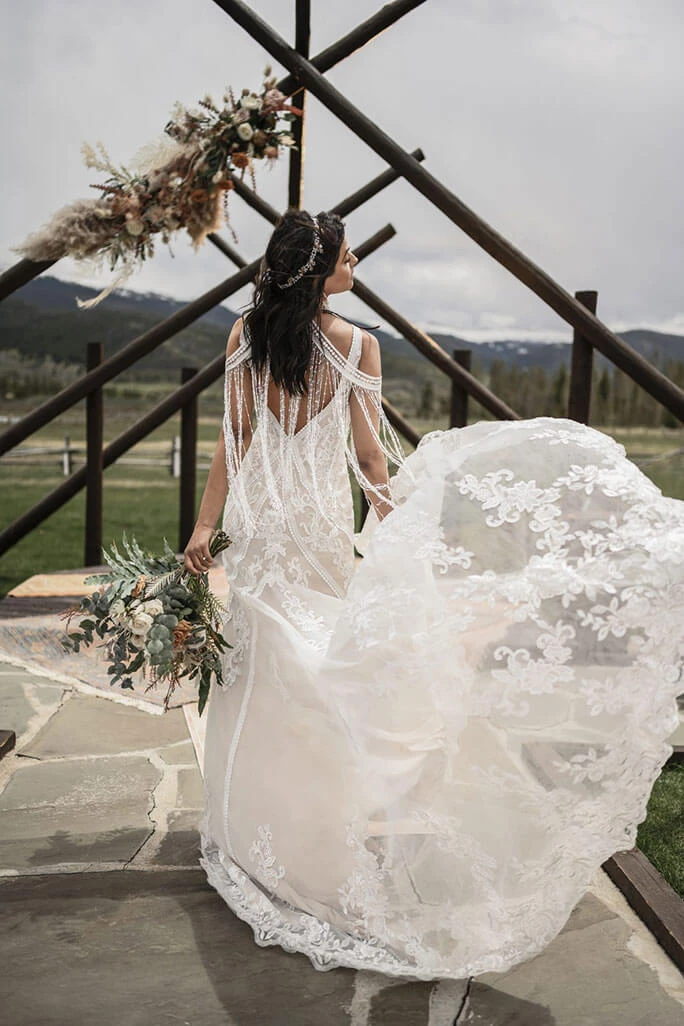 Hairpins
Celestial hairpins are currently trending in the world of bridal fashion. Have your hairstylist throw in some beachy waves or a top knot, place some pins and you're set to dance the night away! Wondering where to find hairpins? Etsy has so many amazing options to choose from. Here at True Society by Belle Vogue Bridal, we think hairpins will pair fabulously with a modern boho wedding dress from our All Who Wander wedding dress collection.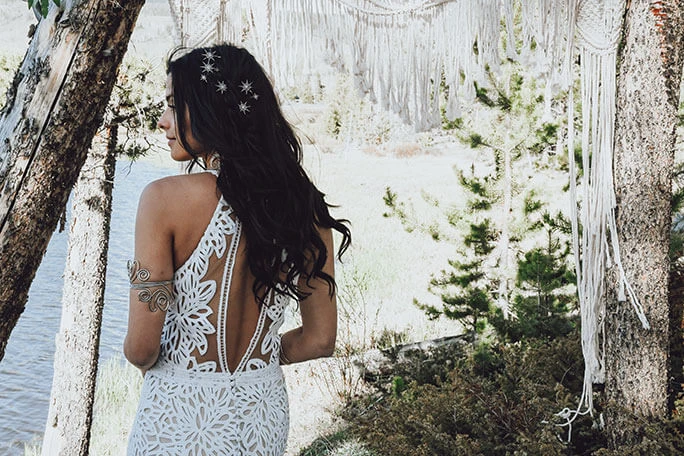 Headbands
Headbands are back ladies! Yes, you heard that right. A chic beaded headband is perfect for the fashion-forward bride looking to make a statement. A headband would be best with a boho-chic wedding dress like Finn. The classic silhouette with surprising elements is perfectly complemented by a unique headband.
Wide-Brim Hat
Not just any babe can pull a hat off on her wedding day. A wide-brim hat is for all of our cool Kansas City girls out there! If you live for your hats, you should totally rock one on your big day. If you're on the hunt for a budget-friendly option, Amazon has some great wide brim hats to choose from. We suggest mimicking your bridal day style to your everyday style so you're confident and comfortable on your wedding day. Wear a vintage boho wedding dress like June from our All Who Wander collection to offset your hat on your wedding day!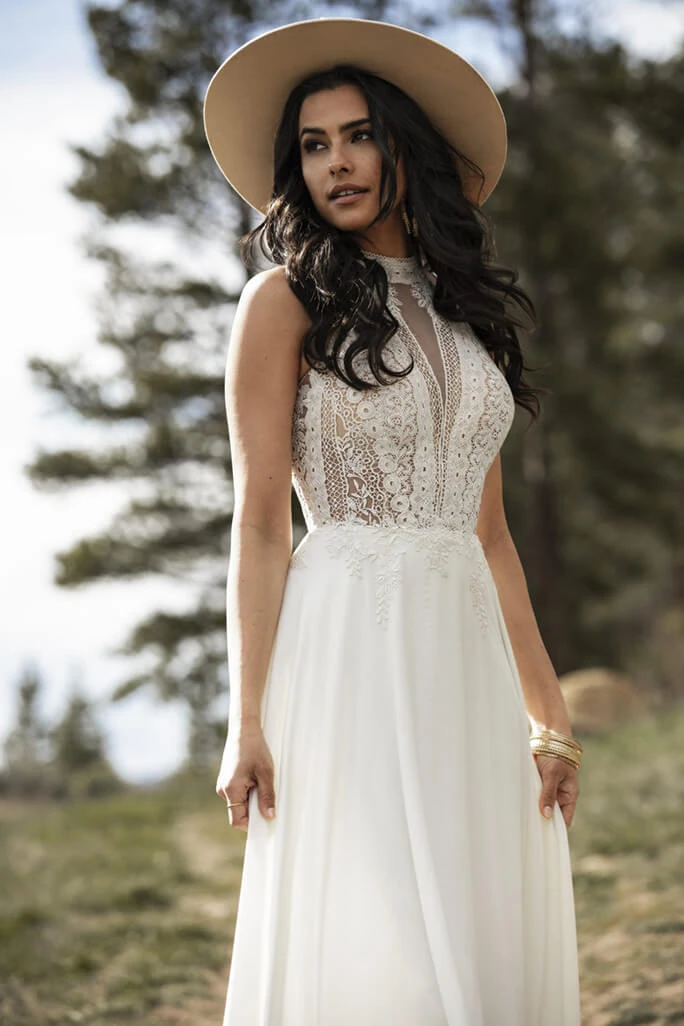 Hairpiece
If you're looking for a more traditional and simple alternative to a veil, then a hairpiece is for you. Make it your own by choosing a hairpiece that reflects your personal bridal style. You can pair your hairpiece with relaxed waves for a casual, effortless boho hairstyle. This look would be best with an effortlessly boho gown like Reece.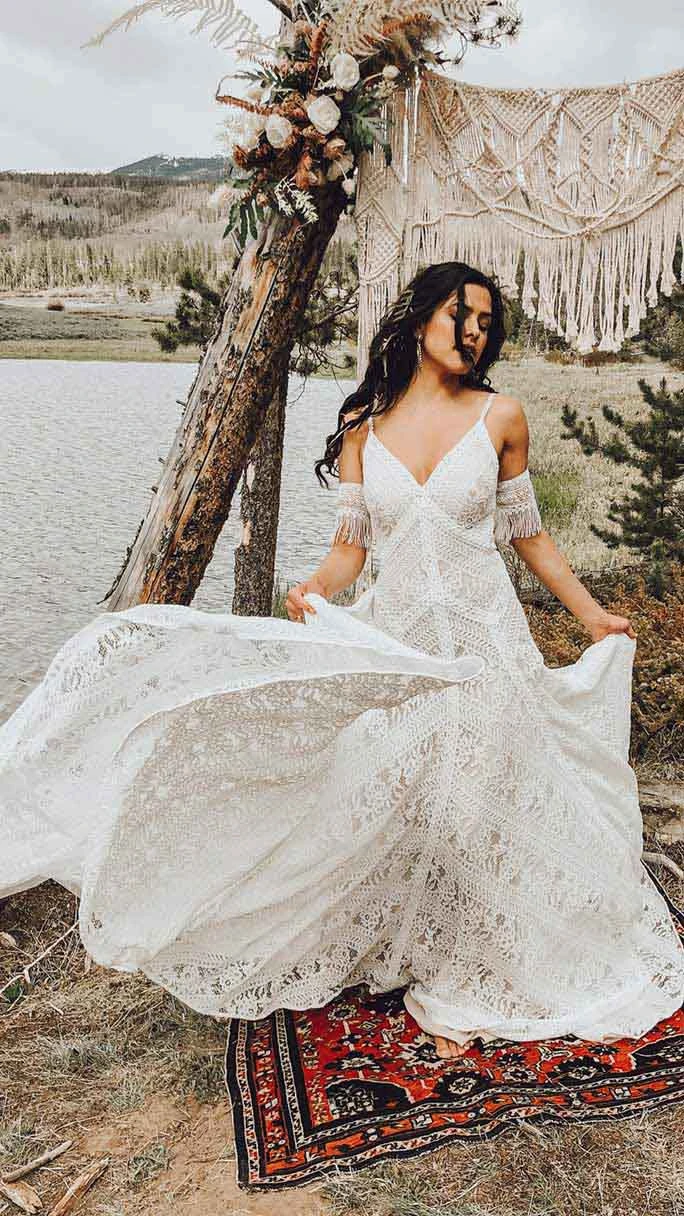 For more boho inspiration, check out Our Favorite Boho Wedding Invites and Boho Floral Inspiration blogs.
Now that you're inspired to make your wedding day style uniquely you, you need the boho wedding dress of your dreams! True Society by Belle Vogue Bridal is the exclusive All Who Wander retailer in the Kansas City area. Schedule an appointment with us today to see our boho gowns in person.