True Society by Belle Vogue Lenexa won the coveted WeddingWire Couples' Choice Award! This incredible honor was voted for by real couples who shopped with us so winning this amazing recognition feels even more special to our staff.
The WeddingWire Couples' Choice Awards recognize local wedding professionals who demonstrate excellence in quality, service, responsiveness, and professionalism. We are so proud to be an award-winning bridal shop in KC and we cannot thank you enough. Read on to see what couples are saying about us!

Excellence in quality and value is something we have always prided ourselves on. We take making your big day the best it can be very seriously! That is why we stock our stores with designer gowns known for their quality and craftsmanship – in a range of price points. Wedding dresses are our passion, but helping brides find the dress of their dreams is our goal. Stocking gowns that stand the test of time is something we've become pretty good at over the years. From boho wedding dresses to luxury gowns, the attention to detail and quality of our styles is second to none!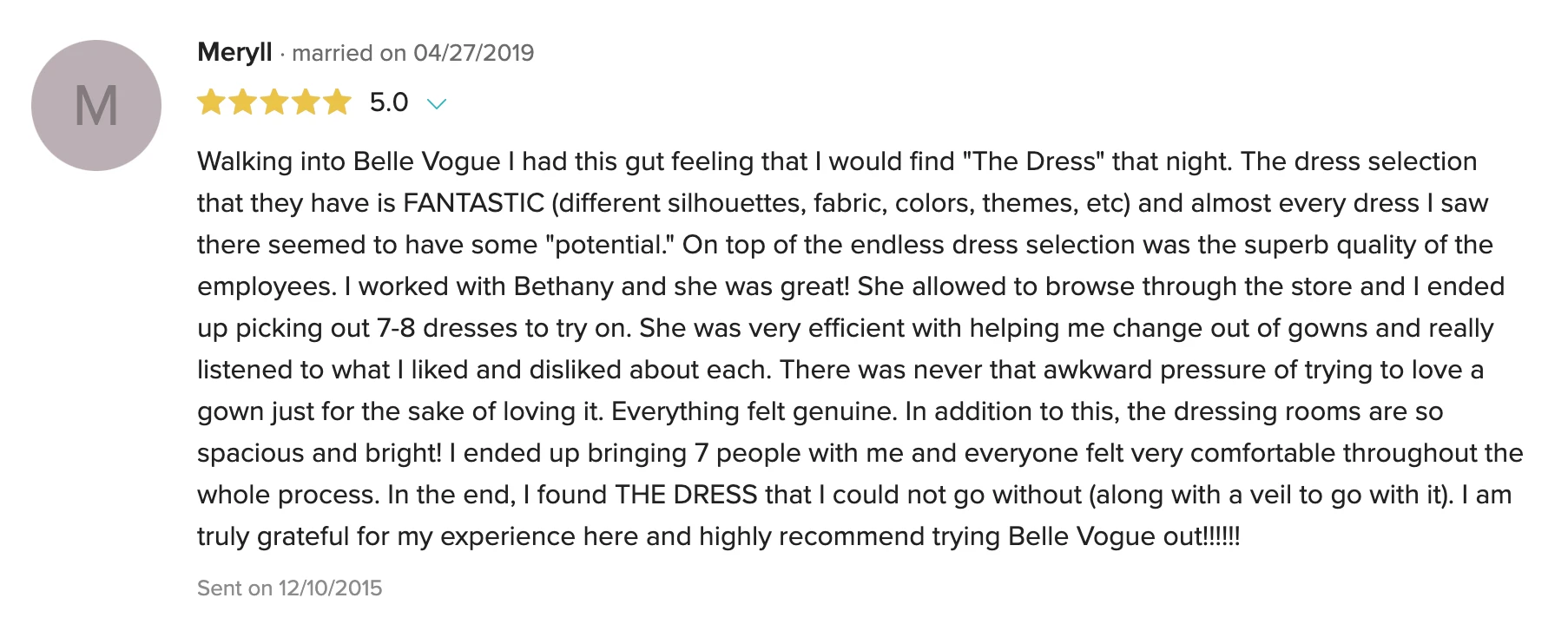 What would a good bridal boutique be without great customer service? At True Society by Belle Vogue, our founding pillar will always be excellent customer service. We know that finding your dress is more than just finding something you like. It's about finding something that makes you glow from the inside out! It all starts with our staff. From the moment you and your bridal party walk in, it's our mission to make you feel welcomed and excited to shop. Our staff has taken the time to get to know each of our gowns and will be able to help your dreams become reality – no matter what your style or budget!
Our services don't end after you've said "yes." We communicate with all our brides and bridesmaids when their dress arrives and when they can pick it up. As uncertain as COVID-19 has made wedding planning, we will always promise to put our brides' safety, well-being, and happiness above all else.

Becoming an award-winning bridal shop in Johnson County hasn't always been easy, but professionalism and hard work is something we know goes a long way with our brides. Every member of our staff is knowledgeable and trustworthy when it comes to picking out your perfect wedding dress. We spend so much time and effort choosing the right gowns for our boutique and then educating our staff on every intricate detail. But professionalism goes beyond just knowing about our gowns. We take pride in helping you craft a style from your vision that truly represents who you are as a bride. From crafting custom designs and staying within your budget, to helping you choose the right accessories and complementing bridesmaid dresses, we are here to make your wedding dress dreams come true.

Responsiveness and flexibility have taken on new meaning in this season of life. With COVID-19, shopping – and planning a wedding – can be uncertain and truly unconventional. But with every new challenge, we continue to rise above the rest. The safety and health of our brides and staff are a top priority for us, now more than ever. With new cleaning procedures in place, we've made cleanliness and social distance shopping the gold standard at our Lenexa and Crossroads locations. At each bridal appointment, we clean and sanitize seating areas and dressing rooms, provide and wear face coverings, and limit the number of guests during each appointment so that there is never any need to worry about your safety while shopping. Shopping for a wedding dress is hard enough, so let us take care of you the best way we know how!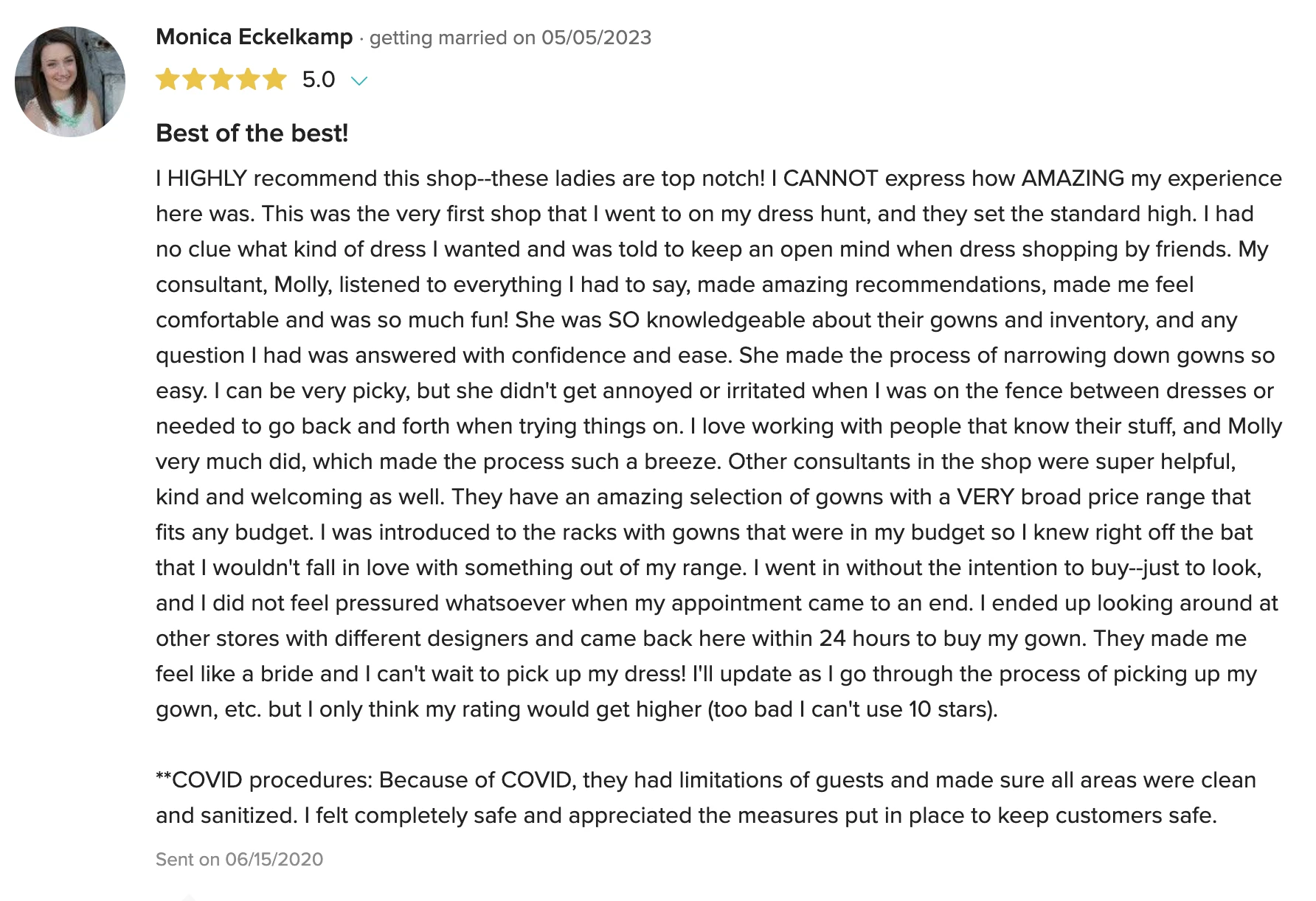 We want to thank each and every one of our couples who wrote reviews for us on WeddingWire. These reviews go a long way and are the reason we won this incredible award. It makes us so proud to be Kansas City's award-winning bridal shop. We cannot wait to see what next year brings!
If you'd like to make your appointment, please click the link!