True bride Staci had a classy vintage-inspired wedding. Their day was filled with personal touches as an ode to their love story. Staci wore Style D2478 from Essense of Australia. She adored the botanical lace and the unique asymmetrical neckline of the gown. Staci said that it was the perfect dress for her classic and vintage bridal style. Read more about their incredible wedding day below. Congratulations Staci and Caleb!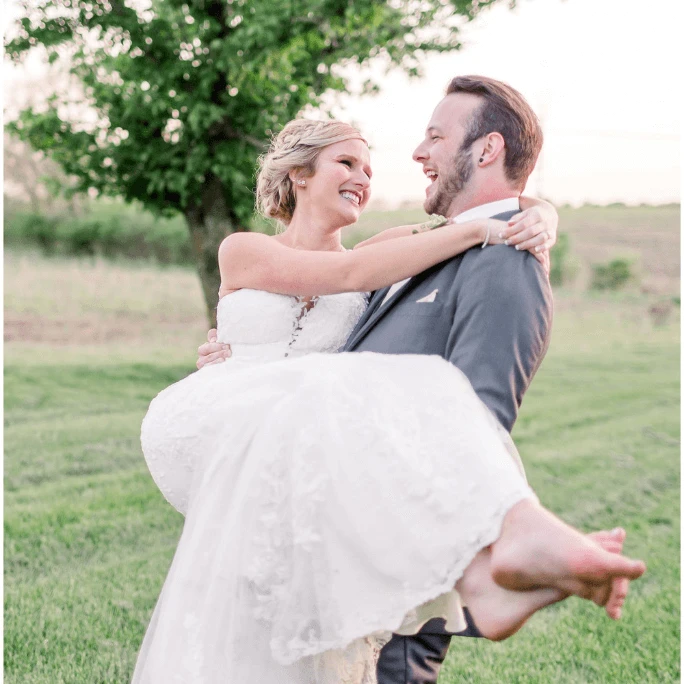 The Proposal
We got engaged in 2017 on a vacation to Rocky Mountain National Park. We love hiking and being outdoors! This was the perfect setting for us. Caleb knew that I didn't really want everyone involved. I just wanted it to be a special moment between the two of us. We were sitting on top of a ridge overlooking Emerald lake and he got the ring out of his backpack and got down on one knee. He was so nervous and I was SO surprised!! As someone who usually likes to plan and anticipate EVERYTHING I am still amazed that I had no idea it was coming. He did a great job keeping it a secret. After we got engaged, we kept it our little secret for about a day until we shared with parents and close friends!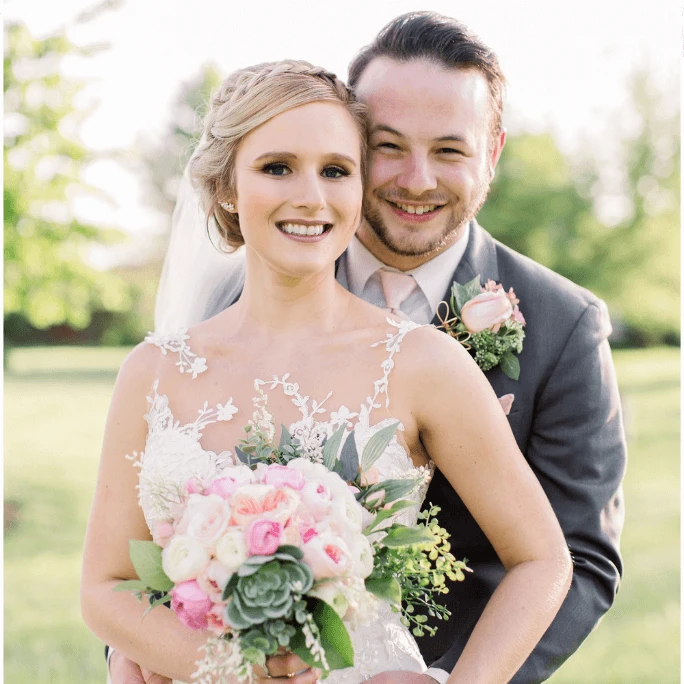 Our entire wedding was outdoors so I knew I wanted something that would fit in with that natural vibe. The botanical lace print on my dress was PERFECT. I love vintage and 1960's styles and silhouettes. Also, I thought my waist line was my best feature so I wanted a form fitting, waist-cinching dress. I was a classic bride so I went with the ivory color the STUNNING romantic lace train was right down my alley. I also like a little bit of individuality to shine through in how I dress so I was very attracted to the asymmetrical neckline. I felt like the illusion lace and open back added something trendy and interesting to the dress to make it unique and also added sexiness! All around it was the PERFECT dress for me, my aesthetic, and our wedding vision.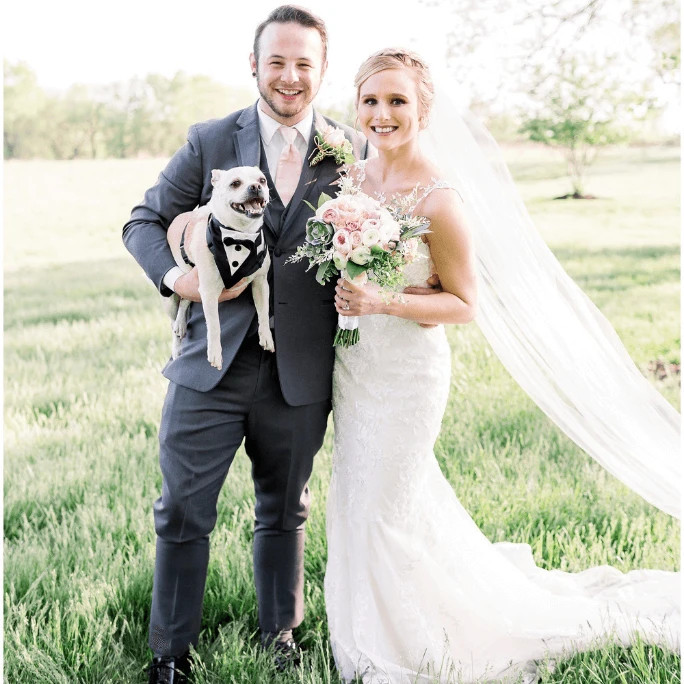 Dress Shopping
Funny story about dress shopping… I had originally gone to 6 other stores and had actually found a dress that I liked a lot but I didn't LOVE it. They ended up not being able to provide the lace sleeves to go with the dress so they gave us our money back. Then I finally went to True Society by Belle Vogue Bridal. I am so glad I did because I had not seen anywhere near the selection anywhere else. I would tell every bride to go there FIRST!!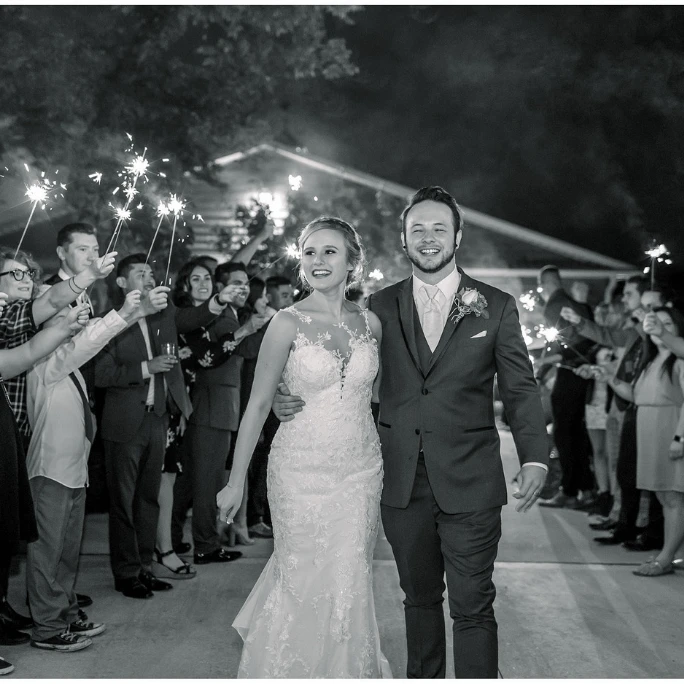 The Wedding Details
Our wedding was all outdoors at the beautiful Legacy at Green Hills. We wanted the landscape to speak for itself – bright greens, fresh flowers, tall trees, etc… so we didn't feel the need for a lot of decorating. Florals were our main design element. We had the pergola decorated with flowers and our centerpieces were these pretty white wooden lanterns with floral attachments. Our colors were blush pink and gold. We made the wedding personal by incorporating all of our favorite things and things that we knew guests would love. We envisioned a CLASSY twist on a backyard summer party. We had lawn games, a photo booth, an AMAZING dj who danced all night, delicious Italian food, and an open bar. Everyone raved to us about how much fun they had and we had a blast too!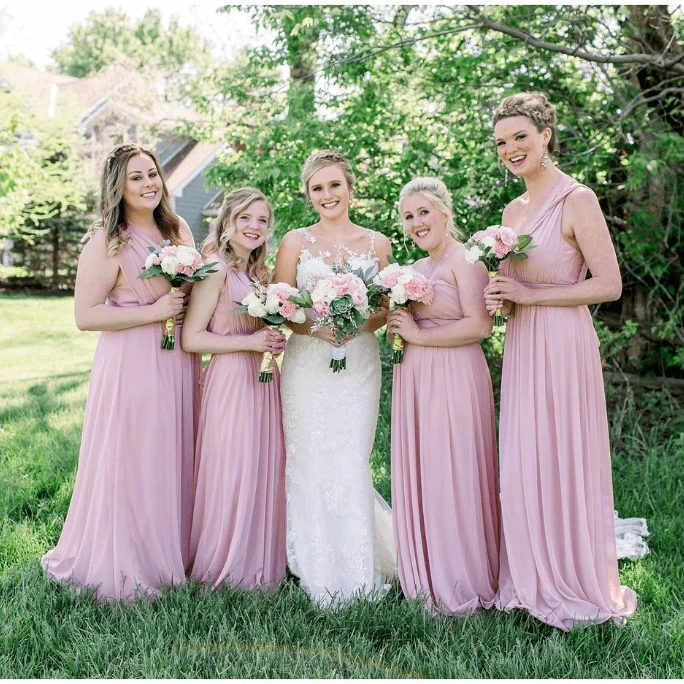 Most Special Memory from the Day:
SO many special memories!!!! A few including:
Getting ready in the bridal suite with my girls and my mom. I just felt so loved and special to think that these girls put their lives on hold that weekend to be there for me. They were all doting after me all weekend wanting to make sure everything was perfect.
Caleb and I reading our letters before the ceremony. We didn't do a first look so that was our way of connecting before the ceremony. We had our bridal party help us exchange letters the day-of and we got to read each others thoughts about the day and what our marriage will mean. We each stepped away from the hustle to read our letters privately but our photographer was there to capture the moment. I will never forget my time on the balcony reading his letter. Time seemed to slow down! Thank goodness for water-proof mascara!
Our sparkler exit from the reception. We had originally thought it would just be bridal party and close family but the DJ announced it to the entire crowd and I am SO glad he did!!! It felt amazing to walk through the aisle of friends and family. The looks of love and joy on their faces made us so happy and excited! We experienced an indescribable feeling! Plus we got some awesome pictures!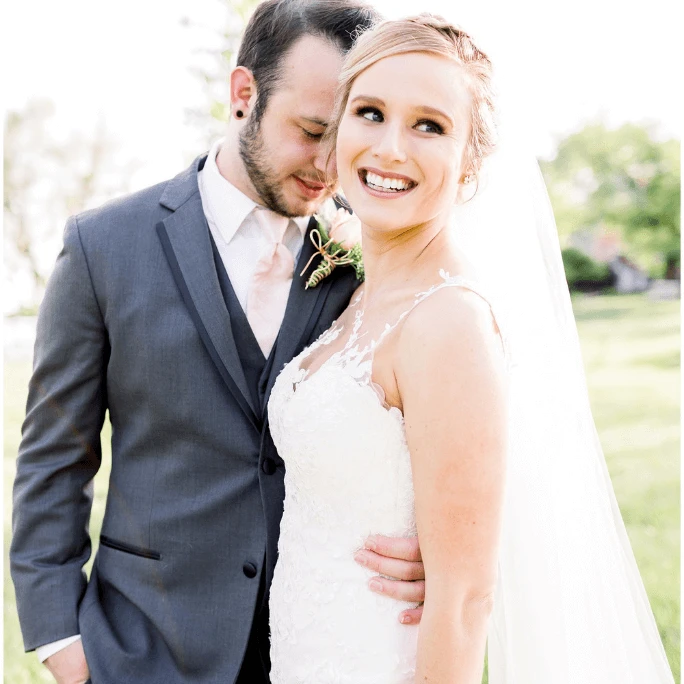 Honorable mention: Practicing our first dance at the pavilion the night before the wedding, after the rehearsal. It was dark and quiet except for the song playing on his phone. We were just dancing the two of us and we felt so in love in that moment!
Photography by Elizabeth Powell
Are you ready to find the dress of your dreams like Staci? Book your appointment at True Society by Belle Vogue Bridal today!