A bohemian and romantic wedding dress meets the Arizona desert for this stunning celebration. Erika and Reuben carefully organized their wedding to be filled with memorable moments. Desert mountains set the scene for this couple to have two magnificent photoshoots on their wedding day, one during sunrise and one at sunset.
As a girl that dresses in glam style in her everyday life, Erika was looking for a totally different look for her wedding day—a flowy, elegant dress with sleeves. She visited True Society by The White Dress – Portland where she discovered Essense of Australia D3636 and fell in love with it!
You can feel the love and joy of the dessert wedding bursting through the beautiful imagery by AshMarie Photo. Erika and Reuben's love story is definitely one you won't want to miss!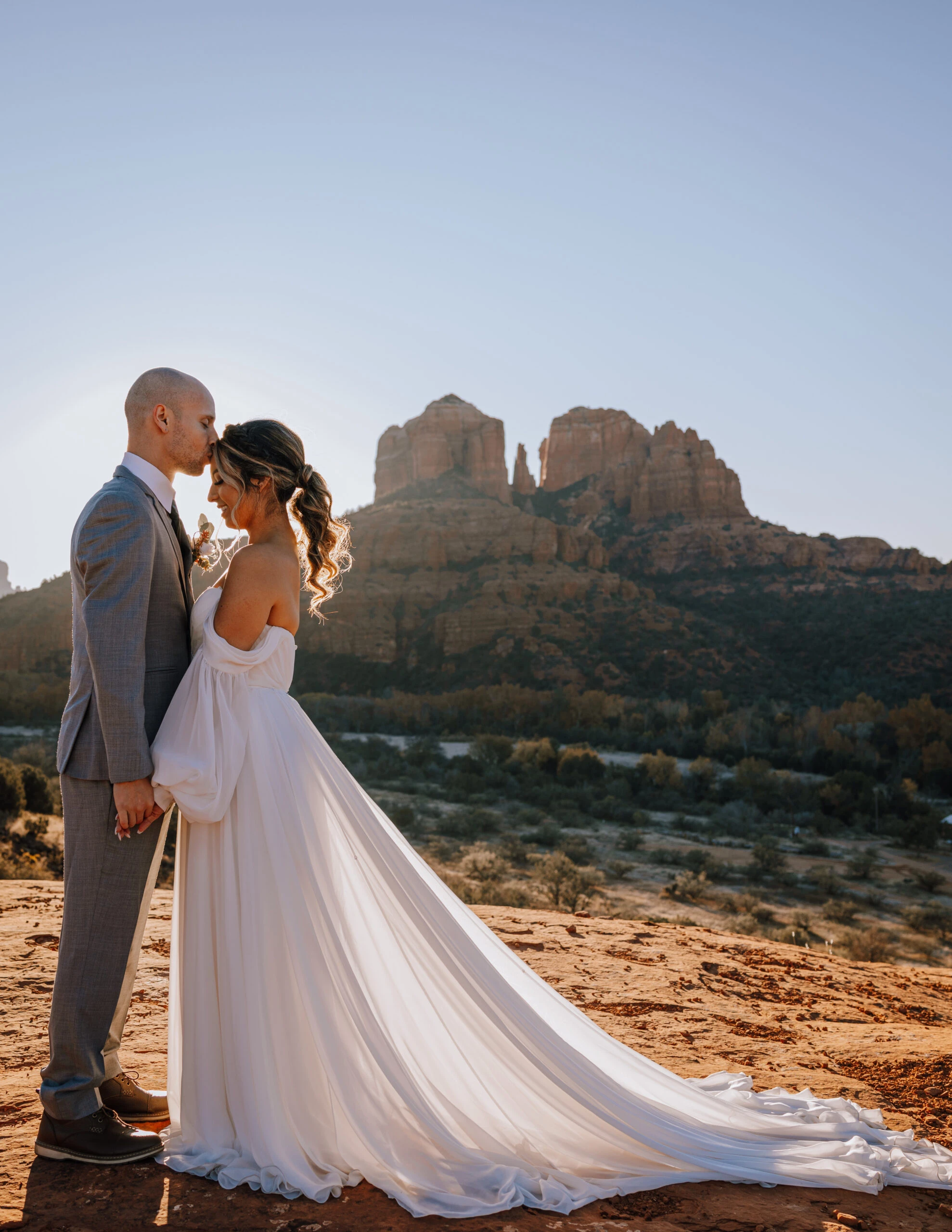 TELL US ABOUT YOUR PROPOSAL
My husband is the most perfect and supportive man I have ever met. We met through a mutual friend — who officiated our wedding — on a group blind date. We went bowling, and for me, the rest was history.
He proposed right after my birthday in 2021 with the help of my parents and brother, who took pictures of the entire event! My partner was in tears seeing me in my wedding dress on our wedding day, not only as his bride but seeing me so happy and confident and, in his words, "glowing."
DESCRIBE YOUR BRIDAL STYLE. TELL US ABOUT YOUR DRESS SHOPPING EXPERIENCE.
I normally go for the "extra" or the "glam" look. For my wedding dress, I wanted it to be elegant and classic to throw everyone off! I wanted something flowy and romantic but at the same time fitted. I needed sleeves to cover my arms which I was self-conscious about, and I wanted my late grandmother's pearl necklace to standout.
The chiffon material of Essense of Australia D3636 was so lightweight and breathable. I knew this was my dress because it had everything I wanted—from the detailing on the bodice with its V-neckline to the fit that showcased my waist and the off-the-shoulder sleeves. The layering wasn't overbearing, and it had a slit to show my shoes, which were my "something blue." I felt like the most beautiful version of myself on my wedding day—I was on cloud nine, and I couldn't wait to see my husband's face!
My experience at True Society by The White Dress – Portland was an absolute fairytale experience! My bridesmaid saw my dress in the window and said I ABSOLUTELY had to try it on! This was the fourth dress I tried on, and it was everything I was looking for.
When trying it on for the first time, it fit me perfectly — like it was made for me! I tried on a few similar options, but I couldn't shake the feeling that Essense of Australia D3636 gave me. I put it back on and my True Crew stylist paired the most perfect veil for my dress. I loved how invested in my experience and detail-oriented she was—my True Crew stylist made my experience nothing short of perfection!
IN YOUR OWN WORDS, TELL US MORE ABOUT YOUR WEDDING.
We got engaged in Arizona during our first vacation together, so we planned a destination wedding in Arizona! The whole wedding was special—we had a bride and groom-only photoshoot in Sedona where we hiked and took sunrise pictures, so I have pictures in my dress during both sunrise and sunset.
For the wedding, I surprised my husband by inviting relatives he had not seen in years. Many of our family and friends flew down to Arizona to be with us and made everything so memorable. The venue's bartender told my parents that they had been bartending weddings for 11 years and had never seen a reception as fun and entertaining as ours.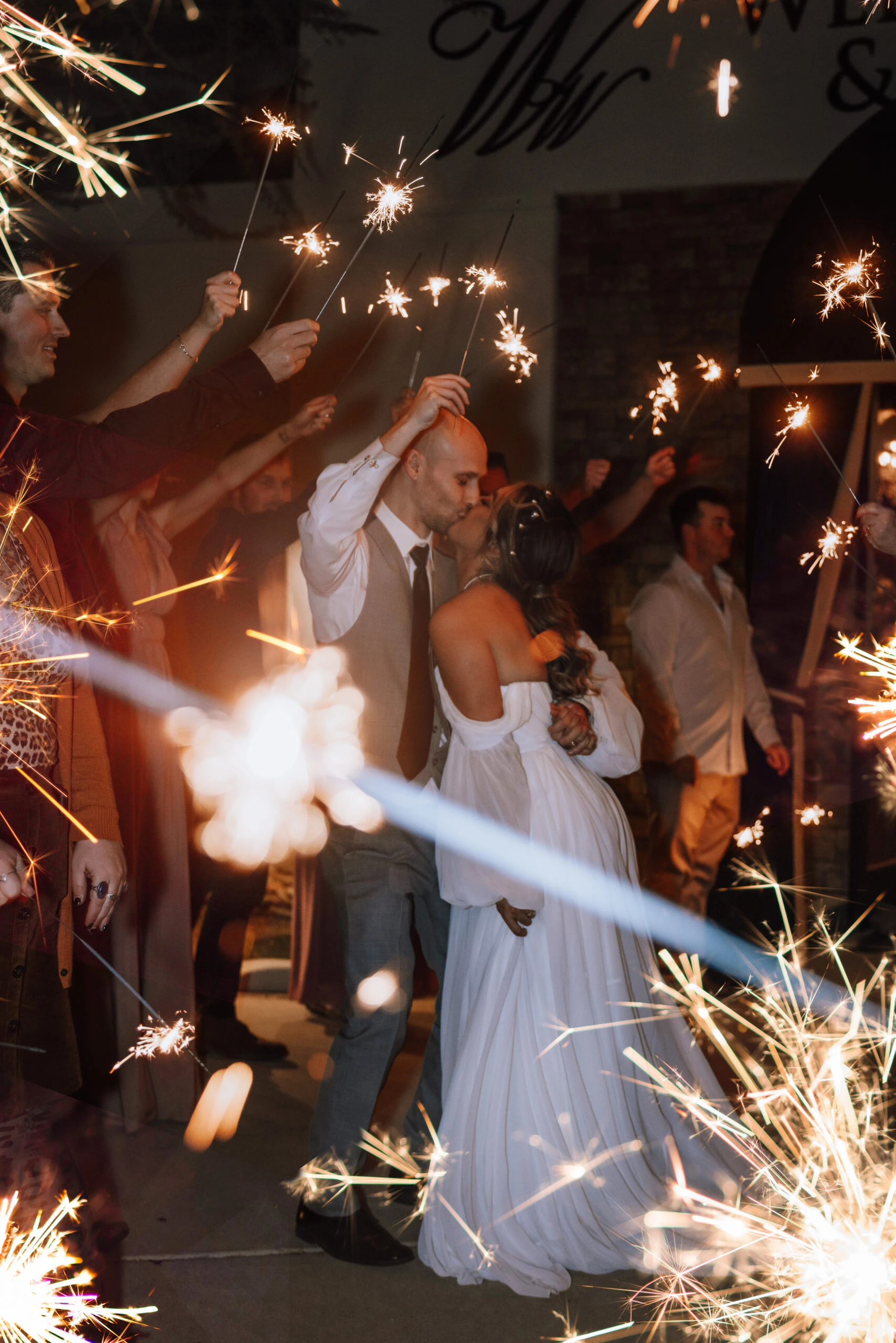 Cheers to Erika & Reuben!
Photography: AshMarie Photo
Venue: Wedgewood Weddings- Palm Valley

True Society brides, did you find your dress with us and want to be featured as a #TrueBride? Share your story with us.
Ready to find a dress that makes you sparkle on your wedding day? Find a True Society store near you and book your appointment today!