If you've ever thought about having a wedding in the mountains, True Bride Steffney's wedding to groom Brandon is making a strong case! So much planning went into this romantic and classic wedding in Colorado. Steffney's gorgeous boho-inspired ballgown from designer Essense of Australiawas just the final piece to her perfect wedding puzzle, and we were so happy to help her find the dress of her dreams!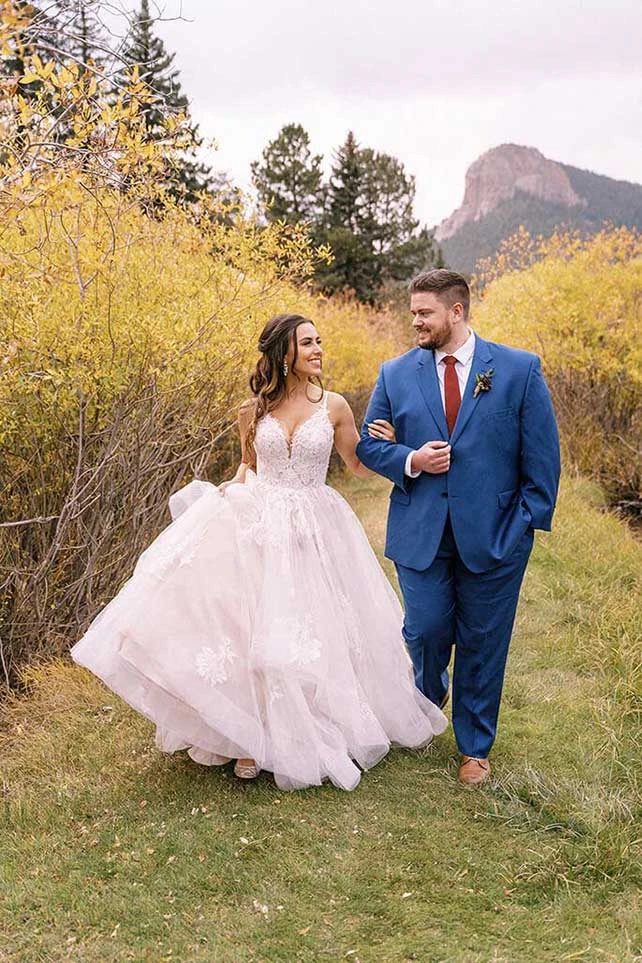 Tell us about your proposal…
Brandon told me that we were going to go visit his brother in Colorado and that he had one a nice hotel room in Snowmass, Colorado. I had absolutely no inclination that he was going to propose because he had told me time and time again it wasn't the right time as he was about to go into graduate school. We made an impulse decision (or so I'd thought) to go and visit the Maroon Bells – a gorgeous mountain cape in Aspen. He led me to this amazing look out and when I leaned my head on his chest, I heard his heart going 90 to nothing! He started to talk sweetly and I had to repeat to myself that he was just being romantic, because that's who he is, and NOT let myself think he was proposing because I had it drilled into my head it would not happen any time soon. But then he reached for his pocket, got down on one knee, stumbled and almost fell over, called himself a potato, and asked me to marry him! What can I say, he's my spud.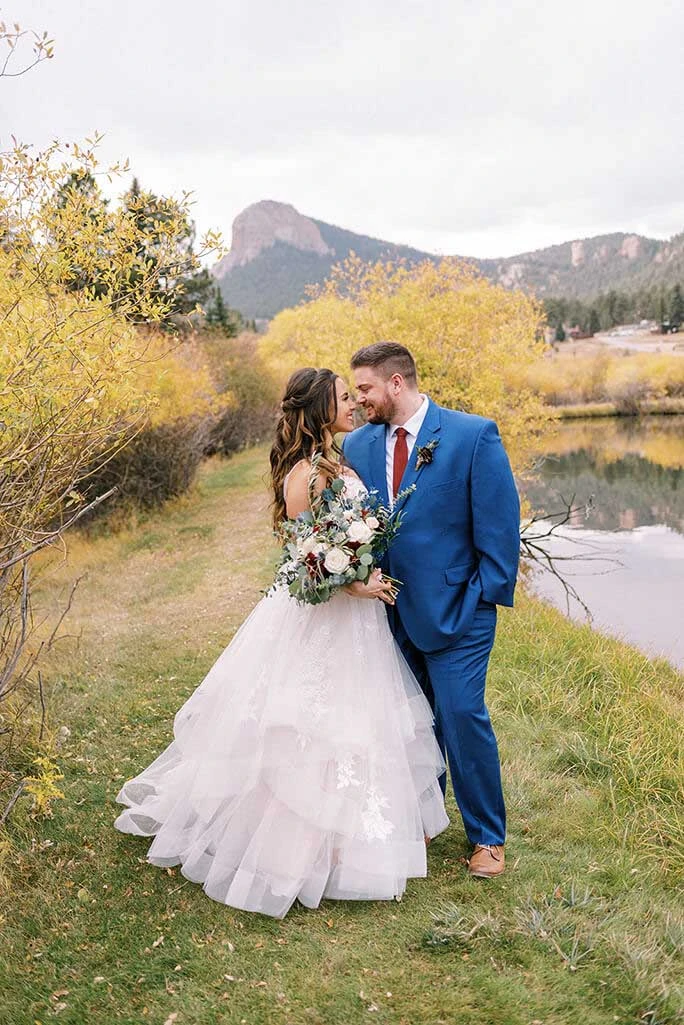 What did you think about your True Society bridal experience?
My wedding style is really a mixture. I wanted to go for a romantic and classic with a touch of boho since it would be in the mountains. True Society was actually my first dress shopping experience. And Essense of Australia Style D2893 was the first dress that I tried on! I instantly fell in love! I felt zero desire to go to any other store. The sales staff that helped me was incredible! I've told all of my girlfriends who have recently gotten engaged to go to True Society.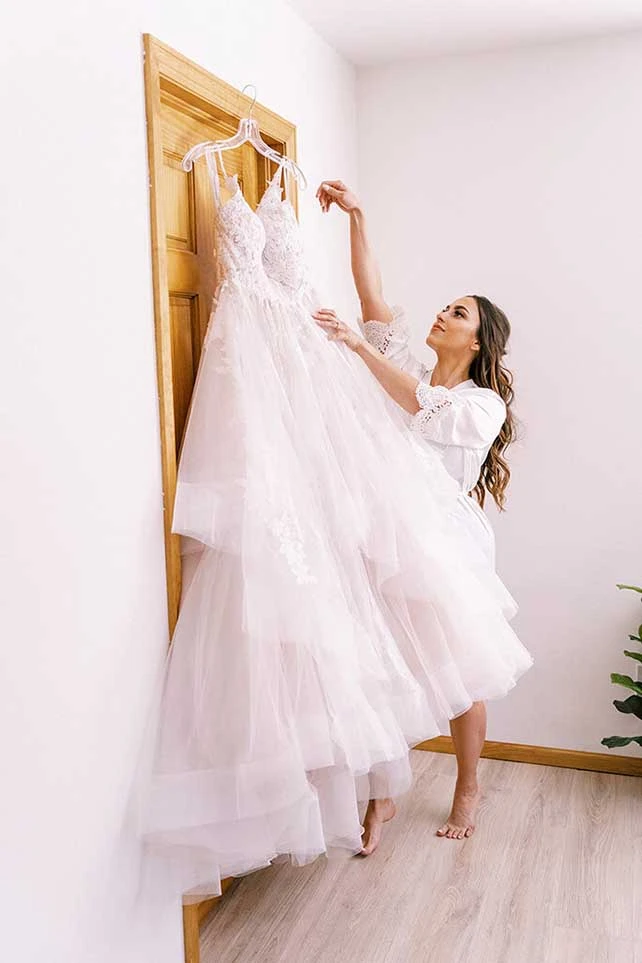 Tell us about your dreamy mountain wedding venue!
Our venue was extremely special to us. We're not from Colorado, but the engagement was so special to me that I knew I wanted to get married in the mountains. Our colors were Cabernet, royal blue, champagne, and gold accents. It was important to me to have a venue that was more organic, something that did not require a ton of decorating to make it beautiful. We got just that at Mountain View Ranch by Wedgewood Weddings.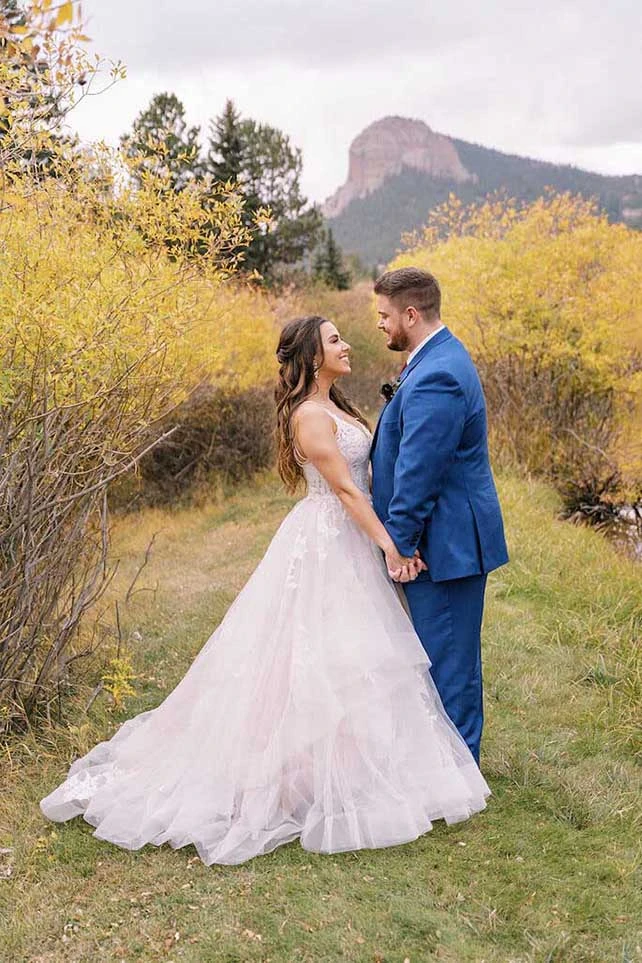 How did you personalize your wedding?
The day before the wedding, Brandon and I foraged for golden aspen leaves and those were tossed as we walked down the aisle as Mr. and Mrs.! So much love went into every ounce of planning. The entire day felt like a testimony to the love that we've created, the love that was so instantaneous from the moment we locked eyes on each other. Everything was seamless – it fit together like perfect puzzle pieces.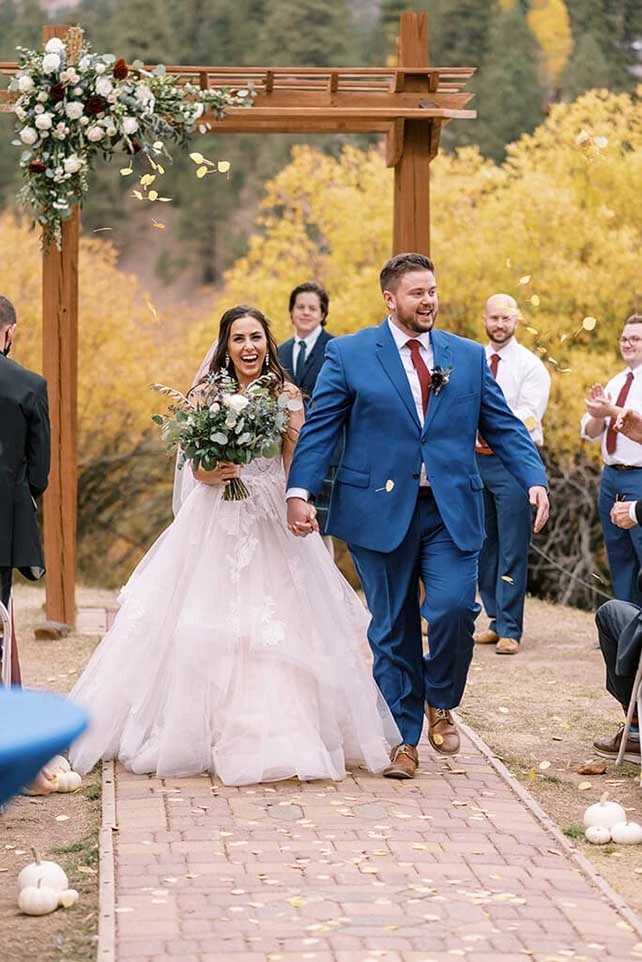 What is the most special memory from the day?
After the ceremony and our entrance to the reception, Brandon and I snuck off to the fire pit outside and had a completely private minute to soak in our day and stare out at the mountains. It was perfect. It was exactly what we needed, and it gave us a change to really ground ourselves in that moment.
Photos by Shea Brianne Photography
Ready to find your dream dress? Book an appointment at True Society today.
Want to see more wedding inspo from our True Brides? Follow us on Instagram for real bride features, bridal advice, and the latest collection launches at a True Society location near you.
True Society brides, did you find your dress with us and want to be featured as a #TrueBride? Share Your Story with us– we love reading all about your bridal experience and swooning over your photos!