Throwing it back to our very first True Society real bride! We were so lucky to meet Harley a few weeks after our grand opening, and her stunning wedding pictures are absolutely breathtaking. Harley's dream dress was a timeless classic, Martina Liana Style 905. This elegant, French-inspired design is so romantic and left Harley's fiance speechless. Keep reading for an inside scoop on Harley and Josh's wanderlust proposal, and intimate elopement in the redwood forest: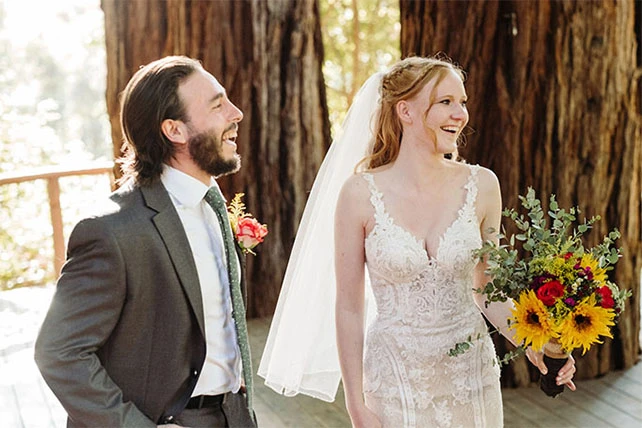 Tell us about your proposal…
We got engaged in the summer! I was moving to San Francisco to start my career as an electrical engineer, and Josh was helping me move out on a cross country road trip. He still had another year left of grad school before joining me in the city. We stopped at the Grand Canyon along the way. We were walking along the Trail of Time and found this rock overlooking into the canyon. We were sitting just the two of us looking out at how beautiful it was when he pulled the ring out and proposed! I definitely was not expecting it in that moment. I was glad we were both close to the ground so I didn't fall backwards! We have always loved going on adventures together, so the proposal was a perfect ode to our relationship.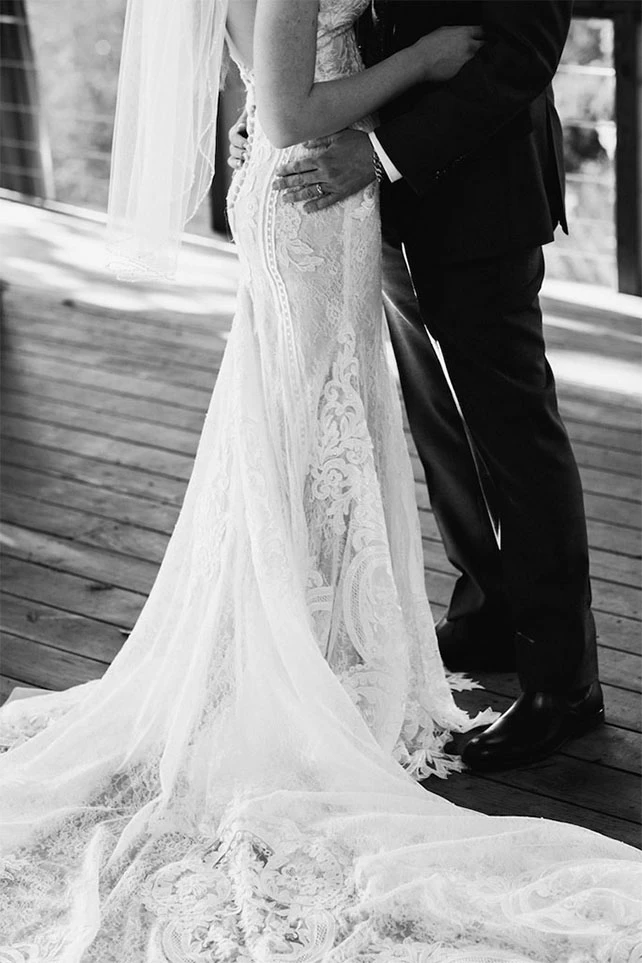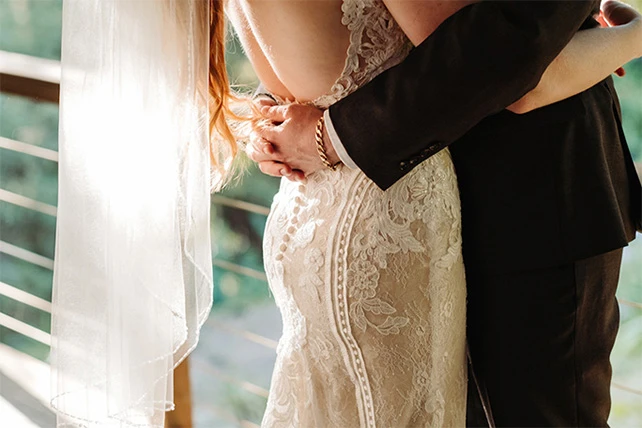 How did you manage to go dress shopping at True Society when you live in San Francisco?
The dress shopping experience was a long one to say the least! Since I live in San Francisco, when I was back home in KC for the weekend, it was appointment after appointment. We weren't really on a tight timeline since we were planning the wedding nearly two years in advance, so I definitely took advantage of trying on all the possible dresses in the entire area before finding my dream dress.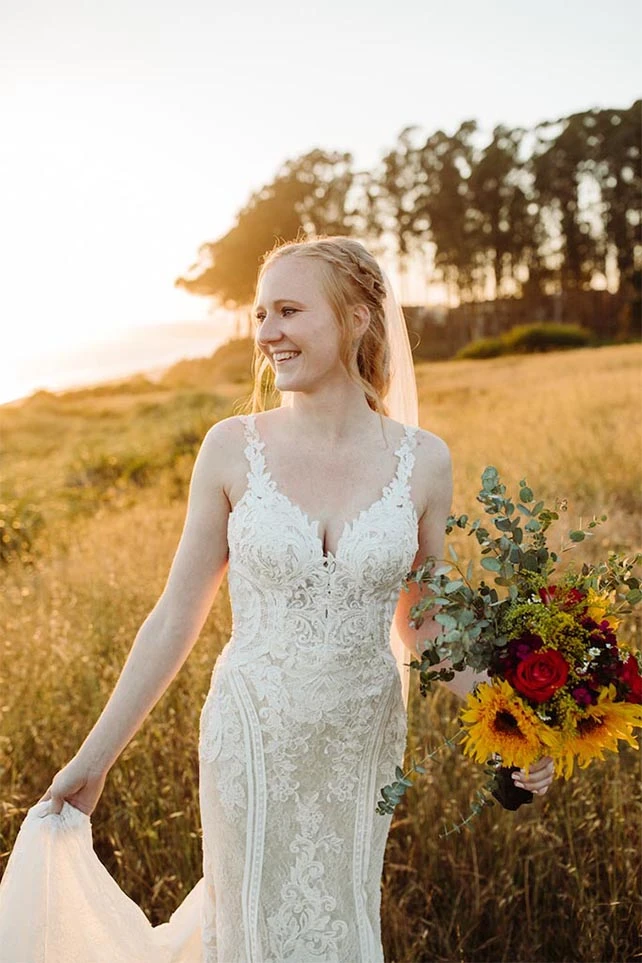 Were you surprised when you fell in love with Martina Liana Style 905?
Not really! I very much had my style picked out with the fit-and-flare, lace, long train gowns from the beginning, but it wasn't until I found the Martina Liana that I knew my search was over. Really it was my mom who was in disbelief that I finally found my dress! I think I brought her to every bridal store in the Kansas City area before finally choosing the perfect Martina Liana dress at True Society Belle Vogue! I probably looked at the photos of the dress nearly every week leading up to the wedding in anticipation of finally getting to wear it! The best part is that I get to wear it twice.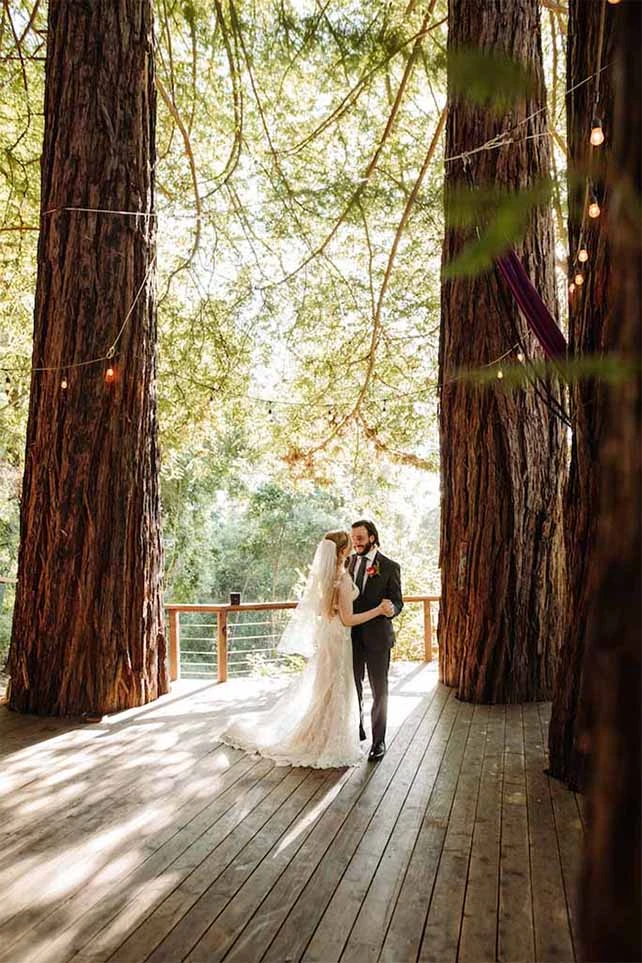 Your nature-inspired elopement looked incredible. How did you plan it?
Like many couples during these challenging times, we postponed our wedding just months before our big day. The perfect Memorial Weekend wedding we had put so much thought and consideration into planning wouldn't happen, at least not yet. However, we still wanted to get married. We love to travel together and go on adventures, so we thought our elopement could be another way to enjoy that part of our life. So, we decided to get married in the middle of the Santa Cruz mountains under the redwood trees. We came down from the mountains to take sunset photos on a bluff overlooking the ocean. It was not what we had originally planned, but it turned out to be a dream come true. After that, we can't wait to celebrate with all of our family and friends for the sequel wedding!
What was the most special part of your elopement?
The intimacy of the wedding! It really was a family production to pull off our elopement safely during the middle of a global pandemic in California where everything remains closed. My mom was my hair stylist, florist and nail artist, my dad was the officiant, I baked our wedding cake, and Josh's parents were the chefs for dinner that evening. It was almost like we had planned it this way all along, like all of the obstacles and challenges that we faced to make it still happen made it all the more special. It was very special for each of us to get to spend the day with our parents preparing and coming together under the redwood trees in the Santa Cruz Mountains. I can't imagine it happening any other way now.
Photography: Melissa Ergo
Ready to find your dream dress? Book an appointment at True Society today.
Want to see more wedding inspo from our True Brides? Follow us on Instagram for real bride features, bridal advice, and the latest collection launches at a True Society location near you.
True Society brides, did you find your dress with us and want to be featured as a #TrueBride? Share Your Story with us– we love reading all about your bridal experience and swooning over your photos!