True Brides, if you're trying to decide if a micro-wedding is right for you, take some notes from True Bride Christine's stunning backyard nuptials. Her husband's childhood home was transformed into the perfect, romantic garden wedding. Christine's Stella York wedding dress fit perfectly with their vintage theme and extravagant floral arrangements. Read on to see how her gorgeous micro-wedding came together!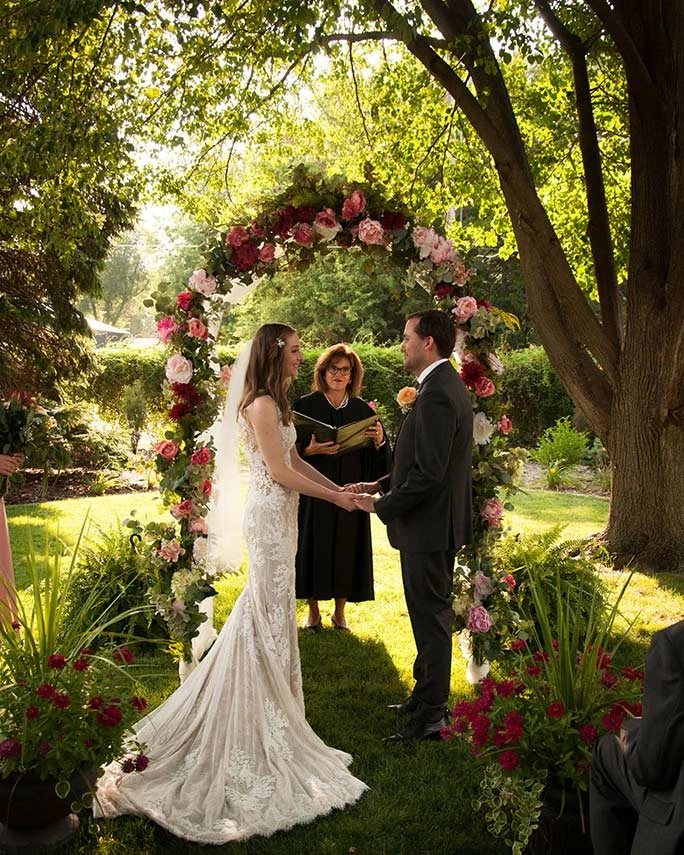 Tell us about your dreamy Christmas proposal…
My fiancé Taylor hid the ring box in my Christmas stocking hanging by the fireplace when we decorated for the holiday. We were planning to leave town to visit family, so Taylor called attention to my stocking and excitedly told me "Santa came early," and that I should check my stocking for a gift. As I pulled out the box and opened it, he got down on one knee. It was truly the cutest and perfectly intimate proposal!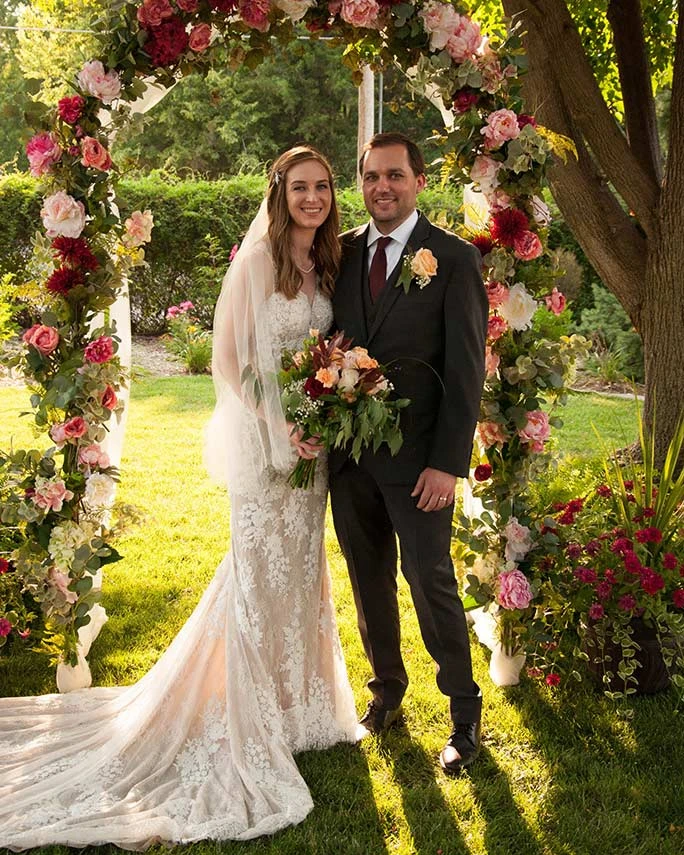 What did you think about your True Society bridal experience?
I had the best dress shopping experience at True Society. I was really nervous at my first appointment because I had never tried on "fancy" dresses before, and I didn't know what I wanted. My bridal stylist Molly made me feel comfortable by asking about details of our wedding. She also helped me stick to my budget which was hugely appreciated!
Of all three bridal salons I visited, True Society was the best because Molly actually helped me try on the dresses (some salons didn't), and she expertly clipped the sample dresses tightly in all the right places to help me envision what the dress would actually look like on me when ordered in the correct size. Even with shipping delays due to Covid-19, my dress arrived on time. I highly recommend True Society to all the KC brides-to-be!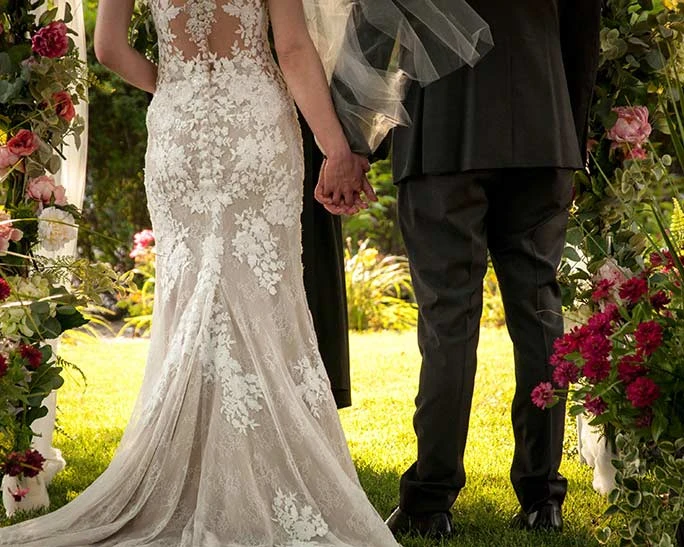 What made you fall in love with your wedding dress?
I told Molly about our original wedding venue – an old brick building in West Bottoms. She suggested Stella York 6933 because it would perfectly complement our venue's vintage feel with its intricate lace overlay. The nude lining underneath draws your eye to the details of the dress, making it even more gorgeous. The open back with applique details is breathtaking and gorgeous, while the nude mesh fabric blurs the appearance of any acne scars. When our ceremony unexpectedly moved to an outdoor garden setting, the style still worked perfectly with its slight boho vibes. I truly found the perfect dress for my style and my body, and it was a dreamy match for my wedding and venue.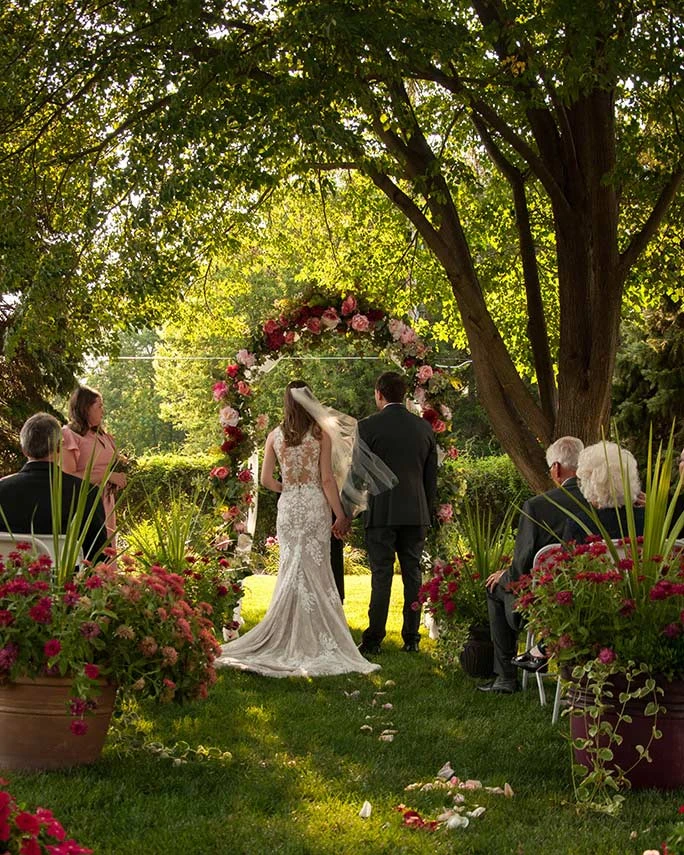 Tell us about your wedding theme…
Our original theme centered around our vintage venue in the West Bottoms. Even though my husband and I are not from here, we wanted to have the wedding in Kansas City because so much of our love story happened here. We love this city and wanted to share it with our friends and family.
However, the ceremony unexpectedly changed to an intimate backyard garden location. Our color palette was a mixture of peaches, pinks, fuchsia and moody maroon. I absolutely loved how these colors worked together in our floral arrangements! Everything transitioned so effortlessly from our planned indoor vintage venue to our amazing backyard micro-wedding.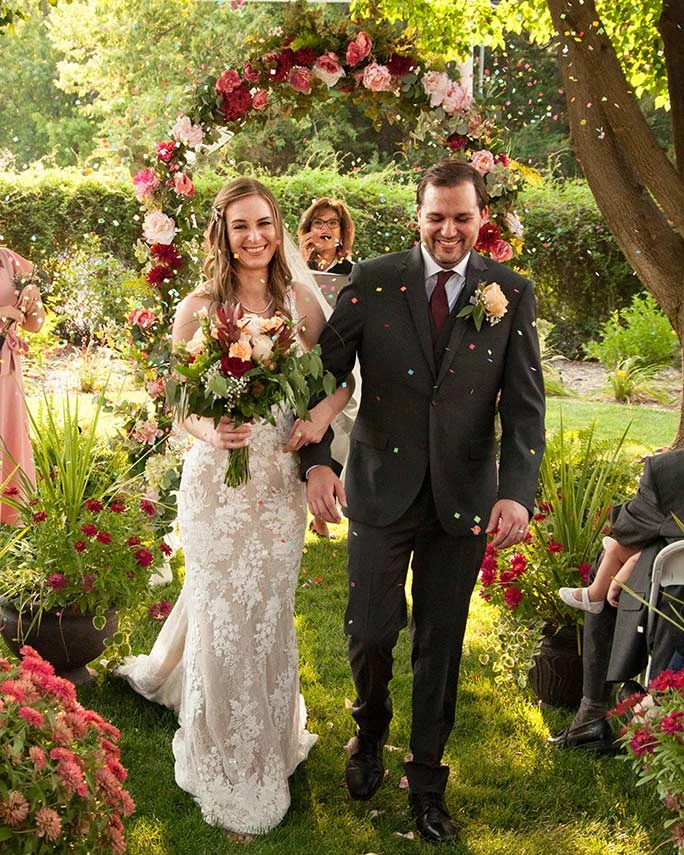 Was war der speziellste Moment an diesem Tag, welcher Dir für immer in Erinnerung bleiben wird?
The best part was the intimate backyard venue! We got married at my husband's childhood home surrounded by our closest family. The greenery of the grass, trees, and floral-covered garden arbor was so magical. We had planned to get married at a larger ceremony in Kansas City, but Covid-19 caused us to downsize the ceremony and postpone the reception. Although different from what we planned, our big day ended up being better than we ever could have dreamed!
Photography by Debbie Thiemann
Ready to find your dream dress?Book an appointment at a True Society location near you today.
True Society brides, did you find your dress with us and want to be featured as a #TrueBride?Share Your Story with us– we love reading all about your bridal experience and swooning over your photos.
Want to see more wedding inspo from our True Bride nuptials? Follow us on Instagram for Real True Bride features, bridal advice, and the latest collection launches at a True Society location near you.