Who would have thought the hottest wedding trend for 2020 would be having a virtual wedding? With more and more couples choosing to go through with their weddings rather than postponing or canceling altogether, the rise of "Zoom Weddings" is here! Today, we're talking all you need to know about how to have a successful and meaningful virtual wedding.
What is a virtual wedding?
Extremely common during the Coronavirus pandemic, virtual weddings are the perfect compromise for couples who don't want to postpone their nuptials but need to protect themselves and family members from exposure. By hosting a virtual wedding over a platform like Zoom, guests can watch you exchange vows from the comfort and safety of their own homes. A virtual ceremony also allows couples to get married and then celebrate at a later date with guests. This is a wonderful alternative to canceling, especially beneficial for couples who have older family members who want to ensure they witness their marriage in some shape or form.
So, ready to have your own virtual wedding? Here's our step-by-step guide to having a majorly digital celebration like a true pro!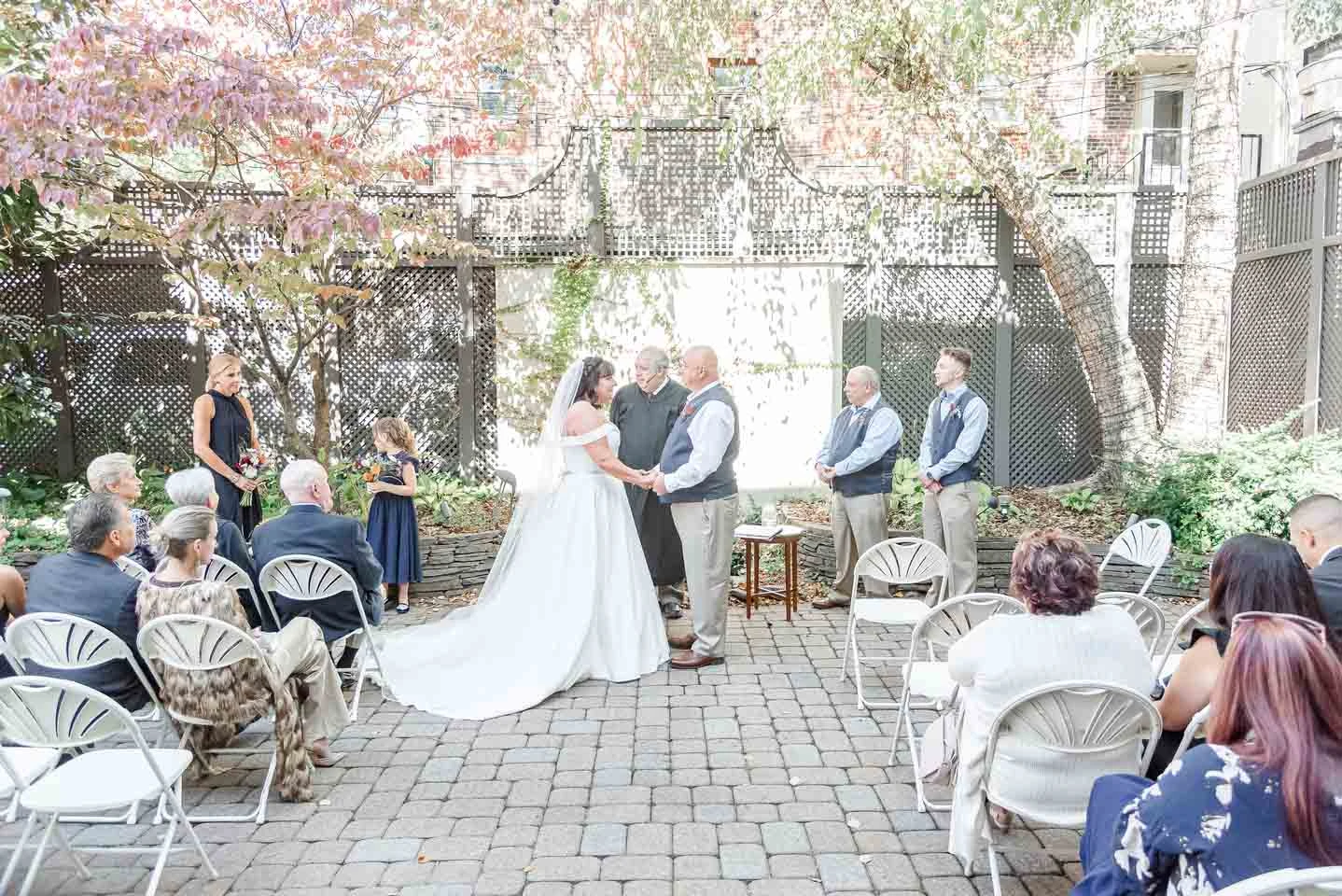 Photo by Ashley Halas
How to have a virtual wedding
Having a virtual wedding is a lot easier than you might think! It really is just about the logistics of it all…and maybe having a little patience with your grandparents. While playing the IT department might be a little stressful, the pay off is definitely worth it. Remember, the substantive elements of a wedding will all be there, and just like planning an in-person wedding, there are some things to keep in mind.
1. What streaming service should you use?
There are several different platforms that you can choose for your virtual wedding—Google Hangout, Facebook Live, Instagram Live, and Zoom. Zoom is the most popular and probably one of the best to use. On Zoom, you can have up to 1,000 devices in a single call which is great if you want to invite your whole guest list. Keep in mind that you'll want to have a Pro account, or else the call will time out after 40 minutes. Another great tip is to put everyone on mute while the ceremony is taking place. Once you've decided what platform you're using, make sure to email the link to guests with a meeting ID, which ensures that only guests with that information are able to join.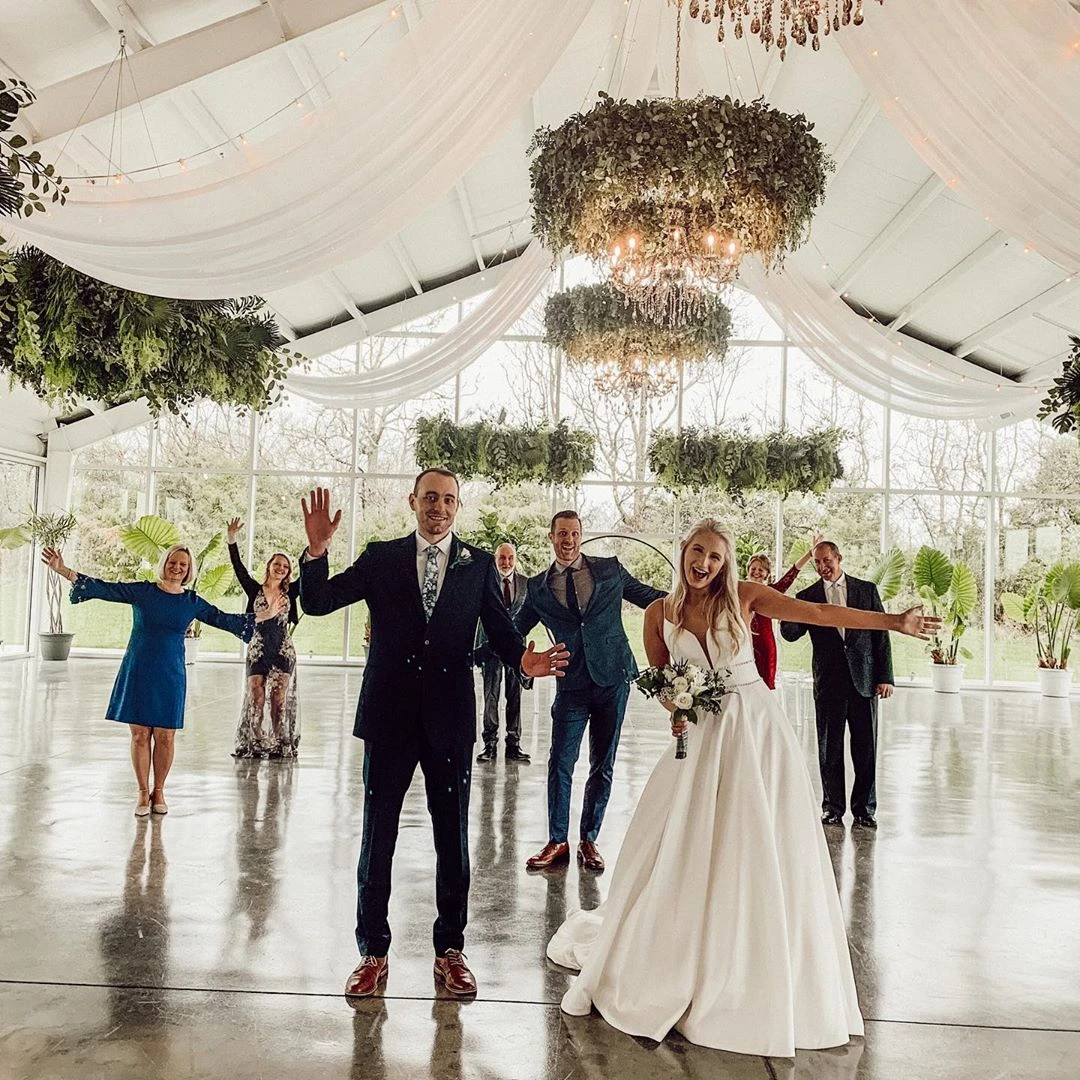 Photo by Tatyana Zadorin
2. Check – then triple check – your internet connection
An often overlooked element to Zoom weddings is the internet connection! The worst thing that can happen after you've planned this alternative is losing your internet connection. If you're getting married at home, you should be good, but if you're opting for an on-set celebration, you will want to check with the venue coordinator about the wifi situation.
3. Dress the part
Luckily for you brides, white reads very well on camera! If you're postponing your wedding, opt for a simple white dress or a fun, sequin PJ look to play up the work from home vibes. If you have your dress, wear it! Might as well get a few wears out of your gown…and it is your wedding day after all. As for your guests, invite them to dress up too! Everyone needs an excuse to change out of their athleisure once in a while. While you're at it, suggest to guests that they avoid loud prints or patterns as those can be very distracting on camera.
4. Set the scene
Just because your venue has changed, doesn't mean you can't make it feel just as special. Try working with your florist to see if they can deliver your bouquet or if they can set up a Zoom call to walk you through the steps of arranging your own. Most florists will be happy to do contactless delivery too. If you're getting married outside, consider a floral arch or hanging elements from the trees. Dress up your mantle with some vines or bunches of flowers and loads of candles. Don't feel like you have to start from scratch either! Incorporate your original colors into the scheme to make the day feel special.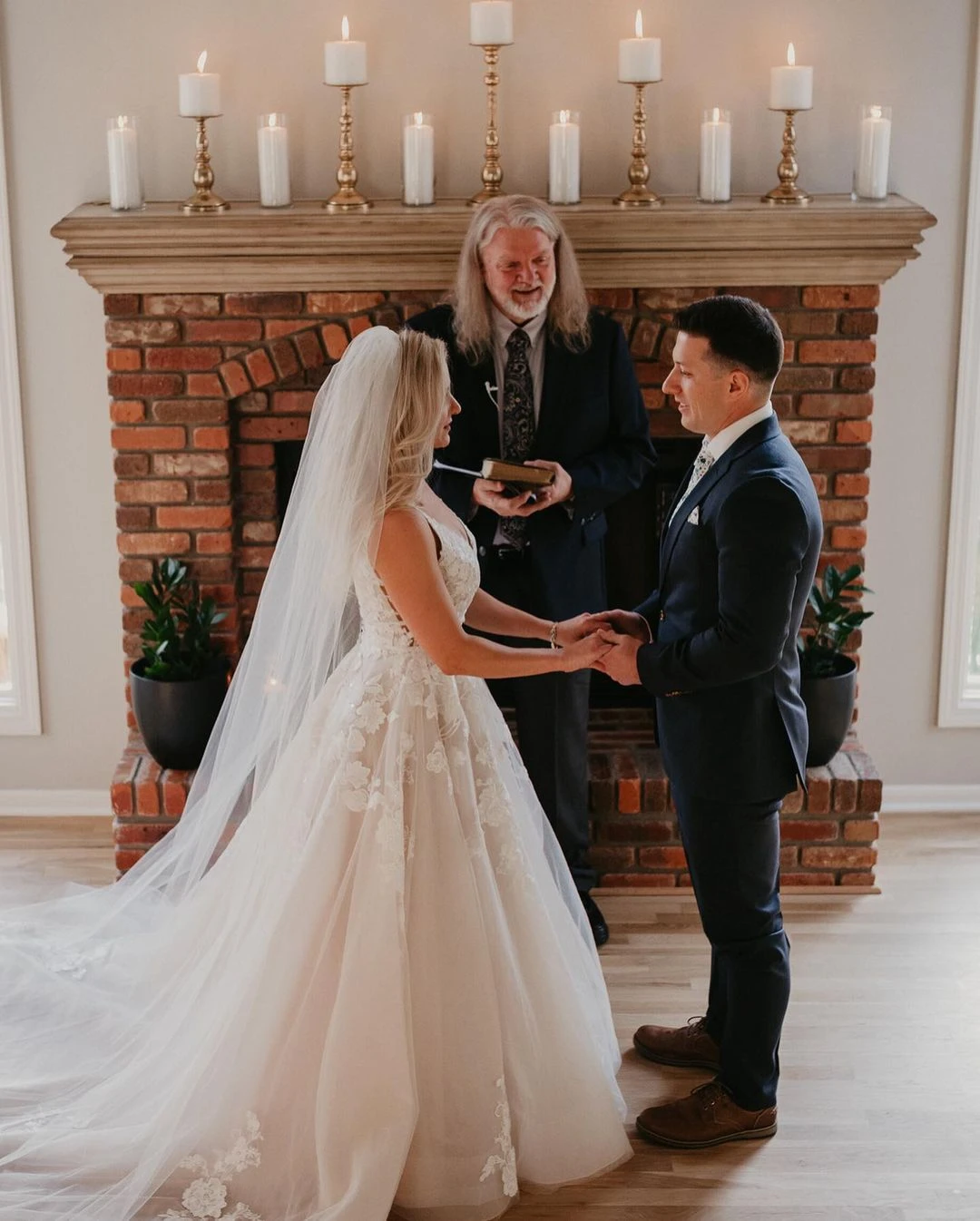 Photo by Cassandra Marie Photography
5. Take pictures
Yes, it isn't the day you had originally planned, but you're still getting married to the person you love and that is what's most important, so don't forget to invite your photographer. If your state allows and your photographer is comfortable, they still may be able to photograph your ceremony and even a few portraits from a safe distance while wearing PPE. Capturing the true emotion and authenticity of your day is what is important. In lieu of a videographer, simply record the wedding on your Zoom call.
6. Run the show
The scene is set, your laptop is charged, your vows are written, now it's time to get the show on the road! Make sure you've checked all the legal requirements for Zoom weddings in your state. Then confirm that the link is working, your officiant and loved ones are ready, and your internet connection is set. Work with your officiant to come up with a timeline of the ceremony. We recommend that you opt for a shorter timeline since guests will likely have a shorter attention span than they would in-person.
Let guests know that they should sign on to the Zoom call a few minutes before so you can allow everyone to chat and greet each other un-muted or to ask any questions. Admit guests at start time and once the most important guests are on the call, let everyone know that they will be muted, with only the officiant and the couple allowed to be heard.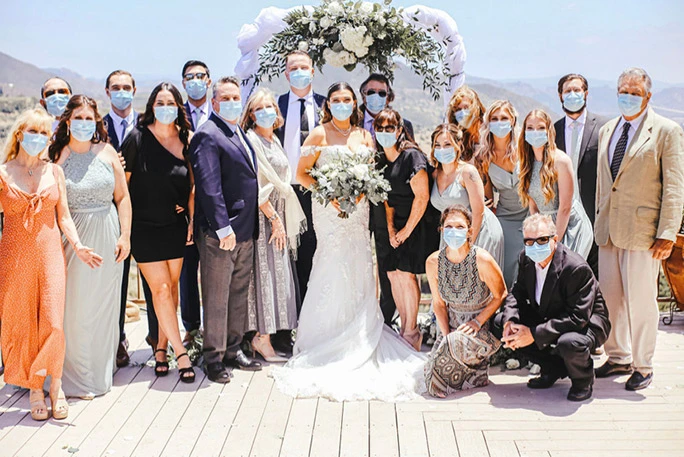 Photo by Jesseanne Photography
Once the ceremony begins, focus on the moment and stay present! Have a little fun with it too. This is a Zoom wedding and nothing needs to be super formal. Pro tip: Have your officiant or someone to assist you with muting and unmuting guests when necessary. We also love the idea of un-muting guests right before you're announced as a couple so that guests can cheer and toast to the newlyweds.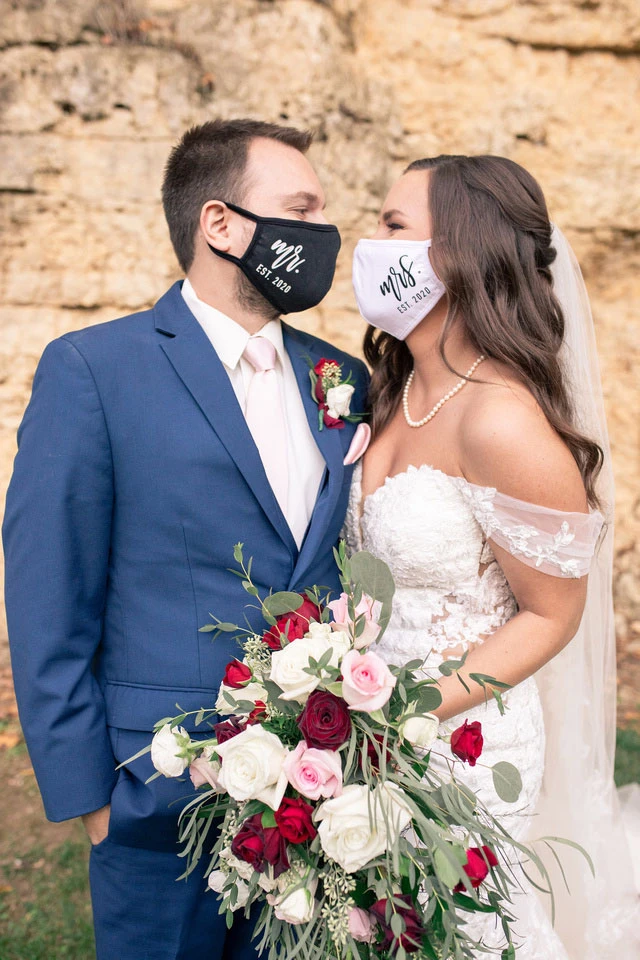 Photo by Evangeline Renee
7. Celebrate!
Have some chilled champagne on hand and POP that cork because you're married! Cut the cake, take some pictures, have a dance party in your living room and just have fun with it. No matter what the day ends up looking like, you're married and that in and of itself is worth celebrating.
Ultimately, a virtual wedding is just like any other wedding – things can and do go wrong. But like with everything else in 2020, we're all in this together. People will be forgiving if the audio isn't 100% or the quality is spotty. You're getting married and that is what your loved ones truly care about.